This is a presentation of Japan's nuclear state of affairs during following the July 2007 Earthquake that shook the country's nuclear industry down to its core.
Japan and France have remained as the world's two heavy nuclear promoters after the collapse of most of the rest of the world's nuclear industry with the disaster at Chernobyl.
After the earthquake in July of 2007 that shut down the world's largest reactor complex. The people of Japan have woke up to the problems of an aging reactor fleet and a country lined with quakes located close to reactors.
Here are the stories from Japan, from their historic opposition to nuclear  weapons to their aggressive push to develop nuclear reactor technologies and then export them.
Historically, most of Japan's original nuclear development came from American corporate technology exchanges, much of which took place as the US market shutdown.
For example, after the US industry collapsed,  Japan has purchased both Westinghouse and General Electric's nuclear operations.  Westinghouse is now owned by Toshiba and GE's former nuclear operations is being held up by Hitachi.
Nuclear Energy Agency Country Profiles – Japan
Japan
Nuclear power situation
National laws and regulations
Current issues and developments
---
Japan Nuclear Stories Index
---
Nuclear power plant utilization nearing lowest level in 29 years – The Mainichi Daily News The operating rate of Japan's nuclear power plants stood at 58 percent in 2008, and will likely sink to the lowest level in 29 years on a fiscal-year basis, a government survey has shown. Provisional estimates in the survey by the Ministry of Economy, Trade and Industry put the operating rate of 55 commercial nuclear power plants in Japan at 58 percent in 2008. The level is the lowest since the 57.4 percent recorded in 2003, when periodic inspections were held earlier due to false inspection reports. On a fiscal-year basis, the figure for fiscal 2008 is expected to come near the lowest level of 54.6 percent recorded in fiscal 1979.
Japan agency OKs TEPCO reactor restart – Kyodo | Reuters Japan's nuclear safety agency gave the green light to Tokyo Electric Power Co (TEPCO) to restart its No. 7 nuclear generator at the quake-hit Kashiwazaki-Kariwa plant, Kyodo news said on Friday, citing government officials. The officials said that after examining TEPCO's plan and inspection data, the Nuclear and Industrial Safety Agency has concluded the reactor is clear for a test run, Kyodo reported.
Japan nuclear plant operations (Shows units decommission) | Reuters The table below shows the latest operational status of Japan's nuclear power plants. Japan's nuclear power generation capacity fell by 1,380 megawatts, or 2.8 percent, on Friday as the government recognised Chubu Electric Power Co's move to scrap two nuclear reactors and replace them with a new one. With the decomissioning of No.1 and 2 nuclear reactors at Chubu's sole  Samaoka plant, which have been shut for years, Japan's nine utilities and a wholesaler now have 53 nuclear power generators for commercial use, with a total generating capacity of 47,935 megawatts.
Japan nuclear capacity to fall as Chubu scraps units | Reuters Japan's nuclear power generation capacity will fall by 1,380 megawatts, or 2.8 percent, to 47,935 megawatts from Friday, a government official said, reflecting a utility's move to scrap two nuclear reactors and replace them with a new one. Chubu Electric Power Co, Japan's third-biggest utility, said in December it would decommission its 540-megawatt No.1 and 840-megawatt No.2 generators at its sole Hamaoka nuclear plant, and build a new No.6 reactor to replace them.
Tepco to seek OK to test run quake-hit reactor | The Japan Times Tokyo Electric Power Co. will seek a ban on the operation of its quake-damaged nuclear plant lifted, paving the way for a test run when it completes repairs of one of the reactors next month. "We will ask the local fire department to check our facility," President Masataka Shimizu told reporters today. Tepco will fix a turbine in early February, the final repair on the No. 7 reactor at its Kashiwazaki Kariwa nuclear plant, he said. Six other reactors are still being worked on. The Kashiwazaki Fire Department imposed the ban after a magnitude 6.8 earthquake struck the plant on July 16, 2007, causing a fire and radiation leaks. Shimizu said he doesn't know when he can resume output at Kashiwazaki Kariwa, the world's biggest nuclear plant.
AFP: Japan eyes restarting controversial 'dream nuclear reactor'
Japan, an economic giant with almost no natural energy resources, is eyeing restarting its "dream nuclear reactor" this year after a raft of safety scares closed the plant for more than 13 years. The state-run Japan Atomic Energy Agency is putting the final touches to Monju, the nation's only fast-breeder reactor. It has repeatedly postponed the relaunch as problems keep coming up and it struggles to convince many residents of Tsuruga, 350 kilometres (220 miles) west of Tokyo, of the plant's safety.
Bloomberg: Chubu Electric Predicts Loss From Scrapping Reactors Japan's third-biggest power producer, revised its earnings outlook and predicted a record loss after scrapping two reactors that are more than 30 years old. The company is expecting a net loss of 78 billion yen ($869.5 million) for the year ending March 31 compared with profit of 22 billion yen it forecast in October, it said in a statement released in Tokyo today. The utility will book a charge of 155 billion yen for mothballing the No. 1 and No. 2 units at the company's Hamaoka plant in central Japan.
TEPCO mulls building nuclear plants overseas-Kyodo | Reuters Tokyo Electric Power Co, Asia's largest utility, is considering building nuclear power plants overseas, Kyodo News Agency reported on Wednesday. Kyodo said TEPCO was considering focusing such moves in emerging countries in Asia, such as Vietnam and India, where demand for electricity is expected to strengthen as their economies grow.
Lightning strike shuts down two nuke reactors | The Japan Times Lightning struck an electric power cable Thursday at the nuclear plant in Mihama, Fukui Prefecture, automatically shutting down operations at two reactors and causing a small amount to nonradioactive steam to leak inside one of them, prefectural officials said. A false alarm for a sodium coolant leak occurred at the Monju prototype fast-breeder reactor in Tsuruga, Fukui Prefecture, at about the same time, the Japan Atomic Energy Agency said.
Bloomberg: J-Power Delays Oma Nuclear Plant Start by 2 1/2 Years
J-Power, Japan's biggest electricity wholesaler, said it has delayed the start of its first atomic power plant by 2½ years after carrying out additional work to make the station resistant to a strong earthquake. The plant, located in Oma in Japan's northern prefecture of Aomori, will start in November 2014, Electric Power Development Co., J-Power's official name, said in a statement to the Tokyo Stock Exchange. It was originally slated to start in March 2012.
The Associated Press: Smoke detected at Japanese nuclear complex Smoke was detected Friday at a Japanese nuclear power complex that suffered a major accident a decade ago, but the operator said there was no release of radioactivity. The smoke was found at a solid waste facility at the Tokaimura plant northeast of Tokyo in a room where metal waste is burned, said Masataka Sekine, a spokesman for operator Japan Atomic Power Co.
TEPCO:Don't expect quake-hit plant to restart '08/09: Reuters Tokyo Electric Power Co (TEPCO), Asia's biggest utility, said on Monday its earnings forecasts for the year to March 2009 were based on the premise that it would not be restarting its quake-hit Kashiwazaki-Kariwa nuclear power plant.
AFP: Huge losses for Japan's TEPCO as energy costs soar
Tokyo Electric Power Co., Japan's biggest electric utility company, said Monday it lost more than 700 million dollars in the three months to June due to soaring fuel costs at its power plants. The operator of the world's largest nuclear plant, which was shut down by an earthquake last year, warned it expects to end the year deep in the red. The company, known as TEPCO, reported a net loss of 76.24 billion yen (707 million dollars) for the fiscal first quarter, compared with a net profit of 31.07 billion yen in the same period of the previous year.
AFP: Protests as French PM visits Japan nuclear plant Hundreds of Japanese anti-nuclear activists protested Saturday as French Prime Minister Francois Fillon toured a new atomic facility here built in partnership between the two nations. The plant in the northern region of Aomori is expected to begin operations next month, but critics charge that it poses an environmental safety risk and could also be vulnerable to an earthquake.
Japan nuclear unit forced to shut again | Reuters TOKYO, June 10 (Reuters) – Tokyo Electric Power Company (TEPCO) (9501.T: Quote, Profile, Research, Stock Buzz) manually shut the 784-megawatt No.5 nuclear generator at its Fukushima Daiichi plant on Monday for the second time in less than a month due to technical trouble, it said on Tuesday.
Toshiba expects 33 reactor orders by 2015 Japan's Toshiba Corporation expects orders for at least 33 nuclear power reactors by 2015, and plans to expand all its nuclear businesses over the period to 2020, according to the company's president.
The predictions were made earlier this month in Strategies for Growth 2008, the company's outline of the business directions planned for all its divisions.
Toshiba poised to finalize ¥1.5 trillion reactor deals |  Japan Times Toshiba Corp. is in final talks with two U.S. utility firms over four planned nuclear reactor projects in the U.S. worth a combined ¥1.5 trillion, company sources said Thursday.
Toshiba is negotiating with Scana Corp. over the construction of two reactors in South Carolina and is finalizing deals with Southern Co. for the construction of two reactors in Georgia, the sources said.
Major U.S. nuclear plant developer Westinghouse Electric Co., which became a wholly owned unit of Toshiba in 2006, is handling the negotiations, they said.
Bloomberg: Toshiba to Gets Orders for 4 U.S. Nuclear Reactors, Nikkei Says Toshiba Corp. will receive orders to build four nuclear power plants in the U.S. valued at a total 1.4 trillion yen ($13.7 billion), Nikkei English News reported. Utilities Scana Corp. and Southern Co. are expected to commission two plants in Georgia and two in South Carolina that will have reactors capable of generating 1.1 million kilowatts, Nikkei said. Toshiba has won 1 trillion yen in orders for nuclear plants in China since buying Westinghouse Electric Co. for $4.2 billion in 2006, and the Scana and Southern contracts will be Westinghouse's first within the U.S. since the purchase, Nikkei wrote. Nuclear power demand is growing as the price of crude oil continues to rise, and 30 new reactors are planned for the U.S. in the next 20 years, Nikkei said.
New Japanese nuclear power reactors delayed Tokyo Electric Power Co (Tepco) announced that the start of operation of four new nuclear power reactors would be delayed, while Electric Power Development Co (J-Power) said the start of construction of its Ohma plant had been postponed again. Tepco said that the start of commercial operation of four new nuclear power plants would be postponed by one year due to the incorporation of new earthquake resistance assessments. The company said that units 7 and 8 of the Fukushima Daiichi plant would now enter commercial operation on October 2014 and October 2015, respectively. Unit 1 of the Higashidori plant is now scheduled to begin operating in December 2015, while unit 2 will start up in fiscal 2018 or later.
Bloomberg: Samurai-Sword Maker's Reactor Monopoly May Cool Nuclear Revival From a windswept corner of Hokkaido, Japan's northernmost island, Japan Steel Works Ltd. controls the fate of the global nuclear-energy renaissance. There stands the only plant in the world, a survivor of Allied bombing in World War II, capable of producing the central part of a nuclear reactor's containment vessel in a single piece, reducing the risk of a radiation leak. Utilities that won't need the equipment for years are making $100 million down payments now on components Japan Steel makes from 600-ton ingots. Each year the Tokyo-based company can turn out just four of the steel forgings that contain the radioactivity in a nuclear reactor. Even after it doubles capacity in the next two years, there won't be enough production to meet building plans.
Residents want Niigata reactor construction permit nullified | Japan Times Niigata residents seeking nullification of the 1977 government decision that allowed Tokyo Electric Power Co. to build a nuclear reactor in the prefecture are set to argue that the construction permit was illegal, their lawyers said Monday. The plaintiffs, who have appealed a lower court decision rejecting their demand to the Supreme Court, plan to submit a petition to the top court Sept. 20 saying the major earthquake that hit Niigata in July showed that the construction permit was illegal. The Tokyo High Court in November 2005 upheld a district court decision rejecting the residents' lawsuit and ruled there was nothing wrong with the procedures leading up to the government's approval of the plan to construct the No. 1 reactor at Tepco's Kashiwazaki-Kariwa nuclear plant, nor with the preceding safety review.
---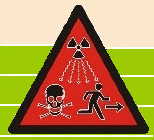 Nuclear Health and Safety News
Seismic refits too much for old N-plants: DAILY YOMIURI Chubu Electric Power Co.'s plan to decommission two long-suspended nuclear reactors and build a new reactor in their place at its Hamaoka power station is mainly due to the old reactors' deteriorating economic efficiency and the heavy cost expected for retrofitting the current facilities to meet the latest quake-resistance standards. The Hamaoka nuclear plant covers about 1.6 million square meters in Omaezaki, Shizuoka Prefecture, and is located near the potential epicenter for a major earthquake expected to strike the Tokai region someday. The power company completed retrofits of the station's Nos. 3, 4 and 5 reactors in March.

Nuclear power company eyes decommissioning of 2 reactors due to stiffer quake standards – The Mainichi Daily News Chubu Electric Power Co. is considering decommissioning two reactors at the Hamaoka Nuclear Power Plant and building a new reactor in response to tougher earthquake resistance standards, it has been learned. The power company is reportedly considering decommissioning the No. 1 and No. 2 reactors at the plant in Omaezaki, Shizuoka Prefecture, and building a new sixth reactor that would start operating from fiscal 2018 or later. Decommissioning work on the reactors, which are currently not operating, would be completed around 2035.
Government organizes recall of radioactive cell phone straps (The Daily Yomiuri) The Education, Science and Technology Ministry has started recalling about 5,500 cell phone straps that contain the radioactive substance tritium through the Japan Radioisotope Association, officials said. The Metropolitan Police Department arrested a couple in Hiroshima in July for allegedly selling the cell phone straps without obtaining permission from the ministry. The fluorescent cell phone straps reportedly have glass containers holding tritium. Although the tritium in the product is harmless to humans even if the glass container is broken, the amount of tritium per unit is about 26 times the allowable level under the radiation sickness prevention law.
Study Into USS Houston Leak Delayed Until 2009 Scheduling conflicts have pushed back the start of a study of the leak of radioactive water into Apra Harbor. Environmental Protection Agency Administrator Lorilee Crisostomo says they are hoping federal counterparts will be able to assist both in the sampling of the water in the harbor and the development of a nuclear monitoring program. Although she expects to have a better picture in December, Crisostomo has more questions over the public law that gave them money for the study, especially since it was appropriated last fiscal year.
A Slow Death: 83 Days of Radiation Sickness by NHK TV "Tokaimura Criticality Accident" Crew – Hardcover – Random House
ABOUT THIS BOOK Japan's worst nuclear radiation accident took place at a uranium reprocessing facility in Tokaimura, northeast of Tokyo, on 30 September 1999. The direct cause of the accident was cited as the depositing of a uranyl nitrate solution–containing about 16.6 kg of uranium, which exceeded the critical mass–into a precipitation tank. Three workers were exposed to extreme doses of radiation. Hiroshi Ouchi, one of these workers, was transferred to the University of Tokyo Hospital Emergency Room, three days after the accident. Dr. Maekawa and his staff initially thought that Ouchi looked relatively well for a person exposed to such radiation levels. He could talk, and only his right hand was a little swollen with redness. However, his condition gradually weakened as the radioactivity broke down the chromosomes in his cells.
AFP: Fire at Japan nuke power plant injures worker: operator
A fire broke out at a nuclear power plant in northern Japan on Thursday, injuring one worker but causing no radiation leak, the operator said. Firefighters put out the fire about an hour after white smoke was spotted coming out of the reactor, which was already shut for a regular check-up, Tohoku Electric Power said. "One worker sustained minor burns but was not exposed to radiation," a company spokesman said, adding there was no leak to the outside environment either.
Man kept radioactive materials in warehouse (The Daily Yomiuri) A man was found to have kept a massive amount of radioactive synthetic resins in a warehouse in Bunkyo Ward, Tokyo, according to the Education, Science and Technology Ministry. Because the man failed to take the legal procedures required to store radioactive materials, the ministry is questioning him on suspicion of violating a law on the possession of radioactive substances. The man reportedly kept 150,000 pieces of Bakelite measuring three centimeters by three centimeters by five millimeters and weighing 14 grams each.
Aomori nuke site said at risk of magnitude 7 quakes | Japan Times An earthquake with a magnitude of around 7 may have hit the construction site of a nuclear power plant in Aomori Prefecture twice in the past 6,000 to 7,000 years, researchers said Friday. The researchers urged the government and Electric Power Development Co., commonly known as J-Power, which is building the Oma Nuclear Power Plant on the Shimokita Peninsula, to review their safety procedures for ensuring the plant's quake resistance, because they did not take into account the possibility of such a strong temblor striking the plant site.
No leak from Ibaraki nuke plant fire | The Japan Times Online A small fire broke out Friday at a nuclear fuel plant in the village of Tokaimura, Ibaraki Prefecture, but did not cause any injuries or environmental damage, said the operator of the plant, which was scolded for delaying the report. The Ibaraki Prefectural Government told Mitsubishi Nuclear Fuel Co. to promptly report fires to local authorities in the future after learning that the company waited for about 30 minutes to report the fire, prefectural officials said.
Hokkaido Elec nuke plant operating normal after quake | Reuters Japan's Hokkaido Electric Power Co said on Thursday its Tomari nuclear power plant in western Hokkaido is operating normally after an earthquake struck the region.
2 nuclear reactors could be shut down over earthquake fears – The Mainichi Daily News The Tokyo High Court is expected to propose that two reactors at a nuclear power plant in an area where a powerful earthquake is feared to strike be permanently shut down until their safety is confirmed as part of a settlement plan, sources involved in the case said. If the settlement is reached, it is expected to have a huge influence on discussions on the safety of nuclear power plants, say experts.
Crack found in nuclear plant coolant pipe 5 times deeper than first thought – Mainichi Daily News A crack found in a nuclear reactor's primary coolant pipe here is at least five times deeper than originally believed, and experts say if it widens it could cause a serious accident. The crack was found on the inside of a weld in the primary cooling water
2 more exposed to low radiation dose after nuclear fuel plant spill – Mainichi Daily News Two more workers have been exposed to a small amount of radiation after an accident at a nuclear fuel processing plant here, bringing the number of victims to four, the plant operator said Saturday. None of them suffered any illness as a result, and the radiation did not contaminate the environment around the facility in Yokosuka owned by Global Nuclear Fuel-Japan Co., according to the company.
BBC NEWS | Asia-Pacific | Japan raid over 'nuclear exports' Police in Japan have raided the premises of a company suspected of illegally exporting machinery that could be used to make nuclear weapons. Officers targeted the headquarters of Horkos Corp and several related sites in the southern city of Fukuyama.
Bloomberg: Japan to Boost Nuclear Accident Compensation Fund, Kyodo Says Japan plans to increase mandatory contributions to a fund for compensating victims of accidents at nuclear power plants, Kyodo News said. The government aims to boost payments by electric power producers to as much as 120 billion yen ($1.1 billion) next year from 60 billion yen, Kyodo reported, citing government officials it didn't identify. It would be the first change in the fund since 1999, Kyodo said.
6.8 quake rocks Tohoku (The Daily Yomiuri) A powerful earthquake with a preliminary magnitude of 6.8 struck the Tohoku region early Thursday, injuring at least 126 people, 28 seriously. According to the Meteorological Agency, the quake, which struck at 12:26 a.m., measured upper 6 on the Japanese seismic intensity scale of 7 in Hironocho in Iwate Prefecture and lower 6 in Nodamura in the prefecture and part of Aomori Prefecture, including Hachinohe.
Japan nuclear facilities working normally after quake | Reuters TOKYO, June 14 (Reuters) – Nuclear power facilities run by Tohoku Electric Power Co  and Tokyo Electric Power Co  located in northern Japan were operating normally after a powerful earthquake on Saturday, company officials said.
FACTBOX: Japan and earthquakes | U.S. | Reuters (Reuters) – A powerful earthquake with a magnitude of 7.2 rocked rural northern Japan on Saturday, killing at least three people, injuring more than 100 and sending landslides sweeping down mountainous hillsides.
Small radioactive water leak within TEPCO plan| Reuters TOKYO (Reuters) – Water containing a small amount of radiation leaked within a Tokyo Electric Power Co nuclear power plant in northern Japan, where a strong earthquake hit on Saturday, company officials said.
Japan's nuclear facilities face quake risk – upiasiaonline.com Tokyo, Japan A controversial spent nuclear fuel reprocessing plant in the northern region of Aomori prefecture in Japan may be built directly above an active fault at least 10 miles in length, according to some geologists. This warning comes ahead of the expected opening of the plant this coming autumn.
Toshiba reports teens worked at nuke plant – UPI TOKYO, June 4 (UPI) — Toshiba Corp., a conglomerate based in Tokyo, said Wednesday eight workers younger than 18 were unlawfully hired to inspect three nuclear power plants. Toshiba officials said a subcontractor hired the teens for frequent surveys of three nuclear facilities, and six of the young workers spent time in restricted locations at risk of radiation exposure.
Man arrested over theft of radioactive material in Chiba – Mainichi Daily News ICHIHARA, Chiba — A man who stole a container with radioactive material in it from a company here and apparently dumped the substance in a river in Yokohama has been arrested, police said. Tomonori Iso, 40, was arrested on suspicion of stealing a container of iridium 192 from a storage room at Non-Destructive Inspection Co., in Ichihara, Chiba Prefecture. He has reportedly admitted to the allegations against him.
AFP: Losses mount for operator of Japan's quake-hit nuke plant
Tokyo Electric Power Co., operator of the world's largest nuclear plant which was hit by an earthquake last year, said Wednesday it expected much wider losses this year as inspections continue. A powerful quake in July caused a slew of problems at the Kashiwazaki-Kariwa plant in central Japan, including a fire and a small radiation leak. While no one was hurt, the plant supplying the Tokyo region remains shut down and a team of UN inspectors are this week carrying out a new round of checks. Tokyo Electric, or TEPCO, now expects to post net losses of 155 billion yen (1.45 billion dollars) in the year to March, nearly two-thirds larger than the initially forecast 95 billion yen, a statement said. In the previous year, the world's largest private electricity company enjoyed net profit of 298.15 billion yen.
Bloomberg: Japan's Niigata Quake Most Costly Disaster in '07, Asahi Says Japan's Niigata earthquake in July 2007 was the most costly global disaster of the year, Japan's Asahi newspaper reported, citing a report from a UN agency. The earthquake resulted in $12.5 billion in economic losses, according to the Jan. 18 report from the International Strategy for Disaster Reduction, the newspaper said. The loss was mostly attributed to the closure of Tokyo Electric Power Co.'s Kashiwazaki-Kariwa nuclear power plant, the world's biggest, according to the Asahi. Global economic losses from natural disasters more than doubled to $62.5 billion in 2007 from $30 billion a year earlier, the Asahi said.
N-plant quake stronger than admitted :The Daily Yomiuri Tokyo Electric Power Co.'s Kashiwazaki-Kariwa nuclear power station recorded a jolt with a seismic intensity of 7 on the Japanese scale of 7–similar to that of the Great Hanshin Earthquake in 1995–during the Niigata Prefecture Chuetsu Offshore Earthquake in July, The Yomiuri Shimbun learned Sunday. Although the station's measurement exceeded the upper 6 intensity recorded by the Meteorological Agency during the Chuetsu quake, TEPCO has not revealed the intensity to the public nor reported it to the central and local governments.
Japan nuclear plant workers suffer chemical burns | Reuters Five workers suffered burns at a Japanese nuclear power plant on Tuesday when they were splashed with chemicals during a routine inspection, a spokesman for plant operator Chugoku Electric Power Co said. The 460-megawatt nuclear plant in western Japan has been shut down for planned inspection since December 5, and there was no leakage of radioactivity or impact on the environment, the spokesman said.
TEPCO: Active fault found in seabed off nuclear plant :Daily Yomiuri Tokyo Electric Power Co. on Wednesday said it found a 23-kilometer-long active fault in the Sea of Japan off the Kashiwazaki-Kariwa nuclear power plant, which was damaged in the Niigata Prefecture Chuetsu Offshore Earthquake in July. According to TEPCO, the fault was found in the seabed about 18.5 kilometers from the shore where the plant is located, and it likely caused the powerful earthquake.
N-safety reports inadequate / Gap between public, official views of incidents must be addressed : The Daily Yomiuri Tatsuo Nakajima / Yomiuri Shimbun Staff Writer Tuesday's release of a study downplaying any danger from the nuclear accident at Kashiwazaki-Kariwa nuclear power station in Niigata Prefecture following the Niigata Prefecture Chuetsu Offshore Earthquake suggests there is a gap between public and official views of the incident. The Nuclear and Industrial Safety Agency of the Economy, Trade and Industry Ministry report officially categorized the risk as "level 0 minus"–the lowest level on the International Atomic Energy Agency's International Nuclear Event Scale (INES).
I will never forget the TV images of black smoke billowing from an electric transformer situated next to the plant's No. 3 reactor building immediately after the earthquake hit the area on July 16. No matter how long I sat and watched the TV images, it seemed that no one was trying extinguish the fire–something that naturally made me and anybody who saw those images feel anxious. That afternoon, the power station operator, Tokyo Electric Power Co., said there had been no release of radioactivity following the earthquake. Later that night, however, TEPCO announced that water containing a small amount of radioactive material had leaked into the sea from spent-fuel storage pools in the No. 6 reactor building.
At midnight, Economy, Trade and Industry Minister Akira Amari ordered TEPCO President Tsunehisa Katsumata to explain the situation. The minister also reprimanded Katsumata over the company's failure to swiftly extinguish the fire, as well as its delay in reporting the leakage of radioactive water.
Various media, including The Yomiuri Shimbun, provided detailed reports on the situation at the nuclear power plant over the days that followed. Despite the leak of radioactive water, the incident was given the lowest ranking on the INES scale.
Nearly 3,000 other problems, such as the fire in the electric transformer, are not subject to categorization using the scale, according to the study. No doubt many people feel uneasy about these results. What should we make of the gap between the official results and the way we feel about the incident? Haruki Madarame, a professor at Tokyo University and chairman of the agency's INES Evaluation Subcommittee, said: "The INES scale is solely concerned with nuclear-related incidents, not with disasters caused by things like earthquakes. If there was no release of radioactive material from the nuclear facilities, then the incident will automatically get a low ranking on the INES scale."
Accidents and problems at nuclear power facilities tend to be very technical and complicated, making it hard for ordinary people to understand. Introduced in 1992 by the IAEA and the Organization for Economic Cooperation and Development, INES aims at providing a simplified indicator to help ordinary people understand the relative seriousness of an accident or a problem. In other words, the scale ranks incidents according to the radiation hazard they pose.
As in the incident following the Niigata Prefecture Chuetsu Offshore Earthquake, therefore, problems that do not involve serious damage to a nuclear reactor are not subject to ranking on the scale, creating a gap between the result and public perception.
There have been other cases in which public feeling about an incident did not correspond to the INES evaluation, including a 2004 accident at Mihama nuclear power station's No. 3 reactor in Mihamacho, Fukui Prefecture, in which five people were killed by a steam pipe blowout, and a sodium leak accident at the Monju fast breeder reactor of the Power Reactor and Nuclear Fuel Development Corporation (Donen) in Tsuruga, Fukui Prefecture, in 1995. Both were categorized as "level 1" incidents, described as operations constituting an "anomaly beyond the authorized operating regime."
The 1999 death of two employees at JCO Co. due to exposure to a massive dose of radiation at the nuclear fuel-reprocessing plant in Tokaimura, Ibaraki Prefecture, was evaluated as "level 4"–officially categorized as an "accident without significant off-site risk."
A fire and explosion at Donen's nuclear fuel reprocessing plant in Tokaimura in 1997 was categorized as "level 3," or a "serious incident." Those two events give the impression that the 2004 Mihama accident and the 1995 Monju case were considered less serious. This is due to the fact that the Mihama and Monju events did not involve any release of radioactivity.
It cannot be said with certainty that the incident at the Kashiwazaki-Kariwa plant on July 16 was a significant nuclear accident. However, it is not surprising that the media made a big fuss over it, given that it involved a nuclear power plant suffering unexpected damage from an earthquake, and about 3,000 subsequent problems.
Even though the incident was given a low INES ranking, never before has any nuclear power plant been hit by such a massive quake. The government and electric power companies should show that they are not overreliant on the INES scale, and get to work on ways to prevent a recurrence of such problems–perhaps to include a reexamination of the scale for reactors in earthquake-prone areas. (Nov. 16, 2007)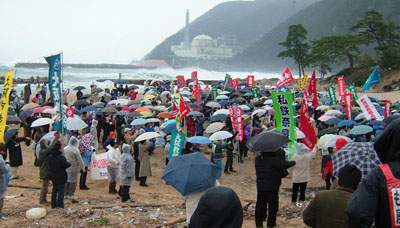 CNIC – Monju Safety On 7 February 2005, Fukui Governor Issei Nishikawa granted approval for the start of modifications to the Monju fast breeder reactor (FBR, 280 MW), which had been shut down for over nine years. Upon receiving this approval, the former Japan Nuclear Fuel Cycle Development Institute (JNC) (now JAEA) started work on the modifications.
On May 30th, as if all these players were working in collusion, the Supreme Court reversed the Nagoya High Court decision, which had acknowledged the claims of the plaintiff citizens and ruled that the license approval of the facility was invalid1 (see NIT 107). The Fukui Governor's approval is reputed to be part of a deal to to extend the bullet train line to Fukui Prefecture and to obtain a 1.9 billion yen budget for a planned center for energy research and development in Fukui Prefecture.
asahi.com : Control rod stuck at nuclear plant A control rod at the Kashiwazaki-Kariwa Nuclear Power Plant in Niigata Prefecture remains stuck, raising concerns that the July 16 earthquake may have distorted the shape of a key area in the reactor, officials said Thursday. Operations at the Tokyo Electric Power Co. (TEPCO) plant have been suspended since the 6.8 magnitude temblor hit, causing a fire and considerable damage to the facilities. The new finding about the control rod, a crucial component in a reactor's operations, is likely to further delay a resumption of plant operations.
BBC NEWS | Asia-Pacific | Fire at Japan's quake-hit plant
The nuclear power plant at Kashiwazaki, Japan – 17/07/2007 The plant suffered damage in July's strong earthquake A fire broke out at a Japanese nuclear plant that has been closed since it was damaged by an earthquake in July. The fire at the Kashiwazaki-Kariwa plant in Niigata prefecture was sparked by a fault in a cooler on the roof of the plant, a spokesman said.
asahi: Next Tokai quake could be massive The heavily populated Tokai region, which experts say is due for a major earthquake within 30 years, has experienced at least three "super" temblors of unimaginable destruction during the past 5,000 years, according to a study. Unlike so-called Tokai earthquakes that occur every 100 years or so, a "super" earthquake is one that causes dramatic change to the landscape through shifts in the Earth's crust. The envisaged Tokai quake, whose epicenter would be in the Bay of Suruga facing Shizuoka Prefecture, has an anticipated 87-percent likelihood of hitting by 2037, according to a government taskforce. It would be in the region of magnitude 8. But some seismologists say the coming quake could actually be a "super" jolt that occurs every millennium or so.
Nuclear doubts spread in wake of Niigata | The Japan Times Online
Global competition for energy resources and tougher controls on greenhouse gas emissions have made Japan reliant on nuclear power. While the government and regional power utilities are quick to associate the word "safety" with atomic energy, several fatalities, accidents, coverups and earthquake threats have damaged the industry's image. This is the first in a series asking whether, in the wake of July's massive quake just 9 km from the world's largest nuclear plant, it still makes sense for such a seismically active country to rely so much on the power of the atom.
Hiroaki Koide of Kyoto University warns that a major earthquake near the Hamaoka Nuclear Power Plant in Shizuoka Prefecture could trigger destruction on the scale of the 1986 Chernobyl disaster and cause millions of casualties. And despite the government's repeated assurance that the July 16 magnitude-6.8 temblor that hit Niigata Prefecture caused no severe damage to the Kashiwazaki-Kariwa nuclear power plant, the reactor expert reckons nothing is absolute when it comes to atomic plant safety. "The (damage) at Kashiwazaki could have been much worse," said Koide, an assistant professor at Research Reactor Institute. "The reported troubles only proved this country's policies need to change." Risk underestimated The risk of operating nuclear power plants in a quake-prone country are manifest in Japan. With four tectonic plates sliding around under the archipelago and at least 2,000 active and identified fault lines, all of Japan's 55 nuclear reactors, as well as nuclear fuel storage and other atomic-related sites, are under constant earthquake threat.
Close Niigata nuclear plant for good: scientists | The Japan Times A group of scientists and engineers called Tuesday for the closure of the quake-hit Kashiwazaki-Kariwa nuclear power plant in Niigata Prefecture, citing the possibility of another huge earthquake in the area. "This region is right in the middle of the Uetsu-Shinetsu fold zone, an area of particularly high crustal activity in the Japan Sea Eastern Margin Mobile Belt and has many active faults," the group said in a statement released in Tokyo. A detailed investigation of the nuclear plant, beginning with the inside of the No. 1 reactor's pressure vessel, and a scientific examination of the ground of the site should be carried out, the statement said. "However, these should not be carried out on the assumption that the plant will be restarted," it added. 8-24-07
BBC NEWS | Asia-Pacific | Nuclear scare after Japan quake
A strong earthquake in central Japan has damaged a large nuclear power plant causing a leak of radioactive material, officials at the plant have said. A small amount of water containing radioactive substances leaked into the sea, officials said, and a fire broke out at the plant in Kashiwazaki. At least seven people were killed and hundreds injured in the earthquake. 8-16-2007
New leak identified at damaged Japanese nuclear plant | Special reports | Guardian Unlimited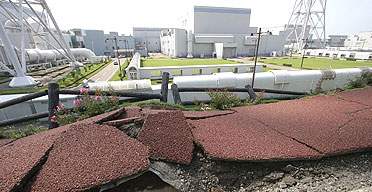 Japanese nuclear inspectors have identified a new radioactive leak at a power plant that was badly damaged in this week's earthquake, compounding concerns about the safety of the country's nuclear reactors. The Nuclear and Industrial Safety Agency said radioactive iodine had leaked from an exhaust pipe at the Kashiwazaki-Kariwa plant in Niigata prefecture on Japan's north-west coast following Monday's magnitude 6.8 earthquake in which 10 people died.
asahi.com : EDITORIAL: Radiation disease Survivors of the 1945 atomic bombings of Hiroshima and Nagasaki were not just injured by the force of the blasts and heat rays that followed. They were also exposed to invisible radiation and as a result developed cancer, leukemia and other serious diseases. Many A-bomb survivors are still suffering from such radiation-related diseases. But the central government's criteria for recognizing illnesses caused by atomic-bomb radiation are very strict, which limited the number of officially certified patients. As a result, hibakusha atomic bomb survivors filed a series of lawsuits at district courts across the nation. In a meeting with A-bomb survivors in Hiroshima on Sunday, Prime Minister Shinzo Abe vowed to review the government's criteria for recognition "based on experts' judgment."
asahi: Katsuhiko Ishibashi: Nuclear plants at grave risk of quake damage …Since around the time of the Great Hanshin Earthquake that devastated Kobe in 1995, however, almost the entire Japanese archipelago has entered a period of brisk seismic activity. In the past two years, major quakes took place in close proximity of three nuclear power plants: the Onagawa plant in Miyagi Prefecture (August 2005), the Shika plant in Ishikawa Prefecture (March 2007) and the Kashiwazaki-Kariwa plant. In each case, the maximum ground motion caused by the quake was stronger than the seismic design criteria for the nuclear power plants. The latest temblor near Kashiwazaki generated a peak ground acceleration of 993 gal, compared with the design value of 450 gal.
---
Mitsubishi to spin off nuclear fuel ops on April 1 | Reuters Mitsubishi Heavy Industries Ltd said it would spin off its nuclear fuel business on April 1 to form an integrated fuel design, production and service company together with France's Areva ) and two other Mitsubishi group companies. Mitsubishi Heavy announced details of the move in December but it did not set a date.
Toshiba, Tepco to buy stake in Canada's Uranium One | Reuters Japan's Toshiba Corp said on Tuesday that it, Tokyo Electric Power Co and the Japan Bank for International Cooperation will together buy C$270 million ($221.9 million) worth of shares in Canada's Uranium One Inc. The private placement issue price of C$2.30 per share represents a 15 percent premium to the 20-day volume weighted average price of Uranium One shares in Toronto.
Japan sent uranium to U.S. in secret | The Japan Times Online Enough highly enriched U.S. uranium to make about 20 nuclear weapons was sneaked back to the United States from Japan over a 12-year period until last summer in a secret operation aimed at keeping it out of terrorists' hands, a senior U.S. official and Japanese specialists recently revealed. The uranium, which was provided to Japan by the United States to build five nuclear nuclear research reactors, totaled more than 500 kg.
Areva, Mitsubishi form new nuclear fuel company
Areva and Japanese partners said they have formed a new fuel company in a four-party agreement, the companies said in a December 22 press statement. The four companies are Mitsubishi Heavy Industries Ltd., Areva, Mitsubishi Materials Corp., and Mitsubishi Corp. The New Company, as they called it, "will be a full-fledged nuclear fuel supplier, integrating development, design, manufacturing and sales of nuclear fuel." The companies said they "are now entering into more detailed discussions with the target of having the New Company established during the first half of 2009." Mitsubishi Nuclear Fuel Co. Ltd. will be restructured and MHI, MMC and Areva "will transfer their related business" to the new company.
Marubeni eyes development of Mongolia uranium mines | Reuters Marubeni Corp, Japan's fifth-biggest trading company, has obtained first rights to conduct feasibility studies in Mongolian uranium mines, a company spokesman said on Tuesday. The move by Marubeni, set to become the first Japanese firm to acquire stakes in uranium mines in Mongolia, comes at a time when demand for the nuclear fuel is expected to rise as China goes through a nuclear building spree to boost clean energy use.
Glitch derails trial run at spent nuclear fuel reprocessing plant | The Japan Times Online The trial operation of a spent nuclear fuel reprocessing plant in the village of Rokkasho, Aomori Prefecture, is unlikely to be completed in November as scheduled due to a glitch, Isami Kojima, president of Japan Nuclear Fuel Ltd., said Friday. The anticipated delay this time is because the plant operator must file an additional report with the government on a test it restarted in October to produce vitrified waste by mixing high-level radioactive liquid waste with glass raw materials in a melting furnace.
Rokkasho plant yields troubling nuke surprise | The Japan Times Some of the highly radioactive vitrified nuclear waste being churned out by the fuel reprocessing plant in the village of Rokkasho, Aomori Prefecture, has been found to contain unexpected highly soluble chemical compounds that are escaping the vitrification process as liquids, Japan Nuclear Fuel Ltd. said Thursday.
12 new problems with Monju fast-breeder reactor come to light – The Mainichi Daily News Some 12 unannounced problems with sodium leak detectors at the Monju fast-breeder nuclear reactor have come to light, the government regulator said. The Nuclear and Industrial Safety Agency (NISA), under the Ministry of Economy, Trade and Industry, has reported to the government's review panel that 12 problems involving Monju's sodium leak detectors have been revealed. Five of them happened before a 1995 sodium leak accident, which led to operations at the plant being suspended.
150 tons of water could leak from Monju reactor fuel pool in major quake – The Mainichi Daily News Up to 150 tons of water could splash out from the pool for spent fuel at the Monju fast breeder nuclear reactor in Tsuruga, Fukui Prefecture, if a magnitude 7-level earthquake struck the area, a study has shown. During the Chuetsu offshore earthquake that hit Niigata Prefecture in July last year, 8.5 tons overflowed from the fuel pools of the No. 1 to No. 7 reactors at the Kashiwazaki-Kariwa Nuclear Power Plant in Niigata Prefecture. The latest study shows that the amount that would overflow at the Monju reactor would be 18 times larger.
Operations postponed at Monju nuclear reactor: Daily Yomiuri The Japan Atomic Energy Agency announced Wednesday it would postpone until February the resumption of operations of the Monju fast-breeder reactor in Tsuruga, Fukui Prefecture. The JAEA initially planned to resume operations of the reactor, which has remained inoperative since a sodium leak in October 1995.
MOX Fuel Production for Kyushu Electric to Start in October Kyushu Electric Power Co.  said Monday that French nuclear fuel maker Melox SA will start producing uranium-plutonium mixed oxide, or MOX, fuel for its "plu-thermal" power generation in early October. Melox will complete output of some 0.5 ton of MOX fuel by next spring using part of the 1.1 tons of plutonium that Kyushu Electric owns in France, the Japanese power supplier said. Following the production, MOX fuel will be transported from France to Japan. The remaining plutonium will be used for further MOX fuel production, but the timing of this has yet to be fixed, company officials said.
Gordon Brown seeks Sellafield nuclear deal with Japan – Telegraph The Prime Minister Gordon Brown will talk to his Japanese counterpart, Yasuo Fukuda, at the G8 meeting in Hokkaido next month about a potential £1bn a year deal which would boost the UK's nuclear industry.
Bloomberg.com: UK seeks nuclear reprocessing deal with japan June 23 (Bloomberg) — British Prime Minister Gordon Brown will meet with his Japanese counterpart Yasuo Fukuda next month to discuss a nuclear-fuel reprocessing contract, worth about 1 billion pounds ($1.98 billion) a year, the Telegraph reported.
Japan venture to explore for Australian uranium: Reuters TOKYO, May 26 (Reuters) – Japanese utility Kansai Electric Power Co  said on Monday its joint venture with two other Japanese utilities and a trading house would participate in a project to explore for uranium in South Australia.
Fuel brought into Monju nuclear plant :Â  Daily Yomiuri FUKUI–Nuclear fuel was brought Friday into the Monju fast-breeder reactor in Tsuruga, Fukui Prefecture, which had been shut down since a sodium leak accident in December 1995. The last time nuclear fuel was brought into the reactor was in November 1995, shortly before the accident.
Japan approves J-Power MOX-fuel reactor construction  | Reuters TOKYO, April 23 (Reuters) – Electric Power Development Co, or J-Power, said on Wednesday it had received government approval to construct a 1,383 megawatt nuclear reactor, the company's first, which will use mixed oxide (MOX) fuel.
Monju reactor's future uncertain / Spate of problems likely to doom Oct. target for restart of operations :Â  Daily Yomiuri The Monju prototype fast-breeder nuclear reactor is critical to Japan's nuclear fuel cycle program. However, there is little hope the reactor will resume operations in October as scheduled after sensors used to detect sodium leaks were found to be defective. Since late March, there have been a string of reports of defective sodium sensors at the fast-breeder reactor, located at the tip of Tsuruga Peninsula in Fukui Prefecture. In response, the Economy, Trade and Industry Ministry's Nuclear and Industrial Safety Agency issued Monday a stern warning to the operator, the Japan Atomic Energy Agency.
Active fault exists near Monju : Daily Yomiuri A 15-kilometer-long active fault zone exists near the Japan Atomic Energy Agency's Monju fast-breeder reactor in Tsuruga, Fukui Prefecture, according to an agency report submitted Monday to the government. The government and the agency previously said the fault in question was not an active fault zone. But after reexamining it under revised standards for earthquake resistant designs, the agency reversed its decision.
Japan: Spent Fuel Transportation loading
Transportation of Nuclear Materials
Japan: Tokai Reprocessing Facility
Japan's Nuclear Fuel Cycle: Japan's Nuclear Fuel Cycle Facilities
Japan's electric power industry has begun to establish a nuclear fuel cycle through Japan Nuclear Fuel, Ltd. (JNFL), a private venture led by the nation's nine electric utilities. JNFL is now the organization leading the way in the creation of Japan's closed nuclear fuel cycle. The company headquarters are in Aomori City in Japan's northern Aomori Prefecture, and the majority of its facilities are at the Rokkasho Village site. An interim storage center is also being considered at a site in Mutsu City north of Rokkasho.
---
U.S. N-policy could hurt Japan / Obama's changes may undermine planned N-waste disposal facility : Daily Yomiuri U.S. President Barack Obama's nuclear energy policy could have considerable significance for Japan. In particular, possible policy changes relating to the construction of a nuclear waste facility would have a definite impact on Tokyo's plans for a similar project. Though the new U.S. administration has yet to clarify its policy on nuclear power, among other issues, Obama's remarks during his presidential election campaign and the lineup of his administration staff provide indications of the likely course of his nuclear energy policy.
METI looks to improve nuclear waste furnace | The Japan Times The Ministry of Economy, Trade and Industry Ministry and Japan Nuclear Fuel Ltd. will work together on improving a furnace for disposing of radioactive waste at the spent nuclear fuel reprocessing plant in Aomori Prefecture, ministry sources said. The development cost is expected to exceed ¥14 billion, of which the government will provide about ¥7 billion, they said. The project will aim for completion in the 2013 fiscal year. The decision was made because the melting furnace at the plant in Rokkasho has had technical problems, causing the plant to extend its trial period to August.
Radioactive waste facility gets green light (The Daily Yomiuri) A bill to revise the Japan Atomic Energy Agency Law to allow the construction of a site to dispose of low-level radioactive waste passed the House of Councillors on Wednesday. The revised law designates the agency as a body responsible for constructing and managing waste sites. JAEA will draw up a construction plan based on guidelines to be formulated by the Education, Science and Technology Ministry and will start looking at candidate sites for the facility with an eye on starting operations a decade later.
---
Nix 'clean' in nuke ads, utilities told | The Japan Times An advertising watchdog has told the Federation of Electric Power Companies of Japan to come up with another slogan for its nuclear energy ads because the term "clean" is misleading, sources familiar with the matter said. In a nonbinding adjudication delivered Nov. 25, the Japan Advertising Review Organization Inc. said that a power federation ad published in a magazine in April 2008 inappropriately stated that "Nuclear power generation is a clean way to generate electricity," the sources said. JARO discussed the matter through a panel of seven experts after a man in Kanagawa Prefecture complained that nuclear power generation should not be described as clean because of the risk of radioactive pollution resulting from accidents.
Nishimatsu in shady deal for nuke site land | The Japan Times Online Nishimatsu Construction Co. in 2001 had a dummy company buy a plot of land in Mutsu, Aomori Prefecture, that was a candidate site for a planned nuclear waste storage facility in an attempt to win a contract to build the planned facility, according to sources. A source close to Nishimatsu said the deal was apparently aimed at giving Nishimatsu an advantage in winning the contract while keeping itself in the background.
N-power debate at crossroads / Falling oil prices, poor research results cast doubt on industry's future : Daily Yomiuri
The government's Atomic Energy Commission began looking into how the country's nuclear energy research should proceed in August because of a recent change in the circumstances surrounding nuclear energy. For about 20 years, the nuclear energy industry experienced continuous misfortune and opposition. However, its fortunes began to change in 2001, when the U.S. government started building more nuclear power plants. More recently, in Japan, former Prime Minister Yasuo Fukuda said nuclear energy was an energy source for a low carbon society.
Chubu to sue Hitachi over turbine damage -| Reuters Japan's Chubu Electric Power Co is likely to sue Hitachi Ltd, seeking damages for the loss of earnings due to problems with a Hitachi-made turbine, a newspaper reported. Hitachi has said it will bear all the costs for repairing a broken turbine at Chubu's No. 5 nuclear unit at its Hamaoka plant in western Japan.
Toshiba to tie up with S. Korean nuclear firm: The Daily Yomiuri Toshiba Corp. has reached an agreement with IHI Corp. and South Korea's leading heavy industries corporation over a business tie-up in the production of nuclear reactors, company sources said Tuesday. The latest accord means IHI, a major shipbuilding and engineering corporation formerly known as Ishikawajima-Harima Heavy Industries Co., and Doosan Heavy Industries Co. will participate in a nuclear power business framework established in 2006 when Toshiba acquired the U.S. company Westinghouse Electric Corp.
Hitachi, GE to develop mid-size nuclear reactors | Reuters Japan's Hitachi Ltd  said on Wednesday it will develop mid-size nuclear reactors together with General Electric Co  to tap growing demand for smaller nuclear power plants in Southeast Asia and other emerging markets.
Japan, France eye more cooperation on N-power : Daily Yomiuri Japan and France are expected to agree to expand the scope of their cooperation in nuclear power utilization during a tour of Japan by French Prime Minister Francois Fillon in early April, according to diplomatic sources here.The two nations have a common interest in expanding the use of nuclear energy because they rely on other countries for carbon-based energy resources and find it increasingly difficult to secure a stable supply in the face of the hard-line resource-based diplomacy practiced by Russia and China, the sources said.
US,France,Japan sign MOU on sodium-cooled fast reactor technology The US, France and Japan have signed an MOU that expands their cooperation on the development of sodium-cooled fast reactor technology. The US DOE reported February 1 that the memorandum of understanding establishes a collaborative framework aimed at the deployment of sodium- cooled fast reactor prototypes. No target date for deployment was given. These countries already cooperate as part of DOE's Global Nuclear Energy Partnership, aimed at closing the nuclear fuel cycle through the use of advanced reprocessing and fast reactor technologies, as well as DOE's Generation IV International Forum for the development of next-generation reactor technologies. France's Commissariat a l'Energie Atomique added in a February 1 statement that the three are committed to developing fast reactor prototypes to meet their own national programs' objectives and have agreed to avoid duplicating work on sodium-cooled fast reactor technology, allowing them to optimize use of their resources. A steering committee has been created to coordinate work defined by the MOU, it said.
Wall Street Journal: In Japan, Resistance Rises To Nuclear-Power Plans As global interest in nuclear power grows, Tokyo Electric Power Co.'s struggle with the world's largest nuclear plant — shut down after an earthquake a year ago — illustrates how tricky and expensive operating such facilities can be.
BBC NEWS | Asia-Pacific | Japan firms raided in nuclear row Police in Japan have raided two companies after vacuum pumps they manufactured and sold were found in a North Korean nuclear facility. They searched a manufacturing company in Kanagawa prefecture, south of Tokyo, and a trading company in the capital.
AFP: Japan, US say joining hands in nuclear power plants AOMORI, Japan (AFP) As oil prices surge to record levels, Japan said Saturday it would help build nuclear power plants in the United States, sensing opportunities for Japanese companies. "We reaffirmed our commitment to promoting bilateral nuclear energy cooperation," said a joint statement after talks by Japan's Economy, Trade and Industry Minister Akira Amari and US Secretary of Energy Samuel Bodman.
Court nixes ex-N-plant worker's suit :Â  Daily Yomiuri The Tokyo District Court has rejected a damages suit filed by a former worker at a nuclear plant in Fukushima Prefecture, in which the plaintiff sought about 44 million yen in compensation for developing multiple myeloma, a kind of blood cancer, due to exposure to radiation.
Viet Nam News: Japan, Viet Nam ink nuclear power deal HA NOI — Viet Nam wanted Japan to help the country develop a safe nuclear programme, Deputy Prime Minister Hoang Trung Hai told visiting Japanese Deputy Minister of Economy, Trade and Industry Nakano Masashi in Ha Noi yesterday.
The Star | Nuclear revival bumps against atrophy Possible shortage of super-forged parts threatens to delay renaissance
Bloomberg: Japan: J-Power to Invest 1 Trillion Yen in Plants, Overseas Projects Electric Power Development Co., Japan's largest electricity wholesaler, will spend 1 trillion yen ($10 billion) in the five years from April to expand capacity and invest in overseas power and mining projects. "This spending is necessary to give fruitful returns to our shareholders and investors," President Yoshihiko Nakagaki told reporters in Tokyo today. "We will expand power projects overseas, seek opportunities to acquire stakes in coal mines and also try to enter the wind power business abroad."
Japan Focus: The Japanese Nuclear Power Option: What Price? With the price of oil skyrocketing to more than $100 a barrel, many nations including Japan and the United States, are looking to the nuclear power option among others. Is nuclear power a viable option in a world of expensive and polluting fossil fuels? Japan Focus, in the first of a series of articles on energy options centered on renewable options and the environmental costs of energy options, presents the case for nuclear power recently made by Endo Tetsuya and a critique of the nuclear option by Arjun Makhijani.
Energy Net» NGO's demand the IAEA stop misleading the international community and TEPCO improve transparency 7 September 2007 Chuetsu-Oki Earthquake – Kashiwazaki-Kariwa Nuclear Power Plant NGO's demand the IAEA stop misleading the international community and TEPCO improve transparency NGOs today demanded that there be greater international accountability from the International Atomic Energy Agency (IAEA) and that Tokyo Electric Power Company (TEPCO) improve its transparency surrounding the impact of the Chuetsu-Oki Earthquake on the Kashiwazaki-Kariwa Nuclear Power Plant.
Japan quake sends tremors across nuclear industry |Â  Reuters A Japanese earthquake that forced the closure of the world's biggest nuclear plant has highlighted the energy source's dangers, just when support had been growing. Worries about security of energy supply and the urgency of fighting climate change had helped to overcome years of opposition to nuclear power after the 1986 Chernobyl disaster.
---
U.S. should review justification of atomic bombings of Japan – The Mainichi Daily News Former President George W. Bush said during an ABC interview aired in December that the "biggest regret" of his presidency was the absence of weapons of mass destruction in Iraq, for which the U.S. waged the war. His statement virtually acknowledges it was a war without a cause. It's too late for regrets, but what about Japan? The Japanese government did support the U.S.-led war on Iraq, but it has now fallen silent as if the war is someone else's affair. Are we simply going to evade the issue by saying it was a decision by former Prime Minister Junichiro Koizumi?
100 A-bomb survivors return from 4-month voyage  Japan Today: Japan News and Discussion One hundred survivors of the atomic bombings of Hiroshima and Nagasaki returned to Tokyo on Tuesday from a four-month voyage around the world to call for the abolition of nuclear weapons and share their experiences with global audiences. During the voyage, organized by the nongovernmental organization Peace Boat, the survivors visited 20 countries to meet with the local people to seek nuclear abolition. In Danang, Vietnam, in September they visited victims of Agent Orange, a chemical dropped by U.S. forces during the Vietnam War, at the Rehabilitation Center for Victims of Agent Orange, while in Papeete, Tahiti, in December, they met with those who were affected by French nuclear tests at the Mururoa Atoll, according to Peace Boat. From Japan, 94 survivors participated in the voyage, with four from South Korea, two from Brazil, and one each from Australia, Canada and Mexico, according to Peace Boat.
Sato told U.S. to use nukes if Japan hit / Johnson urged to retaliate in event of 'war' :  Daily Yomiuri In 1965, then Prime Minister Eisaku Sato asked the United States to immediately use nuclear weapons if Japan was attacked with nuclear arms, according to Japanese diplomatic documents disclosed by the Foreign Ministry on Monday. On his first visit to the United States in January 1965 after taking office, Sato told then U.S. Defense Secretary Robert McNamara that Japan expected the United States to launch retaliatory attacks with sea-based nuclear weapons. His visit followed China's successful nuclear test in October 1964.
Japan refused to promise NPT passage in '73 statement with U.S. | The Japan Times Online Japan rejected a U.S. proposal to include Tokyo's desire to quickly ratify the Nuclear Nonproliferation Treaty in a joint statement issued in 1973 by Prime Minister Kakuei Tanaka and President Richard Nixon. Diplomatic documents that have just been declassified show that the Japanese government resisted the U.S. proposal by citing opposition from some lawmakers in the ruling Liberal Democratic Party. The proposed clause did not appear in the statement that was issued in Washington on Aug. 1, 1973.
No-nuke policy ruled out years before declaration | The Japan Times The Foreign Ministry compiled a document in 1959 warning that making a declaration of not going nuclear could hamper Japan's flexibility in pursuing national security, eight years before the country declared its three nonnuclear principles, according to documents that were part of a series of diplomatic papers officially declassified Monday by the Foreign Ministry. Prime Minister Eisaku Sato declared the three principles of not producing, possessing or allowing nuclear weapons in Japan in the Diet in December 1967, laying the foundation for what later became Japan's peace diplomacy.
Design Observer: Hiroshima: The Lost Photographs
One rainy night eight years ago, in Watertown, Massachusetts, a man was taking his dog for a walk. On the curb, in front of a neighbor's house, he spotted a pile of trash: old mattresses, cardboard boxes, a few broken lamps. Amidst the garbage he caught sight of a battered suitcase. He bent down, turned the case on its side and popped the clasps. He was surprised to discover that the suitcase was full of black-and-white photographs. He was even more astonished by their subject matter: devastated buildings, twisted girders, broken bridges  snapshots from an annihilated city. He quickly closed the case and made his way back home.
Associated Press: Japan protests unannounced visit by US nuclear sub Japan lodged a protest with the United States after an American nuclear submarine made an unannounced visit in southern Japan, the Foreign Ministry said Monday. The USS Providence arrived in the White Beach Naval Facility on the southern island of Okinawa on Monday without prior notice, a requirement under a bilateral agreement, and stayed there for two hours, the ministry said. "It is extremely regrettable that a U.S. submarine visited one of our ports without proper advance notice," the ministry said in a statement. "The United States must notify our government at least 24 hours before its nuclear submarines visit our ports."
102 Hiroshima survivors on a mission in India In a unique move to propagate the message of nuclear weapon free world, 102 Hiroshima-Nagasaki atomic bomb survivors have reached Kochi. With India making the right moves to strike the nuke deal, the Japanese Hibakushas or the atomic attack survivors are worried about the safety of the world.
The Associated Press: Japan: Hundreds protest US carrier arrival Hundreds of protesters gathered outside a U.S. naval base Wednesday to oppose the arrival of the USS George Washington, a nuclear-powered aircraft carrier that is to make its home port just outside of Tokyo. About 500 protesters rallied near Yokosuka Naval Base, just south of Tokyo, shouting slogans and waving banners ahead of the ship's scheduled arrival early Thursday.
Hibakusha tells story of how atomic bombing led to life of suffering for unborn sister – Mainichi Daily News Hiroko Ikeda's fate was sealed before she was even born. Exposed to radiation while still in her mother's womb after the bombing of Nagasaki, she suffered with frequent convulsions for many years until her death earlier this year, as her brother Teruo Deguchi, 72, explained to a local junior high school on Saturday.
The Associated Press: Nagasaki mayor urges nuclear weapons ban Nagasaki's mayor commemorated the 63rd anniversary of the world's second atomic bomb attack on Saturday with a call for stricter measures against North Korea, Pakistan and Israel for their possession of nuclear weapons. A moment of silence was observed throughout Nagasaki in southern Japan at 11:02 a.m., the time in 1945 when a U.S. B-29 bomber dropped an atomic bomb on the city, killing about 74,000 people. The attack came three days after an atomic bomb was dropped on the city of Hiroshima, killing at least 140,000.
Residents angered over slow report on leak of radiation from nuclear sub – Mainichi Daily News Residents in Nagasaki and other areas have expressed anger over news that a U.S. nuclear submarine leaked small amounts of radioactive cooling water over a period of more than two years while calling at ports in Japan. Data showed no abnormalities when the USS Houston called in at ports, but residents remain angered over the recent news.
US says submarine leaked radiation in 3 Japan ports | Reuters A U.S. nuclear-powered submarine which has steadily been leaking a small amount of radiation for over two years stopped at three Japanese ports, as well as Guam and Pearl Harbor, the United States and Japan said on Thursday. Japan was notified by the United States last week that the nuclear-powered USS Houston had been leaking water containing a small amount of radiation, but was told at the time that it was unclear when the leak had started.
OpEdNews: 63 Years after Hiroshima and Nagasaki, "The Last Best Chance" Sixty-three years ago this week war became obsolete in man's quest to resolve conflict. On August 6, 1945 and three days later August 9, 1945 the cities of Hiroshima and Nagasaki, Japan were destroyed by the first atomic weapons used in war. The weapons, small and crude weapons by todays standards killed 90,000 and 40,000 people instantly and caused the deaths of 200,000 by the end of 1945 and an additional tens of thousands more over the next years.
Associated Press: Japan warned of possible nuclear leak from US sub The U.S. Navy has warned that a nuclear submarine may have had radioactive leaks during recent port calls in Japan's south, the country's Foreign Ministry said Saturday. Japan's Foreign Ministry said in a statement that it was informed by the U.S. Navy that a small amount of radiation might have leaked from the nuclear-powered USS Houston as it traveled around the Pacific.
The Associated Press: 13,000 Japanese protest US nuclear carrier housands of Japanese rallied against the permanent basing of a nuclear-powered U.S. warship near Tokyo, saying a recent onboard fire made it unsafe. About 13,000 protesters gathered at a park near the port of Yokosuka, just south of the capital, where the USS George Washington aircraft carrier will be based, media reports and organizers said.
Atomic bomb survivor shares her story – Kentucky.com Miyoko Watanabe had just walked out of her house in Hiroshima on the morning of Aug. 6, 1945, when she saw a flash of orange and yellow light.
Study: Nuclear attack now could kill, injure 832,000 in Hiroshima :Â  Daily Yomiuri A nuclear attack against Hiroshima would kill or injure up to 832,000 people, a study group of the Hiroshima municipal government said Wednesday. The working group, headed by Hiromi Hasai, professor emirates of Hiroshima University, revealed the findings in the draft of the final report on its estimates of victims in a nuclear attack.
Documents show evidence of N-deal / Fresh discovery of U.S. memos show link between Okinawa return, N-weapons : Daily Yomiuri The fresh discovery of U.S. government documents mentioning a secret deal reached during Japan-U.S. talks over the reversion of Okinawa Prefecture to Japanese rule has served as another convincing piece of evidence for the long-held suspicion that the two governments agreed to allow nuclear weapons to be brought into the post-reversion prefecture. Was a secret agreement reached by the two countries to permit the reintroduction of nuclear arms? This question has long loomed over the talks that negotiated the return of Okinawa Prefecture to Japanese rule. The newly found documents contain more details than others that have previously come to light. One carries the phrase, "secret U.S.-Japanese agreements," which proves the existence of a clandestine deal.
The Myth of Hiroshima In my previous post today about Eisenhower, I suggested that he had been against the dropping of the atomic bomb. Many Americans have been so propagandized by Cold War history that they have accepted the false rationale that has been used to justify this American war crime. That set the stage for further useless civilian bombings by the U.S. in our post war military endeavors. The success of civilian bombings during WW II was exaggerated to justify its utter failure. Air power is very effective in coordination with infantry and armored attack. The Germans called it blitz kreig. The Russians did not believe that civilian bombings were effective and did not develop a long range bomber until after the war to carry its atomic weapons.
MSN-Mainichi Daily News: Photo Special: Hiroshima MSN-Mainichi Daily News: Photo Special: Nagasaki U.S. sought to replicate atomic bombings :Â  Daily Yomiuri The U.S. Atomic Energy Commission, predecessor of the U.S. Energy Department, discussed carrying out an experiment to explode atomic bombs identical to the ones dropped on Hiroshima and Nagasaki, to measure the bombs' force and the extent of damage they inflicted, The Yomiuri Shimbun has learned. According to documents obtained from archives affiliated with the department, including confidential records at the time and other letters, the discussions continued up to the early 1960s. However, after signing the Limited Nuclear Test Ban Treaty in 1963 that prohibited underwater, atmospheric and outer space nuclear testing, the United States was unable to perform nuclear tests overground and the plan was never carried out.
Mother Jones: After the Bomb Dropped
For more than 25 years, Steven Okazaki has been making movies about the 1945 atomic bombing of Japan. His latest film on the subject, White Light/Black Rain, which will air on HBO starting August 6, is the film he's "been wanting to make for 25 years." In it, he tells the stories of more than a dozen bombing survivors plus those of the Americans directly involved in creating and dropping Fat Man and Little Boy on Nagasaki and Hiroshima, respectively. The personal narratives are fascinating, but they're awkwardly woven with a chaotic mix of historical footage, personal interviews, and present-day sit-ins and public art exhibitions inspired by the bombings. The mix is disorienting and confusing, perhaps an intentional reference to how the survivors recall feeling immediately after the bombs first dropped. Ultimately, White Light/Black Rain provides memorable, personal experiences and a little insight into life in post-WWII Japan, but little in way of a cohesive vision.
---
Govt aiming to halve cost of solar power generation :Daily Yomiuri The government plans to announce policy measures aimed at halving the price of solar power generation in the next three to five years as part of its action plan on greenhouse gas emissions, government sources say. According to the sources, the measures will form part of an action plan designed to bring about a 60 percent to 80 percent cut in carbon dioxide emissions by 2050 and thereby create a low carbon-emission society.
---
Nuclear Editorial and Opinions
asahi: EDITORIAL: Hamaoka nuclear plant Chubu Electric Power Co. has decided to retire two old nuclear reactors and build a new state-of-the-art reactor at the same nuclear power plant. The first-ever reactor "replacement" in the nation will be made at the company's Hamaoka Nuclear Power Station in Shizuoka Prefecture. The No. 1 and No. 2 reactors at the Hamaoka plant, which started operation in the late 1970s, have been shut down since 2001 and 2004, respectively, due to accidents and for repair. Chubu Electric initially planned to retrofit the two reactors to raise their earthquake resistance under new safety standards and reopen them in fiscal 2011.
No nukes, no proliferation : Daily Yomiuri Ramesh Thakur / Special to The Daily Yomiuri The rising anxieties about nuclear weapons are rooted in two major and parallel developments: a renaissance of nuclear power and a resurgence of old-fashioned national security threats that supposedly had ebbed with the end of the Cold War. After the well publicized accidents at Three Mile Island in the United States in 1979 and Chernobyl in Ukraine in 1986, opposition to nuclear power was so strong that many reactor plants were shut down, plans for new ones were canceled and virtually no new reactor was built over the past decade.
With the spiraling price of oil caused by a spike in demand and disruptions to supply, the economics of nuclear power has changed. With the accelerating threat of global warming caused by greenhouse gas emissions, the balance of environmental risk has shifted. Adding technological developments, the politics of constructing and operating nuclear power reactors has also altered. The net result is plans for building several reactors to add to the 435 reactors in 30 countries that provide 15 percent of the world's electricity today. Asia will account for 18 of the 31 planned new reactors.
The spurt in Chinese and Indian demand is a function of booming economic growth and population. In Japan and South Korea interest in nuclear power arises from lack of indigenous oil and gas resources and the desire for energy security and reducing greenhouse gas emissions. This throws up three clusters of concern: — How do we ensure that the plants are operated with complete safety? — How do we secure the plants against theft, leakage and attacks of weapons-sensitive material, skills and knowledge? — How do we build firewalls between civilian and weapons-related use of nuclear power?
These concerns extend also to the international trade in nuclear material, skills and equipment. Mohamed ElBaradei, the director general of the International Atomic Energy Agency, observed in 2004 that "Nuclear components designed in one country could be manufactured in another, shipped through a third, and assembled in a fourth for use in a fifth."
The challenge on the national security front is fourfold.
First, the five Nuclear Nonproliferation Treaty-licit nuclear powers–Britain, China, France, Russia and the United States–have ignored their NPT obligation to disarm. Instead they are busy enlarging, modernizing and upgrading their nuclear arsenals and refining nuclear doctrines to indicate retention and expanded use of these weapons for several decades yet.
The lesson to others? Nuclear weapons are indispensable in today's world and becoming more useful for dealing with tomorrow's threats.
Second, three states outside the NPT–India, Israel and Pakistan–have been accepted, more or less, as de facto nuclear weapons powers.
Third, as an intergovernmental agreement, the NPT doesn't cover nonstate groups, including terrorists, who might be pursuing nuclear weapons. The turmoil in Pakistan, with President Gen. Pervez Musharraf playing the "loose nukes" card to retain U.S. backing, highlights the related danger of links between rogue elements of security forces and extremists.
Fourth, some countries may be cheating on their NPT obligations and seeking nuclear weapons by stealth. The drumbeats of war being sounded in Washington on Iran bring back memories of 2002-03. This is a story we've heard before. We didn't like the ending the first time and are unlikely to like it any better the next time round.
The disquieting trend of a widening circle of NPT-illicit and extra-NPT nuclear weapons powers in turn has a self-generating effect in drawing other countries into the game of nuclear brinksmanship.
The renaissance of nuclear power cannot be explained solely by the interest in nuclear energy for civilian uses. What might be the solution? Of the 27,000 nuclear weapons in existence today, 12,000 are deployed and ready for use, with 3,500 on hair-trigger alert.
To begin with, some practical and concrete measures are long overdue: Bringing the Comprehensive Test Ban Treaty into force; negotiating a verifiable fissile materials treaty; retrenching from launch-on-warning postures, standing down nuclear forces. That is, reviving, implementing and building on agreements for reducing the role, readiness and numbers of nuclear weapons in defense doctrines and preparations.
But these amount to tinkering, not a bold and comprehensive vision of the final destination. What we need are rules-based regimes on the principles of reciprocity of obligations, participatory decision-making and independent verification procedures and compliance mechanisms. U.S. presidential hopeful Sen. Barack Obama, D-Ill., declared, "America seeks a world in which there are no nuclear weapons." In January, three former U.S. secretaries of defense and state–George Shultz, William Perry, Henry Kissinger–and Sen. Sam Nunn, D-Ga., former chairman of the Senate Armed Services Committee, in an op-ed in the Wall Street Journal, called on Washington to take the lead in the abolition of nuclear weapons.
The national security benefits of nuclear weapons, they argued, are outweighed by the threats posed to U.S. security by uncontrolled proliferation. The symbiotic link between nonproliferation and disarmament is integral to the NPT, the most brilliant half-successful arms control agreement in history. The number of countries to sign it–188–embraces virtually the entire family of nations.
But the nuclear arsenals of the five NPT nuclear powers expanded enormously. With almost four decades having elapsed since 1968, the five NPT nuclear powers are in violation of their solemn obligation to disarm, reinforced by the advisory opinion of the World Court in 1996 that the NPT's Article 6 requires them to engage in and bring to a conclusion negotiations for nuclear abolition.
Despite this history and background, a surprising number of arms control experts focus solely on the nonproliferation side to demand denial of technology and materiel to all who refuse to sign and abide by the NPT, and punishment of any who cross the threshold. The term "nonproliferation ayatollahs" is applied pejoratively to them. The latest episode in this long-running and tired serial is the United States, Britain and France threatening Iran with war to stop it from acquiring–not using, merely acquiring–nuclear weapons.
From where do the leaders of nuclear-armed Britain and France derive the moral authority to declare that a nuclear Iran is unacceptable? Nuclear weapons could not proliferate if they did not exist. Because they do, they will. The policy implication of this logic is that the best guarantee of nuclear nonproliferation is nuclear disarmament through a nuclear weapons convention that bans the possession, acquisition, testing and use of nuclear weapons, by everyone. This would solve the problem of nonproliferation as well as disarmament. The focus on nonproliferation to the neglect of disarmament ensures that we get neither.
If we want nonproliferation, therefore, we must prepare for disarmament. Too many, including the government of Japan, have paid lip service to this slogan, but not pursued a serious program of action to make it a reality. The elegant theorems, cogent logic and fluent reasoning of many authoritative international commissions, including the Tokyo Forum, have made no discernible dent on the old, new and aspiring nuclear powers.
A coalition between nuclear-armed and nonnuclear countries, led perhaps by India–which has crossed the threshold from a disarmament leader to a hypocritical nuclear power–and Japan, the only country to have suffered an atomic attack, might break the stalemate and dispel the looming nuclear clouds.
Time is running out for the hypocrisy and accumulated anomalies of global nuclear apartheid. Either we will achieve nuclear abolition or we will have to live with nuclear proliferation followed by nuclear war. Better the soft glow of satisfaction from the noble goal realized of nuclear weapons banned, than the harsh glare of the morning after of these weapons used. (Nov. 22, 2007)