I'm gonna be short in the overview on stories, other than just to say that the bigger energy policy scene is exploding. Maybe the biggest story out there is whether or not Henry Waxman can unseat Dingell from the Energy committee in the House. If that happens the reign of Detroit politics over this country's energy issues will have finally been broken.
And after messing with the system for a couple of weeks, I figured out how to upgrade the blog software! The new version allows me to add video pieces!
---
Top Nuclear Stories Index
---
Nuclear Reactor News
RIA Novosti – Chavez says Russia to build nuclear reactor in Venezuela
Russia will help Venezuela build its first nuclear reactor in the northwestern province of Zulia, President Hugo Chavez said on Sunday.
Chavez had announced on Friday that Venezuela was in talks with Russia on nuclear energy cooperation, and the issue is likely to be discussed during Russian President Dmitry Medvedev's visit later this month.
"A nuclear reactor, to produce energy for peaceful purposes, will soon be built in Estado Zulia and named in honor of the Venezuelan scientist of the last century Humberto Fernandez Moran," Chavez told supporters in Maracaibo, the capital of Zulia state.
Reading Up on Nuclear Energy – WSJ.com
PETER A. BRADFORD, adjunct professor, Vermont Law School, and former member of the Nuclear Regulatory Commission:
* For an even-handed recent overview of most nuclear power issues, see "Nuclear Power Joint Fact-Finding," a June 2007 report by the Keystone Center, a non-profit organization that brought together a cross section of parties interested in nuclear energy – including environmentalists and consumer advocates, industry representatives and government officials – to create a base of agreed-upon knowledge about the costs, risks and benefits of nuclear power.
www.keystone.org/spp/documents/FinalReport_NJFF6_12_2007(1).pdf
* For a responsibly skeptical look at nuclear power's rapidly rising costs in comparison to available low carbon alternatives, see "The Nuclear Illusion" by Amory Lovins and Imram Sheikh in the November 2008 Ambio, the Journal of the Royal Swedish Academy of Sciences.
https://www.rmi.org/images/PDFs/Energy/E08-01_AmbioNuclIlusion.pdf
The Journal Report
* See the complete Energy report.
* The Web site of the Nonproliferation Education Center, maintained by WSJ op-ed contributor Henry Sokolski, features an ongoing collection of thoughtful conservative pieces skeptical of nuclear power.
http://www.npec-web.org/
* For an excellent short critique of reprocessing and the Bush Administration's Global Nuclear Energy Partnership, see Victor Gilinsky and Alison Macfarlane's Minority Opinion from the National Academy of Science's Review of DoE's Nuclear Research and Development Program, http://books.nap.edu/openbook.php?record_id=11998&page=73
* For an even-handed look at how nuclear construction went astray in the U.S. in the 1970s, the best book remains "Light Water: How the Nuclear Dream Dissolved, Irvin C. Bupp and Jean-Claude Derian.
* Another good overview text is Megawatts and Megatons, Richard Garwin and Georges Charpak.
Proposed Emery County Nuclear plant challenged – Salt Lake Tribune
Critics hope that, without water, plans for Utah's first nuclear power plant will evaporate.
To that end, they recently filed formal protests with the State Engineer's office aimed at stopping the Kane County Water Conservancy District from preserving its right to 29,600 acre-feet of water already under lease by the reactor's developers.
Vt. utilities plan for no-nuke future: Times Argus
Vermont's two largest electric utilities are preparing for the possibility of an energy future that does not include Vermont Yankee nuclear power plant.
Green Mountain Power and Central Vermont Public Service announced Friday that they are soliciting bids for new energy sources in case the Vernon nuclear reactor is not available or if they can't agree on a new contract with the power company.
The search for new electricity is part of a package of requests that has started with the utilities looking to broaden the diversity of their energy sources outside of Vermont Yankee and Hydro-Quebec.
Nuclear power's prohibitive costs – Bennington Banner
As industry lobbyists and campaigning politicians are busily pushing nuclear power as "a clean safe alternative" to fossil fuels, a landmark article by Lester R. Brown of the Earth Policy Institute shows conclusively that nuclear power is a "bad deal" any way you look at it.
Amory Lovins and Imran Sheikh, in a recent analysis, 'The Nuclear Illusion," sets the cost of electricity from a new nuclear power plant at 14 cents per kilowatt hour, while the cost of electricity from a wind farm is half that. Why the huge difference? In addition to fuel costs, capital operations, transmission and distribution expenses, nuclear power must also pay for waste disposal, insurance against accidents, and plant decommissioning.
The U.S. leads the world in nuclear power generation, with 104 reactors producing 101,000 megawatts, compared to second-ranked France which produces 63,000 megawatts. The estimated cost of constructing a permanent, safe waste repository at Yucca Mountain, Nevada, ballooned from $58 billion in 2001 to $96 billion by 2008, and this repository could not be completed before 2017, meaning that high-level nuclear waste must be stored at reactor sites at least until then.
Nuclear watchdog group appeals Pilgrim plant ruling – Daily Business Update – The Boston Globe
A nuclear watchdog group has appealed a ruling by federal regulators that clears the way for a 20-year extension of the Pilgrim nuclear power plant's operating license.
The appeal, filed with the Nuclear Regulatory Commission by Pilgrim Watch president Mary Lampert, argues that a three-member panel misinterpreted legal precedents when it ruled last month that the Plymouth plant's management plan adequately protects against potential radioactive leaks.
guardian: Nuclear's appeal wanes in Qatar as energy prices fall
Nuclear power plants have become less economically attractive for Qatar with the fall in international oil and gas prices, a Qatari official said Monday.\n"Nuclear would not compete with the current price of gas for us," Yousuf Janahi, manager of corporate planning and business development at Qatar's state-owned power company Kahramaa, told Reuters on the sidelines of a nuclear energy conference.\n"It is less economically viable now, and less attractive. The potential costs are changing with the turmoil in financial markets, the economic slowdown and development of alternative fuels."
SAfrica to re-examine nuclear plant plan -official | Reuters
South Africa's plan to build a nuclear plant to tackle its energy shortages has to be revisited in light of the economic climate and the project may be postponed, an energy ministry official said on Thursday.
The country plans to build its second nuclear power plant, estimated to cost billions of dollars and meant to provide 20,000 megawatts of power to help meet fast-rising demand that the country has not been able to keep up with.
Progress Energy gets OK to raise average bill by $16 | Ocala.com | Star-Banner | Ocala, FL
The Florida Public Service Commission on Wednesday granted Progress Energy an increase in its average monthly rates to cover its increasing fuel expenses and make environmental improvements to its existing power plants.
The request, which raises the average power customer's bill $15.87 a month, follows an earlier PSC meeting this fall when the five-member panel approved another Progress Energy hike of $11.42 to begin paying the cost of building its proposed Levy County nuclear power plant.
---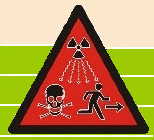 Nuclear Health and Safety News
Audit finds good, bad in sick worker program : Knoxville News Sentinel
A new audit of the sick nuclear workers compensation program found that the U.S. Department of Labor was following the rules, but the report said the federal agency could do more to help the claimants and accelerate the process.
"Based on our review, we found that the claims decisions issued by DOL were based on evidence supplied by or obtained on behalf of claimants and complied with applicable laws and regulations," the report by the Labor Department's Office of Inspector General said.
High Levels Of Uranium Found In Water At 2 Madison Schools — Courant.com
Unusually high levels of uranium found in the well water of two schools has forced town officials to shut off the bubblers and provide students with bottled water while they investigate.
School officials said they have been told the contamination is not harmful.
"The state toxicologist said it shouldn't be a great concern, it's a non-problem as far as they are concerned," board of education Chairman Robert Hale said.
AFP: Sailor charged in deadly Russian nuclear sub accident
A Russian sailor has been charged for causing an accident where 20 people were gassed to death on a nuclear submarine in the country's worst tragedy since the 2000 Kursk disaster, officials said on Thursday.
"The suspect is one of the sailors of the crew, who for no reason set off the fire extinguishing system, as a result of which 20 people died and 21 were hospitalized," investigator Vladimir Markin told Vesti-24 television.
"This sailor has already testified to his guilt," said Markin, a spokesman for investigators probing Saturday's accident about the Nerpa submarine, which raised new doubts about the safety of Russian military hardware.
AFP: Fire at Japan nuke power plant injures worker: operator
A fire broke out at a nuclear power plant in northern Japan on Thursday, injuring one worker but causing no radiation leak, the operator said.
Firefighters put out the fire about an hour after white smoke was spotted coming out of the reactor, which was already shut for a regular check-up, Tohoku Electric Power said.
"One worker sustained minor burns but was not exposed to radiation," a company spokesman said, adding there was no leak to the outside environment either.
Panel wants new radiological health rule | The Burlington Free Press
The Department of Health should rewrite a 1977 radiological health rule it uses to monitor radiation releases from the Vermont Yankee nuclear power plant and make sure the public has an opportunity to comment, a legislative oversight committee concluded Wednesday.
Critics of the nuclear plant have said the Health Department had re-interpreted the emission measurement rule over the years, allowing radiation at the edge of the plant's property to violate state standards.
Health Department officials have countered there's science behind their measurement practices.
---
NRC News
FR: NRC: Duane Arnold relicensing process
FPL Energy Duane Arnold, LLC; Notice of Receipt and Availability of Application for Renewal of Duane Arnold Energy Center Facility Operating License No. DPR-49 for an Additional 20-Year Period The U.S. Nuclear Regulatory Commission (NRC or Commission) has received an application, dated September 30, 2008, FPL Energy Duane Arnold, LLC, filed pursuant to Section 104b of the Atomic Energy Act of 1954, as amended, and Title 10 of the Code of Federal Regulations Part 54 (10 CFR Part 54), to renew the operating license for the Duane Arnold Energy Center (DAEC).
FR: NRC: Cooper relicense process
Nebraska Public Power District; Notice of Receipt and Availability of Application for Renewal of Cooper Nuclear Station Facility Operating License No. DPR-46 for an Additional 20-Year Period The U.S. Nuclear Regulatory Commission (NRC or Commission) has received an application, dated September 24, 2008, from Nebraska Public Power District, filed pursuant to Section 104b of the Atomic Energy Act of 1954, as amended, and Title 10 of the Code of Federal Regulations Part 54 (10 CFR part 54), to renew the operating license for the Cooper Nuclear Station (CNS), Unit 1.
New Yankee discoveries raise doubts about NRC: Rutland Herald Online
The discovery of more degraded wooden support beams in Vermont Yankee's cooling towers — this time in the reactor's only safety dedicated cell — raised questions Thursday about how thorough a special Nuclear Regulatory Commission inspection was this summer.
Workers at the Vermont Yankee nuclear plant had to immediately replace five deteriorated major support columns in the one safety-related cell of the reactor's two cooling towers during the plant's recent refueling outage, according to the NRC.
The degraded columns, which are about 40 feet tall, were discovered after Entergy Nuclear started its gradual overhaul of the two cooling towers, replacing the wood with fiberglass. The overhaul is expected to take a couple of years.
NRC: Location of Projected New Nuclear Power Reactors
For applications that have been received by the NRC, you may select a site name to view the NRC's website for the specific COL application. Websites for the remainder of the applications will be created when they are received.
FR: NRC: Bell-Bend COL
PPL BELL Bend, LLC; Notice of Receipt and Availability of Application for a Combined License On October 10, 2008, PPL Bell Bend LLC (PPL) filed with the Nuclear Regulatory Commission (NRC, the Commission) pursuant to Section 103 of the Atomic Energy Act and Title 10 of the Code of Federal Regulations (10 CFR) Part 52, "Licenses, Certifications, and Approvals for Nuclear Power Plants," an application for a combined license (COL) for an evolutionary power reactor (US EPR) nuclear power plant at their Berwick site (adjacent to the Susquehanna Steam Electric Station) in Luzerne County, Pennsylvania. The reactor is to be identified as the Bell Bend Nuclear Power Plant.
NRC – NRC Publishes Survey Results on Nuclear Accident Response Strategies to Protect the Public
The Nuclear Regulatory Commission released today a publication that provides new insights into how best to protect the public during a nuclear power plant accident. The publication is based on the results of focus groups and telephone surveys conducted in the Emergency Planning Zones (EPZs) around reactor sites. The data will help the NRC review its regulations and guidance related to emergency preparedness and determine if changes need to be considered to existing protective action strategies.
Focus groups were used in 2007 to collect information that guided the development of the phone survey. The phone survey was administered in 2008 by Sandia National Laboratories, under contract to the NRC, to approximately 2,500 households randomly selected in order to obtain 800 completed, anonymous surveys.
NRC responds to VY cracks – Brattleboro Reformer
An initial report from Entergy Nuclear Vermont Yankee to the Nuclear Regulatory Commission indicated there were no signs of fatigue in structural welds in the power plant's steam dryer, wrote Neil Sheehan, spokesman for the NRC, in an e-mail to the Reformer.
"As part of the Extended Power Uprate process, Entergy committed to the NRC to perform a detailed examination of the steam dryer in each of the three outages after attaining the uprated power level," wrote Sheehan.
The steam dryer is a static device with no moving parts meant to extract water vapor from steam produced by the reactor before it is sent to the power turbine.
US NRC launches probe of FirstEnergy's Pennsylvania nuke
The US Nuclear Regulatory Commission on Wednesday said it dispatched a special inspection team to review how FirstEnergy Nuclear Operating Co. handled an incident at its Beaver Valley-1 nuclear unit in which air was trapped in a system that would supply water to the reactor during an accident. NRC said Fenoc had detected a "void" in the suction lines for both trains of the unit's low-head safety-injection system. Fenoc discovered the problem September 23 and "effectively eliminated" the void October 4 and 5 by venting both loops of the system and then filling the system with water, NRC said. After Fenoc detected the void, the company determined that the system would operate as designed during an accident, NRC Region I spokeswoman Diane Screnci said.
---
Nuclear Fuel Cycle News
Protest meeting against uranium
Uranium mining in the Narsaq area faces stiff opposition from many area residents.
A citizens' meeting is being held on Monday in Narsaq to protest possible uranium mining in the nearby mountain region of Kvanefjeldet.
The meeting is arranged by NGO 'Earth Charter Narsaq' and called for more information on mining plans before the government decided whether to lift the existing national ban on uranium mining.
Moore's position untenable: Labor : thewest.com.au
West Australian Mines and Petroleum Minister Norman Moore is under increasing pressure to resign from his portfolio over shares held by his wife in mining companies BHP Billiton and Woodside Petroleum.
Mr Moore, the government leader in the upper house, is the second minister to face claims of a conflict of interest since his appointment to the ministry in September.
WA Labor 'won't back' uranium mining (Australian Broadcasting Corporation)
Western Australian Opposition Leader Eric Ripper says Labor will continue to oppose uranium mining in WA, even though the State Government formally lifting the ban on mining the resource today.
Premier Colin Barnett says the removal of the ban will take immediate effect and any new mining leases will not have the standard clause that bans uranium mining.
Ranger mine expansion short-sighted: ACF (Australian Broadcasting Corporation)
The Australian Conservation Foundation (ACF) says it would be short-sighted to expand the Northern Territory's Ranger uranium mine now that another major potential deposit has been found.
Energy Resources of Australia says it has found a potential further 40,000 tonnes of uranium oxide near the Ranger mine in Kakadu National Park, which could extend the mine's life by seven years.
BLM would exclude most Utah rivers from protection – Salt Lake Tribune
The Salt Lake Tribune recently editorialized in support of protecting more of Utah's incredible rivers as Wild and Scenic Rivers. As the main advocate for Wild and Scenic Rivers in Utah, the Utah Rivers Council wholeheartedly agrees.
However, the recently finalized Bureau of Land Management plans may be a good beginning for a few rivers, as The Tribune states, but they are also a death trap for the majority of Utah's rivers.
Caretakers of the Land: Western Shoshone wage battle against modern gold rush | The Dominion
All is not quiet on the western front.
For the Western Shoshone, an indigenous nation with an unceded Treaty covering a large swath of 60 million acres of ancestral territory stretching across Nevada, California, Idaho and Utah, their traditional homeland is better described as a war zone.
Not only has the US government used Shoshone lands to test hundreds of nuclear weapons, dispose of thousands of metric tonnes of radioactive waste, and proposed Yucca Mountain as a national dumpsite for (even more) deadly nuclear waste; modern corporate gold mining, including many Canadian operations, now threatens to gouge the heart right out of Western Shoshone territory.
Tri-Cities to have GNEP hearing | Tri-City Herald
Tri-City residents will get something Monday that some Seattle and Portland residents are clamoring for — a public hearing on the Global Nuclear Energy Partnership.
Last month the Department of Energy released a new draft environmental study on the partnership that favored reprocessing fuel that has been used in nuclear power plants rather than using it only once.
DOE has scheduled 13 public hearings on the study around the country, but just two in the Northwest. One is at 7 p.m. Monday in the Pasco Red Lion Hotel, 2525 N. 20th Ave. and the other is in Hood River, Ore., the next evening at the Hood River Inn, 1108 E. Marina Way.
Mining study is biased – Farmington Daily Times
The study conducted by the anti-mining New Mexico Environmental Law Center, cited in the article "Economics of New Mexico's uranium mining debated," isn't a question of comparing apples to oranges, but the academic equivalent of comparing apples to automobiles.
The latest salvo by the Environmental Law Center, in an ongoing effort to thwart mining and use of nuclear fuel, refutes the careful and exhaustive study done by New Mexico State University's Arrowhead Center, a non-biased study on economic impacts of the uranium industry in New Mexico centered on numbers, not emotion.
Expert discusses health effects of uranium mining
Between 100 and 150 people attended a program Saturday at the Community Center at Chatham to learn more about the potential health effects of uranium mining in Pittsylvania County.
The free educational program was sponsored by the Dan River Basin Association and featured Douglas M. Brugge, an associate professor in the Department of Public Health and Family Medicine at Tufts University School of Medicine in Boston, Mass.
Brugge spoke on the history and health effects of uranium mining.
---
Nuclear Waste News
Radioactive Dump Stirs Fears in City Suburb
What many children in a densely populated eastern Moscow suburb used to think of as a good little hill to play and toboggan on has turned out to be a radioactive waste dump — one that local residents and ecologists say could spill over and contaminate a larger area.
The radiation-emitting dump on Bulvar Marshala Rokossovskogo, which was unearthed during incomplete cleanup works, poses a danger to Muscovites, said Vladimir Chuprov, head of Greenpeace Russia's Energy Unit. He said the works, suspended half a year ago, were not done properly, leaving the site in a potentially dangerous state.
"The bad news is that the water has flowed in," Chuprov said. "This water might contain radioactive materials. Liquid is much more difficult to recover and keep from spreading."
Traditional land owners appeal against nuclear storage (Australian Broadcasting Corporation)
Traditional owners from sites earmarked for a potential nuclear waste facility in the Northern Territory have begged a Senate Inquiry not to store nuclear material on their land.
A Senate committee is investigating whether a Howard Government law forcing a waste dump on the Northern Territory should be repealed and sat in Alice Springs today.
People from communities near the Mount Everard, Harts Range and Muckaty sites protested outside the inquiry before traditional owners appeared.
UNITED STATES TO BECOME INTERNATIONAL NUCLEAR WASTE DUMP! : Indybay
URGENT ACTION ALERT! Condemned by health and environmental groups across the country, GNEP means foreign nuclear waste imported and "reprocessed" in the USA. This is a national issue! We need a big national outcry!!! Washington, Oregon, Idaho, New Mexico, Ohio, Tennessee, Kentucky, Illinois, South Carolina, and all our sister states! Cold War nuclear sites are thirty years behind on clean-up! NO foreign waste!
Global Nuclear Energy Partnership
In the dying throes of the Bush administration, one last environmental disaster is being foisted on the public. With GNEP, the Pacific Northwest, Hanford Nuclear Reservation and Idaho Falls, the Southwest and sites in the Eastern USA could all get a lot more nuclear waste (both from within and outside the country) and dirty nuclear waste 'reprocessing' plants, "recycling" reactors, and "advanced fuel cycle research facilities"—all verbal green-washings of very dirty processes. The Department of Energy (DOE) is holding public hearings on GNEP in November through early December, 2008, final hearing on December 9 in Washington DC in a rush to push this awful idea in under the wire.
Thursday, November 20, 7:00 p.m.
Hilton Garden Inn
700 Lindsay Boulevard
Idaho Falls, IDAHO 83402
Tuesday, November 18, 7:00 p.m.
Best Western Hood River Inn – Gorge Room
1108 East Marina Way
Hood River, OREGON 97031
Monday, November 17, 7:00 p.m.
Red Lion Hotel
2525 North 20th Avenue
Pasco, WASHINGTON 99301
Monday, November 17, 7:00 p.m.
Lea County Event Center
5101 North Lovington-Hobbs Hwy
Hobbs, NEW MEXICO 88240
Tuesday, November 18, 9:00 a.m.
Pecos River Village Conference Center Carousel House
711 Muscatel Avenue
Carlsbad, NEW MEXICO 88220
Tuesday, November 18, 7:00 p.m.
Eastern New Mexico University-Roswell Occupational Technology Center Seminar Room 124
20 West Mathis
Roswell, NEW MEXICO 88130
Thursday, November 20, 7:00 p.m.
Hilltop House Best Western
400 Trinity Drive (at Central)
Los Alamos, NEW MEXICO 87544
Monday, December 1, 7:00 p.m.
Carson Four Rivers Center Myre River
Storage fears over high-level nuclear waste | Environment | The Guardian
Government plans for a new generation of nuclear power plants face growing concerns the industry needs another waste repository involving a massive escalation in cost.
Ministers insist they still expect only one high-level geological disposal facility (GDF) will be needed at a possible cost of £12bn but a discussion paper produced by the department of energy and climate change (DECC) indicates a second cannot be ruled out.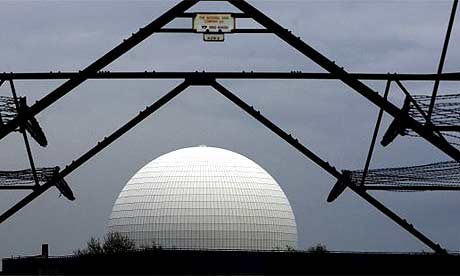 New operators plan atomic waste incinerator for Sellafield complex | Environment | The Guardian
A massive incinerator that could burn atomic waste is under consideration by the operator of the Sellafield nuclear complex.
The controversial plan was outlined by an executive at Sellafield Ltd at a local conference to discuss the role of the site, which comes under private management this month.
---
Nuclear Policy News
Aiken Standard – Author makes leap from nuclear doubter to promoter
How does one go from being a fiery opponent of the nuclear industry to become one of its staunchest supporters?
I asked the same thing of Gwyneth Cravens the night before she was to make her address to the Edward Teller Lecture, the annual event sponsored by the Citizens for Nuclear Technology Awareness.
Tampa Bay braces for pricier energy | Herald Tribune
Residents and businesses in the Tampa Bay area soon will be paying a lot more for electricity.
Customers of Tampa Electric Co. and Progress Energy will see a double-digit percentage increase in their electric bills beginning next year under plans approved this week by state regulators.
The utilities say the increases are needed to cover higher costs for oil, natural gas and coal, which are used to generate electricity.
For TECO customers, bills will rise about 12 percent. The cost of 1,000 kilowatt hours will jump from $114.38 now to $128.44 in January.
Nuclear industry exec resigns – Las Vegas Sun
The head of the nuclear industry's main lobbying arm is stepping down.
Frank L. Bowman resigned as president and CEO today "after much deliberation about the right course of leadership for our industry and the Nuclear Energy Institute during this period of dramatic change in the Congress and the White House."
Inquiry to review nuclear treaties – The Canberra Times
Australia's nuclear disarmament and non-proliferation efforts are to be subject to a wide-ranging parliamentary review.
Prime Minister Kevin Rudd has directed the Federal Parliament's Joint Standing Committee on Treaties to undertake an inquiry into nuclear disarmament and non-proliferation treaties that involve Australia. These include the Nuclear Non-proliferation Treaty, the Comprehensive Nuclear Test Ban Treaty, the South Pacific Nuclear Free Zone Treaty, and bilateral safeguards agreements that cover the export of Australian uranium.
The joint committee is to review how the treaties might be made "more comprehensive or effective".
Nonproliferation Policy Education Center: The Credit Crunch and Nuclear Power
Since the decline following nuclear power's golden era of the mid-70s, there have been frequent predictions of an imminent nuclear revival, but all came to nothing…
TheStar.com | Nuclear curbing alternatives?
Environmental groups say Ontario's atomic focus detracts from efforts to develop greener electricity
The Ontario government's goal of increasing the amount of green power in its 20-year electricity plan can't be met unless it pulls back on its commitment to nuclear, a coalition of influential environmental groups argued yesterday.
The energy ministry's response: Current nuclear levels are here to stay.
"We're still not moving off maintaining that commitment of 50 per cent nuclear," ministry spokesperson Amy Tang said.
But the coalition, a group led by environmental think tank the Pembina Institute, said the same dollar can't be spent twice – some part of the plan has to give. It took aim yesterday at the aging Pickering B and Bruce B nuclear generation stations, which will begin reaching the end of their lives in 2013.
---
Nuclear Weapons News
How A-Bomb Testing Changed Our Trees : NPR
Each atomic blast released lots of neutrons into the atmosphere, many of which slammed into carbon atoms floating by with the result that lots of carbon atoms gained a couple of extra neutrons. If you remember your Periodic Table of Elements, carbon ordinarily carries 12 protons and neutrons. Add a couple of extra neutrons, and the 12 becomes 14. Which means during the 1950's the world got a boost of carbon-14 atoms.
Legacy of nuclear age left to next president – Las Vegas Sun
This fall, the British government released transcripts of Cold War era tapes it planned to broadcast if the nation came under attack. "There is nothing to be gained by trying to get away," the pages read. "This country has been attacked by nuclear weapons."
Survivors are urged to save toilet water for drinking, to hoard enough food to last for several weeks, and to avoid leaving fallout rooms "for a moment longer than necessary."
It's inexplicable that we find ourselves climbing back atop the nuclear knife 60 years after the atomic bomb changed the world in an instant.
IAEA: Syria uranium not conclusive – Mideast/N. Africa – msnbc.com
The head of the U.N.'s nuclear watchdog said Monday that tests were inconclusive on the source of traces of uranium found at a Syrian site bombed by Israel.
The United States has said that site was an almost completed plutonium-producing reactor.
International Atomic Energy Agency chief Mohamed ElBaradei made the comments following a speech in Dubai in which he called for greater international dialogue.
India-Pakistan: The prospective hotbed for conflict!        : Information Clearing House – ICH
Recently the Anglo-American establishment has made new diplomatic efforts to establish closer relations with India. The Global corporations have already invested hundreds of billions of dollars in that country that is famous for low labor wages.
Meanwhile, the US has begun to distance itself from Pakistan its long time Jihadist partner, drug circulator, and number one terrorist recruiter.
Ironically, after Musharraf the previous president of Pakistan who was forced to resign his post, retired to his lavish villa with a large bank account, and revenues from his book that was published by the giant US publisher and CIA outfit Simon & Shuster, the troubles in Pakistan have increasingly skyrocketed to a point of explosion.
Cancel the Missile Project in Eastern Europe
Among the first things that President Obama will have to decide when he assumes office is whether to continue President Bush's and the Pentagon's plans to install missile interceptors in Eastern Europe. Let's hope that he rejects those plans. Otherwise, all that will be accomplished will be to increase tensions with Russia, which, not surprisingly, will provide the Pentagon and the military-industrial complex with new excuses to increase their perpetually ever-growing budgets.
Danger Room Debrief: Lead by Example on Nukes, Mr. President-Elect | Danger Room from Wired.com
On nuclear weaponry, the United States must lead by example. Expect President-elect Barack Obama to call for a nuclear summit of leading nations on practical steps that all can take towards a world without nuclear weapons. Their ultimate elimination should be a core principle of his national security strategy. Look for early talks with Russia on mutual reductions to show we are serious. There are dozens of other steps to take, but cleaning out our own nuclear house would be an important early move.
A Nuclear Needle in a Haystack: The Cold War's Missing Atom Bombs – SPIEGEL ONLINE l
In a 1968 plane crash, the US military lost an atom bomb in Greenland's Arctic ice. But this was no isolated case. Up to 50 nuclear warheads are believed to have gone missing during the Cold War, and not all of them are in unpopulated areas.
It was a little early to be swimming in the Mediterranean that year. But in early March 1966, Manuel Fraga Iribarne, the Spanish information minister at the time, and Biddle Duke, the American ambassador in Madrid, together with their respective families, plunged into the chilly waters off the Costa Cálida. Journalists from around the world had gathered on the beach of the small village of Palomares to report on the two families' spring bathing outing. Their interest would have been surprising, if it hadn't been for the hydrogen bomb lying on the ocean floor only a few kilometers away, a bomb with more than 1,000 times the explosive force of the one that flattened Hiroshima.
Sarkozy backs Russian calls for pan-European security pact | World news | The Guardian
President Nicolas Sarkozy of France joined Russia in condemning the Pentagon's plans to install missile defence bases in central Europe yesterday and backed President Dmitri Medvedev's previously ignored calls for a new pan-European security pact.
Both presidents concluded a Russia-EU summit, in Nice in the south of France, with an agreement to convene a major international conference next summer at which the Americans, Russians and the 27 countries of the EU should come up with a blueprint for new post-cold war "security architecture" in Europe.
The Raw Story | Documents linking Iran to nuclear weapons push may have been fabricated
The International Atomic Energy Agency (IAEA) has obtained evidence suggesting that documents which have been described as technical studies for a secret Iranian nuclear weapons-related research program may have been fabricated.
BBC NEWS | Talks to give clues on US-Russia ties
Talks on nuclear arms getting under way in Geneva should indicate how relations will develop between the US and Russia under President Barack Obama.
Over the next few months it should become clearer as to whether the two countries will agree on further reductions in their nuclear arsenals – and whether they will solve the problem of the American anti-missile system due to be installed in Poland and the Czech Republic.
---
Department of Energy News
There are no major DOE news stories this cycle
---
Other Energy News
Exxon payout a step closer: Exxon Valdez spill | adn.com
A federal judge on Wednesday issued a ruling that could clear the way for a multimillion-dollar payout of punitive damages to thousands of commercial fishermen and others who claimed harm from the Exxon Valdez oil spill of 1989.
Judge H. Russel Holland of Anchorage rejected a bid from one plaintiff, Sea Hawk Seafoods Inc., to throw out a complex allocation plan for the damages and replace it with one that would steer potentially millions more dollars to the company.
Sex, lies and offshore drilling: Your government at work | Countdown to Crawford | Los Angeles Times
The House Natural Resources Committee has just announced hearings next week into the latest scandal to grip a federal agency under the Bush administration. Turns out an Interior Department agency in charge of collecting oil and natural gas royalties was compromised for years, investigators said, alleging that employees improperly accepted gifts from oil companies, handed out sweetheart deals, had sex with subordinates and used illegal drugs.
As the Los Angeles Times described it, investigators spent two years examining the cozy relationship between the energy industry and the Minerals Management Service, an obscure Interior Department agency that issues lucrative drilling leases to energy companies and then collects royalties from leases of the land, which is owned by taxpayers.
DOE Hits 50 Percent Milestone on Road to Commercial Zero-Energy Buildings | GreenerBuildings
The U.S. Department of Energy and the National Renewable Energy Laboratory have released the first technical support documents to show 50 percent energy savings in commercial retail buildings.
The two reports provide recommendations on how to achieve 50 percent energy savings over the American Society of Heating, Refrigerating, and Air-Conditioning Engineers (ASHRAE) Standard 90.1-2004 in grocery stores and medium-sized retail buildings.
Conducted by NREL's Commercial Buildings team, under the direction of DOE's Building Technologies Program, the studies support DOE's goal of producing market-ready, net-zero energy commercial buildings by 2025.
Peak Energy: Better Wind Turbines
Technology Review has an article on advances in wind turbine technology – Better Wind Turbines.
ExRo Technologies, a startup based in Vancouver, BC, has developed a new kind of generator that's well suited to harvesting energy from wind. It could lower the cost of wind turbines while increasing their power output by 50 percent.
The new generator runs efficiently over a wider range of conditions than conventional generators do. When the shaft running through an ordinary generator is turning at the optimal rate, more than 90 percent of its energy can be converted into electricity. But if it speeds up or slows down, the generator's efficiency drops dramatically. This isn't a problem in conventional power plants, where the turbines turn at a steady rate, fed by a constant supply of energy from coal or some other fuel. But wind speed can vary wildly. Turbine blades that change pitch to catch more or less wind can help, as can transmissions that mediate between the spinning blades and the generator shaft. But transmissions add both manufacturing and maintenance costs, and there's a limit to how much changing the blade angle can compensate for changing winds.
Peak Energy: Urban Design After the Age of Oil
WorldChanging has a brief post pointing to a symposium on urban life after oil – Re-Imagining Cities: Urban Design After the Age of Oil.
A number of great journalists were covering last weekend's Re-Imagining Cities: Urban Design After the Age of Oil symposium in Philadelphia. The University of Pennsylvania School of Design and Penn Institute for Urban Research hosted this conference, which was organized with support from the Rockefeller Foundation to address the need to re-imagine and rethink how cities are designed and organized in a future without oil. Our own Alex Steffen gave a mainstage talk at the international event, which featured a number of thinkers whose work we've written about before here, like Bull Dunster, Elizabeth Kolbert, Robert Socolow, Andy Revkin, William J. Mitchell, David Orr, Neal Pierce, Bill Rees, Thomas Campanella, Harrison Fraker, and ARUP's Sir Peter Head.
From brief recaps of plenaries and workshops to lengthier discussions of the theories presented (and their presenters), the pieces posted to the Next American City liveblog offer a taste of what was seen and heard at this innovative gathering of great minds.
When Going Green Goes Wrong: Recycling : Red, Green, and Blue
Many local authorities use commingling – which sounds like more fun than it is, all it means is that co-mingled collections are the ones where previously separated waste is crushed together in the back of a dustcart. Once this happens, it's almost impossible to separate the recycled materials again, so what happens to the waste? Often it's taken to Materials Recovery Facilities where large amounts of energy are used to try and separate the waste again. Or it's shipped to India and spread out in fields where people then try to hand pick it back to the original categories. But it's also often just … dumped in landfill. Precisely what we were told recycling was going to stop in the first place.
California Energy Blog: Political Maneuvering on Capitol Hill
The biggest fight playing out inside-the-beltway this week is Rep. Henry Waxman's in your face challnge to Rep. John Dingell (D-MI) for the Chairmanship of the House Energy & Commerce Committee.
Dingell is 81 and has been the Committee's top Democrat for 25 years who, hailing from Michigan draws his power from the once-influential, now-embattled automobile industry; Waxman is combative, liberal who carries a green energy in his pocket that flies in the face of Dingell's hesitation to do anything that could run counter to the interests of the auto industry.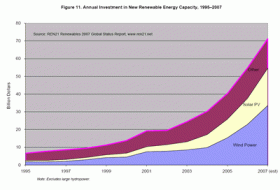 Energy at a Tipping Point Part 1: A Conversation with Worldwatch's Chris Flavin: ENN — Know Your Environment
Last week I attended a discussion entitled After the Election: Where is Cleantech Headed Now? hosted by TiE(The Indus Entrepreneurs) at their Silicon Valley headquarters. The event was moderated by Andrew Chung ofLightspeed Venture Partners with presentations by Chris Flavin of Worldwatch Institute and Dr. Dick Swanson, founder of SunPower.
Needless to say, the room was full of some very smart, visionary people with a singular focus on exploring the state of the energy sector and the potential of renewable energy to bring solutions to a beleaguered economy and stressed environment (one might say to civilization and the natural systems that support it).
Solar and Wind Energy for the home? – alt.solar.photovoltaic | Google Groups
High prices are just the tip of the energy crisis iceberg. Now is the
time to think about how we use our natural resources before your
wallet gets hit any harder. More people are looking to renewable
energy sources to help offset these costs and to remove our dependence
on finite energy sources. Solar and wind are two of the easiest
renewable energy sources for a homeowner to use, but professional
installation is costly.
Surprisingly, do it yourself solar panel and wind generator kits are
easy to find and easy to use. With large companies like GE producing
these kits, the build your own solar panel sets are very affordable
and offer quicker return on your investment than purchasing and
professionally installing a solar energy system. In general the
instructions are easy to follow, even for teens and children, and in
no time you are on your way to your own solar or wind power system. My
blog talks more about this at http://solarandwindforhome.blogspot.com/
Credit crisis dims the lights for power industry – International Herald Tribune
As workers scramble to build an $800 million coal-fired power plant on a patch of farmland here, a crisis that began on faraway Wall Street threatens to stretch America's power supplies to the brink — driving up prices and laying the stage for future shortages.
The power industry is under extraordinary financial pressure just five years after North America suffered its worst blackout ever, when rolling outages turned out the lights on 50 million people. Even before the extent of the global credit crisis was fully known, the nation's largest power providers warned of even bigger blackouts to come with the power grid under ever growing strain.
Water Planet
flash video of the impacts of water by Leonard Dicaprio.
PG&E offers alliance on clean energy – Marin Independent Journal
Just days before a scheduled Board of Supervisors' vote Tuesday on a "clean energy" plan, Pacific Gas and Electric Co. submitted a brief summary of its proposal to join with local governments to boost use of renewable energy.
The PG&E summary, which contained few details, was submitted to the county on Friday in advance of supervisors' decision on whether to join a Marin County joint powers authority that would compete with PG&E for Marin customers.
Supporters of the Marin Clean Energy initiative say the authority would match PG&E's rates while substantially reducing use of nonrenewable, "dirty" energy required to meet Marin County's energy needs.
OpEdNews » Totally New Green Energy Source On a Par With Nuclear Power
Hydrothermal Vents Are the Solution
Hydrothermal vents are naturally occurring geysers of superheated water, found along Mid-Ocean Ridges. These are points along the Tectonic Plates, huge tracts of the Earth's crust that move continents around, found where the plates are pulling away from each other. As the crust stretches and weakens, new volcanic crust from the earth's molten core, the magma, rises to create new crust.
The Oil Drum: Europe | The 2008 IEA WEO – Production Decline Rates

On this basis, we estimate that the average observed decline rate worldwide is 6.7%. Were that rate applied to 2007 crude oil production the annual loss of output would be 4.7mmbpd.
GM's New Propaganda Video
GM (GM) says we still don't get it. If we don't save them, they're gonna nuke the economy to all hell. In case dire warnings of billions and billions in losses aren't enough to freak you out, the company has posted a scare-video on YouTube, complete with ominous music and the kind of overwrought imagery you might got during a preview for 60 Minutes.
Natural gas rush stirs environmental concerns – Yahoo! News
Advanced drilling techniques that blast millions of gallons of water into 400-million-year-old shale formations a mile underground are opening up "unconventional" gas fields touted as a key to the nation's energy future.
These deposits, where natural gas is so tightly locked in deep rocks that it's costly and complicated to extract, include the Barnett shale in Texas, the Fayetteville of Arkansas, and the Haynesville of Louisiana. But the mother lode is the Marcellus shale underlying the Appalachians.
National Geographic Magazine – Light Pollution!
Light pollution in the broad sense refers to any nighttime artificial light that shines where it's not needed. This nocturnal brightness can disorient humans and a host of other animals, confounding eyes and biological rhythms that evolved in a world without such light.
One way stray rays pollute is sky glow, the scattering of light by clouds and atmospheric particles that makes it difficult to see stars and other features of the night sky—an increasing problem. These maps show the global extent of sky glow. More than just snapshots of the Earth at night, they account for the light-scattering effects of clouds and dust, and show how bright the sky is above a given point on the ground—revealing that most of the world's population lives under night skies fuzzy with the haze of reflected light.
Lights on Oregon » Blog Archive » Waves Could Power the World 2X Over
Have you ever sat by the ocean and wondered at the power of waves? They continually come—one after another—never stopping their onslaught. The energy it takes to propel these waves is to put it simply, incredible. Now, consider what this means for energy production. The World Energy Council has estimated that
approximately 2 terawatts (2 million megawatts), about double current world electricity production, could be produced from the oceans via wave power.
Thousands walk against warming – smh.com.au
Tens of thousands have gathered in Sydney's CBD to urge the Federal Government to adopt a swifter response to the climate crisis.
Despite grey skies, a colourful crowd showed up in Martin Place today to support the Nature Conservation Council of NSW's fourth Walk Against Warming march.
Some were dressed as polar bears. Others wore windmills on their backs. Others carried placards of penguins with messages that read: "Don't build your home on my home", and "Some like it hot, penguins not".
World's First Commercial Wave Energy Farm Goes Live : CleanTechnica
Earlier this week, Portugal debuted the world's first commercial wave energy farm. Wave energy at the Agucadoura station is converted into electricity with the use of three red "sea-snakes", or cylindrical wave energy converters, that are attached to the seabed off Portugal's northern coast. Energy captured by the sea-snakes is carried to an undersea cable station, where it is then fed into the electrical grid.
GM Must Re-Make the Mass Transit System it Murdered | CommonDreams.org
Bail out General Motors? The people who murdered our mass transit system?
First let them remake what they destroyed.
GM responded to the 1970s gas crisis by handing over the American market to energy-efficient Toyota and Honda.
GM met the rise of the hybrids with "light trucks."
GM built a small electric car, leased a pilot fleet to consumers who loved it, and then forcibly confiscated and trashed them all.
Guide : Planet Earth : Discovery Channel
Take a new look at the world in which you live, and discover that it's nothing short of stunning. Explore these Discovery features about our changing planet.
Earth Live
It's more important than ever to be aware of what's happening to our world. Explore the Earth in 3D and discover how everything from sea surface temperatures to aerosols impact the changing planet. And, stay on top of Earth News and researchers in the field with our regular features and blogs.
'Rules of the road' set for oil shale drilling – Oil & energy- msnbc.com
The Bush administration gave energy companies steep discounts in the royalties they will be required to pay as it established the groundwork Monday for commercial oil shale development on federal land.
Interior Department officials said the 5 percent royalty rate during the first five years of production was needed to spur drilling while still giving taxpayers a fair return. But that rate is much lower than the 12.5 percent to 18.8 percent the government collects from companies harvesting conventional oil and gas on public lands.
Drill for Natural Gas, Pollute Water: Scientific American
The natural gas industry refuses to reveal what is in the mixture of chemicals used to drill for the fossil fuel
State regulators and Washington lawmakers though are increasingly impatient with voluntary measures and are seeking to toughen their oversight. In September U.S. Congresswoman Diana DeGette and Congressman John Salazar, from Colorado, and Congressman Maurice Hinchey, from New York, introduced a bill that would undo the exemptions in the 2005 Energy Policy Act. Wyoming, widely known for supporting energy development, has begun updating its regulations at a local level, as have parts of Texas.
New Mexico has placed a one year moratorium on drilling around Santa Fe, after a survey found hundreds of cases of water contamination from unlined pits where fracking fluids and other drilling wastes are stored. "Every rule that we have improved . . . industry has taken us to court on," said Joanna Prukop, New Mexico's cabinet secretary for Energy Minerals and Natural Resources. "It's industry that is fighting us on every front as we try to improve our government enforcement, protection, and compliance… We wear Kevlar these days."
Schwarzenegger hosts global climate talks – Climate Change- msnbc.com
Scientists, environmentalists and government and industry officials from around the world meet this week for a summit on greenhouse gas emissions that their host, Gov. Arnold Schwarzenegger, hopes will highlight the economic benefits of pursuing green technologies.
The conference, which begins Tuesday in Beverly Hills with some 700 participants expected, is an attempt by the Republican governor to influence a U.N. gathering in Poland next month.
Bucking atomic theory – The National Newspaper
Just what does it take before a revolutionary discovery is accepted by the world's scientific community? That's the question raised by renewed claims by a US-based company to have found a radically new source of energy.
According to BlackLight Power (BLP) of New Jersey, prototypes of its latest power generators have just been successfully tested by a team of independent experts. As the generators are environmentally-friendly and produce energy at less than a quarter the cost of conventional sources, one might expect scientists to be hailing this breakthrough.
But there's one small problem: the supposed source of the power defies conventional theories about the nature of atoms.
GREEN BUILDINGS MAY BE CHEAPEST WAY TO SLOW GLOBAL WARMING | Global Warming
By office office office office office building green–and retrofitting existent buildings–the countries of North America could cut hothouse gas emissions by some-more than twenty-five percent
North American homes, offices as good as alternative buildings minister an estimated 2. 2 billion tons of CO dioxide to a ambience each year—more than a single third of a continent's hothouse gas wickedness outlay. Simply constructing some-more energy-efficient buildings—and upgrading a insulation as good as windows in a existent ones—could save a whopping 1. 7 billion tons annually, says a brand brand new inform from a Montreal-based Commission for Environmental Cooperation( CEC), an general classification determined by Canada, Mexico as good as a U. S. underneath a North American Free Trade Agreement to residence continent-wide environmental issues.
ATTORNEY GENERAL CUOMO ANNOUNCES NEARLY TWO MILLION FOR FIRST-EVER STATE PROGRAM TO PAY FOR VITAL OIL EFFICIENCY UPGRADES IN LOW-INCOME HOUSEHOLDS ACROSS NYS
Pilot Program is First In NYS to Provide Funds to Help New York's Neediest Heat With Oil More Efficiently as Winter Sets In
Measures Can Save Low-Income Households Up to $1,000 Annually on Heating Bills
Funding Provided by Cuomo's Record Settlement with American Electric Power Last Year
NEW YORK, N.Y. (November 10, 2008) – Attorney General Andrew M. Cuomo today announced a new program created by his office that will deliver $1.9 million to New York's neediest families to help them cope with the high cost of home heating oil. The Oil Efficiency Pilot Program is a first-ever initiative in New York to help low-income households heating with oil to pay for heating upgrades and weatherization. These measures can cut average household heating costs by as much as $1,000 annually, while reducing smog, acid rain and global warming pollution.
EPA Coal Decision Levels Playing Field for Wind, Solar | Wired Science from Wired.com
Building an alt-energy power plant is risky and expensive, but thanks to a new ruling by an Environmental Protection Agency panel, building a coal plant may become riskier and more expensive.
The Environmental Appeals Board blocked the EPA from issuing a permit to a proposed coal plant addition near Vernal, Utah, about 150 miles east of Salt Lake City.
What's hot on energy policy's to-do list? – Frank N. Carlson – Medill News Service – Politico.com
What does "energy policy" mean to you?
Does it conjure up questions of national security and terrorism? Or is it more about promoting cheap, renewable fuels? Maybe your take is about climate change and reducing greenhouse gases?
Despite the various interpretations of the issue, or perhaps because of them, energy policy ranked high on the priority lists of voters of both parties on Nov. 4. Much of the interest can be attributed to the record run-up in oil and gasoline prices earlier in the year, which have since fallen off by about half, but increased awareness of climate change also played a big role.
home made energy options
This website was created to help you slash your electricity bill by 80% or even eliminate it completely! With the ever increasing costs of living, there is no better time than right now to stop throwing money out the window and start generating your own electricity. Click Here!
Photosynthesis and Solar Turn Water Into Hydrogen And Oxygen | The Solar Energy Source
A MIT researcher has demonstrated a reaction which resembles the photosynthesis process that plants make each day which means that from now on solar power could be deployed at world scale. Using catalysts developed by the chemist, he showed a video where oxygen was generated from water, just like plants do it in photosynthesis.
"I'm going to show you something I haven't showed anybody yet," said Daniel Nocera, the MIT chemist. After the lights were tuned off, he pointed to the video and asked – "Can you see that?" Then he explained – "Oxygen is pouring off of this electrode. This is the future. We've got the leaf." This means that the most difficult obstacle was overcame as from now on we efficiently produce hydrogen gas by splitting water thanks to his catalysts.
Greenpeace occupies E.ON site in Rotterdam | Seattle Times Newspaper
Around 100 Greenpeace activists have occupied a construction site in Rotterdam's harbor to protest against a coal-fired power plant German energy giant E.ON AG is building there.
The environmental group says it hopes to force E.ON to change its plans and build a plant that will release less carbon dioxide.
Florida Crystals' green program a sweet deal
Since 1995, West Palm Beach-based Florida Crystals Corp. has been operating the largest biomass-to-electricity facility in North America, the Okeelanta Co-Generation Plant next to its sugar mill and refinery plant south of South Bay.
The plant uses 850,000 tons of sugar cane residue known as bagasse and 900,000 tons of clean wood material from construction and yard wastes to produce 140 net megawatts of electricity each year. The power is sold to Florida Power & Light Co. to provide electricity to 58,000 homes, said Florida Crystals spokesman Gaston Cantens.
U.S. Dependence on Foreign Oil, by Country
It's a common misconception: The United States imports most of its foreign oil from the Middle East. Not quite. Not even close. As the table below indicates, dependence on oil from the Persian Gulf represents barely 10 percent of total domestic oil consumption, and most of that oil comes from Saudi Arabia and Iraq.
Credit crunch risks world oil supply – Telegraph
"Even if oil demand was to remain flat to 2030, 45m bpd of gross capacity – roughly four times the current capacity of Saudi Arabia – would need to be built by 2030 just to offset the effect of oilfield decline", according to Nobuo Tanaka, executive director of the IEA, speaking at a news conference in London.\n\nOil reached a record peak of more than $147 a barrel in July, but has fallen back below $60, a drop of more than 50pc.
Mainstreet Business Journal – Geothermal Power Plant Dedicated Electricity to flow to California
A Provo firm Thursday launched a project that could foreshadow the next revolution in renewable energy resources for Utah and the rest of the nation, the Deseret News reports.\n\nRaser Technologies Inc. marked the completion of a 10-megawatt geothermal power plant with a ribbon-cutting ceremony at the Beaver County facility located in Thermo, near Milford.
The Oil Drum | Obama's Energy Policy: Listening When We Disagree
Barack Obama has said that energy is going to be one of his top priorities. I believe he is completely sincere about this and that energy will get a lot of attention early on in his administration. I believe he is committed to moving the U.S. toward energy independence and a greener energy future. However, one can recognize energy as an important priority, yet sharply differ on the policy direction that is needed. For instance, some may have energy as a high priority because they feel that gasoline is too expensive. Their priority may be to keep gasoline prices low so people's budgets aren't adversely impacted by their fuel bills. Some can see energy as a top priority, and yet promote solutions like suing OPEC for more oil.
Sunshine State sees the light with solar | The News-Press
It's a nice motto and all, but when it comes to harvesting those rays through rooftop solar panels, Florida might as well coat itself in sunblock.
Three myths have put Florida in the dark:
• Expensive: An average photovoltaic rooftop system on a home costs $20,000 to $30,000. The federal government offers tax credits, though, and Florida offers cash rebates so popular that a backlog of homeowners are waiting for theirs.
Bingaman: Global warming on Congress' back burner | Seattle Times Newspaper
Congress will not act until 2010 on a bill to limit the heat-trapping gases blamed for global warming despite President-elect Obama's declaration that he will move quickly to address climate change, the chairman of the Senate Energy Committee predicted Wednesday.
Sen. Jeff Bingaman, D-N.M., said that while every effort should be made to cap greenhouse gases, the economic crisis, the transition to a new administration and the complexity of setting up a nationwide market for carbon pollution permits preclude acting in 2009.
Could 'energy islands' power the future? – LiveScience- msnbc.com
The ocean harbors abundant energy in the form of wind, waves and sun. All of these could be sampled on something called an Energy Island: a floating rig that drills for renewables instead of petroleum.
Nanomaterial turns radiation directly into electricity – New Scientist
Materials that directly convert radiation into electricity could produce a new era of spacecraft and even Earth-based vehicles powered by high-powered nuclear batteries, say US researchers.
Electricity is usually made using nuclear power by heating steam to rotate turbines that generate electricity.
But beginning in the 1960s, the US and Soviet Union used thermoelectric materials that convert heat into electricity to power spacecraft using nuclear fission or decaying radioactive material. The Pioneer missions were among those using the latter, "nuclear battery" approach.
Solar Power Home Now
As traditional energy sources become increasingly rare and expensive, many homeowners are turning to the skies and learning how to harness energy from the sun.
Solar cell technology has been around since the 1950s, but technology has improved considerably and at current levels of efficiency it is worth taking the time and effort to consider a Solar Power Home Now
Solar cells are also called photovoltaics, or PV, by the boffins. In basic terms, they are made of semi conducing materials, which, when exposed to the sun go through a distinct process. The solar energy separates the electrons from the atoms within the material and the movement of the electrons creates power, or electricity. Thus light (photons) is converted into electricity (voltage).
Energy & Environment
John D. Podesta unveils a new program to create good jobs and build a low-carbon economy.
Scientist Invents Truly Green Battery – Chlorophyll Green, That Is | greenUPGRADER
The problem with batteries is that they often contain toxic chemicals that can leach out into the environment. But what if the chemicals were completely natural?
Professor Chungpin Liao and researchers at Coherent Control Laboratory in Taiwan are thinking in that direction. They have invented an organic battery powered by chlorophyll — the green-colored photosynthetic pigments found in most plant life.
---
Nuclear Editorial and Opinions
Life without nuclear weapons | What to do with a vision of zero | The Economist

A WORLD without nuclear weapons is a vision as old as the nuclear age. The makers of the bombs that exploded over Hiroshima and Nagasaki in 1945 fretted a lot about the ultimate consequences for mankind of their devilish ingenuity. Now anti-nuclear campaigners are hoping that "Yes, we can!" will do more for their cause than older slogans like "Ban the bomb!" ever did. For on the stump, Barack Obama, America's president-elect, promised to make the goal of eliminating nuclear weapons worldwide a "central element" of America's nuclear policy.
WISCONSIN STATE JOURNAL: Let sttae pursue nuclear power
his week's decision by state regulators to pull the plug on a planned coal-fired power plant in southwest Wisconsin sent a clear signal to lawmakers:
It's time to abandon Wisconsin's moratorium on the construction of nuclear power plants.
Wisconsin can no longer ignore the fact that the need to combat pollution and the demand for cost-effective power are making it imperative that nuclear energy be among the state's options for generating the electricity to meet a growing demand.
The Top Nuclear Stories is published twice weekly. It is a produced using a combination of social bookmarking and programming. You can view or join the public group and add your own stories by going here -> http://groups.diigo.com/groups/nukenews