What will the oil spill spin doctors do? In this oped, I will once again suggest, as I've been doing for years that there are no issues left to win in this world except the battle against the corporate media propaganda machine.  The US nuclear industry recently hyped a new poll done by Gallup claiming that support for nuclear power has never been higher having reached 62%, according to questions they asked 1,000 randomly selected citizens. At the same time not a single major print media outlet other than the Los Angeles Times covered what just a few years ago was a regular media event on the anniversaries of Three Mile Island and Chernobyl.  Whether its Fox News, CNN, ABC, CBS,  NBC, or the New York Times opponents to nuclear energy can point to the media's promotion of the issue by any  number of tactics.  Probably the very worst of these framing tactics has to do with dumming down the American public (the 8 second soundbyte) which obtains its news mostly from nationally syndicated TV news services.  As anyone who follows the issue as this news service has been doing for the last 15 years, the real issue couldn't be stranger from the glib niceties of infotainment news.  Only when the serious events come home to roost is there a moment when the squirming tactics of the greedy finally ever seem to make it into the story. Probably the best example of the media's wonderful role came with an article on the recent release that as many as one million people have died from Chernobyl. The numbers are so different from the official numbers that have been pushed by the IAEA and the media that even alternative media sources have been frightened away from the covering the books numbers.
This probably isn't the right moment to go into much detail, but having spent a couple of weeks combing through news stories that have never made it out of Europe about the impacts to the 600,000 workers who were forced to clean up Chernobyl without proper protective gear, not to mention the fact that large numbers of people were never removed from contaminated regions, it comes as little surprise to myself.  The country of Cuba put out a completely ignored news story earlier this year that they have treated over 25,000 children for leukemia from the Ukraine and Bylorussia, just one of dozens of countries that have been treating the sick.  Simply because the pro-nuclear IAEA can claim and get global coverage that only 50 people died in claims that are now over 20 years old, we can see most clearly how the dangers from radiation can be manipulated. When will a single organization with resources and awareness take on the very serious problem caused by known manipulation of Chernobyl's health effects put together the investigative story of how Russia concocted the now globally accepted scam that people who were impacted are suffering from some kind of neurosis rather than radiation sickness?
To make matters even more insane, a recent new study suggesting that the U.S. needs to be more concerned about environmental sources of cancer was publicly attacked by the National Cancer Society which  claimed that only 6% of all cancers are caused by the environment, then quickly turning around and claiming that cancer levels could be reduced by 30% if cigarette smoking was stopped!
In this issue, there is more than a touch of bad news.  The nuclear weapons issue continues to be the biggest story in the media with the International NPT conference at the United Nations.  Some 25,000 people marched last week in New York City in support of ending nuclear weapons.  Mostly a no-story hit as the media plays along with the Obama change spin. In a major sub-story Obama has opened a new strategic front with Russia restarting the country's nuclear power technology exchange program after it was stopped under Bush during the Georgia-Russia affair.  The restart of the exchange this time has a carrot attached — getting Russia to push its ally Iran to move towards some kind of nuclear fuel back down.In an excellent editorial on the NPT conference one Indian newspaper (Financial Express) brought out the horrific history of Russia dumping of nuclear submarines into the ocean a story not even acknowledged by most of the west's media.
The deadly sodium cooled Monju breeder reactor in Japan was restarted last week 14 years after the reactor suffered a deadly coolant fire.  Malaysia decided against development of nuclear energy while more pressure is being put on South Africa to push for nuclear energy.  Greenpeace released a new video on the state of Areva's Niger uranium mining operations. An Australian whistleblower at that country's only nuclear facility made a touch of news. Another reactor in Eastern Europe was forced to stop construction due to lack of funding as the country refused to accept a $2 billion loan from Russia. Reports of Russia negotiating nuclear deals with Vietnam and Turkey hit the news.
In the U.S. the state of Minnesota passed legislation to remove is moratorium on nuclear development, following Iowa's similar move the week before.  The state of New Jersey took serious steps against a year old tritium leak at the Oyster Creek reactor.  Senator Hatch from Utah is looking into the contamination payment history of RECA, with new legislation being promoted by liberals to expand downwinder coverage to 7 states (what about us victims beyond!). A very detailed article by ProPublica came out on the health effects of DOE workers.  Areva may have lost another deal this time in what must be the most surprising place out of the USA with the recent partnership of EDF and Dominion in Maryland moving to select a Japanese reactor design from Mitsubishi!  In another important story Florida's Progress Energy came out with new estimates for their two reactors, upping the estimate from $17 to $22.5 billion with an operational coming after 2021.
Kerry is spinning his nuked up climate legislation next week.  I've put a couple of stories in on the BP oil spill, but then how hard is it to dance an issue to death in the biggest me first culture in the world?
---
Top Nuclear Stories Index
---
Nuclear Reactor News
Alarm for Monju nuke reactor set off again – The Mainichi Daily News
"An alarm that gauges the temperature of an auxiliary cooling pipe of the Monju prototype fast-breeder reactor located in Tsuruga, Fukui Prefecture, was set off on Sunday apparently after detecting abnormality but it was transient and poses no threat to safety, the Japan Atomic Energy Agency said.
The alarm indicating the temperature outside the pipe went below the designated figure went off at around 7:50 a.m., but it posed no harm to the 280,000-kilowatt reactor as the heater there automatically turned on to keep the temperature at the designated level, the agency said."
Energy projects threaten Utah's water resources | Deseret News
"With Shell Oil's recent withdrawal of a water right permit application to divert 375 cubic feet per second of water from the Yampa River in northwest Colorado, one would get the impression that the bubble has finally burst on mass scale, traditional energy development in the West and that the oil industry has finally come to terms with the impact of traditional energy development on rapidly diminishing water resources.
Not so in Utah.
While recently briefing the Utah Board of Oil, Gas and Mining, Dr. Laura Nelson, vice president of the Salt Lake City-based Ecoshale, for example, proclaimed that the company just completed a pilot project that produced a high-quality oil-shale product and, "we did so working closely with the Environmental Protection Agency to make an environmentally sensitive product." Similarly, the National Commission on Energy Policy a bipartisan group of energy experts  recently stated that climate change legislation currently being considered by Congress must also spur more domestic energy production by extending the production tax credit for new reactors through 2025 and expanding the renewable energy standard to include nuclear."
Japan Restarts Monju' Breeder Reactor 14 Years After Accident – Bloomberg.com
"Japan, the third-biggest nuclear power generator, restarted an experimental fast-breeder reactor that had been shut since 1995 after an accident and a cover-up.
State-controlled Japan Atomic Energy Agency removed control rods to resume operation at 10:36 a.m. local time at the Monju reactor in Tsuruga City in central Japan after getting safety clearances from the government, Tokyo-based spokesman Shinichi Suga said by telephone.
A leak of liquid sodium, used for cooling, and a fire forced a halt on Dec. 8, 1995. While no radiation leaked to the environment, operators admitted editing videotape to conceal the extent of the damage, stoking the public's safety concerns. The development of a fast-breeder reactor, which uses spent nuclear fuel from other plants, is a pillar of Japan's energy policy. "
Audit nuke risk at Lucas Heights: Greens
"There are new calls for an independent audit into the Lucas Heights nuclear facility, with a whistleblower claiming staff are at risk from serious safety breaches.
A suspended employee of the Australian Nuclear Science and Technology Organisation (ANSTO) facility in Sydney's south has gone public with claims a worker was exposed to a "massive" dose of radiation in a 2008 accident.
David Reid was a health and safety officer at ANSTO's Radiopharmaceuticals and Industrials business, ARI, and says a vial of highly radioactive material was dropped, but wasn't reported for hours."
Progress ups Levy nuclear plant costs, delays start | Reuters
Levy to cost $17.2 billion to $22.5 billion
* First Levy unit to enter service in 2021
* Delay will postpone customer rate hikes
Progress Energy Inc (PGN.N) boosted the estimated cost of its proposed Levy nuclear power plant in Florida and delayed its start-up to 2021 due to a delay in licensing the reactors, a spokeswoman for the company said on Thursday.
The company estimates the project to build two 1,100 megawatts reactors at Levy about 130 miles (209 km) northwest of Orlando, would cost $17.2 billion to $22.5 billion — up from its previous estimate of $17.2 billion."
San Clemente Times – SONGS gets another three years without cooling towers
"It will take another three years for state water officials to determine whether nuclear power plants like the San Onofre Nuclear Generating Station are required to install dozens of cooling towers so as to avoid using ocean water for cooling.
Following an all-day hearing Tuesday, board members with the state Water Quality Control Board unanimously passed new regulations for the state's 19 coastal power plants. The regulations require plants using ocean water for cooling to reduce their intake by more than 90 percent in order to dramatically reduce the amount of fish and fish eggs that are taken from the Pacific Ocean and killed in the process of generating electricity.
However, reducing water intake requires the use of evaporative cooling towers that expose hot water to cool air in a continuous loop. Closed cooling tower systems are estimated to use only about 5 percent as much water at the "once through" systems currently used by most plants."
Nuclearelectrica 1st Reactor to be shut down, starting May 8 | Financiarul
"The moves for the scheduled shutdown of the Unit 1 of the Nuclearelectrica Nuclear Power Plant in Cernavoda (south-east) begin on this May 7, and the reactor will be desynchronized from the National Energy System, on May 8, Nuclearelectrica release informs.
The planned shutdown is expected to last 30 days, while the plant is to carry out activities part in several main programmes such as the mandatory inspections programme, the programme for preventive and corrective maintenance, including the verification of the equipment and the repairs of those found dysfunctional or out of order and the mandatory testing programme, in compliance with the National Commission of Nuclear Activities Control (NCNAC) provisions, and which can be conducted only when the Reactor is shut off."
Lucas Heights employee raises nuclear safety concerns – ABC News (Australian Broadcasting Corporation)
"A man who worked at Australia's only nuclear facility for 28 years has alleged that serious breaches of safety have occurred at the reactor.
David Reid has come forward to tell Lateline that safety breaches at Lucas Heights in Sydney were being played down or ignored.
He says in 2008 a vial of highly radioactive material was dropped, exposing one employee to a substantial dose of radiation.
Mr Reid says the incident was not reported for hours. "
Cash-strapped Bulgaria halts construction of second nuclear plant | Earth Times News
"Bulgaria has stopped construction of its second nuclear power plant until it finds a new investor and funds to complete the project, Prime Minister Boyko Borisov told Tuesday's edition of the daily 24Casa.
"The country has no money for an atomic power plant," Borisov said. "We will build it when investors come."
The government has earmarked 7 million euros (9.25 million dollars) to conserve the construction site at Belene, on the Danube, 180 kilometres northeast of the capital Sofia.
The plant was originally to be built by Russian company Atomstroiexport for 4 billion euros. The firm had signed a contract with the previous, Socialist-led government, swept from power by Borisov's conservative GERB party swept in last year's July elections.
Borisov last week turned down a 2-billion-euro offer made by Moscow for a stake in the plant, which would have kept the construction work going.
Instead, Bulgaria plans to seek a full investor to finish its second nuclear plant, Borisov said.
Neighbouring Serbia had also expressed interest in a 5-per cent stake in the project, Borisov said, turning it into "a Balkan, European project.""
New state report faults Entergy lack of resources: Rutland Herald Online
"An updated state report on whether the recent radioactive leaks at the Vermont Yankee nuclear reactor affect the plant's long-term reliability has raised questions about the potential of additional leaks if more money isn't spent on prevention.
The report, conducted by Nuclear Safety Associates of Johnson City, Tenn., and released late Friday by the Department of Public Service, said Entergy Nuclear workers responded well to the tritium leak, which was first confirmed on Jan. 6, after an initial positive test on Nov. 17.
"The occurrence of the leaks underscores the need to more proactively determine plant vulnerability to similar leaks," the report concluded.
"While the occurrence of the leaks is not in and of itself indicative of a lack of management oversight, more management attention needs to be applied to detect future leaks at an early stage," the report added."
Report: Leaks may affect VY's reliability – Brattleboro Reformer
"Vermont Yankee personnel responded to a leak of tritiated water in a timely, appropriate and effective manner, according to Nuclear Safety Associates in a supplement to the Comprehensive Reliability Assessment submitted to the state last year.
Nevertheless, it wrote, the plant is potentially susceptible to similar leaks, which could prove to be a challenge to the plant's continued reliability.
Nuclear Safety Associates was hired by the state to review Yankee's reliability, a report that was meant to inform the Legislature, the Public Service Board and the Department of Public Service in making the decision whether the nuclear power plant in Vernon should be allowed to continue to operate past its license expiration date of 2012. "
Georgia Power: Judge's ruling won't affect power plant construction  | ajc.com
"A Fulton County Superior Court judge ruled in favor of an environmental group Friday, but it won't affect Georgia Power's plan to build two nuclear reactors at Plant Vogtle, the company said.
The environmental group, the Southern Alliance for Clean Energy, filed the lawsuit challenging the Georgia Public Service Commission's decision to let the utility raise rates to pay for the plants before they start operating. On Friday, Judge Wendy Shoob said the PSC acted illegally by failing to properly document a justification for the reactors.
"This is not related to the need for the project," Georgia Power spokesman Jeff Wilson told the AJC. "Construction will continue as scheduled on the new Vogtle units."
An attorney for SACE said Friday's ruling was a major victory for their efforts to stop the construction of the nuclear plants, which would be the first built in the U.S. in 30 years. The PSC contends the reactors are safe, but SACE attorney Michael Carvalho said the utilities regulatory commission doesn't have the facts to back it up."
Coolant system mishap at Japan's long-stalled Monju fast breeder sends cautionary note to other nations pursuing same technology – Bellona

"The Monju prototype fast breeder nuclear power reactor, which has been gearing up for an early May restart after a 15-year stoppage, suffered a temporary glitch in a coolant leakage detector Tuesday that the Japan Atomic Energy Agency reported had no impact on the environment, Japanese media reported.
However, one Japanese nuclear industry source familiar with the Monju project was quoted as saying in Japan Today that malfunctions of this type and worse are inevitable in such reactors.
The government-affiliated agency said the sodium detector, housed in an auxiliary building to the reactor at the Monju centre in Tsuruga, Fukui Prefecture, came to a halt after a fan motor overheated, triggering an alarm at 11:59 p.m. Monday.
A fire accompanying a sodium leak shut down the reactor in December 1995, and the project has not been restarted since. Another restart date for the reactor had been scheduled for March 2009."
---
Nuclear Health and Safety News
Presentation Academy cancer sufferer puts human face on study of nuclear plant safety  | The Courier-Journal
"As research scientists and federal regulators gathered in Washington, D.C., last month to discuss a new study of cancer rates near nuclear power plants, Sarah Sauer of Corydon, Ind., asked them for a favor.
Don't forget the people behind the numbers, said Sarah, 16, a sophomore at Presentation Academy in Louisville.
Moments earlier, as she spoke to the National Academy of Sciences panel, the teen brought some in the room to tears, standing on a step-stool to reach the microphone as her high-pitched and strained voice told as much about her cancer battle as her words.
Linda Modica, a Sierra Club member from Tennessee who attended the panel meeting, said Sarah was a brave girl."
Cancer Society Criticizes U.S. Panel as Overstating Risk – NYTimes.com
"A dire government report on cancer risks from chemicals and other hazards in the environment has drawn criticism from the American Cancer Society, which says government experts are overstating their case.
The government's 240-page report, published online Thursday by the President's Cancer Panel, says the proportion of cancer cases caused by environmental exposures has been grossly underestimated. It warns of grievous harm from chemicals and other hazards, and cites a growing body of evidence linking environmental exposures to cancer.
Tainted nuke plant water reaches major N.J. aquifer  | Courier-Post
"Radioactive water that leaked from the nation's oldest nuclear power plant has now reached a major underground aquifer that supplies drinking water to much of southern New Jersey, the state's environmental chief said Friday.
The state Department of Environmental Protection has ordered the Oyster Creek Nuclear Generating Station to halt the spread of contaminated water underground, even as it said there was no imminent threat to drinking water supplies.
The department launched a new investigation Friday into the April 2009 spill and said the actions of plant owner Exelon Corp. have not been sufficient to contain water contaminated with tritium."
MoD tries to stop atomic test veterans claiming damages – Home News, UK – The Independent
"Ministers went to court yesterday to try to stop former British servicemen from receiving compensation for illnesses that they allege they suffered during Britain's atomic testing programme in the 1950s.
In June last year the High Court ruled that 10 test cases out of more than 1,000 claims could proceed to trial.
The servicemen blame their ill-health, including cancer, skin defects and fertility problems, on involvement in the nuclear tests on the Australian mainland, Monte Bello islands and Christmas Island between 1952 and 1958. Many are terminally ill and seven including five of the test case claimants have died since the litigation began.
While acknowledging the "debt of gratitude" owed to the men, the Ministry of Defence denies negligence and fought the cases on the preliminary point that they were all launched outside the legal time limit."
Op-Ed Contributor – Al Qaeda's Nuclear Plant – NYTimes.com
"ALL eyes are on Faisal Shahzad, the man charged with the attempted bombing in Times Square on Saturday.
But perhaps we ought to be concerned a bit less with Mr. Shahzad, a failed terrorist now in custody, and significantly more with Sharif Mobley — a New Jersey native, a former high school wrestler and, until shortly before he moved to Yemen to allegedly join Al Qaeda, a maintenance worker at five nuclear power plants along the East Coast.
Since his arrest by Yemeni security forces in March, American law enforcement officials have taken pains to emphasize that Mr. Mobley's low security clearance makes it unlikely that he passed crucial details about American nuclear-plant security to Al Qaeda."
pressofAtlanticCity.com: State worried that tritium leaked from Oyster Creek could make its way to aquifer, drinking water

"The state is launching a new investigation into radioactive material that leaked from the Oyster Creek Generating Station twice last year.
The state Department of Environmental Protection invoked the Spill Act on Friday to take over the cleanup from the plant's owner, Exelon Corp. The move gives the state broad discretion over the cleanup.
The agency said 180,000 gallons of tritium-tainted water gushed from two leaks at the plant on April 9, 2009.
Tritium, a low-level nuclear material, was found in the groundwater of Ocean County in the Cohansey aquifer at 50 times higher concentrations than DEP safety standards for drinking water."
The Associated Press: Tainted nuke plant water reaches major NJ aquifer
"Radioactive water that leaked from the nation's oldest nuclear power plant has now reached a major underground aquifer that supplies drinking water to much of southern New Jersey, the state's environmental chief said Friday.
The state Department of Environmental Protection has ordered the Oyster Creek Nuclear Generating Station to halt the spread of contaminated water underground, even as it said there was no imminent threat to drinking water supplies.
The department launched a new investigation Friday into the April 2009 spill and said the actions of plant owner Exelon Corp. have not been sufficient to contain water contaminated with tritium."
Report to president links cancer, Lejeune contamination
"A report linking water contamination at Camp Lejeune to cancer in former base residents went to the desk of President Barack Obama this week.
The President's Cancer Panel released a 240-page analysis Thursday urging the president to tighten regulations on environmental carcinogens and chemicals known to increase cancer risk.
"In 2009 alone, approximately 1.5 million American men, women, and children were diagnosed with cancer, and 562,000 died from the disease," an introductory letter addressed to Obama reads. "With the growing body of evidence linking environmental exposures to cancer, the public is becoming increasingly aware of the unacceptable burden of cancer resulting from environmental and occupational exposures that could have been prevented through appropriate national action."
The report, the focus of the panel's work for the 2008-2009 year, contains a section dedicated to exposure to contaminants and other hazards from military sources. Included are brief descriptions of the Vietnam-era carcinogen Agent Orange, chromium, radioactive contamination, and historical water contamination with the solvents TCE and PCE at Camp Lejeune. "
Chernobyl radiation horror for Ukrainian mum – Germany in Focus News –
"Tragic Veronica is the latest victim of the Chernobyl nuclear disaster that has robbed her of her sight and friends and without urgent help eventually her life.
Her face has distorted so badly as a result of the radiation that hit her home village of Korosten in the Ukraine that doctors in the country now say there is no hope of saving her life if she stays there.
The only chance to help her is a procedure that can be carried out in Israel – but even though doctors have offered much of their services for free the impoverished family, who earn less than 100 pounds a month, still need to find 34,500 pounds to have the chance to save their daughter's life and end her agony."
Chernobyl Death Toll: 4,000 or 1 Million?
"Last week, a few alternative and environmental news outlets drew attention to a newly published science book that put the cumulative death toll of the 1986 Chernobyl nuclear accident at more than a million a story that had particular resonance on the 24th anniversary of the reactor meltdown, the book's publication date. But the story did not bleed out into the mainstream media, and even the progressive website Alternet seemed suspicious, calling the 1 million estimate an astounding allegation in its headline.
The number is dramatically higher than the estimate of 4,000 deaths presented in a 2005 report by the International Atomic Energy Agency, the World Health Organization, and the United Nations Development Program a figure that has often been criticized as being far too low and influenced by the IAEA's pro-nuclear agenda.
Where is the truth here? It's an awfully long way from 4,000 to one million 996,000, in fact. If the truth is somewhere in between the two figures, neither one is of much help to people who are trying to decide whether new nuclear plants such as those President Obama has proposed are a safe energy source."
47 fish found dead at Oyster Creek nuclear plant in Lacey | APP.com | Asbury Park Press
"Authorities have an environmental mystery on their hands after about 50 fish died near the discharge canal of Oyster Creek Generating Station.
The nuclear plant went offline Wednesday for planned maintenance and restarted Saturday night. But the 47 floating fish were found Saturday morning, days after the shutdown and before the startup began.
"It is puzzling that there could be a thermal shock this time of year. Usually it happens in the winter," said Larry Hajna, a spokesman for the state Department of Environmental Protection.
Plant spokesman David Benson said Monday, "Our reactor was offline for four days. The discharge canal was at environmental-level temperatures. We found 47 fish over the weekend, mainly bluefish.""
Hatch wants hard look at science behind radiation exposure payouts – Salt Lake Tribune
"U.S. Sen. Orrin Hatch is asking a national panel to take a fresh look at the science behind the government's program for compensating people who were injured by exposure to atomic-testing fallout and the uranium industry.
Sponsor of the original Radiation Exposure Compensation Act (RECA), Hatch put the request in a letter Monday to the Nuclear and Radiation Studies Board of the National Academy of Sciences. His letter comes two weeks after the Utah Republican panned bipartisan legislation in Congress to expand RECA as overbroad and too expensive.
"When I worked to enact the original RECA law to help Utahns exposed to radiation, the policy was based on scientific evidence — an absolute must when you're talking about
Hatch RECA letter (pdf)
these types of programs," he said Tuesday.
"The goal of the letter to the National Academy of Sciences [NAS] is to see whether or not new scientific data exists to justify expanding the RECA program; in the past it did not," he added. "I want NAS to examine the data and talk with Utah radiation victims to see if that is justified before anyone puts more taxpayer dollars on the line."
Companion bills in the House and the Senate would expand RECA eligibility to those who suffered from exposure in seven states: New Mexico, Utah, Arizona, Colorado, Idaho, Montana and Nevada.
Only those in certain counties in three states are now eligible to apply for payments from the fund of $50,000, $100,000 or $150,000, depending
Advertisement
on whether they were exposed as millers, miners, ore transporters, atomic program employees or downwinders. The Utah counties now covered include: Beaver, Garfield, Iron, Kane, Millard, Piute, San Juan, Sevier, Washington and Wayne.
The federal government's current program has paid nearly $1.5 billion to more than 22,000 people. Some 4,776 of them are Utahns who have received nearly $275 million from the federal program. "
The Poisoning of Puerto Rico — In These Times
"On March 31, retired Sgt. Hermogenes Marrero was told during a visit to the Veterans Affairs (VA) outpatient clinic in Mayaguez, Puerto Rico, that he didn't have cancer or at least, his official VA computer file no longer showed any record of cancer.
But Marrero was not relieved. He had been diagnosed twice before with colon cancer and suffers today from a dozen other illnesses, including Lou Gehrig's disease, failing vision, a lung condition that keeps him on oxygen around the clock, not to mention tumors throughout his body. The terminally ill and wheelchair-bound, 57-year-old veteran immediately suspected that the U.S. government had manipulated his medical record."
The Associated Press: Report: Philadelphia VA hospital lacked review
"The prostate cancer program at the Veterans Affairs Department's medical center in Philadelphia, where 97 patients were given an incorrect radiation dose, went four years without a peer review or quality assessment, the agency's internal watchdog said Monday.
The inspector general for the Veterans Affairs Department also found that computer problems kept several patients under treatment for cancer from receiving a check to make sure they received the correct dose.
The inspector general recommended that standardized procedures be implemented throughout the VA. It also said the agency should follow-up to ensure patients who received too low of a dose receive appropriate care."
Stimulus Workers Confront Legacy of Contamination at Nuclear Sites  – ProPublica
"The $2 billion in federal stimulus money came as blessedly as rain to the desert of southeastern Washington state, where the government has spent decades trying to clean up the most productive A-bomb factory of the Cold War era. Phones at the Hanford Nuclear Reservation rang off the hook with calls from people in the nearby metropolitan area of Kennewick, Pasco and Richland who hoped to land one of 4,000 new stimulus jobs — on top of 11,000 already working at Hanford. Robert Valdez, 33, a father of two young children who was among the early hires, said the starting pay of $17 an hour plus benefits was "life changing." So were the nine weeks of intensive training he underwent to prepare for the hazards of working around a stew of poisonous chemicals and menacing pockets of radiation. "
PDF: Beyond Nuclear: Environmental group voices concern over potential for bias in proposed new cancer study around U.S. nuclear power reactors
Beyond Nuclear today raised concerns over the potential for nuclear industry bias in a proposed study that will look at cancer risks around U.S. nuclear power reactors. The study, initiated by the U.S. Nuclear Regulatory Commission (NRC), has been offered to the National Academy of Sciences (NAS). The two agencies will meet to discuss the investigation of cancer risks around U.S. reactors on April 26th, the 24th anniversary of the reactor explosion at Chernobyl in the Ukraine that dispersed radiation across the planet.
The NRC had previously retained Oak Ridge Associated Universities to conduct the study, but has shifted to the NAS. The move came in an apparent response to earlier criticisms of potential bias after citizens' groups, sent a letter expressing strong apprehension over conflicts of interest and inappropriate study methodology. This study would update a 1990 National Cancer Institute study which had universally recognized design flaws.
Nuclear cancer-risk study faces challenges to accuracy – The York Daily Record
"Deeper and more advanced resources might be available today for a study on nuclear neighborhood risk.
Members of the atomic energy industry and nuclear watchdogs alike welcomed a new study of cancer risks around nuclear facilities requested by the Nuclear Regulatory Commission last week. Unlike a previous similar study, this one will look at cancer incidents instead of just cancer-related deaths.
Its official scope — how it would be performed — has yet to be determined, a representative for the National Academy of Sciences, which is overseeing the study, said Wednesday.
Still, reasons the NRC has given for requesting the study, including advances in information technology since the previous study about 20 years ago, might point to resources that researchers could lean on."
Fermi's fitness flaw – MonroeNews.com
"For the past decade, control room operators at DTE Energy's Fermi 2 nuclear power plant had their federal licenses issued or renewed without having their senses of touch and smell tested as required by federal regulations.
DTE's discovery of the oversight was one of the main concerns the federal Nuclear Regulatory Commission had with plant performance in 2009, an Evening News review of records shows. The tests are designed to make sure operators can smell something burning and are able to move the knobs and handles used in the reactor control room.
The utility had told the NRC over the years that the tests were given as part of the required periodic medical exams of licensed plant operators before it discovered in August that the testing stopped in mid-1999."
The Hindu : : Hot lab in Delhi University was flooded with water at January-end
"Teachers informed physics department head and VC, but no action was taken: source
Seven teachers in the Delhi University Department of Physics and Astrophysics wrote a letter in February that a radioactive source room in the department had got flooded and the Head of Department was orally apprised of the situation, but no action was taken, it has been alleged.
A university source said a hot lab in the Department had reportedly been flooded with water this January-end.
The hot lab contained radium-beryllium (Ra-Be) sources that produce neutrons and mutate other sources. The Ra-Be sources were stored at the ground level. The entry of water in the lab may imply that the Ra-Be sources could be damaged and cause the water and the air in the lab and also the soil to be radioactive. The Head of Department was verbally informed of the matter in the beginning of February, following which a letter signed by seven teachers was sent to him on February 19. A copy was also sent to the Vice-Chancellor, the source said."
georgiandaily.com – Chernobyl Taught No One Anything,' Station's Former Manager Says
"Twenty-four years after the Chernobyl nuclear accident, the station's director at that time says that the accident taught no one anything not because people could not have learned from what happened there but rather because the Soviet government and other backers of nuclear power did not want to learn lest they undermine their corporate interests.
Indeed, Viktor Bryukhanov, the Chernobyl plant's director from its establishment in 1970 to the time of the accident who was then sentenced to ten years in prison for his role in the disaster, says Moscow preferred to "liquidate the symbol of the danger [Chernobyl and other plants represent] rather than deal with its causes.
In an interview with Odnakoj.ru, Bryukhanov, 74, talks about the 1986 accident which claimed 31 lives immediately, exposed 600,000 people involved in the cleanup to dangerous levels of radiation, and resulted in almost 18,000 premature deaths among them since that time (www.odnakoj.ru/exclusive/interline/chernobxlq_nikogo_i_nichemy_ne_naychil/)."
Activist: Tritium leak source in doubt: Rutland Herald Online
"A former nuclear insider now working for a nuclear watchdog group said Thursday he wasn't sure Entergy Nuclear had found all the sources of the radioactive tritium leak at the Vermont Yankee plant.
Paul Blanch of West Hartford, Conn., who recently joined the litigation team at the New England Coalition, said a review of recent filings by Entergy Nuclear about the radioactive tritium leak at Vermont Yankee showed obvious mistakes and miscalculations.
Blanch said Entergy had not done a thorough enough job in its investigation into the radioactive leaks to rule out the condensate storage tank, which holds about 500,000 gallons of radioactive reactor water, at levels close to those found in nearby wells.
He said Entergy Nuclear continues to submit inaccurate and incomplete documents to the Vermont Public Service Board. Entergy Nuclear is already under investigation for making inaccurate statements under oath before the board about the existence of potentially leaky underground pipes containing radioactivity."
Cantwell wants more money to screen ill Hanford workers – | Tri-City Herald
"A program to screen former workers at Hanford and other Department of Energy nuclear weapons sites for work-related illnesses is underfunded, according to Sen. Maria Cantwell, D-Wash.
Funding needs to be increased from $18.6 million to $25 million a year to screen or rescreen all the former workers who contact the program, she wrote the leaders of the Senate Appropriations Subcommittee on Energy and Water Development.
"It is absolutely crucial we fully fund this important program so that every single Department of Energy nuclear weapons worker has the option to access free health screenings for work-related illnesses," Cantwell said in a statement. "Early detection of illnesses can save lives."
Since the program was established by Congress in 1993, it has attempted to contact about 360,000 of an estimated 600,000 workers who are eligible, she said.
More than 107,000 responded, but just 60,000 workers have had initial screenings, including about 6,800 former Hanford workers. Of all the workers screened nationwide only 8,600 — including about 1,250 at Hanford — have had follow-up screenings."
BBC News – Indian university investigates radioactive waste death
"Authorities at Delhi University in India say they are investigating how radioactive waste which this week killed a man was sold as scrap.
On Wednesday, police said cobalt-60 had leaked from an irradiation machine sold by the university earlier this month.
A scrap metal worker who was exposed to the radiation died on Monday of multiple organ failure. Several of his colleagues are still in hospital.
They were exposed to radiation after dismantling the machine, police say.
Search teams have found cobalt-60 in several shops in the scrap market in the city's Mayapuri industrial area. "
Faulty past inspection spots rise to over 500 at Shimane reactors › Japan Today: Japan News and Discussion
"More than 500 spots at two reactors of the Shimane nuclear power plant were checked insufficiently during past periodic inspections, sources close to the matter said Thursday. The finding was far more serious than the March 30 announcement by the plant's operator, Chugoku Electric Power Co, which then said past inspections were faulty at 123 spots.
About 70,000 spots are subject to periodic checks at the Shimane plant's No.1 and No.2 reactors. Chugoku Electric Power initially reviewed inspections at only about 13,000 spots based on safety priority and said inspections were faulty at the 123 spots. The latest finding was unearthed in a follow-up review Chugoku Electric Power conducted in line with an industry ministry order, which covered all of the 70,000 spots, the sources said. "
---
NRC News
NRC: News Release – 2010-078 – Licensing Board to Hear Oral Argument May 26 in San Luis Obispo, California, on Diablo Canyon Reactor License Renewal
"The Atomic Safety and Licensing Board handling the Diablo Canyon nuclear reactor license renewal proceeding will hear oral argument May 26 on the request by the San Luis Obispo Mothers for Peace (SLOMFP) for an evidentiary hearing. The Board is an independent quasi-judicial arm of the Nuclear Regulatory Commission that decides legal challenges to applications and proposed licensing actions by the NRC.
The oral argument will be presented by the lawyers representing SLOMFP, Pacific Gas & Electric (PG&E), and NRC staff. The session will begin at 8:30 a.m. PDT and may extend into the evening, if necessary, on Wednesday, May 26, in the San Luis Obispo County Board Chambers of the County Government Center, 1055 Monterey St. in San Luis Obispo. Although the oral argument will be limited to the lawyers for the litigants, the session is open to the public for observation. Early arrival is suggested to allow for security screening for all members of the public interested in attending. NRC policy prohibits signs, banners, posters or displays in the hearing room.
PG&E submitted a license renewal application on Nov. 24, 2009, seeking a 20-year renewal of the operating licenses for Diablo Canyon Power Plant Units 1 and 2. The units are located approximately 12 miles southwest of San Luis Obispo. The Atomic Safety & Licensing Board is considering whether SLOMFP should be granted intervenor status in the proceeding. SLOMFP has submitted contentions challenging five aspects of PG&E's application, along with a request to waive two NRC regulations so as to allow the admission of two of the contentions. All parties have filed extensive legal briefs on these issues. On May 26th the Board will listen to the lawyers' arguments and ask them questions concerning the proposed contentions and waiver requests.
Documents related to the Diablo Canyon license renewal application are available on the NRC Web site at: http://www.nrc.gov/reactors/operating/licensing/renewal/applications/diablo-canyon.html. More information about the ASLB can b
---
Nuclear Fuel Cycle News
The politics of uranium enrichment
"Nuclear energy's prospects are even better now that the Obama administration has promised $4 billion for uranium enrichment projects. That's double the previous limit — a move meant to complement a separate loan guarantee program to promote the development of nuclear power in this country. Uranium, of course, is the fuel used to run nuclear power plants. At issue is the centrifuge technology, long used by European plants but fairly uncommon in the United States. Here, the efforts are centered on advancing older and more energy intensive models — all to accommodate two decades of underinvestment in uranium mining and enrichment.
Of the $4 billion in loan guarantees provided to enrichment efforts, $2 billion is expected to go a USEC project in southern Ohio and $2 billion to French-owned AREVA that is building a facility in Idaho."
Uranium mill blamed for cancer cluster in Monticello – ABC 4.com – Salt Lake City, Utah News
"For nearly 20 years, Monticello was a Uranium boomtown. It started in I941 when the government opened a Uranium Mill in town to feed the Manhattan Project. The Vanadium Corporation of America mill produced the yellowcake that Robert Oppenheimer and his team would use to create the first atomic bombs.
The mill paid good wages and the workers felt patriotic. Fritz Pipkin remembers his dad working in the mill. I feel like my father was a hero, he said. It was no different than the soldiers in Germany or Japan. They gave their lives to create this product that was used for the Manhattan project and the bombs that ended the war.
Pipkin also remembers playing in the piles of radioactive tailings at the mill. As kids we'd go on down the canyon right here and we'd camp out and drink from the water that came through the tailings ponds. Nobody knew of any danger. It's a wonder kids in Monticello don't glow in the dark from all the hours we spent down here on these tailings piles."
Greens laud uranium deal scrapping – ABC News (Australian Broadcasting Corporation)
"Greens' Senator Scott Ludlam said scrapping the Napperby uranium project is a win for the people of central Australia.
Toro Energy has announced it will not be acquiring the Napperby project, north-west of Alice Springs, from Deep Yellow Limited.
Mr Ludlam said as well as long-term environmental impacts, uranium mining offers no economic benefits to any community.
"You'd would be looking at almost entirely a fly-in, fly-out operation which does very little for regional economics and the costs are enormous," he said.
"Whether it be to culture and heritage from Aboriginal people, long-term damage to water resources, worker health and safety issues and not to mention the larger issues of what happens to this material once we export it.
"It's an industry with a lot of costs and not many benefits.""
DEPLETED URANIUM: Dangers of Uranium Buried in the Ground – Huntington News Network

"Having agreed to compensation for Cold War era atomic energy workers who developed cancer and other illnesses, the D.O.E. and other entities of the government have been searching for a solution to nuclear waste. Nuclear power represents an alternative to fossil fuels, but solutions to the lingering radioactive half lives of elements like uranium have not been resolved.
For instance, after receiving a report on the severity of the contamination (uranium, nickel and non-uranium) at the Huntington Pilot Plant / Reduction Pilot Plant, a decision was made in 1978-1979 to tear it down. The remains of the production apparatus, ( i.e. hoses), as well as the walls and girders were buried in a classified contaminated location at the Portsmouth Gaseous Diffusion Plant in Piketon, Ohio.
The Portsmouth, Paducah, Oak Ridge and Huntington facilities worked both on uranium enrichment and recycling nickel from depleted uranium. Site Specific Meetings — the next Thursday, May 6 at 6 p.m. at the OSU Endeavor Center — are ongoing. They are part of a decision making process — what will be placed on the site of the former gaseous diffusion plant, what will be done with waste buried there, what will be done with waste stored there?
(Editor's Note: Documents have confirmed that the HPP/RPP processed nickel powder and recycled scrap uranium from barrier materials at the diffusion plants. Some distinctions exist between enriched uranium and depleted uranium. We're uncertain whether the depleted uranium was /is stored at diffusion plants or transported between various plants.)
Victoria Advocate | Consultant: Test wells not returned to baseline uranium levels
"Consultant Craig Holmes acknowledged a mining company did not return test mining sites to baseline uranium levels after testing, which is a common practice.
Holmes, who is an independent consultant hired to make sure Uranium Energy Corp. follows procedures, spent eight hours on the witness stand on Tuesday during the second day of testimony in the state contested case hearing over uranium mining in Goliad.
Holmes was questioned on three main points: uranium level baseline, bore holes not being plugged within the 48 hours required after drilling, and his credibility.
Holmes said the Texas Commission on Environmental Quality was notified of the violations involving the bore holes."
The Associated Press: EPA says Ariz. uranium mine operating illegally
"A uranium mine north of the Grand Canyon is operating in violation of the law, and its owner could face thousands of dollars in fines as a result, the U.S. Environmental Protection Agency said.
The agency issued a notice of violation this week to Denison Mines Corp. for its Arizona 1 Mine, which is about 20 miles from the Grand Canyon's northern border.
The EPA said Denison failed to notify the agency as to when it would resume mining and that it did not secure the necessary federal approval before ventilating the mine or testing emissions."
Victoria Advocate | Hearing begins to decide future of uranium mining in Goliad County
"The legal battle over uranium mining in Goliad reached a pivotal point Monday.
Monday began a state contested case hearing that will play a factor in deciding whether Uranium Energy Corp. may mine uranium in Goliad County.
Three expert witnesses testified and cross-examined based on pre-trial written testimonies.
Bill Galloway, a geologist and professor at the University of Texas, was called by UEC's legal team.
Arsenic, lead and uranium are elements commonly present in an ore body, such as the uranium-rich deposits that UEC intends to mine.
In his pre-trial testimony, Galloway said he expected the groundwater quality in Goliad to be compromised by uranium mining operations. "
Cibola Beacon – Five-year uranium legacy plan a start
On April 27, the Grants Mining District five-year uranium legacy health and environmental mining plan continued its unusual evolution with a public meeting in Grants. A project of many federal, state and Native American agencies, communications are coordinated by the U.S. Environmental Protection Agency, Agency for Toxic Substances and Disease Registry, New Mexico Environmental Division and New Mexico Department of Health.
This is a unique project that grew out of long-term pressure by the New Mexico Uranium Mining and Millings Task Force.
The task force had a four-person staff which consisted of a legislative counsel attorney, the director of Mining and Minerals of NM Energy Minerals and Natural Resources, uranium industry attorney Jon Indal, uranium health expert anti-mine activist Chris Shuey and a variety of legislators. This unusual and eclectic group came up with a variety of proposals on the grounds that the federal government has a moral obligation to address abandoned mining and milling legacies, (and financial because New Mexico lacks money). Some proposals are embodied in the five-year plan that was spawned from their efforts."
---
Nuclear Waste News
Depleted uranium delay proves costly for Energy Department – Salt Lake Tribune
"Delaying Utah-bound depleted uranium will cost the U.S. Energy Department up to $12 million.
That's the upper estimate agency officials shared recently with a citizens' advisory board in South Carolina during an update on the disposal of 15,600 drums of DU. Those 55-gallon containers were slated to be buried in the EnergySolutions landfill in Tooele County before Utah Gov. Gary Herbert asked the Energy Department for a delay.
Now, 5,408 drums sit unburied at the EnergySolutions site, about 75 miles west of Salt Lake City, and another 9,392 remain at the South Carolina cleanup site until the agency figures out what to do next. One trainload of 56 cars is already loaded.
Tom Clements watches developments at the Savannah River Site weapons-complex cleanup for the environmental group, Friends of the Earth. He attended last week's meeting and heard the report by the cleanup project's Vickie B. Wheeler. "
Court gives DOE green light to continue Yucca shutdown – News – ReviewJournal.com
"The Department of Energy has been given the green light to move full speed ahead with its shutdown plans for the Yucca Mountain nuclear waste program.
A federal appeals court late Monday dismissed a request to freeze termination activities until later this year, after judges have weighed lawsuits challenging the shutdown.
The order clears the way for the DOE to resume dismantling the Nevada waste repository program that the Obama administration wants to shelve. Remaining federal employees were given pre-layoff notices earlier this year, and the DOE was scheduled to issue a termination letter to the project's management contractor.
"We welcome the court's decision," DOE spokeswoman Stephanie Mueller said. "It means the court agreed that the department can proceed with winding down the Yucca project responsibly while the litigation proceeds so as not to needlessly waste taxpayer money."
Sen. Harry Reid, D-Nev., the repository's leading opponent, said the DOE "will resume shutting down the Yucca Mountain Project almost immediately.""
Hi-Desert Star > News > Directors square off over radioactive reports
"Is Bighorn-Desert View Water Agency Director Martha Oswalt an intrepid whistleblower, or is she a domestic enemy?
At Tuesday's board meeting, former board president Judy Corl-Lorono lambasted Oswalt for activities that could undermine the agency. She called out the director for independently distributing an agency document from the California Department of Public Health and using it to scare customers with unsupported "malicious rumors about the quality of their drinking water.
The report, dated April 14, refers to tests of samples of Wells 2 and 3 that indicate certain levels of naturally occurring radiological materials could be on the rise, and are nearing or have reached state limits for radioactive materials.
These wells are off line and not pumping. They normally would serve the Desert View customers in Flamingo Heights, but those users are getting water from Well 8, in which elevated levels are not being detected.
The Department of Public Health advised the agency that should the water exceed government-set maximum contaminant levels for the radiologicals, and the agency fail to comply with the federal Radionuclide Rule for monitoring and reducing radioactive material, the agency will need to complete public notification and investigate treatment options."
Radioactive waste dumping
"DELHI University, blamed for dumping radioactive material that killed a man this week, buried 20 kilograms of other waste in a pit on campus, an academic claimed in a report published on Friday.
Ramesh Chandra, a professor in the chemistry department, told the Times of India that his counterparts in the physics faculty had buried radioactive waste two decades ago after using the material in experiments.
'Instead of handling over the hazardous material… for proper disposal, they just buried it,' he said. 'Though it's been 20 years the buried isotopes of substances like uranium could still be active.' On Thursday, police blamed the university for dumping an irradiation machine containing radioactive cobalt-60 which ended up in scrapyard in New Delhi, where the waste killed a 35-year-old worker and put seven others in hospital."
Plan is lodged to treat radioactive waste near Peterhead – Press & Journal
"The firms behind controversial plans to treat radioactive waste at a Buchan landfill site have lodged an application for the proposal with the council.
Waste management company Sita and radiation specialists Nuvia want to convert a building at Stoneyhill landfill near Peterhead into a facility for washing radioactive residue from contaminated oil and gas industry equipment.
A spokeswoman for the firms last night confirmed the planning application for the project had been submitted to the local authority.
It follows a series of heated public meetings on the proposals, which would see naturally-occurring radioactive material (Norm) treated at Stoneyhill.
Local residents had objected to the plans, saying that they were con- cerned about possible health risks."
---
Nuclear Policy News
The dangers of nuclear power | Green Left Weekly
"In The Iron Heel, Jack London used a narrative from the future to present the dystopian and utopian possibilities that existed in his time. Everyone Can be a Hero, a new independently published book for older children and teenagers, uses a similar device.
It is set in England in 2040 in a world blighted by a nuclear accident and running low on resources. While warning of the dangers of Britain's nuclear energy generation and waste processing industries it also explores the possibilities of a society built by the people themselves, including renewable energy. It has a lot about growing organic food in cities — even referencing Cuba."
Greenpeace crashes Entergy meeting – Brattleboro Reformer
"Greenpeace activists crashed Entergy's annual shareholder meeting Friday in Jackson, Miss., demanding the company halt its efforts to seek the continued operations of the Vermont Yankee nuclear plant.
Entergy, who owns and operates the Vernon-based nuclear facility, has rejected the Vermont Senate's Feb. 24 vote to deny the extension of a public good certificate allowing the plant to operate past its license expiration date in March 2012.
Greenpeace party-crashers delivered a letter from Vermonters demanding the company retire the plant as scheduled in 2012 as Entergy executives delivered statements about company profits.
"Entergy's effort to overturn the Senate's denial of a certificate of public good are in vain," said Vermont's Greenpeace organizer Jarred Cobb. "Vermont Yankee is an aging and dangerous nuclear reactor that will not be a part of this state's energy future." "
White House moves to restore civilian nuclear ties with Russia
"The Obama administration is preparing to revive a civilian nuclear cooperation deal with Moscow that President George W. Bush angrily canceled two years ago after Russia invaded Georgia, administration officials said Thursday.
The two officials spoke on the condition of anonymity because they were not authorized to discuss the matter. One of the officials said the deal would be submitted to Congress for approval soon.
The State Department declined to comment.
The deal would allow the two countries to exchange nuclear energy technology, engage in joint commercial nuclear power ventures and collaborate on nonproliferation goals. Coming on the heels of the nuclear arms reduction treaty that Obama and Russian President Dmitry Medvedev signed last month, it is the latest indication of Obama's attempts to reset relations with Russia.
N-liability bill introduced, BJP walks out-Politics/Nation-News-The Economic Times
"The government Friday introduced the contentious civil nuclear liability bill in parliament, prompting the Bharatiya Janata Party (BJP) to dismiss it as "unconstitutional" and walk out of the Lok Sabha amid vigorous protests from opposition benches.
"It's contrary to articles of the constitution. It's illegal and unconstitutional," BJP leader Yashwant Sinha told the house. Sinha also accused the government of acting under US pressure.
The government had deferred the tabling of the bill in the first half of the budget session in March in the face of a hostile opposition.
The passing of the legislation is one of the last remaining steps required to operationalise the 2008 India-US 123 civil nuclear cooperation agreement. "
Official: Civilian nuclear deal with Russia is tied to Iran sanctions | The Cable
"If the Russians are willing to play ball on a new sanctions resolution for Iran, they stand a much better chance of getting a civilian nuclear deal with the United States, a State Department official testified Wednesday.
The administration began briefing lawmakers last week on what's known as the U.S.-Russia 123 agreement, in anticipation of resubmitting it to Congress at some undetermined time in the near future, acting Assistant Secretary of State Vann Van Diepen told a House subcommittee today.
"We [the State Department] are in standby mode in anticipation of the White House decision to re-submit the agreement to Congress," he told the House Foreign Affairs subcommittee on terrorism, non-proliferation, and trade. "
The Free Press — The triple curse of the corporate climate bill
Legend says curses come in threes. Let's pray that doesn't happen with the unholy trinity of the Corporate Climate Bill.
It demands drilling for oil, digging for coal and big money for new nukes. How such a devil's brew could help save the Earth conjures a corporate cynicism beyond the scope of the human mind and soul.
It all now bears a special curse. It was meant for Earth Day. Then it slipped to the April 26 Chernobyl anniversary. But co-sponsor Lindsay Graham (R-SC) pitched a fit over immigration and pulled his support.
As did Earth herself. Just prior, more than two dozen hill country miners were killed in a veritable Three Mile Island of black carbon. This entirely avoidable accident was built on years of sloppy denial by King Coal and the tacit assent of pliant regulators. With mountains of offal being pitched into rivers and streams, and underground hell holes filled with gas and soot, coal has been slaughtering people and eco-systems here for more than a century. Now, as at TMI, the death has become visible.
Meanwhile, the undersea gusher destroying the Gulf of Mexico may soon pour up the east coast. Like Chernobyl, it defies comprehension. "
Sanders says nuke power not the answer – Brattleboro Reformer
"Vermont is showing the nation that it doesn't need nuclear power, said Sen. Bernard Sanders, I-Vt., on Wednesday during an Environment and Public Works Committee oversight hearing on the Nuclear Regulatory Commission.
The Green Mountain State has proven people can rely on energy efficiencies to reduce their electric consumption and on renewables to provide the supply that they need, he said.
"Vermont is a leader in energy efficiency," he said. "We have reduced our electric consumption thanks to … energy efficiency (and) our people do not live in caves."
Over the past 10 years, said Sanders, the state has cut its electric consumption by 1.5 percent each year.
By 2020, if the nation were to be "slightly more aggressive" than Vermont in its energy efficiency implementation, it could reduce its peak electric demands by 117,000 megawatts.
"That would save more power than the entire capacity of the existing United States nuclear power plant fleet," said Sanders. "
House votes to lift nuclear power plant construction ban, with strings
"What began on the House floor as an Office of Energy Security technical bill quickly morphed into a two-hour debate over an amendment to lift the ban on building new nuclear power plants.
Rep. Bill Hilty (DFL-Finlayson), who sponsors HF3009/ SF2971,* successfully offered the amendment to lift the moratorium. However, conditions attached would delay when a developer could recoup construction costs from ratepayers of the electricity produced at the facility. It would allow the Public Utilities Commission to refuse cost recovery for the construction of a nuclear generating plant until the plant is operating at 85 percent capacity. Cost overruns would be prohibited from being recovered. The amendment was passed 73-59.
The bill passed 86-43 as amended. It now returns to the Senate, where Sen. Yvonne Prettner Solon (DFL-Duluth) is the sponsor. The Senate passed it 63-4 March 29."
theSun: Selangor says no to nuclear
"The Selangor government will not allow or support the construction of a nuclear power plant in the state.
Commenting on the federal government's plan to build a nuclear plant, Mentri Besar Tan Sri Abdul Khalid Ibrahim said there are other alternative methods to increase energy supply.
"We are looking towards increasing energy supply iby harnessing solar power," Abdul Khalid said after the state economic council meeting today."
Former NRC commissioner says no to loan guarantees – Brattleboro Reformer
"A former commissioner of the Nuclear Regulatory Commission said loan guarantees for new nuclear power plants are too much of a risk to put on taxpayers.
Peter Bradford, who lives in Peru and was an NRC commissioner from 1977 to 1982, said nuclear loan guarantees are "a very counterproductive approach to fighting climate change."
"There are a number of other alternatives that lead to greater greenhouse gas reductions much sooner and much less expensively," he told the Reformer.
Specifically, said Bradford, energy efficiencies that can be implemented immediately rather than the eight or 10 years it might take to get a license for and to build a new reactor.
Loan guarantees "will undermine the fight against climate change by diverting money and attention from the resources that offer much larger atmospheric pollution reductions much sooner and less expensively," said Bradford in testimony before the U.S. House's Domestic Policy Subcommittee of the Oversight and Government Reform Committee on April 20. "
California okays coastal power-plant modifications | Reuters
* Rules to force closure, changes at 19 power plants
* Compliance dates stretch past 2020 for nuclear plants
HOUSTON, May 5 (Reuters) – California water resource regulators, seeking to protect marine life, approved a policy late Tuesday that will force closure or costly changes at 19 coastal power plants that now use ocean water to cool equipment.
The policy affects power plants totaling 23,000 megawatts, or more than a third of the installed capacity in the state, including California's two nuclear stations, Southern California Edison's (EIX.N) 2,150-megawatt San Onofre nuclear station near San Diego and PG&E Corp's (PCG.N) 2,240-MW Diablo Canyon station north of Los Angeles.
The contentious policy to replace "once-through cooling systems" has been under development for about five years. It involved input from state environmental and power-related agencies, consumer groups opposed to local plants and marine protection groups."
The smallest thing can often make the biggest difference – Power Engineering International
"A recent poll, conducted by Gallup on a sample of more than 1000 adults in the United States, found that 62 per cent of respondents supported the use of nuclear power.
This in itself is not surprising since the majority of Americans have favoured the use of nuclear power to provide electricity since Gallup began asking about this topic back in 1994. Further, nuclear is responsible for a healthy 20 per cent of the US' power generation mix, and traditionally, unlike its European cousins, American citizens appear to be less squeamish about the potential dangers of nuclear power."
Epoch Times – Nuclear Power: How Green Is It?
"As global warming becomes a reality, pressure is mounting on governments to find low-carbon solutions to generating electricity. Yet with close to seven billion people in the world, many scientists are questioning the capacity of renewable energies to meet the growing demands of most countries.
New developments in nuclear technology and ongoing research into reducing its associated hazards are leading various key players to take a fresh look at nuclear power."
Study finds fault with VPIRG report – Brattleboro Reformer
"It could cost between $4 billion and $8 billion to supply Vermont's electric needs from renewable sources, according to a report issued by the Coalition for Energy Solutions, a loosely associated group of energy professionals who study and evaluate energy options.
The report was an evaluation of a study released by the Vermont Public Interest Group, which stated renewable energy sources and energy efficiencies could make unnecessary the continued operation of Vermont Yankee nuclear power plant in Vernon past its original license expiration date of 2012.
"Our Evaluation makes the same assumptions about total electric demand, total purchases from the grid, and complete use of renewables (no extensive gas-fired back-up) as (VPIRG's) Repowering Vermont (report)," wrote Howard Shaffer and Meredith Angwin, the authors of "Vermont Electric Power in Transition." "
NY nuclear plant appealing denial of water permit – BusinessWeek
"The owner of a nuclear power plant in the New York suburbs is appealing the denial of a permit it needs to keep the plant running beyond 2015.
The state Department of Environmental Conservation ruled April 2 that the Indian Point plant in Buchanan was destroying too much aquatic life. The plant uses river water to make steam and to cool the two reactors.
The DEC denied a water quality permit that is a condition of Entergy Corp.'s application for new 20-year licenses for the two reactors in Buchanan."
AREVA – United States: AREVA and FNEG sign MOU for clean energy park project in California
"AREVA and Fresno Nuclear Energy Group (FNEG) today announced that they have signed a memorandum of understanding (MOU) to develop a Clean Energy Park near Fresno, California, including nuclear and renewable generation.
According to the MOU, AREVA and FNEG will work together on the site selection and initial development of a nominal 1,600 Megawatt U.S. EPRâ"¢ reactor. The agreement also includes potential development of other AREVA energy technologies such as concentrated solar power.
"Our goal is to create a power-producing infrastructure that combines clean electric energy sources, including nuclear, solar, and future technologies," said John Hutson, president of FNEG."
---
Nuclear Weapons News
The Associated Press: Outdated, unwanted, US nukes hang on in Europe
"Unseen beyond the grazing Holsteins and rolling pastures of eastern Belgium, the 12-foot-long tapered metal cylinders sit in their underground vaults, waiting for the doomsday call that never came. Each packs the power of many Hiroshimas.
America's oldest nuclear weapons, unwanted, outdated, a legacy of the 20th century, are now the focus of a political struggle that could shake the NATO alliance in the 21st.
The questions hanging over the B-61 bombs, an estimated 200 of them on six air bases across Europe, relate not just to why they're still here, but to how safe and secure they are.
For one thing, al-Qaida terrorists have already targeted this Belgian air base 84 kilometers (52 miles) northeast of Brussels. For another, U.S. Air Force inspectors found inadequate security at most of the six sites. And three months ago a "bombspotter" team, anti-nuclear activists, penetrated nearly one kilometer (a half-mile) inside Kleine Brogel, reaching its innermost bunkers."
Showdown at NPT Review Conference
"Iranian President Ahmedinejad minced no words when he responded to reporters' queries prior to the ongoing UN Non Proliferation Treaty Review Conference which started on Monday, May 3, 2010, in New York. He is the only head of state attending and was clearly prepared to take on Washington and its allies on the question of his country's uranium enrichment programme. This, the US and friends insist, is meant to fuel bombs not civilian power, regardless of Iran's claims that it is no more than that and well within the NPT rules. Ahmedinejad told reporters last Sunday that the dominant powers are using the atomic bomb as a 'tool for bullying, domination and expansionism,' and are imposing heavy pressures on independent countries, under 'the pretext of prevention of nuclear weapons proliferation.'
As expected, the US Secretary of State Hillary Clinton and Ahmedinejad were found sparring on stage on the opening day, the latter terming it 'disgusting' and 'shameful' that the US would still be in possession of over 5,000 atomic warheads.[ The United States revealed on Monday that it has a total of 5,113 nuclear warheads in its stockpile, as of September 30, 2009.] The Iranians stressed that this was not only unjustified but also a threat to global security. They added that an independent probe would be required to verify the actual number of nuclear warheads in US possession. All this must have been quite infuriating for Clinton. Prior to Monday's inaugural heat, she had told a 'Meet the Press' session, 'We're not going to permit Iran to change the story from their failure to comply.'
"
Nagasaki student uses picture-board show in New York to tell story of A-bomb survivor – The Mainichi Daily News

"A picture-board show about a Nagasaki atomic bomb survivor who passed away in April was shown at a school here by a Nagasaki high school student on Wednesday (Thursday, Japan time).
Mitsuhiro Hayashida, 18, a "high school peace ambassador" who traveled from Nagasaki to New York where the review conference on the Treaty on the Non-Proliferation of Nuclear Weapons (NPT) is taking place, was the presenter of the "kamishibai," a storytelling format in which audience members are shown picture boards while the presenter recites the corresponding narrative or dialogue.
The story featured the life of Katsuji Yoshida, a Nagasaki atomic bomb survivor who passed away in April at the age of 78. Yoshida had been a storyteller who traveled and shared his experiences of the bomb."
The Associated Press: West Europeans target US nukes at treaty session
"Germany and other West European nations at the U.N. nonproliferation conference are calling for elimination of U.S. tactical nuclear weapons in Europe — "leftovers from the Cold War" — as a way to advance global arms control.
"They no longer serve a military purpose and do not create security," German state minister Werner Hoyer told fellow delegates to the 189-nation session to review the Nuclear Nonproliferation Treaty.
Belgian disarmament official Werner Bauwens, speaking Thursday, the fourth day of the monthlong conference, urged the U.S. and Russia to launch negotiations "as soon as possible" to reduce their shorter-range nuclear weapons."
The Associated Press: Private sleuths once pierced nuclear veil
"Shortly after nuclear weapons sleuths Tom Cochran and Bill Arkin published their unauthorized estimate of the size of the U.S. arsenal in 1984 they got a call from alarmed U.S. officials.
"They called us over and wanted to know where we got the numbers," Cochran recalls from a time when almost everything about history's deadliest weapon — including how many the U.S. possessed — was classified secret. It was a culture of secrecy born during the Cold War, out of a belief that nuclear candor could be dangerous.
America's official nuclear silence ended Monday when the Obama administration not only disclosed the number of U.S. nuclear weapons available for use in wartime — 5,113 as of last Sept. 30 — but surprised many by also publishing weapons totals for each year dating to 1962. (Pre-1962 data was released in 1993.)"
AFP: Egypt, US eye compromise on nuclear-free Mideast talks

"Egypt and the United States were Tuesday trying to work out a compromise at the United Nations to start talks on a Middle East nuclear weapons-free zone, diplomats said.
US Secretary of State Hillary Clinton had Monday told the conference on the nuclear Non-Proliferation Treaty being held here that the United States is "prepared to support practical measures" towards "the objective of a Middle East free of weapons of mass destruction."
Egyptian ambassador Hisham Badr on Tuesday told the some 150 nations at the three-week-long NPT meeting that the review conference should support taking "concrete and practical steps" for "the establishment of a Middle Eastern zone free of nuclear weapons, as well as other weapons of mass destruction.""
The Associated Press: Arab states spotlight Israel at nuclear meeting
"Major powers on the U.N. Security Council were unrelenting Tuesday in their drive for new sanctions against Iran's nuclear program as Iranian President Mahmoud Ahmadinejad undermined their efforts at a U.N. nuclear conference.
Russian Deputy Foreign Minister Sergei A. Ryabkov said he is "reasonably optimistic" that an agreement can be reached on a fourth round of sanctions over Tehran's uranium enrichment program.
"I do believe the talks are slowly moving forward. There's definitely some space to bridge over. But I wouldn't over-exaggerate the differences," Ryabkov said."
A-bomb survivors join 25,000-strong anti-nuclear march through New York – The Mainichi Daily News
"Japanese survivors of the 1945 atomic bombings of Hiroshima and Nagasaki joined anti-nuclear rallies and demonstrations in New York on Sunday, ahead of the opening of the review conference of the Parties to the Treaty on the Non-Proliferation of Nuclear Weapons (NPT).
Some 25,000 people, including members of peace organizations and A-bomb survivors, joined the march on Sunday, which went for about two kilometers from downtown New York to a square in front of United Nations headquarters, calling for the elimination of nuclear weapons."
A-bomb icon's brother appeals in N.Y. for peace | The Japan Times Online
"Relatives of Sadako Sasaki, who died a decade after the atomic bombing of Hiroshima, and families of those killed in the Sept. 11, 2001, terrorist attacks in the U.S. joined together Monday to pledge their utmost efforts to make the world free of war.
Sasaki's older brother, Masahiro, 68, was invited to a dedication ceremony for a paper crane folded by his sister that he donated to the Tribute WTC Visitor Center in 2007.
The ceremony near where the World Trade Center stood coincided with the opening in New York of the Nuclear Nonproliferation Treaty review conference, which runs through May 28."
Obama administration discloses size of U.S. nuclear arsenal
"Shattering a taboo dating from the Cold War, the Obama administration revealed Monday the size of the American nuclear arsenal — 5,113 weapons — as it embarked on a campaign for tougher measures against countries with hidden nuclear programs.
The figure was in line with previous estimates by arms-control groups. But Secretary of State Hillary Rodham Clinton emphasized that it was the very disclosure of the long-held secret that was important.
"We think it is in our national security interest to be as transparent as we can about the nuclear program of the United States," she told reporters at a high-level nuclear conference in New York, where she announced the change in policy. "We think that builds confidence." "
What Happens To All That Uranium?
"The United States, in an effort to be as transparent as we can be in the words of Hilary Clinton, recently announced it has 5,113 in its nuclear stockpile, and thousands more retired warheads awaiting the junk-pile. President Obama recently signed a new agreement with Russian President Dmitry Medvedev called The New START Treaty that will reduce current American and Russian stockpiles to 1550. So I started thinking, What happens to all that uranium after the bombs are dismantled?
It seems a lot of the disarming process is merely paperwork. According to an article called Where nuclear weapons go to die by Jeffrey Lewis and Meri Lugo, a nuclear weapon is taken off the active list and put in storage, if it is not there already, or shipped to a company called Pantex in Texas to be disassembled. The authors say that during the Clinton administration, more than 1,000 warheads were dismantled a year, but since 2000, employees at Pantex have spent most of their time refurbishing operational nuclear warheads to extend their lives They say there are some 4,000 nuclear weapons waiting in line to be dismantled. But this doesn't answer the question of where the uranium ends up once the bomb has been taken apart."
Evelyn Leopold: NPT: How to Count the Bombs Until There Are None (update)_
"Iran was criticized from all sides – from Secretary of State Hillary Clinton, from the head of the International Atomic Energy Agency Yukiya Amano and from UN Secretary-General Ban Ki-moon. And so was Israel (but not India and Pakistan) for its undeclared nuclear arsenal.
However, Iran may have the last laugh since the month-long unwieldy conference on the nuclear Non-Proliferation Treaty (NPT), can only adopt resolutions or outcome documents by consensus. "
Army to be sued for war crimes over its role in Fallujah attacks – Asia, World – The Independent
Army to be sued for war crimes over its role in Fallujah attacks
Parents of children with birth defects say Britain knew of US chemical weapons use
Allegations that Britain was complicit in the use of chemical weapons linked to an upsurge in child deformity cases in Iraq, are being investigated by the Ministry of Defence.
The case raises serious questions about the UK's role in the American-led offensive against the city of Fallujah in the autumn of 2004 where hundreds of Iraqis died. After the battle, in which it is alleged that a range of illegal weaponry was used, evidence has emerged of large numbers of children being born with severe birth defects.
Iraqi families who believe their children's deformities are caused by the deployment of the weapons have now begun legal proceedings against the UK Government. They accuse the UK Government of breaching international law, war crimes and failing to intervene to prevent a war crime. "
asahi: Hibakusha speak out ahead of NPT conference

Theirs is the voice that the Nuclear Nonproliferation Treaty (NPT) Review Conference in New York needs to hear.
Two aging hibakusha, emboldened by U.S. President Barack Obama's historic pledge in Prague last year to seek a nuclear-free world, were to address peace events during the NPT session that opened Monday at the U.N. headquarters in New York and runs until May 28.
These two women plan to describe the horrors of the 1945 atomic bombings that transformed their lives.
Sakue Shimohira, who is 75 and from Nagasaki, described the trip to New York as her "last chance" to tell the world about what happened to her.
"I feel that the momentum to abolish nuclear weapons has been building since Obama became president," said Shimohira, who also visited the U.N. headquarters when the 2005 NPT review conference was held. "We hibakusha want to contribute to the ongoing tide." "
Backgrounder: Nuclear Non-Proliferation Treaty
"Representatives from more than 100 countries are expected to attend the latest five-yearly Nuclear Non-Proliferation Treaty (NPT) Review Conference, which is scheduled to start on Monday and will last 25 days.
According to Sergio Duarte, the UN high representative for disarmament affairs, one of the main challenges for this year's event is how to make the NPT more effective in the fields of disarmament, non-proliferation and the peaceful uses of nuclear energy, the three main thrusts of the treaty.
The following is a brief introduction to the NPT:
In the 1960s, the United States and the Soviet Union stepped up their nuclear testing in a bid to improve their nuclear arsenals. Seeking to maintain their respective nuclear advantages, the two superpowers began to push for negotiations on a treaty that would stem the proliferation of nuclear weapons."
Thousands march for nuke-free world
"Demonstrators with signs stand during an anti-nuclear weapons protest rally and march in New York.
Thousands of demonstrators from around the globe have joined together near the UN headquarters in New York, demanding a world free of nuclear weapons.
The protesters from the US, Japan, Europe and other countries, urged world leaders to start talks to eliminate the world's nuclear arsenals.
Among the rally speakers were mayors of Hiroshima and Nagasaki, and Kimura Hisako, a survivor of the US atomic attack against Japan in 1945.
"Besides the more than ten thousand people in the streets, we have over seven million petition signatures from around the world calling for a world free of nuclear weapons in our lifetime," said Judith Le Blanc, Field Organizer for Peace Action.
The peace festival, organized by the 2010 NPT organizing committee, took place on the eve of the Nuclear Non-Proliferation Treaty (NPT) Review Conference at New York. "
U.S. Discloses Arsenal of 5,113 Nuclear Warheads (Update1) – Bloomberg.com
"The U.S. nuclear arsenal consists of 5,113 active and inactive warheads, a Pentagon official said, revealing the size of the nation's stockpile for the first time.
The current total of warheads is down from 22,217 in late 1989, the official told reporters at the Pentagon. He asked not to be identified.
The U.S. has kept classified the specific nuclear warhead total, which would include strategic weapons mounted on missiles and bombers for longer-range as well as shorter-range tactical arms and those that aren't deployed.
President Barack Obama aims to set an example of U.S. transparency and willingness to pare its nuclear arsenal in hopes of compelling other nations to follow suit.
The Pentagon's disclosure came at a briefing that coincided with Secretary of State Hillary Clinton's address to the nuclear nonproliferation conference at the United Nations. "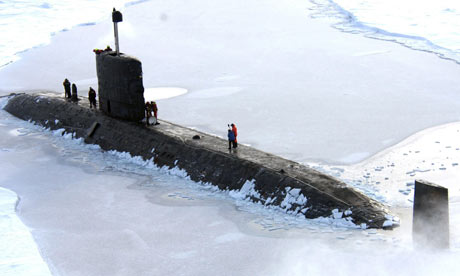 Nuclear submarines went to sea with potentially disastrous defect | UK news | The Guardian
"Two British nuclear submarines went to sea with a potentially disastrous safety problem that left both vessels at risk of a catastrophic accident, the Guardian can reveal.
Safety valves designed to release pressure from steam generators in an emergency were completely sealed off when the nuclear hunter killers Turbulent and Tireless left port, a leaked memo discloses.
The problem went undetected on HMS Turbulent for more than two years, during which time the vessel was on operations around the Atlantic, and visited Bergen in Norway, the Portuguese capital, Lisbon, and Faslane naval base near Glasgow."
AFP: US, Egypt negotiate Mideast nuclear-free zone: report
"US officials are in talks with Egypt over a plan to make the Middle East a nuclear-free zone, part of an effort to block the Iranian nuclear program, The Wall Street Journal reported Saturday.
Citing unnamed US officials, the newspaper said the White House wanted to build on a non-binding agreement that emerged from a 1995 UN review of the Non-Proliferation Treaty (NPT).
That agreement had designated the region as a zone free of weapons of mass destruction: the aim now was to promote a Middle East nuclear weapons-free zone, which would include Israel, the Arab states, Iran and Turkey.
The US administration was also seeking a conference on the subject."
The Hindu : News / International : U.S. non-proliferation agenda caught in web of contradictions
"On the eve of the next big nuclear-related event of the Obama presidency, the United States' non-proliferation engine is shuddering dangerously, indeed running the risk of choking itself in a web of contradictions.
At a press conference to preview of the upcoming Non-Proliferation Treaty Review Conference to be held in New York between May 3 and May 28, the tensions in the agenda, as well as a sense of gloom about what could realistically be achieved, were evident in equal measure. "
U.S. is expected to reveal size of nuclear stockpile
"The Obama administration is likely to reveal a closely guarded secret — the size of the U.S. nuclear stockpile — during a critical meeting starting Monday at which Washington will try to strengthen the global treaty that curbs the spread of nuclear weapons, several officials said.
Various factions in the administration have debated for months whether to declassify the numbers, and they were left out of President Obama's recent Nuclear Posture Review because of objections from intelligence officials. Now, the administration is seeking a dramatic announcement that will further enhance its nuclear credentials as it tries to shore up the fraying nuclear Non-Proliferation Treaty (NPT). "
The nuclear caste system | Turtle Bay
"Next week, U.S. Secretary of State Hillary Clinton will meet in New York with diplomats from more than 180 countries at the eighth review conference of the 1970 Nuclear Non-Proliferation Treaty (pdf), the Cold War pact that determines who can have nuclear weapons and who can't. The nuclear accord obliges the five original nuclear powers to disarm while exacting a pledge from other countries not to pursue nuclear weapons. In exchange, those that foreswore atomic weapons were assured the right to develop nuclear energy programs, under the monitoring of U.N. inspectors.
The Obama administration will seek to use the nearly month-long conference to plug gaps in a landmark agreement that has significantly limited the spread of nuclear weapons but enabled a small number of nuclear proliferators, including Saddam Hussein and Kim Jong Il, to develop clandestine atomic weapons programs under the nose of U.N. weapons inspectors.
The nuclear conference has gained increased urgency as concerns about global warming have fueled renewed interest in nuclear power, and the prospects of lucrative international trade in nuclear fuel."
Bellona meets Medvedev on state visit to Oslo to pressure environmental recovery in Murmansk – Bellona
"On a state visit Monday to Oslo coinciding with the anniversary of the Chernobyl catastrophe on April 26, 1986, Russian President Dmitry Medvedev was greeted by banners brought 2,000 kilometres by representatives of Bellona Murmansk reading Mr President, turn the attention of Murmansk's governor to Ecoproblems.
Their appeals were heard as Bellona President Frederic Hauge attended a state lunch with Medvedev at Oslo's Akershus Fortress.
Hauge delivered a letter from three of Bellona Murmank's representatives that was an invitation to current Murmansk Governor Dmitry Dimitriyenko to resume cooperation with grassroots organisations in the region to ensure a focus on renewable energy potential on the northern Kola Peninsula."
---
Department of Energy News
DOE cancels plutonium level change for SRS waste | The Augusta Chronicle
"The U.S. Energy Department has rescinded an order that would have nearly tripled the amount of plutonium in high-level waste converted to glass at Savannah River Site.
"The Office of Environmental Management has decided not to move forward at this time with its February decision to direct contractors to start planning for higher concentrations of plutonium in waste canisters at the Savannah River Site," said Jen Stutsman, a spokeswoman at the department's Washington headquarters.
The SRS-based Defense Waste Processing Facility uses a process called vitrification to convert liquid radioactive waste into a solid glass form suitable for long-term storage and permanent disposal.
Plutonium is among many materials in the 36 million gallons of waste left behind at SRS by decades of nuclear weapons production."
Exposure at Pantex – KFDA – Amarillo, TX
"A petition was drawn up four years ago by some past employees of Pantex and other chemical weapons plants. The petition asks for acknowledgement that deadly levels of radiation were present at Pantex for over 40 years.
Sarah Ray listened to her phone intently this morning to a conference call between experts on past radiation levels, at the Amarillo Pantex plant.
"The site profile is fine as far as today's conditions but there is no information that represents past practices," says former employee Sarah Ray.
She and other former chemical weapons plant workers developed an argument for why fast compensation is necessary for those who suffer from illness related to their time in the plant."
Feds agree to cleanup at Bannister plant – KansasCity.com
"A landmark agreement between two federal agencies today will result in a cleanup at part of the Bannister Federal Complex where workers have complained of health problems.
The agreement targets the roughly 40 percent of the complex owned by the General Services Administration. The GSA will begin immediately assessing the pollution at its site and will provide a work plan in 60 days, according to the agreement.
The Environmental Protection Agency engineered the agreement, which is legally binding and sets up penalties if investigations, analysis and excavation of chemicals are not done properly or within a certain schedule. The agreement states it is not any sort of admission by GSA."
---
Other Energy News
Senators moving ahead with climate change legislation – latimes.com
"The leading sponsors of a long-delayed energy and climate change bill said Friday they will press ahead despite losing the support of their only Republican partner.
Sens. John F. Kerry (D-Mass.) and Joe Lieberman (I-Conn.) said they plan to introduce a bill next week. The pair made the announcement just hours after Sen. Lindsey Graham (R-S.C.) said it is impossible to pass the legislation now because of disagreements over offshore drilling and immigration reform.
Graham has been negotiating with Kerry and Lieberman for months, but said Friday that he doubts the climate bill has much chance of success."
Gulf oil spill: More fishing areas closed | Greenspace | Los Angeles Times

"State officials in Louisiana announced another set of fishing closures Sunday as the oil spill from the Deepwater Horizon disaster spread and approached state shores.
The commercial and recreational fishing closure now includes an area of the state's territorial sea west of the Mississippi River to Point au Fer, at the eastern side of Atchafalaya Bay, as well as the beaches that border any of the closed areas, according to the Louisiana Department of Wildlife and Fisheries.
Sunday marked the third consecutive day that authorities closed areas to fishing. Oil has washed up on the Chandeleur Islands and is approaching other areas of St. Bernard Parish, while a plume also has spread west of the Mississippi River outlet."
Oil Spill-Fighting Fishermen Face Serious Health Risks (Video) : TreeHugger
"Dr. Gina Solomon, a Senior Scientist with the NRDC is worried that fishermen enlisted to clean up oil may be unwittingly facing severe health risks. You see, in the effort to clean up the massive oil spill that's leeching across the Gulf of Mexico, BP has employed hundreds, if not thousands, of fishermen. Typically, they're equipped with booms, given a safety course, and then head out to tackle the spill. Problem is the oil itself, and the fumes it gives off, are toxic — and the fishermen may not be getting the adequate gear to protect themselves from it. In this brief video, Dr. Solomon explains what risks the fishermen face, and what exactly they should be wearing. "

Favorable Cape Wind Decision Paves Way for American Clean Energy Development, UCS Says | Union of Concerned Scientists
"Facility Could Meet up to 75 Percent of Cape Cod and Islands' Electricity Demand
Leading environmental organizations hailed today's historic decision by Interior Department Secretary Ken Salazar to provide federal approval for Cape Wind, allowing the country's first utility-scale offshore wind farm to move forward. The announcement signaled the Administration's intentions to support renewable energy development off U.S. shores, a major component of a clean energy economy and reduced dependence on fossil fuels, the organizations said.
Today's announcement ends a nearly nine-year environmental review process, much longer than is typical for a traditional coal power plant. The decision clears the way for Cape Wind to begin the permitting process and develop a 130 turbine wind farm in Nantucket Sound, which could meet as much as 75 percent of the electricity demand for Cape Cod and the Islands."
---
Nuclear Editorial and Opinions
Nuclear dangers are real – The Mercury Opinion
"This is in reply to the article "Power walk in Limerick." It's time for a reality check on nuclear power and green energy. The quick definition of green energy is that it leaves a small if no impact on the environment.
1. Some of the byproducts of a nuclear power plant are hazardous for 250,000 years. True it doesn't have smoke stacks spewing CO2 into the atmosphere but it spews invisible radiation. If you took a plane ride from Los Angeles to New York City, you would receive as much radiation as if you were getting a chest X-ray. This is from the "allowable" amount the plants can emit which is raising the background levels of radiation in this country."
How to gut renewable energy
"For the third consecutive legislative session, myopic legislators have introduced illogical, almost surreal rationalizations for why they should repeal one state law that has successfully protected Illinois for 23 years, and sabotage a second that promotes zero-carbon, sustainable and less-polluting energy.
I refer here to attempts to repeal what has become known as the nuclear construction moratorium.
This 1987 law simply says: Illinois will not permit the construction of new nuclear plants until there exists an environmentally responsible way of permanently disposing of the dangerous radioactive wastes they create.
The Sears Tower, John Hancock Center and Illinois' currently operating nuclear reactors were being constructed around the same time. Imagine if legislators of the day touting reasons like jobs, federal money and proud legacies allowed these and future skyscrapers to be built without bathrooms. This is precisely the (il)logic of today's legislators calling for moratorium repeal."
Richmond County Daily Journal – The misguided nuclear revival
"Fifty years ago, it was widely believed that nuclear power might provide the answer to all of the world's energy needs by providing a clean, safe, and virtually endless supply of affordable electricity. Two decades or so later, of course, the bloom on the nuclear rose had quickly wilted under the weight of the spiraling costs, worries about weapons proliferation and the storage of waste byproducts, and, of course, the disasters at Chernobyl and Three Mile Island. As a result, there has not been a new nuclear power plant ordered in the United States since 1977. The last new plant to go into service went on line in 1996.
In the wake of growing and urgent concerns about CO2 pollution and global warming, however, there has been a revival in the public's interest in nuclear power. Once again, serious people – even some self-proclaimed environmentalists – are debating the merits of a nuclear revival.
So, what should we make of this? Did Americans act too fast decades ago when they ended further expansion of it? If we're forced to pick our poison, is nuclear energy a better solution than coal or other carbon-based energy sources? Is it even viableCleaner? What are the real world risks? Are there better solutions? Should North Carolinians come to expect and accept the distribution of anti-radiation pills (as is set to take place next month in the areas surrounding the Shearon-Harris plant in western Wake County) as a fact of 21st Century life?"
The Top Nuclear Stories is published twice weekly. It is a produced using a combination of social bookmarking and programming. You can view or join the public group and add your own stories by going here -> http://groups.diigo.com/groups/nukenews