Just way over the top!  Talk about getting buried… This is late coming out due to all of the major stories that hit last week.
Before I get started with start, we have one story of particular interest, the possibility of some kind of major nuclear release.
Completely off the radar of the media is a story by NOAA that a cloud of dust that came across the Pacific from Asia set off Las Vegas radiation monitors this last week set off my own Chernobyl PTSD.  Is the story real? Should anyone who cares be more than a bit concerned about this?  Check the story.  Its this kind of stealth non-news event that represents the kind of nightmare that will come someday if we don't wake up a culture that doesn't want to weight the impacts of having nukes across the world in the hands of poor nations.
Okay, Let's Start with Start. Talk about the Wizard of Oz and behind the curtain manipulation.  There is far more here than meets the eye. The story was clearly a cover for all of the dirty tactics (other DOE news) that will miss most people's radar screens. A 25% reduction in the amount of nuclear weapons means that the two nuclear super nuts can now only wipe out the planet 4 times or so.  The real story of course (behind the curtain) is DOE's push to dramatically increase funding for new weapons designs, while NATO continues with a push to build a weapons shield in Europe.  Jimmy Carter, for the 2nd time has come to Korea and called the U.S. tactics to thumbscrew North Korea as excessive.
Bush, err Obama signed a presidential order to hand over the growing 123 Trade debacle over to Hillary and the State Department.  As a result of India's parliment refusing to waive nuclear accident insurance for US nuclear vendors Russia and France which federally insure their government operations are set to take all of the contracts leaving GE-Westinghouse out of the very market that we opened up!  A new report of Chernobyl shows increased birth defects in children in contaminated areas.  Germany's Merkel continues with its attempt to reverse the 2022 closure date of the nuclear industry. A new Finish poll shows that 9 out of 10 Finns would rather have wind power than nukes.  A new UK scandal of the Brown Administration attempting to sneak in funding for nukes, even though the country was promised that none would come forward, hits as MP's are now claiming that the sale of their nuclear infrastructure to France and U.S. companies (yes folks the U.S. also bought into British Energy) was a disaster.
The real blockbusters are happening in the U.S.  this time.  Just as the DOE/Obama Blue Ribbon Commission took center stage IEER released their FOIA findings of how the Bush Administration in last days ensnared the country in over 20 spent fuel contracts that will cost taxpayers billions of dollars.  The latest Obama rope bender comes from Exelon's plans start pushing Victoria in Texas with a request for an Early Site Permit, while the NRC gave Domminion's North Anna project an okay on its EIS.  New York State said no to Entergy's plan to spin off a new nuclear company. While in Vermont the NRC has picked a former Entergy employee to be the agency's inspector. At the same time as Entergy (for the 4th time or so) has claimed to have found and stopped the major tritium leak the company is attempting to close access to the records about the leak to the public in legal maneuvers.  Davis-Besse has found 14 cracks out 69 reactor core nozzles.
On the legislative front, the nuclear door was reopened in Minnesota on a stealth amendment for solar funding.  While Kentucky's moratorium bill died.Legislation to reduce out of state rad-waste in Tennessee appears to be winning.
POGO came out with a story on how the DOE is pushing to deregulate safety oversight of its private contractors! Just as Chu while visiting ORNL's newly opened HEU storage shack jumped across the river and offered more money for USEC's enrichment facility. And what mysterious US agency has offered South Africa $10 million to keep them from closing down their failed PBMR program?  Stay tuned for when the real culprit (Hillary or Chu) stands up.
Do I dare mention Chu's Yuchy Blue Ribbon Commission stocked full of nuclear advocates held their first tea party?  Get ready for the very worst possible results from these Mad Hatters that will make more than cat smiles glow in the dark.
Then of course we have the GAO report that says that it is taking at least 3 years for DOE workers to get money out of the DOL's EEOICPA program.
The Goshute MRS nightmare has raised its head again with the tiny tribe filing a lawsuit claiming that the Dept. of Interior's decision to stop the program was illegal and should be reversed.  A court decision to allow HRI to go ahead with ISL uranium mining on Dine(Navajo) lands is an outrage that is still just starting to sink in.  In Canada doctors in Alberta have restarted their campaign to block uranium mining the International Energy Agency has come out with a claim that nuclear is the cheapest power source of the future, other than in Australia where coal will be!
Activists hung a giant banner in front of government offices that said "Turn off Nuclear Power and not just for one hour" as part of an International conference of activists in Europe.
Last but not least in a NY Times article (sorry I didn't post) the democratic party leadership is now ready to sell its Climate change legislation for nuclear porridge as dems are now looking to Kerry and Lieberman to find the magic nuclear bullet of nuke loans that will open the republicans up to energy bill.
There are quite a few stories not mentioned due to the sheer volume, so this is a must review! Its all here in this weeks version of the news. Read and weep, shout, but don't for a second stop fighting!
---
Top Nuclear Stories Index
---
Nuclear Reactor News
Dounreay's giant nuclear golf ball ruled out of bounds – Herald Scotland
For more than half a century the futuristic dome of Dounreay nuclear power station has stood as one of the most iconic  and intimidating coastal landmarks in Scotland. Now, despite last-ditch rescue attempts, it seems the imposing and eye-catching structure is doomed to be removed from the
Caithness landscape forever.
Although Dounreay is now defunct and set to be decommissioned, a public consultation over the future of the monumental structure has come up with a series of strange suggestions designed to save the building."
'Atomic Anne' pitches nuclear power in Fresno – Bill McEwen – fresnobee.com
"It hasn't been the best of times for Anne Lauvergeon, advocate of the nuclear option.
Areva, the international energy company she heads, is behind schedule and over budget on a nuclear reactor in Finland. A South Korean group beat out Areva for a $20 billion contract in the United Arab Emirates. And, just this month, the French prime minister had to step in and save Lauvergeon's job at the firm, which is 90% owned by France's government.
But these troubles didn't stop Lauvergeon from keeping a Fresno appointment to tout nuclear energy last week.
"Atomic Anne" became one of the world's most powerful women by making tough sales, and now she wants the Holy Grail of nuclear ambition — California."
Yankee seeks to seal probe records: Rutland Herald Online
"Despite pledges of "transparency" and "openness" in its bid to regain the trust and confidence of Vermonters after its radioactive leak at Vermont Yankee, Entergy Nuclear attorneys have taken steps to keep key documents at the Public Service Board under seal and confidential.
Entergy Nuclear attorney John Marshall, and three other attorneys from Downs Rachlin Martin, requested the protective order from the board Wednesday, a day before Entergy Nuclear executive Mark Savoff reiterated a pledge Thursday during a press conference for openness and full communication.
Entergy specifically is seeking to seal the report from its internal investigation conducted by its law firm, Morgan Lewis & Bockius LLP, into whether Entergy Nuclear Vermont executives lied to state regulators, state consultants and legislators over the existence of buried underground pipes at Vermont Yankee."
Yankee says it stopped tritium leaks: Rutland Herald Online
"Entergy Nuclear said Thursday it is convinced it has found and stopped the source of multiple radioactive leaks at the Vermont Yankee nuclear reactor, which has been leaking tritium into the groundwater since last November.
The company said it was starting cleanup efforts immediately, by pumping some groundwater out of the immediate contaminated area into holding tanks, with plans to filter and clean it and return it to the reactor for reuse."
ESP application for new Texan plant
"Exelon has submitted an application to the US nuclear regulator for an early site permit (ESP) for the construction of a new nuclear power plant in Victoria County, Texas. It has also formally withdrawn its application for a combined construction and operating licence (COL) for the proposed plant.
Exelon announced in July 2009 that it had decided to indefinitely postpone plans to build new reactors and would instead pursue power uprates for its existing plants. The decision was made due to "uncertainties in the domestic economy, lowered expectations of future electricity demand and related economic considerations." The company said at that time that it planned to withdraw its COL application for the Victoria plant, but would instead seek an ESP for the site to keep the option of constructing the plant open. Unlike a COL, an ESP does not authorize construction of a new plant."
New Dominion nuclear plant clears hurdle – Washington Business Journal:
"The Nuclear Regulatory Commission has completed an environmental impact study for Dominion's proposed third nuclear reactor at its North Anna Power Station in central Virginia and concludes there are no environmental impacts that would preclude its construction.
Dominion applied for a license to construct and operate the reactor in November 2007. The NRC has been conducting its review since April 2008.
It is just one step in the approval process, which still requires a safety review and a hearing by the NRC's Atomic Safety and Licensing Board, which is not expected until at least 2011."
South African Nuclear Project May Get $10 Million for U.S. Deal – Bloomberg.com
"South Africa's Pebble Bed Modular Reactor Ltd., the company that lost government funding after spending a decade trying to develop small nuclear power plants, expects to get $10 million for a U.S. contract.
The company is part of a Westinghouse Electric Co. LLC group selected by the U.S. Department of Energy for conceptual and planning work for a so-called Next Generation Nuclear Plant, Pebble Bed spokeswoman Lorna Skhosana said in an e-mailed response to queries today. Pebble Bed anticipates "receiving an estimated $10 million from the deal, she said. "
South Africa will halt funds for the company after spending 7.4 billion rand ($1 billion) on its nuclear technology in the past 11 years, Public Enterprises Minister Barbara Hogan said Feb. 18. Pebble Bed was set up in 1999 to develop 24 high- temperature, gas-cooled reactors, generating 110 megawatts each.
The American Debate: Despite Obama's push, nuclear era not on the horizon | Philadelphia Inquirer

"Is it OK if I talk about something besides health-care reform now?
I know we're all fixated on the fate of President Obama's signature mission, but surely we can agree that his newly announced bid to build more nuclear power plants is worth a thousand words. The politics alone are fascinating.
Not that long ago, any Democratic president daring to fly a "More Nukes" banner would have been fried by his own base. Jackson Browne, Bonnie Raitt, and the Boss would have plugged in for a protest concert, just as they did for the "No Nukes" show in '79. But Obama's request for $54 billion in federal loan guarantees, and his State of the Union pitch for "a new generation of safe, clean nuclear power plants," have barely moved the ire meter.
Some environmentalists are unhappy – for good reason. But this isn't like the old days, when the accident at Three Mile Island sowed public hysteria, and a Jane Fonda film, The China Syndrome, did boffo box office by painting nuclear-industry leaders as reckless plutocrats. Today, most grassroots Democrats believe our first priority should be combating global warming by cutting carbon dioxide emissions, and it just so happens that nuclear plants don't emit that greenhouse gas."
San Onofre needs to stop buying canaries' – OC Watchdog : The Orange County Register

"Nuclear power plant workers concerned about how things are being done but who don't feel comfortable reporting that information to their bosses can do an end run around management, and report their concerns directly to the Nuclear Regulatory Commission.
The NRC calls this its Allegation Program, and it keeps track of the number of reports made. Worried employees at San Onofre Nuclear Generating Station are, er, winning  they contacted the NRC more often than their colleagues at any other nuclear power plant in the nation over the past five years, NRC statistics show.
Between 2006 and 2010, there were 95 end-runs around management at SONGS, compared to 47 at California's only other nuclear power plant, Diablo Canyon. There were only five such reports from the Calvert Cliffs plants in Maryland over the same period. (See reactor-by-reactor stats here: Reactor allegations.)"
State plan could end seawater cooling by Diablo, Morro Bay power plants – Breaking News – SanLuisObispo.com
"State water board regulators have released a plan to stop power companies from using ocean water to cool their machinery.
Environmentalists say the practice destroys too much sea life, but utility advocates argue the impact is minimal.
Screens prevent larger animals from entering the plants, but fish can die while trapped against these barriers. Anything smaller than the openings in the screens, including millions of tiny fish larvae, can enter the power plants and also die. Federal rules discourage new operations from drawing in seawater for such cooling systems. The draft plan released Tuesday proposes that existing plants from Eureka to San Diego reduce the use of ocean water by 93 percent. The board is expected to vote on the new policy on May 4.
Diablo Canyon nuclear power plant and the gas-fired power plant in Morro Bay use once-through cooling systems in their operations."
Oyster Creek nuclear plant kills 1,000 tons of sea life a year, agency says | EnviroGuy
"The Oyster Creek nuclear power plant in Lacey has killed 80 million pounds of aquatic organisms in the past 40 years, a federal agency says.
In a March 15 letter to a state Department of Environmental Protection official, the U.S. Fish and Wildlife Service repeated its support for cooling towers to be built at the plant.
In 2005, the service also concluded that closed-loop cooling (cooling towers) is the best technology available at Oyster Creek, according to the letter.
A draft DEP permit calls for cooling towers, but Oyster Creek officials have said they aren't necessary and they'll close the plant if required to build them."
The Blade: Tests show 12 of Davis-Besse's reactor nozzles are cracked
"Ultrasonic tests completed Sunday night show 12 of the 69 nozzles on top of Davis-Besse's reactor head developed some sort of crack, eight more than previously known.
Those 12 are among 14 that FirstEnergy Corp. identified last week of having suspicious flaws, or indications, of a crack that needed further examination, Todd Schneider, utility spokesman, said.
A company report the Nuclear Regulatory Commission made public on March 15 stated that FirstEnergy could confirm only four cracks at that time. But the utility also said it hadn't yet tested 17 of the 69 nozzles."

---
Nuclear Health and Safety News
BBC News – Tonnes of asbestos removed from Calder Hall reactors
"A project to remove thousands of tonnes of asbestos from the former Calder Hall nuclear power station in Cumbria has been successfully completed.
Described as one of the largest projects of its kind in Europe, the project saw 2,300 tonnes of asbestos cladding removed at a cost of £26m.
Work began two years after Calder Hall was shut down in 2003. "
NT not able to cope with nuke accident, says Government | Northern Territory, Australia | ntnews.com.au
"MOST Territory hospitals and the Port of Darwin are not equipped to deal with a radioactive waste incident or interest from "sophisticated criminal groups", the NT Government has said.
The Government has told a Senate inquiry into new laws for a nuclear waste dump there would be "negligible economic benefit from the facility" for the NT.
Its submission to the inquiry also says the proposed site has an "unacceptably high" risk of earthquakes.
The NT Government's 25-page submission is one of more than 225 received by the Senate inquiry into new laws which could see the waste facility established at Muckaty Station, 120km north of Tennant Creek.
The submission is intensely critical of the choice of Muckaty and the overriding of Territory laws."
Higher birth-defect rate seen in Chernobyl area | Reuters
"Rates of certain birth defects appear higher than normal in one of the Ukraine regions most affected by the 1986 Chernobyl nuclear power plant disaster, according to a new study.
Health
The findings, reported in the journal Pediatrics, stand in contrast to a 2005 U.N. report stating that there is no evidence of an increased risk of birth defects or other reproductive effects in areas contaminated by radiation from the Chernobyl accident.
The results point to a need for continuing research into birth defects in regions affected by chronic low-dose radiation from Chernobyl, according to researcher Dr. Wladimir Wertelecki of the University of Southern Alabama in Mobile."
Sick nuke workers face long delays for medical claims, study finds « Iowa Independent
"Three years.
That's the wait time for medical claim decisions from a Department of Labor program that compensates former federal nuclear workers who developed illnesses related to their work, according to a Government Accountability Office report released Monday.
The report reflects concerns claimants have had for years about the Energy Employees Occupational Illness Compensation Program Act. The GAO's performance audit covered the program from November 2008 to March 2010.
Signed into law in 2000, the program was designed to compensate former nuclear workers with lump sum payments and medical benefits for illnesses linked to their exposures to radiation and toxic substances."
OpEdNews – Diary: Las Vegas Radiation Monitors Going Haywire
"Is an 'area of haze of unknown composition' that crossed into California last week the remnants of a radioactive dust storm from China? Is another on the way?
::::::::
On March 17 the National Oceanic and Atmospheric Administration (NOAA) noted that "an area of haze of unknown composition and origin has entered the US along the central California coast and stretched northeastward across southeast Oregon and into southwest Montana.' The next day, the NOAA tracked the progress of this alien air mass to southwest Nevada: 'Areas of blowing dust are spreading S[outh] across parts of the western US….In Nevada blowing dust can be seen moving S[outh]across the counties of Mineral, Lyon and Churchill." As you keep going east from Lyon and Churchill counties to Mineral county, and then over two more counties, you get to the city of Las Vegas where at 10:00 A.M. that day (March 18) a radiation monitoring station outside the Atomic Testing Museum began to go haywire. "
IowaPolitics.com: U.S. Sen. Harkin: GAO report suggests common sense fixes to the Energy Employees Occupational Illness Compensation Program
"Senator Tom Harkin (D-IA) commented today on the findings of a Government Accountability Office (GAO) report he requested on the Energy Employees Occupational Illness Compensation Program Act of 2000 (EEOICPA). The EEOICPA provides compensation to workers and their survivors for occupational diseases arising from toxic and radiation exposure in the government's nuclear weapons program. Several Iowans who worked on the Department of Energy's Line 1 are currently pursuing claims with the Department of Labor (DOL) through the EEOICPA.
I requested an audit of this program after constituents reported delayed compensation, difficulty navigating the program and inconsistencies with the adjudication process, Senator Harkin said. "Some claimants had to wait three years just for the government to rule on their case, and that's unacceptable. The recommendations the GAO makes in this report will help the DOL be more responsive to affected workers, and I am currently looking at the best way to implement these fixes."
Congressman Jim Matheson – Matheson saddened by death of Utah "downwinders" champion  Stewart Udall
"Stewart was the Western lion who roared when he read top secret government memos that referred to the people living downwind of the Nevada Test Site as a low-use segment of the population, said Matheson. This was the land and the people that he loved. He knew them as patriotic Americans, who trusted their government. His legal crusade– on behalf of the families of the Navajos who suffered lung cancer in uranium mining– helped lead to the truth about the government conspiracy that harmed so many in the small towns of the Southwest."
---
NRC News
Ex-Entergy worker returns as NRC watchdog: Rutland Herald Online
"The new senior resident inspector from the Nuclear Regulatory Commission worked for Entergy Nuclear, the owner of Vermont Yankee nuclear reactor, until 2006, before he left to become a federal inspector.
But a spokesman for the NRC said David Spindler stopped working for Entergy Nuclear in 2006, well beyond the two-year hiatus federal regulations call for.
Neil Sheehan, a spokesman for the NRC, said there are federal regulations dealing with employees who may face "an appearance of loss of impartiality in the performance of his official duties."
He said federal regulations call for a two-year "period of disqualification" from working in matters in which a former employer is involved."
NFS issues report to NRC regarding UF6 cylinders – News – Valley Beautiful Beacon
"A recent report issued by Nuclear Fuel Services (NFS) to the Nuclear Regulatory Commission (NRC) states that a possible safety concern at the Erwin facility has been resolved.
In January, NFS issued an event report to the NRC regarding UF6 cylinders being stored at the facility. In this report, dated Jan. 20, 2010, NFS informs the NRC that the company had calculated some unexpectedly high pressures in some of the UF6 cylinders, which contain fluorine gas."
---
Nuclear Fuel Cycle News
Toxic legacy for tribes – High Country News
"Earlier this month, the 10th Circuit Court of Appeals approved a controversial permit for uranium mining operations at sites in Church Rock, New Mexico. The operation includes a site associated with the largest release of liquid radioactive waste in United States History — a catastrophe which continues, a generation later, to negatively impact the lives and health of Navajo people residing near the spill site.
Over a decade after Navajo leaders and community groups first challenged the Nuclear Regulatory Commission's (NRC) issuance of a mining permit to Hydro Resources, Inc. (HRI) for uranium extraction in Church Rock, the appellate court decided on March 8th to uphold the NRC's decision. The court rejected the plaintiffs' argument that since the site already emits more radiation than federal regulations allow, a license for a new operation is impermissible because even the most miniscule amounts of new radiation emitted would exceed regulatory limits. Instead, the court affirmed both the NRC's decision under the Atomic Energy Act to only review an isolated portion of radiation from the site, as well as its corollary finding that the cumulative impacts of radiation emitted from the site are acceptable under the National Environmental Policy Act (NEPA).
Uranium demand to increase four times over the next 30 years
"A leading academic predicts that global 
 demand for mined uranium will rise 
 at least fourfold over the next 30 years, driven by rising electricity demand and scaling back on fossil fuel dependence.
Addressing the first day of the Paydirt 2010 Australian Uranium Conference, Professor Barry Brook, who holds the Sir Hubert Wilkins Chair of Climate Change at the University of Adelaide, said that, should the contributing factors be as acute as predicted, the con-
tinuing surge in demand for uranium would be extended by a further 20 years.
Despite rapid advances in more-efficient Generation 4 reactors that can consume all the waste and depleted uranium from thermal reactors, the continuing growth in these thermal reactors would ensure a steady demand for mined uranium that would continue for many decades."
DOE and USEC finalize demo agreement | knoxnews.com
"I recently noted that the Dept. of Energy had not yet delivered on its $45 million commitment to USEC as part of a cooperative agreement while R&D continues on the American Centrifuge project. Well, DOE and USEC today issued separate announcements saying that the deal was done, with a $90 million "cost-shared" effort, which reportedly will help demosntrate the commercial viability of the big uranium-enrichment project.
Energy Secretary Steven Chu, who's been in Oak Ridge for two days, was reportedly visiting the USEC centrifuge manufacturing facility this afternoon following a tour of Oak Ridge National Laboratory.
According to the DOE announcement: "The costs will be shared between the Department and USEC. The Department's $45 million share will be met by taking title (but not immediate possession or custody) to a quantity of depleted uranium tails. "
Niger to Review Areva Uranium Accords, Official Says  – Bloomberg.com
"Niger, the world's sixth-largest uranium producer, will review mining agreements with companies including Areva SA to ensure they're fair to the West African country, a mines ministry official said.
Minister of Mines and Energy Souleymane Mamadou Abba, appointed by Niger's military rulers on March 1, hasn't yet set a schedule or format for the audit, Mahaman Laoun Gaya, an official at the ministry and a former government minister, said by phone today from the capital, Niamey.
The military authorities have decided to audit all the uranium and gold contracts, Gaya said."
CBC News – Montreal – Anti-uranium doctors renew threat to resign
"Nearly two-dozen doctors in Sept-ÃŽles, Que., are renewing their threats to resign and leave the province after the government rejected calls for a moratorium on uranium mining and exploration in the region.
The province decided against a moratorium before hearing from a provincial panel researching the health effects of uranium mining, said psychiatrist Dr. Isabelle Gingras, one of the north shore doctors who is threatening to resign.
In December, Dr. Alain Poirier, the chief public health officer in Quebec, announced the creation of a special committee to study the potential effects of uranium exploration and mining on the health of the population."
Uranium mill owner eyes startup by 2012 | GJSentinel.com
"Energy Fuels Inc.'s $150 million uranium mill could be operating in early 2012, perhaps as prices for uranium begin to rise again, Energy Fuels President George Glasier said Saturday.
Uranium is back in favor, Glasier told the Colorado Plateau Section of the Society of Mining, Metallurgy and Exploration Inc.
Energy Fuels' Pi&#241on Ridge mill in the west end of Montrose County is being evaluated by the Colorado Department of Public Health and Environment. Energy Fuels also is looking to establish long-term contracts that will help it to establish the revenue stream needed to gain financing for the mill, Glasier said."
Uranium licenses are upheld by a split federal appeals court | Indian Country Today | Midwest
"Uranium mining, banned on the Navajo Nation, advanced closer to tribal boundaries when the U.S. Tenth Circuit Court of Appeals upheld the Nuclear Regulatory Commission's licensing of in situ leach uranium mining at four sites near Crownpoint and Church Rock in New Mexico.
The split decision by a three-judge panel March 8 also denied a request for review of one of the sites near Church Rock where Hydro Resources, Inc., whose parent company is Uranium Resources Inc., has a joint venture with Itochu, a Tokyo-headquartered transnational, to begin producing an estimated six to nine million pounds of uranium annually from New Mexico.
Eastern Navajo Dine Against Uranium Mining, a Navajo community organization; Southwest Research and Information Center, a nonprofit environmental education organization; and two local ranchers were joined by the Navajo Nation in a friend-of-the-court brief asserting that the Nuclear Regulatory Commission violated atomic energy and environmental laws in granting the license."
---
Nuclear Waste News
Chattanooga Times Free Press | Radioactive waste and Tennessee
"All Americans  and, indeed, the whole world  were surprised in August 1945 when the first nuclear bombs were dropped from U.S. B-29 Superfortress bombers on the Japanese cities of Hiroshima and Nagasaki, bringing U.S. victory and the end of World War II.
Many Tennesseans were surprised to discover that the new city of Oak Ridge, not far from Knoxville, had played a huge part in the dawning of "the atomic age.
It was only later that most people began to understand that there are big problems about what to do with radioactive nuclear waste, not only from manufacturing weapons, but also from our nuclear plants that generate electricity.
There is argument about storing nuclear waste at Yucca Mountain, Nev.  and about getting it there safely."
The Environment Report: Billions Down the Yucca Hole
"The federal government had one place in mind to store the country's most hazardous nuclear waste. It was at Yucca Mountain, Nevada. President Barack Obama recently killed that project, even though the country had spent more than nine billion dollars on it. Shawn Allee found that figure is just the beginning:
The Environment Report: Cap and Dividend & The Yucca Money Pit
"Some members of Congress have been trying to come up with a way to reign in the carbon emissions that lead to climate change. Last year they rolled out their Cap and Trade plan. Now, a new plan is being rolled out. Lester Graham has more on the Cap and Dividend plan. And Yucca Mountain, Nevada was to be the place to store the country's most hazardous nuclear waste. But President Barack Obama made good on a campaign promise and recently killed the project. Shawn Allee has a story on the billions invested or tied up in nuclear waste storage. "
Advice for the Blue Ribbon Commission | Bulletin of the Atomic Scientists
"# After closing Yucca Mountain, President Barack Obama has set up a 15-member commission of industry, academic, and government experts to consider nuclear waste disposal options.
# The major questions that the commission will consider are not new or unknown, nor are the answers to these problems.
# Hopefully, the commission will motivate the country to finally deal with the toxic legacy of the nuclear age."
The Environment Report: Burying Radioactive Waste (Part 1)
"Hazardous radioactive waste is building up at nuclear power plants across the country. For decades, the U-S government's only plan was to stick that waste out of sight and out of mind … far below Yucca Mountain, Nevada. Recently, President Barack Obama scrapped that plan. Shawn Allee looks at where the President wants to go now:
The current Nuclear Waste Policy Act
A related article from The New York Times
A recent report on fast-breeder reactor programs"
Second radioactive waste meeting – Press & Journal
"Residents get fresh opportunity to air views about proposed Buchan plant dealing with oil waste
Residents concerned about controversial plans to treat radioactive waste in Buchan have been given another chance to air their views on the project.
A heated public meeting on proposals to treat naturally-occurring radioactive material (Norm) at Stoneyhill landfill, four miles from Peterhead, was held earlier this month.
Waste management firm Sita and radiation specialists Nuvia are working together on the scheme.
The firms announced last night that a further public meeting and exhibition will take place tomorrow. They said it will allow them to clarify some points raised at the previous meeting as they prepare to submit a planning application to Aberdeenshire Council."
TN bill aims to keep 'radioactive dumping grounds' out of state  | The Tennessean
"A measure intended to block a "back-door" method of dumping radioactive waste in Tennessee is headed for a vote in the state Senate after a key committee approved the bill Tuesday.
A Utah-based company, EnergySolutions, said it is requesting only to treat nuclear material at its Oak Ridge facility and then ship it out of state.
But state Sen. Andy Berke, D-Chattanooga, who sponsored the bill, said banning the practice of "downblending" nuclear material which involves diluting radioactive waste with less toxic materials  is the only way to avoid becoming "the world's radioactive dumping grounds."
"This is about stopping this process that no one else does and has never been done commercially," Berke said."
Bush Administration's Secret Nuclear Deals Will Cost Taxpayers Billions – OnEarth Magazine
"In its final days, and with no fanfare, the Bush Administration signed 21 contracts with nuclear power companies promising to store high level radioactive waste from plants that had not yet been built, even though no federal repository for such waste exists, according to documents obtained under the Freedom of Information Act by the Institute for Energy and Environmental Research (IEER). At least one of the contracts is dated January 22, 2009 — two days after President Barack Obama had been sworn into office."
Experts: U.S. Has Agreed to Store Enough Nuclear Reactor Waste to Fill Two Yucca Mountains or Face Billions of Dollars in New Penalties
"'Under the Radar': Outgoing Bush White House Hiked Likely Penalties Borne by Taxpayers By Inking Deals With Over a Dozen Utilities; 170 Groups in All 50 States Release Principles Urging an Upgrade in Spent Reactor Fuel Storage Safety to Withstand Equivalent of '9/11 Attacks'
Between the output of existing commercial nuclear reactors and 21 proposed nuclear reactors covered by agreements quietly signed by the outgoing Bush Administration with more than a dozen electric utilities, the United States already has agreed to store enough spent (used) reactor fuel to fill the equivalent of not one, but two, Yucca Mountain high-level radioactive waste repositories, according to documents acquired under the Freedom of Information Act (FOIA). Given that the U.S. is back to square one for the first repository, U.S. taxpayers would be on the hook for potentially tens of billions of dollars in penalties that would have to be paid to utilities if the 21 proposed reactor projects proceed.
This new information about the daunting scale of the challenge that faces the United States in disposing of spent fuel from commercial nuclear reactors comes one day before the first meeting of the Obama Administration's "Blue Ribbon Commission on America's Nuclear Future." In addition to highlighting the serious consequences of the eleventh-hour deals stuck by the Bush White House, experts also focused public attention on the fact that the recently cancelled Yucca Mountain repository — even if it were open today, 35 years after the process to create it started — would already be filled to its legal limit of 63,000 metric tons of commercial waste by this spring. A second repository the same size would be filled with the 42,000 additional metric tons of spent fuel yet to be produced by existing nuclear reactors and the 21,000 metric tons that would be produced by the 21 proposed reactors covered under the Bush-industry agreements."
IEER NEWS EVENT NUCLEAR WASTE CONTRACT FOIA RESULTS
"NEWS EVENT DOCUMENTS
1. 032410 IEER news release: EXPERTS: U.S. HAS AGREED TO STORE ENOUGH NUCLEAR REACTOR WASTE TO FILL TWO YUCCA MOUNTAINS … OR FACE BILLIONS OF DOLLARS IN NEW PENALTIES
2. Backgrounder on New DOE Contracts for Commercial High-Level Radioactive Waste Disposal
3. Principles for Safeguarding Nuclear Waste at Reactors
4. Listen to the streaming audio of the news event"
The nuclear debate: waste plans attacked – Times Online
"Government plans to hold Britain's nuclear waste in storage for 160 years before burying it permanently underground were condemned as bizarre yesterday.
Paddy Tipping, acting chairman of the Parliamentary Energy and Climate Change Committee, made the remarks as the cross-party group published a highly critical report on the Government's handling of recent UK energy policy. He said that the Department for Energy and Climate Change had failed to consult MPs or the public properly on a range of matters, including the handling of spent nuclear fuel, and he called for a full parliamentary vote, preferably before the general election that is expected on May 6."
Yucca unfit site – Letters to the Editor | Tri-City Herald
"While those of us in Nevada certainly sympathize with people in the Tri-Cities and in other areas (like South Carolina) over concerns about radioactive waste continuing to be stored at federal facilities in your neighborhoods, your March 14 editorial, "Joining forces against Yucca Mountain decision," is just plain wrong in asserting that there is no technical justification for U.S. Department of Energy's decision to terminate the Yucca Mountain repository project.
Yucca Mountain is a terrible site for a high-level nuclear waste disposal facility. The technical and scientific problems are legion, ranging from a highly corrosive subsurface environment, rapid groundwater flows through the subsurface, a highly fractured and seivelike host rock, evidence of geologic recent volacnic activity, its location in a major eqrthquake area, and many other problems. Yucca was selected in 1987 for purely politial reasons in spite of know technical deficiencies. "
What to do With Nuclear Waste? The Rise and Fall of Yucca Mountain – Published by Student Pulse
"With over 20% of United States power production being of a nuclear nature, and all of this nuclear production generating high-level nuclear waste, the US has already accumulated large quantities of volatile nuclear waste and will only have more in the future (Schneider, 2009). Currently, there are few options for dealing with nuclear waste. Although research and development of storage/remediation methods is ongoing, current waste that has accumulated is stored in sealed casks mostly on-site at the plants at which they are generated. This scattering of radioactive waste throughout the country at ground level is seen as a liability for natural disasters and terrorist actions. One proposed solution for the management of nuclear waste is through underground sequestration in a major Department of Energy run facility. This would collect all of the nation's accrued nuclear wastes in one safe location underground to allow the waste to decay over time in a controlled environment isolated from environmental factors that could undermine their containment."
Chattanooga Times Free Press | Nuclear waste piling up in region
"Sara Barczak, program director for high risk energy choices at the Southern Alliance for Clean Energy, said the lack of storage for nuclear waste is a national problem. But it is especially problematic in the Southeast, where there is a concentration of nuclear plants, she said.
She said reactor sites never were intended to be "mini Yucca Mountains."
"These were sites that were evaluated in the 1970s and 1980s to be homes for nuclear power plants for about 40 years," Ms. Barczak said. "They were never intended to store what is basically the most toxic waste known to man.""
Goshutes fight N-waste rulings – Salt Lake Tribune
"The Skull Valley Band of Goshutes asked a federal judge Monday to throw out two U.S. Interior Department rulings that killed their proposal to use their Tooele County reservation as a parking lot for high-level nuclear waste.
U.S. District Judge David M. Ebell is expected to decide in coming months whether Interior Department officials violated their own requirements when, in September 2006, they issued one ruling rejecting a right-of-way request and a lease agreement for the temporary storage site. "
The nuclear waste problem: Where to put it? / The Christian Science Monitor – CSMonitor.com
"President Obama's new Blue Rib­bon Commission on America's Nuclear Future has a mission that nobody else has been able to do: Find a long-term storage solution for America's growing mountain of radioactive nuclear waste.
Earlier this month, Steven Chu, secretary of the US Department of Energy (DOE), filed papers to finally end the agency's nearly 30-year quest to make Nevada's Yucca Mountain the main US repository for spent nuclear fuel and other radioactive waste. That leaves the United States without a permanent storage site."
Areva plans new reactors that make nuclear waste disappear – Times Online
"A new type of nuclear reactor that could permanently destroy atomic waste is being developed by French scientists, according to the chief executive of Areva, the world's largest nuclear energy company.
Anne Lauvergeon told The Times that the French group was developing a technology to burn up actinides highly radioactive uranium isotopes that are the waste products of nuclear fission inside a reactor. The technology could be critical in winning greater global public support for nuclear energy and cutting emissions of carbon dioxide. "
Chattanooga Times Free Press | Radioactive issue
"With a Yucca Mountain waste storage plan all but dead and President Barack Obama pushing hard on nuclear energy, the question of what to do with nuclear waste is more radioactive than ever.
Especially for Tennessee.
Waste from TVA's Sequoyah, Watts Bar and Brown's Ferry nuclear plants continues to pile up at the facilities. Like all of the 104 operating nuclear reactors around the country, tons of the plants' highly radioactive waste was supposed to eventually be transported to the proposed Yucca Mountain, Nev., underground resting place to wait out its 50,000-year decay.
The Volunteer State has an additional and little-known stake in the demise of Yucca Mountain, the ridge of volcanic rock that until a few months ago was the main focus of a controversial $10.4 billion search for a permanent nuclear waste repository."
Environmental groups bring foreboding proof to the public about Russia's new radioactive waste bill – Bellona
"A group of powerful Russian environmentalists on Wednesday slammed as "horrifying, unbalanced, and irresponsible a new legislation effort on the management and disposal of radioactive waste that is now under debated in the Duma, Russia's lower house of parliament, the environmental groups told Bellona Tuesday. Charles Digges, 18/03-2010
The bill passed its first reading in the Duma in January to environmental outcry and is set for its critical second reading this month, although neither the environmentalists nor Bellona Web have been told by the Duma's environment committee were told when they asked in telephone and email interviews when that second reading would come.
The second reading had been scheduled to occur yesterday, March 17 but has ostensibly been pushed back to an undisclosed date in the hope that environmental and public opposition to the bill – which would include the injection of liquid radioactive waste into the ground, threatening drinking water in many large cities – dies down."
North West Evening Mail | Second consignment of highly active nuclear waste goes out
"The Highly Active Waste was last week transported via rail from Sellafield to Barrow.
The second shipment headed for Holland whose power stations created the used nuclear fuel which was then reprocessed and stored at Sellafield.
Sellafield bosses said the radioactive waste would continue to generate heat for many years to come.
But nuclear chiefs say the waste was so well absorbed into glass blocks and so well packed it was no threat to Barrow or to docks, rail and shipping staff. "
---
Nuclear Policy News
Helsingin Sanomat – Finance Ministry: Granting nuclear licence to Fortum would give company excessively powerful position
"If the power utility Fortum is given the licence to build a new nuclear reactor, the Ministry of Finance fears that the move could lead to excessive concentration of electricity markets, and a reduction in competition.
The statement signed by Minister of Finance Jyrki Katainen (Nat. Coalition Party) and top ministry official, Secretary of State Raimo Sailas, is in line with the goals set by the National Coalition Party. "
Germany to consider extending nuclear phase-out by up to 28 years | Germany | Deutsche Welle
"Chancellor Angela Merkel's cabinet has long supported extending the lifetimes of Germany's nuclear power plants. Previous plans to limit negotiations to a 20-year extension have apparently been scrapped.
The German government is willing to consider extending the gradual closure of nuclear power plants by up to 28 years, according to an interview with Environment Minister Norbert Roettgen by the Munich-based daily Sueddeutsche Zeitung on Friday."
Gulf Times – India: Russian and French firms cash in on US nuclear deal
"US nuclear firms looked poised to benefit from a 2008 deal that threw open India's promise-filled atomic market, but instead are watching from the sidelines as French and Russian rivals cash in.
The 2008 deal, pushed through by former president George W Bush, eased a three-decade international embargo on the sale of nuclear technology to India imposed after the country's first nuclear test in 1974.
Bush's secretary of state, Condoleezza Rice, predicted that New Delhi would buy at least eight nuclear reactors by 2012, providing up to 20,000 direct and indirect jobs in the US. "
Nuclear not the cheapest path for Australia: OECD
"NUCLEAR power will be the Western world's cheapest option for electricity in an age of significant carbon charges, but Australia will be one of the few exceptions, a global study has found.
In a stunning conclusion, the study by the OECD and the International Energy Agency found that even with a carbon charge of $US30 ($A33) a tonne, it ill be cheaper for Australian generators to burn black coal and send the emissions into the atmosphere than to turn to gas or other low-emission alternatives."
PSC rejects Entergy spin-off of nuke plants, including Indian Point

"The State Public Service Commission Thursday rejected the request by Entergy Corporation to spin off six nuclear power plants, including the Indian Point facilities, to a new business entity, Enexus Energy Corporation.
The PSC said the transaction was not in the public interest. It also had concern over the immediate financial viability of Enexus.
Entergy corporate national spokesman Michael Burns said the company is disappointed with the commission's decision and that the spin-off itself was in the best interest of all stakeholders.
The Entergy board will meet next and will be briefed on the situation. Unfortunately given the meeting is next week, it would be inappropriate for me to discuss any additional steps at this point, he said."
Budget 2010: Consumers face levy on energy bills to pay for nuclear plants | UK news | The Guardian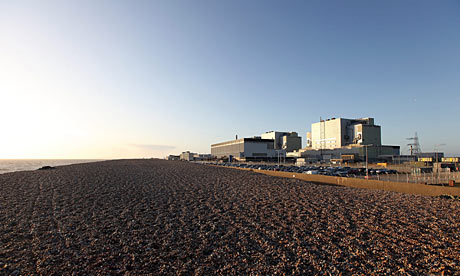 "The government has officially confirmed plans for a new carbon levy on consumer bills which it hopes will make building new nuclear plants viable, as the Guardian revealed in October last year.
Nuclear companies like EDF Energy have warned they will not make the billions of pounds of investment necessary in the UK without government financial guarantees.
Speaking to the Guardian, the energy secretary, Ed Miliband, admitted that the energy market needed "radical reform", but denied the plans amounted to subsidies for the nuclear industry. He insisted that all forms of low-carbon generation nuclear plants, wind farms and clean coal plants would benefit from the proposed changes."
CNIC – Citizens' Nuclear Information Center
"High-Level Radioactive Waste Shipped from the UK
The first shipment of high-level radioactive waste (HLW) from the UK arrived in Rokkasho Mutsu-Ogawara Port, Aomori Prefecture on March 9. For the sake of a failed nuclear fuel cycle policy, the world has been forced to endure, and will continue to suffer for at least the next ten years, all the risks associated with transporting the HLW back and forth between Japan and Europe.
Prospects for Kashiwazaki-Kariwa Units 1 and 5
33% of the 8,212MW seven-unit KK Nuclear Power Station's total capacity has been brought back on line since the July 2007 Chuetsu-oki Earthquake. For the time being deliberations concerning Unit 1 are being prioritized. Unit 5 will not resume operations until deliberations concerning unit 1 are completed. At this stage the prospects for both units are still very unclear.
Ryusuke Umeda Lodges Historic Workers' Compensation Claim
Thirty years ago Ryusuke Umeda was exposed to radiation while working at the Shimane and Tsuruga nuclear power plants. In September 2008 he applied for workers' compensation for myocardial infarction and in February this year he caught an all night bus to Tokyo from Fukuoka City on the island of Kyushu to present his case directly to the Ministry of Health, Labour and Welfare (MHLW).
Public Involvement in Japan's Nuclear Power Licensing System
Japan has formal procedures for public involvement and information disclosure in relation to the approval of nuclear power plants. However, public hearings and public comment processes tend to be proforma in nature. If residents have not blocked the project before these procedures begin, the process develops a momentum of its own which is hard to reverse."
Nuclear Power Cheaper Than Coal When Finance Costs Low – IEA
"Nuclear power is more competitive than coal-fired power stations without carbon capture and gas-fired power stations when the cost of borrowing is low and carbon prices are around $30 a metric ton, the International Energy Agency said Thursday.
However, with the same carbon price, if the finance costs are higher, then coal without carbon capture equipment, coal with carbon capture and gas power plants are the cheapest forms of electricity, the IEA said in a report on the projected costs of generating electricity."
High Point Nuclear Power Costs To Rise
"High Point expects to see a 4.9 percent wholesale electric rate increase from North Carolina Municipal Power Agency Number 1 in June, and customers of the city's municipal electric service will likely see a corresponding rate increase on their July bills, although the High Point City Council has not yet set the retail rate.
There may not be a city in North Carolina with more short-term problems than High Point: the collapse of its manufacturing industry, threats to its signature furniture market, 11.9 percent unemployment.
But the City of High Point has also come up on the winning side of some long-term bets in infrastructure and energy that leave it with a competitive advantage over other cities.
"
Sen. Vandeveer introduces nuclear power plant amendment
"A nuclear power debate ignited on the Senate floor today (Wednesday, March 24) with an amendment to an energy bill by Sen. Ray Vandeveer, R-Forest Lake.
Vandeveer attempted to break the current ban on nuclear power plant construction with an amendment that would have had a sitting commission reporting back to lawmakers by July, 2011, with a site for a new nuclear power plant."
Report slip hits nuclear hopes
"IN A blow to Australia's credibility in global nuclear debates, the Rudd government has ignored a key finding from its own inquiry into disarmament, one that called for limits on the use of atomic weapons in war.
A joint working paper drawn up by Australia and Japan before a major review of global nuclear controls was released yesterday in which the two countries argue for a reduced role for atomic weapons in national security strategies."
Helsingin Sanomat – Poll: Support for new nuclear reactor declines

Nine out of ten want more wind energy
"Public support for building a sixth nuclear generating facility for Finland has sharply declined in the past four years. Nevertheless, a poll commissioned by Helsingin Sanomat and conducted by Suomen Gallup indicates that more than half of Finns are still in favour of more nuclear construction.
Only about a third of respondents would grant licences to all three applicants, while six per cent would grant licences to two of the applicant companies. "
British Energy sale to French was a poor deal, MPs conclude – The Independent
"Ministers rely too much on EDF's nuclear plans to plug energy gap, report warns
The Government's sale of British Energy to France's EDF was a good price but a bad deal, an influential committee of MPs will conclude this morning.
The state received £4.4bn for its 36 per cent stake of the nuclear operator out of a total £12.5bn price tag thanks to peak energy prices at the time of the contract, says the Public Accounts Committee (PAC). But the deal has done little to address the danger of energy shortages from 2016 as demand rises and obsolete power stations are retired."
Tamminen: The Nuclear Fig Leaf is Falling – CNBC

"Raise your hand if US taxpayers are responsible to pay for the most expensive mistakes you make in your business. Chances are, the only hands that just went up are attached to nuclear power executives and, if that unfair advantage were removed we would see the end of nuclear power in this country.
The five decades old Price-Anderson Act sets a cap on liability by power plants and their insurers for damages arising from nuclear accidents. After $300 million in damages are paid by insurance, the US taxpayer takes over to address catastrophic liabilities, including cleanups, property damage, health care, and lives lost. Including some other payments made into accident funds, the utility industry is on the hook for no more than $10 billion for all accidents that could ever occur at all nuclear plants in the nation. Raise your hand if you think just one major accident would result in far more damage claims than that.
In England, the system works about the same, with each nuclear plant responsible for no more than £140 million and similar systems exist in Europe, Japan, and Canada. "
Nuclear bailout, part two: the price of power
"In January of next year, Georgia Power customers will begin to pay for new nuclear reactors.
This is the second part of a series investigating the financial and environmental implications of the Plant Vogtle expansion. The first part of the series discussed how federal tax dollars were being used to subsidize the development of the nuclear industry.
Beginning in January 2011, most Georgia Power customers will see an increase in their electric bill. It will start small, about $1.30 per month.
Over the next several years it will increase, until 2017, when residential and small business ratepayers are coughing up an additional $9.10 or more per month."
The Tories are fickle and nuclear is too big to fail | Simon Hughes | Environment | guardian.co.uk
"Launching the Tories' energy policy in July 2006, David Cameron, gave a convincing and well-reasoned argument explaining why nuclear power must be a "last resort". Later that year he described Labour's enthusiasm for nuclear power as "irresponsible". As Cameron rightly pointed out: "The problems of nuclear waste haven't been dealt with. They have got to be dealt with in order to make any new investment possible."
Four years on, we're no closer to finding out how to deal with highly toxic nuclear waste and the Tory leader's point stands as strong as ever. But unfortunately, the Tories no longer seem to care. Indeed, the Tories' new green paper on energy security shows remarkable dexterity in rewriting history, now criticising the Labour government for dragging its feet before finally coming round to support new nuclear."
N.C. utilities chief pushes for joint nuclear projects – Charlotte Business Journal:
"North Carolina's power companies outlined their long-term planning and resource proposals for the N.C. Utilities Commission this week. But commission Chairman Ed Finley had his own proposal for them get serious about joint construction of nuclear plants.
Duke Energy Carolinas and Progress Energy Carolinas both plan to build nuclear plants in the next 10 years or so. And each identifies those plants as key to meeting customer demand while also reining in carbon emissions.
But the costs of building those facilities could total $11 billion or more. And that would be more than the market value of either investor-owned utility."
Nuclear power legislation melts down in Ky. House – BusinessWeek
"Legislation that would lift Kentucky's ban on construction of nuclear plants has melted down in the House after easily passing the Senate nearly two months ago.
Democratic state Rep. Rick Rand, chairman of the House Appropriations and Revenue Committee, where the bill has been sitting idle since January, said Monday he doesn't expect it to be called for a vote in the current legislative session.
"There is opposition to it," Rand said. "Many members have expressed concern about the nuclear issue. Not just members, but also people who have environmental concerns.""
Iowans ask Culver to veto nuclear power study bill | Des Moines Register Staff Blogs
"
The Iowa Sierra Club reports that 330 Iowans have asked Gov. Chet Culver to veto a bill that would allow utilities to charge customers for a feasibility study on future nuclear plants in the state.
Here's the full release:
Des Moines In response to the House and the Senate passing House File 2399, a bill that will allow utilities to charge their customers to pay for nuclear power feasibility, more than 330 Iowans wrote to Governor Chet Culver calling on him to veto the bill.
MidAmerican Energy wants to charge its customers $15 million to examine the achievability of constructing a new nuclear power plant in Iowa. HF2399 provides changes in the law that governs the Iowa Utilities Board's rules for determining electricity rates, setting the stage for MidAmerican Energy and other utilities – to pay for costs associated with studying and planning a new facility, including one that could transition away from coal before construction begins."
Follow That Story! by Justin Raimondo — Antiwar.com
"My own favorite is the mystery of the Niger uranium forgeries [.pdf]. Remember that? President Bush's infamous sixteen words, which loomed so large in the headlines at one point, have faded with the years, and yet the mystery lingers on. Who fed the White House intelligence based on crude forgeries, which imputed that the Iraqis had tried to buy uranium from the African country of Niger in an effort to construct a nuclear weapon?
The forgeries, which somehow made it onto the President's desk embedded in a State of the Union speech, were so crude and obvious that it took IAEA scientists but a few hours to debunk them. So how did something soobviously fraudulent get injected into the US intelligence stream in the first place  and by whom? "
No need for nuclear energy, says Gov't
"Portugal does not need a nuclear power station because the Government's investments in renewable energies are equivalent to the output from a nuclear plant, State Secretary for Energy Carlos Zorrinho said this week.
Presenting the Government's national energy strategy until 2020, Zorrinho said: The investment in renewables (wind, hydro and solar) is equivalent to that of a nuclear plant. Portugal's pioneering green energy choice and related policies are essential for economic recovery and cutting unemployment, he added.
By 2020, Portugal hopes to have reduced its energy needs to 74 percent of the present ones and meet emission targets in the process while also reducing by a quarter its energy imports valued at around €2 billion, said Zorrinho."
---
Nuclear Weapons News
What the New START Treaty Numbers Mean | Union of Concerned Scientists
"The Union of Concerned Scientists (UCS) today called a new nuclear weapons agreement between the United States and Russia "a critical first step" to reduce the global nuclear threat. The so-called NEW START agreement will be signed on April 8 in Prague, Czech Republic, to coincide with the historic speech President Obama delivered there nearly one year ago calling for the elimination of nuclear weapons worldwide.
"NEW START is a critical first step in a nuclear risk reduction agenda that has been embraced by countless world leaders and a bipartisan chorus of foreign policy heavyweights and former U.S. government officials," said David Wright, co-director of UCS's Global Security Program. "There is a growing recognition that nuclear weapons are now a liability, not an asset, and they don't make the world safer or address today's threats.""
Moscow and Washington reach new lows in new nuclear arms treaty – Bellona
"President Obama and Russian President Dmitry Medvedev reached final agreement Friday on a nuclear arms treaty that would cut the nuclear arsenals of the onetime rivals to the lowest levels since the 1960s, settling the deal during a morning phone call prior to meeting on April 8th in Prague to sign the pact. Charles Digges, 27/03-2010
The new pact will replace the 1991 Strategic Arms Reduction Treaty (START 1), which has enabled the decommissioning of hundreds of nuclear warhead the countries have pointed at one another and enabled US- Russia bilateral programmes to destroy nuclear weapons like the Cooperative Threat Reduction act. Signed in 1991, the START 1 treaty entered into force in 1994.
The new treaty, called the the Measures to Further Reduction and Limitation of Strategic Offensive Arms, also replaces the Moscow Treaty of 2002, viewed by many, including Bellona, as useless showmanship.
Australia Nuclear Testing | Maralinga: Australian victims of nuclear testing sue U.K.
"As a 21-year-old, Ric Johnstone drove 150 miles daily across the scorching vastness of the Australian outback to work. A motor mechanic in the Royal Australian Air Force (RAAF), he spent 1956 servicing military vehicles in the Great Victorian Desert.
He lived with 300 other men in a tent town, eating dinners of bullied beef with the occasional vegetable. Johnstone described his first six months as similar to being a prisoner in a chain gang: There was no church, no women, no entertainment, nothing.
U.S. Nuclear Labs Raise Doubts Over Arsenals – NYTimes.com
"In a challenge to the White House, the nation's nuclear weapons laboratories have warned Congress that federal programs to extend the life of the nation's aging nuclear arsenal are insufficient to guarantee the viability of the weapons for decades to come.
The warning, which implicitly endorsed the idea of creating an expensive new generation of more reliable nuclear warheads, has no direct bearing on the new arms control agreement reached this week by the United States and Russia. "
NATO urges missile defense pact, cites Iran threat | Reuters
"NATO states should agree at a summit this year to make missile defense systems against states including Iran an alliance mission and look at every opportunity to cooperate on this with Russia, the head of NATO says.
In a speech prepared for delivery at a conference in Brussels Saturday, alliance Secretary-General Anders Fogh Rasmussen said a NATO-wide missile defense system would show collective will to defend against a growing threat."
NYRblog – A Mushroom Cloud, Recollected – The New York Review of Books
"With the renewed interest in nuclear weapons I have been struck by how few people there still are who have seen one explode. There are a few survivors of Hiroshima and Nagasaki and there are a small number who witnessed some of the above ground test explosions. But the last American above-ground test was in 1962 and the last above-ground test by any country was conducted by the Chinese in 1980. This means that the Indians, Pakistanis, Israelis to say nothing of the Iranians and North Koreans have never seen a nuclear explosion. In the main, this is a very good thing: the fallout from such a test is a real health hazard. But there is a downside. We have lost the experience of watching a nuclear explosion perhaps the most powerful lesson about nuclear bombs there is."
United States and Russia reach nuclear-arms deal – washingtonpost.com
"The United States and Russia have reached a deal on their most extensive nuclear arms-control agreement in nearly two decades, the Kremlin announced Wednesday. The pact appeared to represent President Obama's first victory in his ambitious agenda to move toward a nuclear-free world.
The new Strategic Arms Reduction Treaty (START) would replace a 1991 pact that expired in December. Experts called the new agreement the most significant arms-control accord since the 1993 signing of START II, which the Russians never ratified. "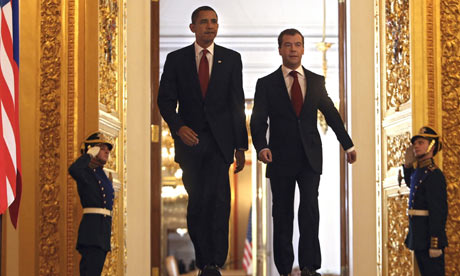 Russia claims breakthrough in historic nuclear reduction agreement with US | World news | The Guardian
"Barack Obama's ambitious goal of freeing the world of nuclear weapons won a significant boost tonight when Russia indicated that it had reached agreement with the United States on a historic nuclear arms reduction treaty.
Kremlin officials said that a document to replace the 1991 Start treaty had been agreed with Washington. A signing ceremony between Obama and Russia's president, Dmitry Medvedev, is likely to take place early next month in the Czech capital Prague, they said."
Jimmy Carter: UN sanctions imposed upon DPRK "unproductive"
"Former U.S. President and Nobel Peace Prize laureate Jimmy Carter on Tuesday voiced cautious criticism against the United Nations sanctions imposed on the Democratic People's Republic of Korea (DPRK), calling them "unproductive."
"North Korea (DPRK) has approximately 24 million people, and they have been suffering now for 50 years, not only because of the policies of the government in Pyongyang but because the international community increased that suffering by preventing normal supplies of the basic necessities of life," the 85-year-old former U.S. president said in a question-and-answer session following the speech titled "A Nuclear North Korea and Peace on the Korean Peninsula" at Seoul's Korea University.
"My country and your country participate in this punishment of North Korean people," he said, adding that the government in Pyongyang blames the economic plight of its people on foreigners. He also called for a "more direct" negotiation with the DPRK in resolving the nuclear standoff, saying that Pyongyang, which he said appears "very paranoid" about possible foreign attempts to bring down the country, needs reassurance."
asahi.com: EDITORIAL: Destroyed documents
"Many key documents concerning secret Japan-U.S. agreements including one allowing U.S. warships to carry nuclear weapons into Japan were likely destroyed by the Foreign Ministry.
Kazuhiko Togo, director of the ministry's Treaties Bureau from 1998 to 1999, told the Lower House Foreign Affairs Committee that half of the "most important documents" detailing the secret pacts he handed over to his successor had not been made public.
If the alleged destruction of the documents is true, the government has doubly betrayed public confidence. An exhaustive investigation must be carried out to get to the truth and ensure that the people involved in the destruction be held accountable. "
Depleted Uranium: A War Crime Within a War Crime By William Bowles
"As if destroying a country and its culture ain't bad enough, how about destroying its future, its children? I want to scream it from the rooftops! We are complicit in crimes of such enormity that I find it difficult to find the words to describe how I feel about this crime committed in my name! In the name of the 'civilized' world?
"Forget about oil, occupation, terrorism or even Al-Qaeda. The real hazard for Iraqis these days is cancer. Cancer is spreading like wildfire in Iraq. Thousands of infants are being born with deformities. Doctors say they are struggling to cope with the rise of cancer and birth defects, especially in cities subjected to heavy American and British bombardment."  Jalal Ghazi, for New America Media "
---
Department of Energy News
Congress Should Not Let Itself Be Rolled by Nuke Labs – The Project On Government Oversight (POGO) Blog
"Realizing that there is mounting doubt on the Hill in the wisdom of spending billions of dollars on four new buildings for the creation of new components for nuclear weapons, the directors of three national laboratories are going on the offensive. As Politico reports, the directors of Los Alamos, Lawrence Livermore and Sandia National Laboratories have challenged the findings, and frankly, the credibility, of one of the most independent and respected technical expert groups, JASON. Last year, JASON found that the life of the nation's nuclear warheads, including plutonium pits and HEU (highly enriched uranium) secondaries, can be extended safely and certifiably for decades without replacement."
DOE delivers $14.5M for nuke education | knoxnews.com
"The Dept. of Energy this week annonced two funding opportunities for universities and colleges to start or expand basic research programs associated with nuclear science and engineering.
As part of the Nuclear Energy University Programs, DOE is providing about $14.5 million to "upgrade university-level research reactors and purchase general scientific equipment and instrumentation."
DOE is providing up to $7 million for university reactor upgrades and equipment and $7.5 million for general scientific equipment and instrumentation."
Community ready for talks on future of Hanford lands – Opinions | Tri-City Herald : Mid-Columbia news
"Community leaders are right to push for more say in Hanford's future, and they need to keep up the pressure.
Planning for life after cleanup needs to be a partnership between the Tri-Cities and the Department of Energy.
In a recent letter to Ines Triay, DOE assistant secretary for environmental management, Tri-City political leaders and economic development officials turned up the heat.
Forging a common vision doesn't seem out of reach, but the process could benefit from a greater sense of urgency.
The federal presence at Hanford will continue for decades, perhaps longer, but the multibillion-dollar budgets for cleanup won't."
SRS touts safety to SC panel | The Augusta Chronicle
"Savannah River Site officials emphasized their efforts to improve safety during a meeting Thursday of the Governor's Nuclear Advisory Council.
"The federal staff as well as the contractors are all working hard to reverse what we were seeing as a negative trend in those agency statistics, given the number of incidents in late 2009," said Karen Guevara, assistant manager for closure at SRS.
"Together we believe we are restoring the credibility in the site's safety posture, and most importantly, are better able today to ensure all our Savannah River Site employees return home healthy and free of injury at the end of every work day.""
Chu Comes Out Swinging in Defense of Energy Hubs – ScienceInsider
"Energy Secretary Steven Chu has steamed to the rescue of one of his flagship research programs less than a week after a congressional spending panel fired a warning shot across its bow.
Appearing yesterday before the House of Representatives energy and water appropriations subcommittee to defend the Department of Energy's 2011 overall budget request, Chu invoked several icons of scientific achievement in describing where his fledgling Energy Hubs program fits into DOE's overall portfolio of energy innovation. It was his clearest and most colorful explanation to date of how his so-called Bell Lablets differ from two other programs—the Energy Frontier Research Centers (EFRCs) and the Advanced Research Projects Agency-Energy (ARPA-E)—that have attracted far less criticism from legislators. "
Department of Energy – Blue Ribbon Commission on America's Nuclear Future to Hold 1st Meeting on Thursday and Friday
"On Thursday, March 25th and Friday, March 26th, the Blue Ribbon Commission on America's Nuclear Future, co-chaired by former Congressman Lee Hamilton and former National Security Advisor General Brent Scowcroft, will hold its first meeting in Washington, D.C.
At the direction of President Obama, Secretary of Energy Steven Chu established the Blue Ribbon Commission to conduct a comprehensive review of policies for managing the back end of the nuclear fuel cycle and to provide recommendations for developing a safe, long-term solution to managing the Nation's used nuclear fuel and nuclear waste.
The meeting is open to the press and the public. Press interested in attending the meeting should RSVP to Katinka.Podmaniczky@hq.doe.gov. Space is limited and credentials will be given on a first come, first serve basis on site.
The meeting will be webcast live. Additional information will be available regarding the webcast on homepage.
Read the meeting's agenda."
The Problem with Providing Nuclear Weapons Labs with Relief from Federal Oversight – The Project On Government Oversight (POGO) Blog
"George Lobsenz's article in yesterday's issue of The Energy Daily correctly pointed out that the Department of Energy's decision to provide the contractors who run the nuclear weapons labs with major relief from federal oversight was done "Without any prior public review or comment."
DOE's decision was made public after POGO released a March 16 memo from Deputy Energy Secretary Daniel Poneman. Lobsenz's story also smartly references the Government Accountability Office's (GAO) analysis which concluded that DOE needs more independent federal oversight, not less. "
Y-12 celebrates dedication of uranium storehouse » Knoxville News Sentinel
"OAK RIDGE – U.S. Energy Secretary Steven Chu was in town Monday to help celebrate a new $549 million storehouse for the nation's supply of bomb-grade uranium – a high-security facility so stout it reportedly could withstand the impact of a commercial aircraft.
While Chu had words of praise for the massive structure – known officially as the Highly Enriched Uranium Materials Facility – and those who designed and built it, the secretary's most welcome words at the ceremony were those supporting an even bigger project at the Y-12 nuclear weapons plant."
Department of Energy – Secretary Chu Op-Ed on Small Modular Reactors in the Wall Street Journal
By Steven Chu
America is on the cusp of reviving its nuclear power industry. Last month President Obama pledged more than $8 billion in conditional loan guarantees for what will be the first U.S. nuclear power plant to break ground in nearly three decades. And with the new authority granted by the president's 2011 budget request, the Department of Energy will be able to support between six and nine new reactors.
What does all of this mean for the country? This investment will provide enough clean energy to power more than six million American homes. It will also create tens of thousands of jobs in the years ahead.
Perhaps most importantly, investing in nuclear energy will position America to lead in a growing industry. World-wide electricity generation is projected to rise 77% by 2030. If we are serious about cutting carbon pollution then nuclear power must be part of the solution. Countries such as China, South Korea and India have recognized this and are making investments in nuclear power that are driving demand for nuclear technologies. Our choice is clear: Develop these technologies today or import them tomorrow. "
---
Other Energy News
Russian government battle rages around wrenching more energy from coal or energy efficiency to maintain gas exports – Bellona
"Contrary to conventional wisdom among Russian energy leadership, Russia can meet the power needs not only of its own country but those of Europe without driving up its carbon footprint, a new study from the US-based German Marshall Fund asserts. Charles Digges, 23/03-2010
The report comes on the heels of an announcement by Russian President Dmitry Medvedev last week that Russia would remain committed to developing clean and green energy technologies, and called for the country's long languishing Climate Doctrine to be implemented.
"
Japan Proposes Wind, Geothermal Power Feed-in Tariff  – Bloomberg.com
"A Japanese trade ministry panel today proposed expanding the feed-in tariff to require utilities to buy electricity at a premium from hydropower stations, wind turbine and geothermal operators.
Utilities may have to buy renewable power at between 15 yen (17 cents) and 20 yen a kilowatt hour, according to a report released in Tokyo today. The incentive program would run for between 10 and 20 years, it said.
The government wants to supply 10 percent of the country's primary energy from renewable sources by 2020, compared with about 3 percent in 2007, according to the International Energy Agency. The proposed tariff compares with 5 to 7 yen a kilowatt hour utilities pay for nuclear power and about 8 yen for oil- fired generation, said Tomohiro Jikihara, an analyst at Deutsche Securities Inc. in Tokyo. "
Power Company Plans To Convert Efficient Wind Farm Into Nuclear Plant To Meet Low Carbon Target | UK News | Sky News
"There is growing anger at proposals to build a new nuclear power station on the site of the second-oldest wind farm in Britain.
Wind farm climate change global warming
The site is just 100 metres away from the Lake District border
Situated just 100 metres from the Lake District border, the small community-owned Haverigg wind farm in Kirksanton is one of the most efficient in the country.
The land has made the Government shortlist of 10 sites judged potentially suitable for new nuclear build.
Wind farm co-owner, Colin Palmer, told Sky News the turbines would have to be demolished if the plans go ahead because of underground cables."
---
Nuclear Editorial and Opinions
The Free Press: Harvey Wasserman YOU are now paying for the NEXT 3 Mile Island
"As radiation poured from 3 Mile Island 31 years ago this weekend, utility executives rested easy.
They knew that no matter how many people their errant nuke killed, and no matter how much property it destroyed, they would not be held liable.
Today this same class of executives demands untold taxpayer billions to build still more TMIs. No matter how many meltdowns they cause, and how much havoc they visit down on the public, they still believe they're above the law.
Fueled with more than $600 million public relations slush money, they demand a risk-free "renaissance" financed by you and yours.
"
Letters: An unmentioned risk in treating nuclear waste | Philadelphia Inquirer | 03/28/2010
"To his credit, Dick Polman included concerns about nuclear waste in last Sunday's Currents section. He stated, "Current plants produce 2,200 tons of waste a year. … Do the math: That's more than 60,000 tons over the last 30 years."
However, Polman missed certain important details about the waste. The waste element plutonium is not mentioned. According to the 2009-10 CRC Handbook of Chemistry and Physics, one of the most trusted references in science, plutonium has "a half-life of 24,100 years [and is] produced in extensive quantities in nuclear reactors." And, "because . . . of the element being specifically absorbed by bone marrow, plutonium [is a] . . . radiological poison and must be handled with very special equipment and precautions."
Interestingly, in the 1973-74 edition of the handbook, additional details are provided: "The amount of plutonium that can be maintained indefinitely in an adult without producing significant body injury is 0.6 micrograms" – less than a grain of salt. And, that "plutonium, therefore, is one of the most dangerous poisons known."
I believe the public must know these additional facts about nuclear waste because, as Polman states, "there is still no solution to the radioactive waste storage problem.""
Jonathan Riskind commentary: Does U.S. need two enrichment plants? | The Columbus Dispatch
"It's an easy short-term political decision for the Obama administration and its Energy Department – as long as taxpayers can be shown it's being made on a sound technological and financial basis.
Here's the deal.
You've got two companies, one French-owned and one American-owned, each applying for a $2billion federal loan guarantee to help finance a uranium-enrichment plant that produces fuel for nuclear power plants. Each project means hundreds of jobs and tax revenues."
Chu shouldn't shirk lab-cleanup duty – The Santa Fe New Mexican
"With Los Alamos National Laboratory taking on many of the nuclear-weapons manufacturing duties from the defunct Rocky Flats plant, it makes a certain amount of sense that the federal Department of Energy would give the National Nuclear Security Administration, one of its agencies, a leading oversight role on "the Hill."
NNSA, in fact, was created 11 years ago in response to security lapses at LANL. It's concerned with security at every step of the nuclear process — nuclear-propelled ships and energy sources also come under its purview. But nuclear weapons tend to get its highest priority.
The environment is — or so it claims — a big part of its mission, and its record in many places, including America's major shipyards, appears as solid as might be expected from an overseer of our nuclear navy. "
A Miracle or a Meltdown… One or the Other…
"Tonight in Dana Point, California, the Nuclear Regulatory Commission will be holding its annual hearing on the San Onofre Nuclear Generating Station's recent performance, which has been lousy. They'll give San Onofre an overall "B" where it should be getting a failing grade. San Onofre should never have opened, and should be closed for good immediately. For safety. For economics. Forever.
At the hearing, the public will be allowed to speak for two, maybe three minutes each. Nothing said by the public will be considered. Nothing will be under oath. Nothing will be officially recorded. Only a few reporters will show up, who will dutifully interview the spokespeople for San Onofre and the NRC, and perhaps one or two of the most staid activists, and then they'll report whatever platitudes are said as if they are facts. The plant is safe, they'll say."
Dr. Helen Caldicott: You can lead the way to a clean, green future | The Burlington Free Press | Burlington, Vermont
"Dr. Helen Caldicott, co-founder of Physicians for Social Responsibility, will speak at St. Michael's College at 6 p.m. March 29 on the medical hazards of the nuclear age. The 71-year-old activist, pediatrician, author and grandmother of seven spoke via telephone from Spain a few days ago, where she had traveled to lecture at an international conference.
Caldicott grew up in Australia and spends her free time there in a house in a small fishing village on the coast of New South Wales. She enjoys cooking and puttering in her garden, where kangaroos and exotic birds add to the beauty. She lectures and travels widely, and among her other projects is establishing a new nonprofit that will use social media to spread the anti-nuke message. Here's an account of her conversation with Free Press reporter Molly Walsh."
The Top Nuclear Stories is published twice weekly. It is a produced using a combination of social bookmarking and programming. You can view or join the public group and add your own stories by going here -> http://groups.diigo.com/groups/nukenews