Talk about a Twilight Zone of a week.  Once I weeded out the huge amount of redundant stories, it wasn't a very busy week.  Biggest chunk of content was as expected, the huge new push for reactor development across the country. There was way over a hundred stories a day for most of last week, taking a whole lot more time than usual to dig through.
On the international front, Sellafield has a hot Seagull problem, Bulgaria won't be funding Belene, Japan didn't include any funding for nuclear in its climate change legislation, PI is considering a new nuke at Battaan, Another scientist disappeared in India, UAE has hired a former weapons inspector to secure its planned nuclear facility, Spain is still up in the air over wastes as is Murmansk. Russia has started another reactor on the Baltic and is growing ever more concerned over the U.S. Weapons Shield.
In the U.S. all eyes jumped to Vermont and the state senates vote to block the 2012 license.  The NY Times' M Wald showed his true pro-industry angle. There still a lot more fireworks to come.  West Virginia killed their moratorium legislation as did Az push to define nuclear as renewables.  Utah's gov. has blocked the DOE's 2nd and 3rd shipments of DU.  Hanford has jumped on the suit against Yucca, while a recent DOE public hearing documents the scope of the cleanup not yet done.  The whole energy park thing emerged there as well.  Virginia has kicked off an investigation of uranium mining, the South Texas nuke is looking for new financial partners, OK is promoting but nobody biting.
In a growing blow back from his dramatic increase in weapons spending, Obama has now pulled the earlier plan.
Now for the juicier stuff.  On the bad side of things Bill Gates of Microsoft has come out swinging for the promotion and funding of gen IV reactors… When you have that much money to throw around its just a matter of time before this starts to get a lot of coverage.  Probably the most important matter to take a closer look at is the NEI's PR release that nuclear reactors are so safe that there is no need for any protection beyond the 10 mile evacuation zone anymore!
During the last two or three major nuclear pushes, it was more than just slightly demoralizing to watch hundred's of pro-nuclear PR pieces all over the country with little if any response back.  This time, we had a modest but a growing number of editorials, many well written across the country, including a bit of air time on Democracy Now.  For folks that actually read this far down, I'm proposing that the movement has a whole be aware of the recent coverage about the NEI's plan to launch a whole new waive of lobbying directly exclusively at state and federal politicians.  We need to get our materials out there.  There are still too many stories going around with the claim that opponents have lost touch with the new generation of reactors.  I've not took a close look at the above NEI safety spin, but there is something really wrong with such a claim.
I've put a large number of the best counter stories in both the policy and op-ed pages.  Enjoy!
---
Top Nuclear Stories Index
---
Nuclear Reactor News
Russia Starts Work On Baltic Nuclear Plant – Radio Free Europe / Radio Liberty 2010

"Russian officials today laid the foundation stone of a new nuclear power station in Russia's westernmost region, Kaliningrad, which is sandwiched between Poland and Lithuania.
Deputy Prime Minister Sergei Ivanov took part in the ceremony in the Neman district, along with Kaliningrad Governor Georgy Boos, and Sergei Kiriyenko, the chief of the national nuclear-energy corporation, Rosatom.
The site of the planned nuclear plant, located just 20 kilometers from Lithuania's border, has been a cause of concern for local residents and ecologists, for whom memories of the 1986 catastrophe at the Ukrainian nuclear plant of Chornobyl remain fresh.
More than 300,000 people were evacuated in the wake of the disaster from areas in Ukraine, Belarus, and Russia. It also spread a cloud of radiation across much of Europe.
Bulgaria Government 'Won't Spend Any Money' on Belene NPP: Bulgaria Government 'Won't Spend Any Money' on Belene NPP – Novinite.com – Sofia News Agency

"Bulgaria Finance Minister, Simeon Djankov, was categorical Friday that he will not allow any money from the state budget to go towards the construction of the Belene Nuclear Power Plant.
In order to proceed with the Belene NPP project it is important to have a clear financial model and to complete an analysis of its economic profitability for Bulgaria, which was not done by previous governments, Djankov stated during the parliamentary debate on the nuclear project.
He added that in these times of global financial and economic crisis the Belene project can not be achieved with money from the state budget. And here I emphasize as Finance Minister I will not give a stotinka from the state budget for this year, next year or the next year to go to the Belene NPP.
FACTBOX-U.S. nuclear units seeking license renewal | Reuters
"Feb 26 (Reuters) – A total of 59 nuclear reactors in the United States have obtained 20-year license extensions from the U.S. Nuclear Regulatory Commission since 2000, according to the
Nuclear Energy Institute, a trade association. No applications have been rejected.
Currently, 19 renewal applications are under NRC review and 20 other reactors have indicated they will apply for extensions before 2017.
Nuclear relicensing applications currently under review are:
Public Citizen – Vermont Yankee Shutdown Vote Underscores Folly of Obama's Nuclear Expansion Plans
"he Vermont Senate's vote today to close the Vermont Yankee nuclear plant underscores the folly of the Obama administration's plan to help the nuclear industry build new reactors throughout the country.
As evidenced in Vermont, many things can go wrong with nuclear plants, particularly as they age. At Vermont Yankee, which is 38 years old, radioactive substances leaked underground, and a cooling tower collapsed in 2007.
Expanding the federal nuclear loan guarantee program from $18.5 billion to $54 billion, as the Obama administration wants to do, is incredibly bad policy, not only because of the safety risk of nuclear plants, but because of the financial risk as well. The chances of a nuclear utility defaulting on a loan are more than 50 percent; even Wall Street thinks reactors are too risky to back. You could call taxpayer loan guarantees for the nuclear industry "the next big bailout."
Vermont Senate Votes to Close Nuclear Plant – NYTimes.com
"In an unusual state foray into nuclear regulation, the Vermont Senate voted 26 to 4 Wednesday to block operation of the Vermont Yankee nuclear plant after 2012, citing radioactive leaks, misstatements in testimony by plant officials and other problems.
The Vermont Senate has voted to block a license extension for the Vermont Yankee nuclear plant in Vernon, Vt.
Nuclear opponents celebrated a State Senate vote Wednesday that could help close the Vermont Yankee nuclear plant in 2012.
Unless the chamber reverses itself, it will be the first time in more than 20 years that the public or its representatives has decided to close a reactor.
The vote came just more than a week after President Obama declared a new era of rebirth for the nation's nuclear industry, announcing federal loan guarantees of $8.3 billion to assure the construction of a twin-reactor plant near Augusta, Ga."
Nuclear subsidies put taxpayers at risk – The Boston Globe
"President Obama's plan to kick-start the construction of nuclear power plants in the United States comes with a big catch: Because private banks won't lend to an industry viewed as financially risky, taxpayers would be accountable for billions in government-guaranteed loans if plant developers default.
Precisely how much risk the public would carry remains a subject of lobbying by the industry, which is trying to minimize its financial exposure as the political climate in Washington has warmed in its favor."
Jobs, fish-kills concerns at Oyster Creek hearing – pressofAtlanticCity.com : Ocean County
"Residents, environmentalists and company officials on Wednesday debated a proposal requiring the Oyster Creek Generating Station to build cooling towers.
The state Department of Environmental Protection wants the plant to build cooling towers as part of a water-discharge permit. The plant's owner, Exelon Corp., said closing the plant would be preferable financially to installing a cooling system the company estimated would cost more than $700 million.
At the hearing, most local residents and elected officials sided with the company and urged the DEP to let the plant continue using its current cooling system, which circulates 662 million gallons of water per day from canals off the Forked River.
Lacey Township Mayor Gary Quinn defended the private jobs and public revenue the plant provides, including more than $11 million in Energy Receipts Taxes the township receives each year.
Exelon Corp. lawyer William J. Donohue said 700 plant employees would lose their jobs if the state prevailed in adding cooling towers to the plant's water-discharge permit."
Nuclear Developer Seeks New Partners for South Texas Project as Split with CPS Energy Nears Finalization, an Industrial Info News Alert – MarketWatch
"A San Antonio municipal utility's public and acrimonious divorce from a proposed two-unit, 2,700-megawatt nuclear power plant is nearly final. San Antonio municipal utility CPS Energy has been trying to separate itself from South Texas Project units 3 and 4 for several months. Last week, a settlement was reached between CPS Energy and Nuclear Innovation North America (NINA) (New York, New York), a consortium of NRG Energy Incorporated /quotes/comstock/13*!nrg/quotes/nls/nrg (NRG 21.84, -0.23, -1.04%) (Princeton, New Jersey) and Toshiba Corporation (TYO: 6502) (Tokyo, Japan) that is developing the two-unit nuclear expansion of the South Texas Project (STP). All that remains is for the CPS Energy board to ratify the deal.
Toshiba is the engineering, procurement, and construction firm for STP units 3 and 4. Subcontractors include Fluor Corporation  (Irving, Texas), Sargent & Lundy LLC (Chicago, Illinois), Bechtel Group Incorporated (San Francisco, California) and Westinghouse (Monroeville, Pennsylvania). "
Nuke expert: Entergy is worst of worst' – Brattleboro Reformer
"A nuclear power expert who briefed state legislators on the operation of Vermont Yankee nuclear power plant last week recommended they vote no Wednesday on continued operation of the plant.
Paul Blanch, who has 45 years in the industry, including working or consulting at Millstone, Connecticut Yankee, Maine Yankee and Indian Point nuclear power plants and the Electric Power Research Institute and the Nuclear Energy Institute, said there are two major reasons for closing down the plant — Entergy and the Nuclear Regulatory Commission.
"Entergy is certainly the worst of the worst," Blanch told the Reformer one day after his testimony at the Statehouse.
The company is nothing but a "carpetbagger coming up here (with the) only goal to extract as much money as possible," he said. "They're milking every dime out of it that they possibly can." "
'Leaks & Lies' rally draws scores: Times Argus Online
"The eyes of the country are on Vermont as it makes its decision on whether to allow a small, aging and leaking nuclear reactor continue running, a nationally known nuclear watchdog said Sunday.
"You are at the forefront," Paul Gunter, executive director of Beyond Nuclear of Washington, D.C., said at the "Leaks & Lies" rally Sunday in downtown Brattleboro, which drew hundreds of people to the Latchis Theater on a sunny late-winter afternoon. "Your fight is really, really important to all of us," he said. "It's really, really important to the future."
Gunter said that the "fight is coming," and that the future of the Vermont Yankee reactor is a "focus point nationally" despite recent support by the Obama administration to jump-start the nuclear industry.
Gunter and other speakers said this week's vote in the Vermont Senate, expected to be against the continued operation of Vermont Yankee, is far from the last battle over the future of the plant."
2008: NPEC: State and Federal Subsidies to nuclear Power
Nonproliferation Policy Education Center
This particular report focusses on Calvert Cliffs but has extensive information about subsidies
AG expands probe of Entergy statements – Brattleboro Reformer
"The Vermont Attorney General's investigation into whether Entergy representatives lied under oath or had "a reckless disregard for the truth" during public hearings before the Vermont Public Service Board last year is getting ready to kick into high gear, said Attorney General William Sorrell, in a telephone interview with the Reformer, Thursday.
Saturday or at the beginning of next week, Sorrell expects to receive "thousands of pages of documents" from Entergy related to the extent of underground and buried piping at Vermont Yankee nuclear power plant in Vernon, which is owned and operated by Entergy.
While the PSB has requested that Entergy review each and every page of testimony submitted to it during hearings to determine whether Yankee should receive a certificate of public good — which would allow the power plant to operate for another 20 years starting in 2012 — Sorrell will be reviewing documents not provided during the hearings.
"My belief is there will be a lot of documents that neither the PSB nor the Nuclear Regulatory Commission have seen," said Sorrell. "
SAN ONOFRE: Leaked memo highlights fear of retaliation
"An internal memo from Southern California Edison, leaked to a San Clemente activist group, indicates that fear of retaliation still exists at San Onofre Nuclear Generating Station, despite repeated public statements calling for openness by top plant leadership.
The memo, released by the environmental group San Clemente Green, is dated Feb. 2 and appears to have been written by an Edison employee in advance of a meeting between Southern California Edison executives and Nuclear Regulatory Commission inspectors who conducted an inspection at San Onofre in November.
Though the NRC eventually releases the results of its inspections, it has not yet done so for the one that occurred in November 2009.
The memo states that inspectors, meeting in focus groups with plant employees, found that 25 percent of those surveyed said they fear retaliation from plant management for raising safety concerns to federal regulators. The memo also indicates that, in 2008, reports from San Onofre employees to the NRC were six times higher than the industry median."
Are New Types of Reactors Needed for the U.S. Nuclear Renaissance?: Scientific American

"Ongoing problems with nuclear waste might resurrect plans for reactors that would leave less of it
dry-cask-for-nuclear-waste
NUCLEAR WASTE: Will fast breeder reactors solve the issue of nuclear waste?
On February 16, President Barack Obama announced loan guarantees totaling more than $8 billion for two new light-water reactors in Georgia, part of an initiative to restart the nuclear power industry in the U.S. Just three weeks earlier, Secretary of Energy Steven Chu had announced the formation of a Blue-Ribbon Commission on America's Nuclear Future to resolve what to do with the waste produced by those future reactors—as well as the 2,000 metric tons a year produced by the 104 reactors currently in operation in the U.S. After all, the Obama administration has halted plans to store spent nuclear fuel at Yucca Mountain in Nevada—a geologic repository that never opened.
NRG Expects Two-Month Wait for Answer on Nuclear Aid  – Bloomberg.com
"– NRG Energy Inc. expects to learn in about two months whether it will get a federal loan guarantee needed to build nuclear reactors in Texas, and will scrap the project if it doesn't.
NRG will try to sell some of its share in the project if it receives loan-guarantee approval from the U.S. Energy Department, Chief Executive Officer David W. Crane said today in an interview. The company, based in Princeton, New Jersey, is seeking to build two reactors at an existing plant site about 100 miles (161 kilometers) southwest of Houston.
We would like, during the course of 2010, to bring in other investors who not only have a financial interest in the project but who play a critical role in the project's success, Crane said. It could be other people involved in the construction of the project, it could be people involved in buying the power from the project.
Green groups call for federal probe of Vt. Yankee – Yahoo! Finance
"Two environmental groups on Friday asked the U.S. Justice Department to launch a criminal probe of Vermont Yankee nuclear plant officials, saying they had provided false information under oath and operated the plant with "careless disregard" of the potential for leaking radioactive substances.
Conservation Law Foundation, a New England-wide environmental group, and the Vermont Public Interest Research Group took aim at Entergy Nuclear Vermont Yankee and Entergy Nuclear Operations, two subsidiaries of New Orleans-based Entergy Corp. that operate the Vermont Yankee plant in Vernon.
In a letter sent to the Justice Department, the groups accused the company of "providing false information under oath, and operating the Vermont Yankee facility with careless disregard that has led to contamination of ground and surface waters with radiologic substances." The letter was signed by CLF Vermont Director Christopher Kilian and VPIRG Executive Director Paul Burns."
---
Nuclear Health and Safety News
Nuclear scientist goes missing in Tamil Nadu
"A nuclear scientist, S. Ananthanarayanan working in the Indira Gandhi Centre for Atomic Research (IGCAR) in Tamil Nadu is missing since last week, police said Thursday.
We got a complaint from his wife Feb 18 and registered a complaint as man missing. As per our information, Ananthanarayanan was disturbed about the health condition of his child and he might have gone to some temple, Deputy Superintendent of Police (Mamallapuram) Sambandam Murthy told IANS.
IGCAR, located inside Kalpakkam nuclear complex, some 80 km from here, is one of the highly sensitive atomic research institutions in the country that is involved in design and development of nuclear reactors.
Ananthanarayanan joined IGCAR in 1997 and is a scientific officer E grade, that is middle level. He is involved in development of software for managing healthcare data of the employees and their family members, J. Daniel Chellappa, head (technical) told IANS."
Sellafield considers cull as seagulls swim in radioactive waste – Times Online
"Sellafield, the nuclear plant that is Western Europe's most heavily contaminated industrial site, is facing an unexpected environmental challenge.
The 262-hectare (645 acres) plant in West Cumbria is being overrun by seagulls, mice and stray cats, and managers are battling to contain the problem. Things have become so serious that a cull of seabirds is being considered. There are concerns that some have been swimming in open ponds containing plutonium and radioactive waste, some of which date back to Britain's atomic weapons programme of the 1950s and 1960s."
Protecting Nuclear Power Plants Against Nature's Fury

"International Workshop Addresses Seismic Safety of Nuclear Installations
All nuclear power plants around the world, such as the Kashiwazaki-Kariwa nuclear power plant in Japan (pictured) may be affected, to different degrees, by natural hazards. (Photo: Tokyo Electric Power Company (TEPCO))
There has been a misconception since the early days of nuclear power that human error or mechanical failure, in other words risk factors within the plant itself, are the most significant variables regarding possible radiological release to the environment. In fact, the greatest threat to a plant´s operation may lie outside its walls.
Nuclear power plants all over the world are exposed to natural hazards, such as hurricanes, floods, fires, tsunamis, volcanoes and earthquakes. With safety always a key concern, engineers, safety specialists and architects also have to take extreme natural forces into consideration."
Records show tritium leak reaches state land: Rutland Herald Online
"The Conservation Law Foundation lobbed a big curve ball into the controversy over the tritium leak at the Vernon Yankee nuclear reactor Tuesday, saying the land that is contaminated appears to be "filled" land, and thus belongs to the state.
The environmental group alerted Gov. James Douglas to the problem Tuesday, saying it had done a records search at the Vernon Town Hall and discovered the potential problem.
According to Chris Kilian, state director for the Conservation Law Foundation, maps showing the Vermont Yankee plant, as well as maps submitted to the Public Service Board and the Vermont Legislature, show Entergy's ownership boundary "well inland" from the banks of the Connecticut River.
Kilian said the land in question, which he said was about two acres and had multiple buildings on it, was labeled "Vermont Yankee Easement Area." He said that phrase on the Entergy maps had piqued his interest, resulting in the land research down in Vernon."
PART ONE – NIOSH RESPONDS: After Demolition Huntington Pilot Plant Site Negligible Radioactivity – Huntington News Network

"Stuart Hinnefeld, interim director of NIOSH (National Institute for Occupational Safety & Health ) explained certain gaps in report presentations on the Huntington Pilot/Reduction Pilot Plant (HPP/RPP), as well as informed speculation related to data.
This agency functions to handle radiation dose reconstructions for workers (or their survivors) applying for benefits under the Energy Employees Occupational Illness Compensation Program (EEOICPA). These benefits , in brief, provide compensation to Department of Energy (DOE) employees, its contractors or subcontractors, and atomic weapons workers with radiation induced cancer if the cancer developed after working at a covered facility (of which HPP/RPP is a covered facility) or the cancer is "determined at least as likely as not related to that employment) or the employee fits a Special Exposure Cohort (by working at least 250 days before February 1, 1992 at one or more gaseous diffusion plants or underground nuclear test at Amchitka, Alaska) and developed specified cancers. "
Melting Snow Shuts Down Nuclear Power Plant | NBC Washington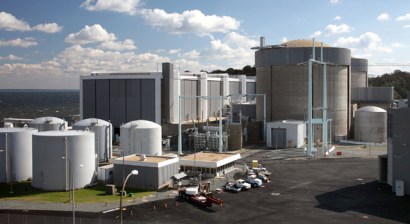 "The weather power hits keep on coming, but this time it's nuclear power at the Calvert Cliffs plant in Lusby, Md.
Melting snow may be behind the recent shutdown of the plant. It is believed to have leaked through the plant's roof and onto an electrical breaker, said David Fritz of Constellation Energy Nuclear Group.
Federal inspectors started looking at the plant on Monday. The two reactors went down the Thursday after one of two electrical distribution buses failed, the Nuclear Regulatory Commission said."
Tahiti senator claims French nuclear compo law is mere alibi
"A French senator representing French Polynesia has labelled the French law to compensate victims of the nuclear weapons tests as an alibi for the government to give it a good conscience.
Richard Tuheiava made the comment in Algeria where a meeting is being held to discuss the aftermath of the French weapons tests which began in the Algerian desert before being continued in the South Pacific."
Three Mile Island: 'They Say Nothing Happened'
"According to the TV program What Happened?, broadcast on NBC earlier this year (3/16/93), "the system worked" during the 1979 nu­clear accident at Three Mile Island (TMI). Although there were problems with "communication," the show reported, with the undamaged unit of TMI back in operation, most people in the area now live happily with the TMI facility.
"Today in Harrisburg life goes on, the incident is now in the past and most people are comfortable that it could never be repeated," the narrator of the program, produced by Hearst Entertain­ment for NBC, declares. Then local resi­dent Debbie Baker says, "I'm not as afraid of it as I used to be."
But that isn't all Baker said to the show's producers. "What they did was horrible," she told Extra!. "I can under­stand editing, but here the most crucial statements were edited out to make it look like everything was hunky dory." She said her full statement was that she is not as afraid since the Three Mile Island Citizens Monitoring Network, a group she works with, had set up an ex­tensive network of radiation monitors around the plant. Baker said that the crew from What Happened? was well aware that she remains extremely uncomfortable with TMI."
Freelance Investigations: TOXIC COLLEGES MADE NUCLEAR WEAPONS
"Students, faculty and administrators at New York University, Stanford, Columbia, MIT, SUNY at Stony Brook and over a dozen universities in the United States may have been exposed to cancer causing radiation, beryllium, plutonium, silica and other highly toxic substances while attending school or working at universities holding contracts with the Department of Energy from 1941 through the present.
The universities on a list from Department of Energy (DOE), Energy Employees Occupational Illness Compensation Program Act (EEOICPA) website provided by the Office of Health, Safety and Security were listed as Atomic Weapons Employers, "Beryllium Vendors and Weapons Research and Development Facilities doing work such as "nuclear research involving plutonium and uranium at the universities' laboratories.
"
Trace amounts of cobalt-60 found – Brattleboro Reformer
"Trace amounts of cobalt-60 were found in standing water in the advanced off-gas piping tunnel Thursday at Vermont Yankee nuclear power plant, said John Dreyfuss, Yankee's director of nuclear safety assurance, during a conference call with the Nuclear Regulatory Commission, the Vermont Department of Health and the Vermont Department of Public Service.
But Dreyfuss told the agencies that finding trace amounts of cobalt-60 in such a location is not surprising, just as was finding it in standing water in a pipe trench in the plant's radioactive waste building on Jan. 22.
In that instance, cobalt-60, at 13,000 picocuries per liter, and zinc-65, at 2,460, were found, along with tritium, in the pipe trench. Drinking water limits for Cobalt-60 are 100 picocuries. For Zinc-65, the drinking water limit is 300.
At the time, tritium levels were at 1.6 million picocuries, with a drinking water limit of 20,000. "
---
NRC News
Public Citizen – NRC Staff Should Stop Balking, Provide Fire Safety Information, Groups Say
"Agency Is Refusing to Adhere to an Order to Release Document That Would Help Determine Safety of New Nuclear Reactors
WASHINGTON, D.C. – The Nuclear Regulatory Commission (NRC) should stop balking and provide a critical document that would reveal how the owners of a Texas nuclear plant expansion project plan to deal with a fire or explosion, three public interest groups told the commission late last week.
Three administrative judges of the Atomic Safety and Licensing Board have ordered the agency to provide at least a redacted version, but NRC staffers have refused. The NRC's lack of transparency could impact the ability to get adequate safety-related information not only about the South Texas Project (STP) but about other proposed reactors around the country as well.
Late Friday, the groups – the Sustainable Energy and Economic Development (SEED) Coalition, Public Citizen and the South Texas Association for Responsible Energy – filed a brief with the NRC. It noted that the NRC staff's refusal to provide the information violated President Barack Obama's new transparency policy. The groups also said the NRC is acting arbitrarily and trying to shut the public out of NRC proceedings."
---
Nuclear Fuel Cycle News
New Type OF Nuclear Fuel For Powerplants Produced In The South Urals – RusBizNews.com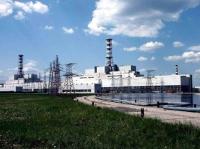 "Preparation work is beginning at the production facility "Mayak" for the establishment of a new production complex. It will be supplying Russian nuclear powerplants with the high-density mixed nitride fuel for fast neutron reactors.
Information centre of "Mayak" told RusBusinessNews that the start up of the complex is planned for 2018. The initial capacity will amount to 14 tons of fuel annually. In the future the capacity may increase to 40 tons. The estimated cost of the project is 9 billion roubles.
The establishment of the high density fuel production facility is a part of the strategy for the development of Russian nuclear power engineering with the new generation fast neutron reactors. One of these is the power generating unit BN-800 which is being constructed at the Beloyarsk Nuclear Power Station in the Sverdlovsk Oblast. "
BHP uranium report unveils risks – The West Australian
"BHP Billiton documents have revealed the company's proposed $17 billion Yeelirrie uranium mine could threaten vulnerable animal species previously found in the area.
The resource giant's preliminary environmental report for what may be Australia's first major uranium mine in 20 years also details risks to the area's groundwater-dependent ecosystems because of possible changes to water flow and a reduced groundwater recharge. A desktop review of data dealing with the area, south east of Leonora, indicated 285 vertebrate fauna species potentially occur in the project zone.
Thirty-two species are labelled of "conservation significance", with 10 vulnerable species including the bilby, black-flanked rock wallaby, shield-back trapdoor spider, mallee fowl and princess parrot."
Nuclear power company USEC secures $225M in credit – Yahoo! Finance
"Nuclear energy firm USEC Inc. said Friday it secured a new line of credit that will provide it $225 million upon closing with the option to secure as much as $350 million.
The company said the new line of credit replaces an existing line set to mature in August. The new credit deal is supported by JPMorgan Chase Bank, Wells Fargo & Company and UBS.
The new credit facility will mature May 31, 2012.
USEC is a leading supplier of enriched uranium fuel for commercial nuclear power plants.
The company's stock fell 7 cents, or nearly 2 percent, to close at $4.36."
Clinton adviser intervened to help with uranium deal, ex-Kazakh official says – washingtonpost.com
"An adviser to former president Bill Clinton intervened in 2005 to help win Kazakh approval of a uranium mining deal benefiting a major donor to the Clinton Foundation, according to a video statement made by the former chief of Kazakhstan's state nuclear firm. "
In Kazakhstan, the race for uranium goes nuclear – washingtonpost.com
"The dry steppe stretches to the horizon in all directions from this remote outpost in southern Kazakhstan. But peeking out of the sandy soil, amid the sagebrush and desert shrub, are thousands of wells arranged in geometric patterns, each extracting radioactive treasure. "
Living by a nuclear lake – washingtonpost.com
"When a Soviet-run uranium mine closed in Kazakhstan in 1989, a radioactive lake formed, creating a poisonous water supply for the town of Kurdai."
Va uranium mining study moving forward – dailypress.com
"A study to determine whether uranium can be mined and milled safely in Virginia is moving forward.
Officials say Virginia Tech's Center for Coal and Energy Research has signed a contract with the National Academy of Sciences' National Research Council for the study.
The first phase of the study will focuses on the technical and public-safety aspects of mining. The study's fieldwork will begin this summer and last through the fall of 2011.
Virginia Uranium Inc. seeks to mine and mill a 119-million-pound uranium ore deposit in Pittsylvania County. The company will pay for the first phase of the study through Virginia Tech.
Before uranium could be mined in Virginia, the General Assembly would have to lift a ban that has been in place since 1982. The study is a first step to lifting that ban.
"
A Reactor That Burns Depleted Fuel Emerges as a Potential 'Game Changer' – NYTimes.com
"Politicians and scientists speak of them hopefully as "home runs" and "game changers," the long-shot technology breakthroughs that could produce a major advance toward the nation's future climate policy goals.
After years in a status closer to science fiction than reality, the traveling wave nuclear reactor is emerging as a potential "game changer," according to a U.S. Department of Energy official. It helps that the reactor is the product of a team of top scientists backed by the deep pockets of Microsoft founder Bill Gates."
Digging up the dirt on uranium – The National Newspaper
"A decades-old debate over supplies of fuel for atomic power has been reignited by promises of a globanuclear renaissance, and is raging as heatedly as ever.
The world is running out of uranium and nobody seems to have noticed, contends the Swiss physicist Dr Michael Dittmar, a researcher at CERN, the European Organisation for Nuclear Research.
Without access to the military stocks, the civilian western uranium stocks will be exhausted by 2013, he predicts.
---
Nuclear Waste News
Governor rebuts EnergySolutions' claim that waste will end up in Utah – Salt Lake Tribune
"EnergySolutions Inc. assured its investors Thursday that trainloads of depleted uranium from a government cleanup in South Carolina will end up in Utah as originally planned — but the assertion was quickly contradicted by Gov. Gary Herbert's office.
Herbert's spokeswoman says a deal the governor struck Monday with the Department of Energy would keep the two trains of depleted uranium out of the state for good.
"We take the Department of Energy at its word," said spokeswoman Angie Welling. She said the governor remains confident in the agreement "despite the rhetoric from EnergySolutions" that the waste is being detoured only temporarily to Texas,. "
Book Review – 'About a Mountain,' by John D'Agata – Yucca Mountain, Nevada – Review – NYTimes.com
"The mountain that John D'Agata is ostensibly concerned with in his slim but powerful new book, About a Mountain, is Yucca Mountain, located approximately 100 miles north of Las Vegas. And he's not the only one interested in it: since the mid-1980s, the United States government has been doing back flips to bury the country's entire reservoir of spent nuclear waste some 77,000 tons of apocalyptic yumminess  deep inside Yucca. In the summer of 2002, the summer after D'Agata helped his mother move to a Vegas suburb, Congress was proceeding with plans to make the mountain a nuclear dump. Also that summer, 16-year-old Levi Presley jumped to his death from the observation deck of a third-rate Vegas hotel. These subjects, disparate though they are, animate D'Agata's sprawling narrative."
Hanford-area civic leaders sue over Yucca decision
"Three civic leaders in south-central Washington are challenging the federal government's decision to abandon Yucca Mountain as a nuclear waste repository.
President Obama has said he doesn't see the Nevada site as a workable option for storing spent nuclear fuel and nuclear waste. He has asked a commission to recommend alternatives.
Bob Ferguson, Bill Lampson and Gary Petersen filed a lawsuit in the 9th Circuit Court of Appeals in Washington D.C. on Thursday. They say the decision to terminate the project violates the Nuclear Waste Policy Act."
Governor rebuts EnergySolutions' claim that waste will end up in Utah – Salt Lake Tribune
"EnergySolutions Inc. assured its investors Thursday that trainloads of depleted uranium from a government cleanup in South Carolina will end up in Utah as originally planned — but the assertion was quickly contradicted by Gov. Gary Herbert's office.
Herbert's spokeswoman says a deal the governor struck Monday with the Department of Energy would keep the two trains of depleted uranium out of the state for good.
"We take the Department of Energy at its word," said spokeswoman Angie Welling. She said the governor remains confident in the agreement "despite the rhetoric from EnergySolutions" that the waste is being detoured only temporarily to Texas,. "
La Grande Observer | Local residents voice concern over proposed waste cleanup plan

"La Grande is about 130 miles southeast of the Hanford Nuclear Reservation.
Still, a proposed U.S. Department of Energy plan for the cleanup of radioactive waste at Hanford has people in the Grande Ronde Valley alarmed.
Alarmed because the plan could result in Union County residents being exposed to additional radiation.
This point was made boldly Monday at a hearing conducted at Eastern Oregon University by the U.S. Department of Energy. The hearing was conducted to solicit public comment on a draft environmental impact statement detailing alternatives being considered for the next step in the cleanup of nuclear waste at Hanford.
A major concern of the plan is that it would result in the U.S. Department of Energy lifting its moratorium on shipments of radioactive waste to Hanford from other DOE sites. The moratorium, in place since 1980, would likely end in 2022 if the U.S. Department of Energy plan goes into effect."
Bomb plant seepage creating Israel's worst-ever water pollution – Haaretz – Israel News
"Rocket fuel and remains of explosives that seeped into the aquifer from the Israel Military Industries Ramat Hasharon plant are continuing to spread, according to data presented yesterday for the first time by the Water Authority and obtained by Haaretz.
The materials, which are now present in a 16 square-kilometer area, were detected at levels thousands of times greater than allowable U.S. standards, constituting the worst instance of water pollution in Israel's history. Ten water wells have been closed so far as a result.
The Water Authority says that unless the contamination is cleaned up, it will continue to spread to wells in Herzliya and Tel Aviv, disqualifying hundreds of millions of cubic meters of ground water for household use. "
Murmansk lawmakers pass radwaste bill that will turn Kola Peninsula into a nuclear dump – Bellona
"Legislators in Russia's Far Northern Murmansk Region, on the Kola Peninsula, have signalled a green light to the interment of liquid radioactive waste in their region  brushing aside the public and environmentalists' concerns and, effectively, giving Moscow authorities a carte blanche to create nuclear repositories in Murmansk, while the costs of handling the already accumulated stockpiles of radioactive waste will have to be borne by regional and municipal budgets. Anna Kireeva, 23/02-2010 – Translated by Maria Kaminskaya
The questionable bill On Management of Radioactive Waste was passed in its first reading in the federal parliament in the Russian capital during a plenary session on January 20 and raised a storm of objections from Russia's ecological organisations. Non-governmental organisations decried the bill as a means for the Russian state nuclear corporation Rosatom to attend to its own narrow interests while going bluntly against the interests of the nation. In an open letter to lawmakers in Moscow, they urged them to halt on passing the bill without making serious amendments."
New law could turn Murmansk into nuclear dump – BarentsObserver
"The Murmansk regional parliament last week approved the federal law on radioactive wastes. That could turn the region into a nuclear dump, environmentalists say.
The law opens up for the underground storage of radioactive waste materials in the regions and leaves the regional and municipal administrations with a major responsibility for financing the storage facilities.
The regional parliament the Duma  approved the law amid massive protests from environmental organizations in the region. The new legislation is believed to have potentially serious consequences for people in the far northern region. Murmansk Oblast has a number of nuclear installations, both nuclear submarines, icebreakers and the Kola NPP, all of which leaves behind lethal waste materials."
UK port becoming 'nuclear dumping ground' | TwoCircles.net
"London : Europe's largest single issue peace organisation is warning the British government against plans to use a naval dockyard base as a centre for dismantling radioactive submarines.
The Campaign for Nuclear Disarmament (CND) has voiced concern about the safety record of Devonport dockyard in south-west England and its position in the middle of Plymouth city as being inappropriate site as a nuclear dumping ground.'
"A city-centre location is no place to cut-up and store redundant nuclear submarines, said CND chair Kate Hudson.
The toxic legacy of these subs is a real problem, but dismantling them on a site literally a couple of hundred metres from homes and schools must not be allowed, Hudson said.
"The health risks posed by a project that could continue for 60 years or more are potentially enormous, with Devonport already having a troubled history of radioactive leaks," she warned.
The dockyard is already home to eight ageing nuclear submarines and plans are for another 27 to be sent there, prompting fears that one of the country's busiest naval ports is set to be turned into a nuclear scrapyard. "
E2 Round-up: Chu floats nuke waste idea, next wave reactors, and Asian carp. – The Hill's E2-Wire
"Chu told reporters Saturday that he doesn't want to pre-judge the panel's work. But Chu noted that he  and the Nuclear Regulatory Commission  believes the current practice of dry cask storage of spent fuel at the reactor sites is safe for decades.
So . . . perhaps the government could own the waste at the plants while the ultimate disposal strategy is worked out. "It is possible to do that and keep it at present sites, pay the utility companies to keep it safeguarded, keep it safe, while we work through this process,Chu said, speaking to reporters on the sidelines of the National Governors Association meeting in Washington, D.C."
Herbert derails Utah-bound shipments of depleted uranium | Deseret News
"Planned shipments of depleted uranium from the U.S. Department of Energy's South Carolina's storage site will not be shipped to Utah under an agreement negotiated Monday by Gov. Gary Herbert.
"This is a monumental win for the state of Utah," Herbert said. "At one point, we were told these trains were all but on the tracks, making their way to Utah. The Department of Energy has now agreed, after we registered our concerns, that those trains will head elsewhere."
In addition to derailing the two remaining shipments of 7,000 tons of the material, Herbert said federal regulators agreed to take back the depleted uranium that came in December if planned state changes to the disposal process fall through."
Australia: Fallout over NT nuclear dump site
"Dianne Stokes says the Rudd government's decision to push ahead with plans to dump nuclear waste on the red-soil land north of Tennant Creek has caused trouble in her Warlmanpa tribe. "People have given away land that doesn't belong to them now there is big trouble among us," she said.
For centuries, Aboriginal clans followed their dreaming across the low scrub land that became known last century by white people as Muckaty cattle station. Now, some members of one of those clans have agreed to allow Australia's first national waste dump to be established on 1.5 square kilometres of land they claim is theirs in return for $12 million, most of it in cash."
Aiken County suing feds over Yucca Mountain | The Augusta Chronicle
"Aiken County officials have filed suit against the federal government over its plans to pull the plug on the Yucca Mountain nuclear waste disposal site in Nevada.
The lawsuit was filed in the U.S. Circuit Court of Appeals for the District of Columbia on Friday, Aiken County Councilman Scott Singer said today.
The county is seeking a temporary restraining order to block plans to terminate the disposal site. At one point, more than 4,000 metric tons of waste from the Savannah River Site was to be shipped to Yucca Mountain."
U.S. turns to Sweden as model in nuclear waste storage – latimes.com
"While progress here has lagged, the Scandinavian country has successfully chosen a site for a geological repository after including citizens and local government in the discussion.
If the United States is at a loss over what to do about nuclear waste, it may be time to check out the Swedish model.
A symposium at the annual meeting of the American Assn. for the Advancement of Science in San Diego last week highlighted the Swedish power industry in gaining public support for a geological repository for high-level radioactive waste.
The Scandinavian success comes in stark contrast to efforts in the U.S., where spent nuclear fuel rods have remained for decades in temporary storage at power plants around the country. Meanwhile, Congress has debated where to bury them, decided on a repository under Yucca Mountain in Nevada, and then changed its mind."
Depleted uranium deadline passes, Herbert meets with DOE – Salt Lake Tribune
"Gov. Gary Herbert is scheduled to meet Monday with the U.S. Department of Energy to discuss upcoming shipments of depleted uranium.
The governor's office isn't saying much about what Herbert plans to talk about in Washington, D.C. with Ins Triay, the DOE's assistant secretary for environmental management. But the meeting comes just after the DOE's two-month deadline passed for the state to finalize its strategy for beefing up the EnergySolutions landfill in Tooele County for more depleted uranium.
"The discussion [Monday] will focus on the status of the first shipment, which has already arrived in Utah but is being held in temporary storage, and the future of any future shipments of depleted uranium to Utah," said Angie Welling, spokeswoman for the Republican governor.
During a Dec. 17 phone conversation, Herbert and the DOE agreed that a trainload of depleted uranium from the government cleanup at Savannah River, S.C., would come to Utah but not be buried for two months. "
Steve Creamer resigns as EnergySolutions CEO | Deseret News
"Since taking the helm of EnergySolutions six years ago, Steve Creamer became the face of a company that often found itself in the eye of the public storm.
In television commercials and newspaper ads, Creamer tried to explain what the controversial nuclear waste company was all about. That job will now fall to another. Creamer resigned Friday as chief executive officer, effective immediately. Val Christensen, who has worked as company president since 2008, will replace him.
"Steve Creamer had the unique vision and energy to create a strong public company based in Utah that plays a critical role in America's nuclear industry," Christensen said. "Steve will continue to be an important sounding board and a strong supporter of the company."
Christensen said he was instructed by the company's board to not disclose why Creamer, 58, resigned."
HealthNewsDigest: Nuclear Waste on Natvie American Reservations
"Native tribes across the American West have been and continue to be subjected to significant amounts of radioactive and otherwise hazardous waste as a result of living near nuclear test sites, uranium mines, power plants and toxic waste dumps.
And in some cases tribes are actually hosting hazardous waste on their sovereign reservations—which are not subject to the same environmental and health standards as U.S. land—in order to generate revenues. Native American advocates argue that siting such waste on or near reservations is an "environmental justice" problem, given that twice as many Native families live below the poverty line than other sectors of U.S. society and often have few if any options for generating income. "
VT Nuclear Plant Leaking- Industry Faces Concern Nationwide « Liveshots
"As President Obama advocates expansion of America's nuclear power industry, pushing for billions of dollars in federal incentives and announcing plans to build the first nuclear plant in decades, a long-running facility in Vermont is leaking a cancer causing carcinogen.
The Vermont Yankee nuclear power plant is leaking possibly dangerous levels of tritium, a radioactive byproduct of the nuclear process. Thus far, tritium has only be found on the plant grounds, which are nestled amidst farms in rural Vernon, Vermont. Around the clock efforts are underway to find and stop the leak. The timing is bad for the plant's owner, Entergy corporation, which is seeking to renew the facility's operating license, set to expire in 2012.
The facility, which began operating in 1972, is just one of dozens across the country that have seen similar leaks in recent years. The Nuclear Regulatory Commission, which oversees inspection and licensing of nuclear facilities, says roughly 30 of the nation's 104 reactor units have experienced tritium leaks."
Studsvik to recycle Finnish steam generators

"Studsvik of Sweden has signed a contract with Finland's Teollisuuden Voima Oyj (TVO) for the dismantling and metal recycling of old steam generators from the Olkiluoto nuclear power plant.
A steam generator for treatment at Studsvik (Image: Studsvik)
Studsvik's facility near Nyköping, Sweden, melts metal scrap, such as stainless steel, carbon steel, copper, aluminium or lead. Melting reduces the volume and weight of the waste, resulting in reduced costs for interim on-site storage and final disposal. The end-product is metal ingots, which can either be immediately free-released as conventional scrap metal or released after a period of decay storage. Residual products (slag, sorted material, cutting and blasting residues and dust from the ventilation filters) and ingots that cannot be free-released are returned to the customer."
Aust has a duty to take world's nuclear waste, Hawke says – The Canberra Times
"Australia had an unarguable responsibility to accept the world's nuclear waste and discarded nuclear weapons, and could create a huge new industry for the country by doing so, former prime minister Bob Hawke said last night.
Giving the inaugural Australian National University commencement address, Mr Hawke said Australia could fund essential environmental projects such as repairing the country's waterways if it was prepared to have a serious conversation about its international duty to accept nuclear waste from foreign power stations.
"Australia is the country that can make the nuclear cycle safer. We have the world's safest geological formations, we could make the world safer at a time and when there is going to be and is under way the increasing move towards generation of power by nuclear stations, looking at what is happening in the United States," Mr Hawke said."
---
Nuclear Policy News
Bill to classify nuclear as renewable energy killed – Phoenix Business Journal:
"A bill that would have put the legislature in charge of the state's renewable energy standard was pulled Thursday following a blitz by solar industry officials and local governments.
House Bill 2701 was killed two days after hearing from several solar companies, including Suntech Power Holdings Co. Ltd., which threatened to abandon plans to locate a factory in Goodyear.
The bill was seen as a potential showdown with the Arizona Corporation Commission, which had set standards requiring state utilities get 15 percent of their energy from renewable sources such as solar and wind by 2025. Provisions included the classification of nuclear power as a renewable."
Ban upheld on construction of nuclear power plants » Local News » The Register-Herald, Beckley, West Virginia
"West Virginia's official ban on the construction of nuclear power plants is staying put.
After a lengthy discussion Thursday, the Senate Judiciary Committee by a lopsided voice vote gunned down a move to eliminate the prohibition.
Sen. Dan Foster, D-Kanawha, who once lived near a nuclear installation in Tennessee, appeared to be the only senator in favor of the bill.
A year ago, its chief proponent, Sen. Brooks McCabe, also D-Kanawha, succeeded in getting the ban removed in Gov. Joe Manchin's energy portfolio when it exited the Senate.
Nuclear power plants get little state support | NewsOK.com
"Nuclear power accounted for nearly 20 percent of the electricity generated in the United States in 2008.
• 19.6: Percentage of U.S. electric generation derived from nuclear reactors in 2008
• 14: Percentage of electricity generated by nuclear power worldwide in 2008
• 31: States with operational nuclear reactors
• 6: States that derive the largest percentage of their electricity from nuclear power
• 104: Number of operational nuclear reactors in the U.S.
• 1982: Year Public Service Co. of Oklahoma canceled plans to build a nuclear plant near Inola
Source: Nuclear Energy Institute, Oklahoman archives
Advocates such as the Nuclear Energy Institute claim it is the country's "largest source of clean-air, carbon-free electricity, producing no greenhouse gases or air pollutants.
Nuclear also has the lowest operations and maintenance costs of any fuel source, NEI spokesman Mitch Singer said.
But none of that matters to Oklahoma's two largest power companies.
"We have no plans to build or explore a nuclear option, Oklahoma Gas and Electric Co. spokesman Brian Alford said. "It's cost prohibitive for utilities of our size.
Costs, plant age obstacles to nuclear renaissance – Yahoo! Finance
"The renaissance of nuclear power in the U.S. appears inevitable. It just may not happen as smoothly as the Obama administration and others hope.
The Vermont Senate's vote Wednesday to block a license renewal for an Entergy plant shows that supporters of nuclear power still have big obstacles to overcome. Those include the growing costs for new plants, environmental worries and the age of the country's existing nuclear fleet.
"I think if you said 'ready, go' today, any kind of meaningful addition would be 10 years down the road," said Eric Melvin of Mobius Risk."
Vermont State Legislature Taps Whistleblower Expertise for Oversight – The Project On Government Oversight (POGO) Blog
"POGO often talks about how not to treat whistleblowers"retaliating against them, ignoring them, and marginalizing them—yet we often do not hear about how government agencies should treat someone who shines the light on significant wrongdoing.
This morning's broadcast of Democracy Now! provides an example of how legislators, and inspectors general (IG), can pick up the baton from a whistleblower. Democracy Now's host Amy Goodman interviews Arnie Gundersen, a nuclear engineer and former vice president of his power plant who blew the whistle on inadequate storage of radioactive material at the Vermont Yankee nuclear power plant 20 years ago. While the Nuclear Regulatory Commission did not confirm his allegations, then-Ohio Senator John Glenn and the IG substantiated his allegations.
Davis-Besse shutdown is boon for local biz | thenews-messenger.com | The News-Messenger

"The biennial shutdown of Davis-Besse nuclear power plant is bringing hundreds of contractors — and their money — to Ottawa County.
"Every two years we shut down the plant to refuel the reactor," said Todd Schneider, spokesman for First Energy.
"We're going to have about 1,200 contractors in the area during that period of time, plus about 100 additional First Energy employees in the area from our other two nuclear plants. They come and assist.""
Holdren Takes Lumps From House Panel on Scientific Integrity – ScienceInsider
"Presidential science adviser John Holdren found himself in some hotter-than-usual water today during a congressional hearing on the Administration's proposed 2011 research budget. Legislators from both sides of the aisle pressed Holdren to explain several recent Administration decisions that they felt had failed to take into account sound science. And their ire was fueled by Holdren's confession that a report on how to improve scientific integrity among federal agencies is almost 8 months overdue.
In March of last year President Barack Obama directed Holden to develop guidelines "designed to guarantee scientific integrity throughout the executive branch." The exercise was a reaction to several celebrated incidents during the Bush Administration in which scientists had been muzzled, documents altered, and information withheld from the public. Due in July, the proposed guidelines are still being vetted by senior officials at several agencies. "
Japan's Global Warming Bill Lacks Nuclear Power, Nikkei Says – Bloomberg.com
"Japan's proposed global warming legislation does not include the promotion of nuclear power, Nikkei English News reported, without saying how it obtained the information. "
Gates goes nuclear in zero carbon vision on Environmental Expert
"Bill Gates has called for a dramatic increase in R&D investment for low carbon technologies, including his own new pet project into advanced nuclear reactors, warning that developed countries will need to completely decarbonise the energy they use by 2050 if they are to avert the worst effects of climate change.
Speaking at the annual TED Summit in California late last week, the billionaire philanthropist and Microsoft chairman, said the widely accepted goal of reducing carbon emissions by 50 to 80 per cent by mid-century was likely to prove insufficiently ambitious.
Outlining the so-called COPSEC equation, which states that carbon emissions are a factor of population, services, energy and carbon per unit of energy, Gates argued that with population and consumption of services set to rise and improvements in energy efficiency able to go only so far, the way to deliver deep cuts in carbon emissions is to reduce CO2 per unit of energy to zero."
Atlanta Progressive News: Activists Criticize Obama's Nuclear Power Loan Guarantees
"President Barack Obama's announcement last week that he has promised funding in the Fiscal Year 2011 budget for new nuclear power reactors in the US, with some 54.5 billion dollars in federal loan guarantees, has ignited a firestorm of local and national resistance.
Obama also announced that Atlanta-based Southern Company has been conditionally approved for 8.3 billion dollars in loan guarantees for two new nuclear reactors to be built at Plant Vogtle in Burke County, Georgia. The Obama Administration is considering at least a half-dozen additional loan applications for nuclear projects. The Vogtle expansion would be the first new nuclear plants in the US in 30 years."
Obama asks taxpayers to shoulder nuclear risk | MNN – Mother Nature Network
"Banks won't touch them they are so financially risky. So why does Obama want U.S. taxpayers to fund nuclear plants when there is a 50% chance they will fail?
Whether you are Republican or Democrat, pro-nuclear or anti-nuclear, you probably will agree with me that it is wrong to ask the American taxpayers to fund an investment that is so risky it has a 50 percent chance of failing."
Harvey Wasserman: $600 Million Lipstick for a Dead Radioactive Pig
"The mystery has been solved.
Where is this "new reactor renaissance" coming from?
There has been no deep, thoughtful re-making or re-evaluation of atomic technology. No solution to the nuke waste problem. No making reactors economically sound. No private insurance against radioactive disasters by terror or error. No grassroots citizens now desperate to live near fragile containment domes and outtake pipes spewing radioactive tritium at 27 US reactors.
No, nothing about atomic energy has really changed.
Except this: $645 million spent on lobbying and media manipulation."
PDF: Garrett-Peltier: Jobs created per $1 million investment
This is a table of listing dozens of job categories and the number of jobs created, either direct, indirect, or induced. It includes a total of the three.
Note that nuclear power is one of the worst on the list.
Germany to be nuclear-power-free by 2030 – The Local
"Environment Minister Norbert Röttgen predicted on Saturday that Germany would be free of nuclear power by 2030, eight years later than originally planned.
* Merkel plans major tour of US in April – National (21 Feb 10)
* US 'accepts' German troop increase – Politics (27 Jan 10)
* Obama musical thrills ardent German fans – Society (18 Jan 10)
Röttgen, a member of the conservative Christian Democrats, told the Frankfurter Rundschau newspaper that even by the most sceptical of forecasts, Germany would reach its goal of getting 40 percent of its energy from renewable sources by 2030, thus allowing the country's remaining nuclear power stations to shut down. Renewable sources currently supply 16 percent of Germany's electricity."
Nuclear questions left unanswered – thestar.com
What will keep the lights on in Ontario 10 years from now?
That question was left unanswered this week when the province announced it would spend $300 million to keep the Pickering nuclear station open for another decade before mothballing it.
There was no announcement on what will replace Pickering's aging Candu reactors and their 3,000 megawatts of power (about 10 per cent of Ontario's electricity capacity) after the station closes in 2020.
The provincial government wants to build two next-generation Candu reactors at its Darlington nuclear station. But the price tag on those reactors (a reported $26 billion) caused the government sticker shock, and the procurement process was suspended last June.
Environmentalists say not to worry, that a combination of renewable energy installations (wind, solar, etc.) and conservation programs will fill the power gap. But industrial power users are not counting on that. Nor should residential consumers."
Steelworkers Say Reactors Will Create Overseas Jobs – NYTimes.com
"The United Steelworkers union has complained that a government-backed plan to build two nuclear reactors in Georgia will create jobs overseas that should go to American workers.
The Vogtle nuclear power plant in Waynesboro, Ga. A new project would create construction jobs at the plant.
Construction vehicles at the Vogtle nuclear power plant in Waynesboro, Ga. Southern Company hopes to operate new reactors.
President Obama announced the government's approval of an $8.3 billion loan guarantee for the construction of the reactors on Tuesday, saying that one benefit of the project would be to create jobs.
But in a letter sent to the Nuclear Regulatory Commission, the international president of the union, Leo W. Gerard, said that he was concerned about "the potential foreign sourcing of components for these reactors, which he said limits our nation's ability to address our unacceptably high unemployment rate."
UKAEA out in front when it comes to scams and cons – The Inverness Courier
"There are con men who rip people off using the most transparent of ruses. The best one yet was the guy who nailed up a wooden box next to a bank night safe. Then he posted a sign saying "night safe out of order, please use box". A short while later he took the box down, making off with several hundred pounds. You know, it was so simple (and those falling prey to the scam were so unbelievably naive) that the guy almost deserved the money.
There are politicians who can promise the sun, moon and stars and, lo and behold, people go out and vote for them.
And I'm sick to death of the number of e-mail scams which go the rounds. Every couple of weeks another scam will arrive in the in-box, often forwarded by folks who should know a lot better."
Areva Says U.S. Loan Plan to Create Enormous' Nuclear Market – Bloomberg.com
"- Areva SA, the world's biggest reactor builder, said the successful execution of the U.S. nuclear-loan guarantee program and the ability of companies to deliver on time and on cost will lead to an enormous market.
Southern Co. and its partners received $8.33 billion of federal conditional loan guarantees earlier this week to build the first nuclear reactors in the U.S. in three decades. Jacques Besnainou, chief executive officer of Areva's U.S. unit, is in the process of licensing its EPR nuclear-generator design, which is also a candidate for U.S. financial support.
For me, they are not competitors, we are competi-mates, Besnainou said about nuclear-plant builders in an interview in Bethesda, Maryland, yesterday. What Wall Street needs to see, and Main Street as well, is that we are able to build on time, on budget."
SentinelSource.com | SENTINEL EDITORIAL: Barack Obama's nuclear energy policy differs from his campaign statements
"President Barack Obama has dramatically adjusted his attitude toward nuclear safety since he visited The Sentinel as a candidate in 2007.
Then he said he was an agnostic on nuclear power. This week, he took over the choir. He will make available $8.3 billion in federal loan guarantees for construction of the first U.S. nuclear power plants since the Seabrook fiasco in the 1980s. He touted the number of jobs to be created, the need to reduce greenhouse gasses and a boost for U.S. technological competitiveness.
And he said the grant for two reactors in Georgia is only the beginning. His upcoming budget includes more than $50 billion for nuclear construction. Loan guarantees by taxpayers are necessary because private lenders believe investments in nuclear power are too risky.
During his campaign visit to The Sentinel, Obama was more nuanced. Given the importance of reducing carbon emissions, he said, "nuclear should be in the mix  if we can make it safe, we know how to store (the nuclear waste and) we can make sure that it's not vulnerable to terrorist attack. But he cautioned that those safety questions may not be solvable. And if they are not solvable, then I don't want to invest in it.
---
Nuclear Weapons News
Treatment of atom bomb veterans a 'national disgrace'
"ONE of Australia's most respected military figures has joined veterans' groups in calling for war benefits to be paid to Australian servicemen who were exposed to British atom bomb tests in the 1950s.
The retired major-general, Alan Stretton, who led the reconstruction of Darwin after Cyclone Tracy and commanded Australia's troops in Vietnam, said a declaration stating the tests constituted "non-warlike, hazardous" operations would give former servicemen and their widows access to the same entitlements as other war veterans."
Atomic bomb 'revelations' skilfully retold by Pellegrino – Winnipeg Free Press
"Events surrounding the atomic bombs dropped on Japan in 1945 have been recounted, analyzed and moralized by so many others that having Pellegrino reconstruct them implies opportunism once again.
Even the attached bibliography appears to attest to this wordsmith's knack at resurrecting history in time for the 65th anniversary of the devastation of two cities that killed almost 200,000 residents."
Barack Obama orders new nuclear review amid growing feud | World news | The Observer
"President Barack Obama has ordered the rewriting of the draft new US Nuclear Posture Review (NPR), amid frustration in the White House that the document fails to reflect his aspirations for a nuclear-weapons-free world and an end to "cold war thinking".
The review, drawn up by each administration, sets the doctrine justifying both the retention of nuclear weapons and the circumstances in which they might be used. It also determines more practical issues, including nuclear force readiness, targeting and war planning.
The rejected draft described in its present form as merely a "tweaked version of George Bush's NPR" has become the subject of a bitter tug of war between the Department of Defense, the National Security Council and a White House"
A recurring nuclear nightmare – The Boston Globe
"PRESIDENT OBAMA must have discovered the cure for radiation-induced cancer, the solution for long-term safe storage of nuclear waste, and the secure containment of nuclear materials from theft or terrorist attack at nuclear power plants. Why else would he propose to expand nuclear power plants with an additional $54 billion in loan guarantees to the already heavily subsidized nuclear industry?
COMMENTS (60)
It's more likely that the president is poised to repeat the same costly mistakes of the past at the expense of public health and safety and national security."
U.S. ambassador to Russia names four nuke threats to international security | Top Russian news and analysis online | 'RIA Novosti' newswire

"U.S. Ambassador to Russia John Beyrle named on Wednesday four main nuclear-connected threats to international security.
"Despite constructive cooperation with Russia, the global non-proliferation regime is under great stress," the U.S. diplomat said during a conference on nuclear nonproliferation in the Russian capital, Moscow, which took place ahead of the 2010 Nuclear Non-Proliferation Treaty Review Conference due in New York on May 3-28.
Beyrle said the first challenge is "the growing interest by countries and non-state actors in acquiring sensitive nuclear technology." The second is "the gaps in the verification system of the IAEA, which complicate its ability to detect undeclared nuclear activity."
The third challenge, according to Beyrle, is "the failure of a handful of states… to comply fully with their obligations under the NPT and in particular IAEA safeguards agreements," and the fourth is "the threat of nuclear terrorism.""
U.S. allies pressure Obama over nuke plans | The Cable
"In an unprecedented display of Japanese concern about U.S. nuclear plans, more than 200 Japanese parliamentarians have written to President Obama asking him to drastically alter the U.S. approach to nuclear weapons.
The letter comes as the Obama administration is putting the final touches on its wholesale review of nuclear weapons policy, called the Nuclear Posture Review.
"As members of the Diet of the only country to have experienced nuclear bombings … We strongly desire that the United States immediately adopt a declaratory policy stating that the sole purpose' of U.S. nuclear weapons is to deter others from using such weapons," said the letter, which Japanese lawmakers hand delivered to U.S. Ambassador John Roos on Feb. 19. "
AFP: Allied bid for Obama to remove US European nuclear stockpile

"European NATO allies are to urge President Barack Obama to remove all remaining US nuclear weapons from European soil, as domestic pressure grows to rid its soil of outdated Cold War-era aerial bombs.
Belgium, Germany, Luxembourg, The Netherlands and Norway will call "in the coming weeks" for more than 200 American warheads, mostly stocked in Italy and Turkey, to be taken back, a spokesman for Prime Minister Yves Leterme told AFP.
A joint proposal by the five NATO members will demand "that nuclear arms on European soil belonging to other NATO member states are removed," Dominique Dehaene said."
---
Department of Energy News
Hanford News: Work halted to dig up waste in central Hanford
"Work has stopped to dig up waste contaminated with plutonium at Hanford after two incidents earlier this month.
Problems related to the incidents included hazards not being adequately identified and responsibilities of workers not matching their training or qualifications, said Defense Nuclear Facilities Safety Board staff in a weekly report just released.
"Worker and management responses demonstrated a failure to implement lessons learned" from previous problems encountered by other Hanford contractors, the safety board report said.
CH2M Hill Plateau Remediation Co. has been digging up transuranic waste, typically waste contaminated with plutonium, that was temporarily buried after 1970."
Hanford News: 4 companies interested in Hanford energy park
"There are four "fairly firm" proposals from companies interested in a proposed energy park at Hanford that would help provide power to the vitrification plant under construction at the site, a representative of the Mid-Columbia Energy Initiative said Tuesday.
The Mid-Columbia Energy Initiative, a group seeking to establish the energy park, is working to secure 20 square miles of reclaimed land on the Hanford site for the energy park by 2013 and 60 square miles by 2015.
Gary Petersen, vice president of Hanford programs for the Tri-City Development Council, told Richland City Council members at a Tuesday workshop that the types of energy the companies interested in the park would provide include piped natural gas supplied by Cascade Natural Gas, and biofuel, anhydrous ammonia and liquefied natural gas plants."
Hanford News: Hanford's risks are large: Energy Department outlines options for nuclear waste cleanup
"Even after billions of dollars are spent cleaning up the Hanford Nuclear Reservation, radioactive waste could threaten the Columbia River for thousands of years to come.
A government analysis shows that hot spots of uranium, strontium 90 and other potential carcinogens could linger in Hanford's groundwater for nearly 10,000 years. The analysis is part of a 6,000-page document outlining the U.S. Department of Energy's options for dealing with leaky underground storage tanks.
But that's a worst-case scenario, Department of Energy officials said Tuesday night. The goal is to ensure that groundwater leaving Hanford after the cleanup meets drinking water standards, they said.
Officials faced a skeptical crowd at a public meeting in Spokane.
"The impacts to the groundwater and the people who will use it are shockingly high," said Gerry Pollet, executive director of Heart of America Northwest, a Seattle-based Hanford watchdog group that advocates stricter cleanup standards. "Our grandchildren will be exposed to this. People will drink that groundwater. It's a valuable resource and it's only going to get more valuable.""
Oak Ridge Slow to Secure Stock of Uranium-233 – The Project On Government Oversight (POGO) Blog
"On Monday, the Department of Energy (DOE) Inspector General (IG) released a report on why it has been taking so long for DOE to secure the stock of Uranium-233 (U-233) at the Oak Ridge National Laboratory (ORNL). The stock of U-233, a highly radioactive isotope with dangerous properties, still sits in a "deteriorating" ORNL facility even though DOE began planning to dispose of the material back in 2001.
As some of you may recall, POGO actually has some pretty direct experience with this material. During a 2005 site visit, POGO investigators were able to park in front of the ORNL building that held the 1,000 cans of U-233 and walk around for about 15 minutes before guards finally approached them and escorted them from the area. We determined that ORNL was the most vulnerable site in the U.S. nuclear weapons complex."
Munger: IG report chides DOE for U-233 project woes » Knoxville News Sentinel
"The Department of Energy's Inspector General this week released an audit report critical of the agency's management of the uranium-233 down-blending and disposition project in Oak Ridge. The report cited the project's growing cost and continuing uncertainties.
The project, which is still in the design phase, is supposed to process about 1.4 metric tons of uranium stored at Oak Ridge National Laboratory. The uranium stockpile contains significant quantities of fissionable U-233 – a strategic nuclear material – with highly radioactive decay products that make the project complex and potentially dangerous. The current cost estimate is about $477 million."
---
Other Energy News
Nuclear Reactors, Dams at Risk Due to Global Warming

"This story is part of a special series that explores the global water crisis. For more clean water news, photos, and information, visit National Geographic's Freshwater Web site.
As climate change throws Earth's water cycle off-kilter, the world's energy infrastructure may end up in hot water, experts say.
From hydropower installations in the Himalaya to nuclear power plants in Western Europe, energy resources are already being impacted by flooding, heat waves, drought, and more. (Explore an interactive map of global warming effects.)
Traditionally power plants and energy facilities have been built for the long haul—the circa-1936 Hoover Dam in Nevada is still a major hydroelectric generator."
Hybrid' US climate legislation likely to back track on some environmental promise to throw big bones to industry – Bellona

"For weeks following Predident Barack Obama's State of the Union address, in which he more or less put at arms length or overturned some of the brighter climate promises he had made only a year before, his administration is spreading itself thin to come up with climate and energy legislation that will pass the Senate. Charles Digges, 23/02-2010
So scattered have become the problems of placating partisan interests that the climate legislation submitted to the Senate in October after its landmark passage by the House of Representatives is now being referred to wryly by some observers and American media as the "hybrid" energy bill. "
Government Study Shows U.S. Wind Resources Larger than Previously Estimated | Alison Pruitt
"A new study by the Department of Energy's National Renewable Energy Laboratory (NREL) has revealed that U.S. wind resources are far greater than previously believed.
The study, a collaborative project between NREL and AWS Truewind, LLC, of Albany, New York, created resource maps and wind potential tables for 48 states. The recent study is the first comprehensive update of the wind energy potential by state since 1993.
The resource maps for the contiguous United States, and separately for each state, show the predicted mean annual wind speeds at 80-meter height. They are derived from 200-meter resolution maps developed by AWS Truewind for the windNavigator system.
Areas with annual average wind speeds around 6.5 m/s and greater at 80-meter height are generally considered to have suitable wind resources for wind development"
---
Nuclear Editorial and Opinions
The Nuclear Bomb in your Electric Bill | Energy |Axisoflogic.com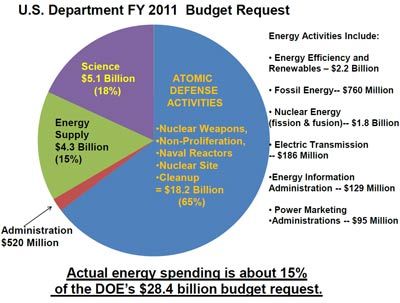 "Obama's provision of $54 billion in loan guarantees to the nuclear industry will cost Americans much more than the probable 50% default rate that the Congressional Budget Office anticipates. While the federal government will guarantee the profits of investors, rate payers will suffer the inevitable rate hikes.
Higher electric rates will appear, not when plants begin operating, but years, if not decades, before they come on line. Several states allow customers to be billed for expensive new nuclear plants in advance. Naturally, these are the states where the initial, new, entirely untested, plants are proposed for construction. This arrangement further reduces investor exposure to cost over-runs or rising interest rates that are imposed due to the downgrading of credit ratings for facilities with deteriorating economic prospects."
If You Think Nuclear Power is Safe and Clean

"If You Think Nuclear Power is Safe and Clean (like the President does), think again (like the President should)!
President Obama thinks he can jumpstart a new generation of safe and clean nuclear power plants.
Nuclear power is neither safe nor clean, nor cheap, nor useful, nor vital, nor good for America. And no "new" nuclear power plant design will make nuclear power any of these things."
New Nuclear to be Hoist on its own Petard

""…the phrase hoist with one's own petard…means 'to be harmed by one's own plan to harm someone else' or 'to fall into one's own trap'…" (Wikipedia)
Announcements from the Obama administration of new financial support for the nuclear industry were met by declarations that the long-anticipated nuclear renaissance is finally at hand but the reality is quite different. There is a very real possibility that the President has just caught the nuclear industry in a trap of its own making.
In February 8's ANOTHER NAIL IN NUCLEAR'S COFFIN, NewEnergyNews laid out the case (made in a recent paper, many papers before it, and many authorities over the last decade not the least of which is energy guru Amory Lovins) that there is a list of reasons why nuclear energy is simply not a wise choice for a smart society:"
Alec Baldwin: The Hidden Costs of Nuclear Power
"Sitting in Bill Richardson's office while he was Secretary of Energy under President Clinton was an opportunity that my colleagues and I from Standing for Truth About Radiation had worked hard to obtain. We wanted Richardson to not only close the research reactor at Brookhaven National Laboratory on Long Island, but also to shut down the Millstone plant in Waterford, Connecticut, which we asserted had been killing enormous amounts of fish with its water intake system for cooling. Local groups had been charging Millstone with destroying millions of pounds of local fish and with pumping superheated water back into the Long Island Sound, the temperatures of which had negatively impacted fish and shellfish habitat for decades.
Richardson, like any DOE Secretary before or after him, wasn't all that interested in closing Millstone. Everywhere we went, government officials like Richardson invoked the figure "20 percent." Twenty percent of domestic power in the US is derived from nuclear energy. The clean and safe source of power."
Why do Augusta nuke plants deserve taxpayer money? | Cynthia Tucker
"Johnny Isakson and Saxby Chambliss were happy to claim credit for the Obama administration's announcement that it was guaranteeing loans that would help build nuclear reactors on Georgia's coast. But it's an odd thing for the two Republicans, who usually argue that the government ought to stay out of private industry.
In fact, economists might argue that the huge government subsidies are little different from the bank bail-outs and bail-outs for the automotive industry.Liberals and conservatives have argued against the federal guarantees. From the WaPo:"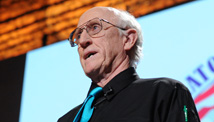 Nuclear power's time has come – CNN.com
"For decades, pioneering environmentalist Stewart Brand, the founder and editor of the Whole Earth Catalog, opposed the use of nuclear power. Now he sees it as vital to efforts to combat climate change.
Earlier this month, Brand made the case for nuclear power in a debate with Stanford University professor Mark Jacobson at the TED Conference in Long Beach, California. (TED is a nonprofit that took its name from the subjects of technology, information and design and is dedicated to "Ideas worth spreading." It publishes talks on all subjects at http://www.ted.com/)"
Stop The Nukespeak: Tell Us The Truth About Nuclear Power!

"Nearly twenty years ago I co-wrote Nukespeak, a cultural history of the selling of nuclear technology for both peaceful and military purposes.
My co-authors and I dedicated the book to George Orwell, whose literary creation of newspeak' in the classic novel 1984 illustrated the power to control reality through the adroit manipulation of language. The euphemisms, obfuscations and omissions employed by nuclear boosters throughout both industry and government  what one writer has called the linguistic cosmetics used to avoid communicating uncomfortable or threatening thoughts so that the nuclear industry can control the images and perceptions of nuclear power were so clearly reminiscent of Orwellian thought control that the homage seemed, if anything, perhaps a little too obvious."
COMMENTARY: What Every Citizen Should Now Know About Nukes – Huntington News Network
"uclear terrorism and the possibility of a nuclear weapon unleashed in any city present the greatest potential threat to US security, public health and the economy. Current and future US nuclear policy will be presented March 1st when President Obama is scheduled to release the Nuclear Posture Review (NPR) as mandated by congress. This follows the recent Quadrennial Review of the Department of Defense strategy and priorities.
The NPR outlines to our allies and the world the US position on the role nuclear weapons play in our security. President Obama has joined bipartisan architects of cold war nuclear and security policy, the so called gang of four including former Secretaries of State Henry Kissinger and George Schultz, former Defense Secretary William Perry and Former Senator Sam Nunn head of the Senate Arms Services Committee in stating his vision of a world without nuclear weapons in his speech delivered in Prague last April. The NPR formulated in consultation with the Departments of Defense, Energy and State will provide the opportunity to lay out the means of making this critical vision a reality.
EDITORIAL: Malice in Obamaland – Washington Times
""If you don't know where you're going, any road will get you there," the Cheshire Cat said in Lewis Carroll's "Alice in Wonderland." The inscrutable feline might have been referring to the tortuous path of U.S. nuclear energy policy over the past 30 years. Unsurprisingly, President Obama has been equally ambiguous in his recent dealings with the nuclear industry.
On Tuesday, the president announced with great fanfare loan guarantees worth $8.3 billion for new reactors in Georgia. The act ostensibly makes good on his recent State of the Union pledge to renew federal support for nuclear power as one component in the drive toward national energy independence."
The Top Nuclear Stories is published twice weekly. It is a produced using a combination of social bookmarking and programming. You can view or join the public group and add your own stories by going here -> http://groups.diigo.com/groups/nukenews