A modest week in the news.  Boy, I wished somebody else knew how to work with social bookmarks!
On the international scene, the British Labour Party announced their latest, brand new push to build 10 new reactors. A Turkish court blocked a new reactor while there is a growing fear that UAE, they practice torture, could destabilize the world's nuclear security if they are allowed to construct $40 billion worth of reactors.  Iran, continues to block the push to take over their fuel-production by Russia.
On the US level, there was a lot of safety news, as well as another round of death rattling at Yucca Mountain.  Ed Markey finally did something somewhat brave, with his letter stating that there would be no loans without COL's in place. Our buddy at DOE met with tribal leaders nationwide.  There's no details yet on just what took place, but it was a rare moment when all of Obama's cabinet members met with tribes.  Harvey did a piece on the state of nukes in the US and there was a lot of news out of Utah around DU waste.  I'm gonna be short this time. Go for it.
---
Top Nuclear Stories Index
---
Nuclear Reactor New
Nuke plant may be cited for violations | The Times Leader, Wilkes-Barre, PA
PPL Corp.'s Susquehanna nuclear station in Salem Township failed to ensure two staff members met medical requirements, an inspection of the power plant found. The company could be cited for the apparent violations and receive additional future scrutiny, the federal Nuclear Regulatory Commission announced on Friday.
The NRC, which performed the inspection, found that two senior reactor operators failed to meet the medical prerequisites for their individual licenses. One operator worked after failing an eye examination, PPL spokesman Joe Scopelliti said. The other worked for about three months after the deadline for a biennial medical exam had expired.
Land trouble may trip N-power in Gujarat
Vashram Patel, a farmer in the Jasapara village in Gujarat, says it is better to fight and die on his land rather than move to another place.
Most of us are illiterate and we have done nothing except farming for generations now. Where will we go? Patel asks, signalling the beginning of yet another land acquisition problem in India.
Patel's angst may spell trouble for Nuclear Power Corporation (NPC) which is planning to set up a 6,000 Mw nuclear power project in the area.
NPC is facing protests from farmers who are refusing to make way for the Rs 50,000 crore project, the first major initiative after the civilian nuclear agreement between India and the US.
Groups fight TVA plan to discharge water from Kingston plant into Clinch River | tennessean.com | The Tennessean

Three environmental groups want the state to throw out a permit it just issued that would allow TVA to dump water tainted with mercury, selenium, arsenic, and other chemicals from the Kingston coal-fired power plant into the Clinch River.
The Clinch, which lies below the power plant, has already received ash moving down the Emory River from the massive ash spill last December.
Earthjustice, Environmental Integrity Project, and the Sierra Club on Thursday filed an appeal of a water discharge permit that the Tennessee Department of Environment & Conservation issued four weeks ago.
They say letting TVA pipe one million gallons of wastewater a day from a pond with gypsum into the river isn't wise. The material will be a byproduct of the plant's new air pollution system.
Markey: No Nuclear Loan Guarantees Without COLs :: POWER Magazine
Loan guarantees for new nuclear power plants in the U.S. should not be awarded until the Nuclear Regulatory Commission (NRC) has fully reviewed plans for a proposed project and granted it a combined construction and operating license (COL), Rep. Ed Markey (D-Mass.) told Energy Secretary Steven Chu last week.
Otherwise valuable taxpayer support would be set aside for a project that may not pass regulatory review, the chair of the House Energy and Environment Subcommittee said in a letter (PDF) to Chu.
The congressman's concerns were raised by the NRC's Oct. 16 notice to Westinghouse Electric Co. that it had not adequately demonstrated the structural strength of certain components of its AP1000 reactor design, specifically for the shield building. The shield building protects the reactor's primary containment from severe weather and other events, but it also provides a radiation barrier during normal operation and supports an emergency cooling water tank.
Nuclear plant wall found to have flaw | HeraldTribune.com | Sarasota Florida |
Utility officials and regulators next week will review an analysis of what caused a crack in the concrete wall of the Crystal River nuclear plant's containment building.
Progress Energy will also present repair plans for the crack, which was discovered Oct. 2 as the utility was cutting a hole in the containment building wall to replace two generators.
The Nuclear Regulatory Commission will also share its findings of what caused the concrete in the 42-inch-thick wall that surrounds the nuclear reactor to crack. The NRC sent its own team of inspectors to survey the plant.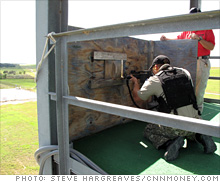 Security of nuclear power plants in the age of terrorism – Nov. 12, 2009
The government says nuclear power is safe, but others say an airplane hit or frontal assault would be big trouble.
BAY CITY, Texas (CNNMoney.com) — At a nuclear power plant in Texas, two men dressed in combat gear are perched atop a steel-framed watchtower armed with assault rifles, firing on both moving and stationary targets some 300 yards away.
This is only a drill, but the threat they're preparing for is very real. It's one of the worst disaster scenarios imaginable: Terrorists infiltrate a nuclear power plant and cause a meltdown.
Pretty Dungeness cottage for sale: don't mention the nuclear plant – Times Online
To an estate agent it was a charming fisherman's cottage on the Kent coast. To anyone else, it was the two nuclear power stations next door that were the main feature. The cottage in Dungeness was highlighted recently after agents found no space in the for sale advert to mention the power plants, which were nowhere to be seen in accompanying photographs either.
Though the agents have not been accused of any offence, some viewers were appalled to discover the perimeter fence 100 yards from the front door when they arrived. It was unbelievable. I had seen the property online and thought it looked just right for me and my family, said Alex Robertson, 32."The photos make out it is an isolated cottage with nothing surrounding it" but that could not be further from the truth.
Reactor Designs Concerns Raise Specter Of Nuclear Plant Delays
Regulators' concerns about two new nuclear reactor designs could throw a wrench in energy companies' plans for a build-out of nuclear power plants in the U.S.
Regulators in France, the U.K. and Finland told French nuclear powerhouse Areva S.A. (CEI.FR) earlier this month to fix a flaw in the safety systems for its EPR reactor, which the company is also seeking to license in the U.S. And in October, the U.S. Nuclear Regulatory Commission rejected a modified version of the AP1000 reactor, designed by Toshiba Corp.'s (6502.TO) Westinghouse Electric Co., citing concerns about structural integrity.
Regulatory delays could force U.S. power companies like Scana Corp. (SCG) and PPL Corp. (PPL) to push back their timetables for building nuclear power plants using the new reactor technology, though both of these companies say their plans currently remain on track. More than a decade after the last commercial nuclear reactor was completed in the U.S., such delays could lead to the kinds of cost overruns that plagued developers in the first wave of U.S. nuclear power plant construction.
Turkish court blocks nuclear plant project – Hurriyet Daily News and Economic Review

"The Council of State has suspended three articles in the regulations governing the tender process," the Union of Turkish Engineers' and Architects' Chambers, or TMMOB, said in a statement.
"With this decision, the nuclear power plant tender has legally ended. It has been rendered invalid," it stated.
There was no immediate response from the government to the court decision.
The tender process has been under fire since it emerged in September last year that only one consortium had bid for the project and offered an above-market price.
The consortium, including Russia's Inter Rao and Turkey's Park Teknik, later revised down its proposed price for supplying electricity, but Ankara said the new offer was also very high.
Progress Energy to review findings on crack in nuclear plant wall
Utility officials and regulators next week will review an analysis of what caused a crack in the concrete wall of the Crystal River nuclear plant's containment building.
Progress Energy also will present repair plans for the crack discovered Oct. 2 as the utility was cutting a hole in the containment building wall to replace two generators.
The Nuclear Regulatory Commission will also share its findings of what caused the concrete in the 42-inch-thick wall that surrounds the nuclear reactor to crack. The NRC sent its own team of inspectors to survey the plant.
CPS Energy sends team to Japan to negotiate cut in nuclear power costs – San Antonio Business Journal:
CPS Energy CEO Milton Lee and Interim General Manager Steve Bartley are heading to Japan on Tuesday to square off behind closed door meetings with Toshiba Corp. officials to discuss why the cost projection on two new nuclear reactors are higher than expected.
Toshiba Power Systems is the lead contractor for the proposed expansion of the South Texas Project nuclear power plant in Matagorda County, Texas. There have been reports indicating that the price tag could be as much as $4 billion higher than originally projected. CPS Energy's partner in the South Texas Project expansion, NRG Energy, will also be involved with discussions. CPS Energy will press the Japanese for a pricing structure on the two new reactors that is more affordable than the current cost projection. CPS Energy wants the cost of the nuclear reactors to have no more than a 5 percent impact on customer bills, Bartley says.
Joint Regulatory Position Statement on the EPR Pressurised Water Reactor
The UK nuclear safety regulator (HSE's ND), the French nuclear regulator (ASN), and the Finnish nuclear regulator (STUK) are currently working to assess the EPR Pressurised Water Reactor.
In carrying out individual assessments, we have all raised issues regarding the EPR Control and Instrumentation (C&I) systems, which the proposed licensees and/or the manufacturer (AREVA) are in the process of addressing.
Although the EPR design being developed for each country varies slightly, the issues we raised with the current C&I system are broadly similar, our aim being to collectively obtain the highest levels of safety from the EPR.
The issue is primarily around ensuring the adequacy of the safety systems (those used to maintain control of the plant if it goes outside normal conditions), and their independence from the control systems (those used to operate the plant under normal conditions).
EDF stops refuelling at Tricastin 2 after incident | Reuters
An incident at EDF's Tricastin plant in southeast France late on Thursday forced the company to stop refuelling operations at the reactor 2, which started on Oct. 31, it said on Friday.
The incident occurred during refuelling of the reactor, when a fuel assembly got stuck in the pressure vessel, EDF said in a statement.
A similar incident took place in Sept. 2008 in the same reactor during refuelling operations and it took around two months for EDF to resolve the problem. "The incident took place at 2215 GMT," a source at the plant told Reuters on Friday. "We are very worried about this especially as this already happened just a year ago," he added.
Feds extends Shippingport nuke licenses 20 years – News National & World, News Watch – Vindy.com, The Vindicator
The Nuclear Regulatory Commission has extended the operating license for two nuclear reactors in western Pennsylvania by 20 years each.
The NRC extended the licenses Thursday after a series of reviews an inspections at FirstEnergy Corp.'s Beaver Valley Unit 1 and Unit 2 reactors in Shippingport, about 30 miles northwest of Pittsburgh.
The original 40-year operating license for Unit 1 expires in January 2016 while Unit 2's license runs until May 2027. Those licenses now run until 2036 and 2047, respectively.
The Unit 1 reactor went online in 1976 and Unit 2 in 1987.
Constellation Energy, EDF close $4.5B nuclear deal – Baltimore Business Journal:
Constellation Energy Group Inc. and EDF Group have closed their $4.5 billion joint venture, the companies said Friday.
The agreement ends a nearly year-long drama that had been playing out since the nation's financial markets began to freefall in September 2008. The deal survived scrutinizing regulatory review and political fire that spoiled a similar deal for Constellation in 2006.
The companies put out brief statements Friday announcing the deal had closed.
---
Nuclear Health and Safety News
US Department of Interior Issues Grants to Marshall Islands :: Everything Marshall Islands :: http://www.yokwe.net
DOI's Insular Affairs Assistant Secretary, Tony Babauta made available $1 million to support the Prior Service Trust Fund Administration. The PSTFA administers benefit payments to individuals in the Northern Mariana Islands, the Federated States of Micronesia, the Marshall Islands, and the Republic of Palau who worked for the U.S. Department of the Navy and the U.S. Trust Territory of the Pacific Islands. The program is designed to provide social security-type benefits to former employees of the TTPI government (or the predecessor-U.S. Navy administration) who were employed for at least five full years prior to 1968, when a TTPI Social Security System was created. The program also provides benefits to survivors of the former employees.
US drops safety claim for island / World / Home – Morning Star
Residents of the Puerto Rican island of Vieques celebrated at the weekend after a US agency dropped claims that no health hazards had been caused by decades of US military exercises on and around the island.
Some 7,000 past and current Vieques residents have filed a lawsuit seeking billions of dollars in compensation for illnesses that they say are linked to the use of the island as a bombing range.
The US Federal Agency for Toxic Substances and Disease Registry has now admitted that it must "modify" its earlier research on Vieques, which had purported to show that there had been no health risks generated.
Pills available for people downwind from Diablo – Local – SanLuisObispo.com

County public health officials are offering free doses of the radiation-blocking drug potassium iodide to people who live and work downwind of Diablo Canyon nuclear power plant.
The pills, also known by their chemical name KI, are available at six locations. They are only to be taken at the direction of public health officials in the event of a radiation leak at Diablo Canyon.
The county has enough doses to cover hundreds of thousands of people, said Michelle Shoresman, spokeswoman for the county public health department. They will be available as long as supplies last, which should be a year or so.
Toxic munitions 'may be cause' of baby deaths and deformities in Fallujah – Middle East, World – The Independent

Evidence was growing this weekend that babies born in the Iraqi city of Fallujah – scene in 2004 of one of the few set-piece battles of the invasion – are exhibiting high rates of mortality and birth defects.
In September this year, say campaigners, 170 children were born at Fallujah General Hospital, 24 per cent of whom died within seven days. Three-quarters of these exhibited deformities, including "children born with two heads, no heads, a single eye in their foreheads, or missing limbs". The comparable data for August 2002 – before the invasion – records 530 births, of whom six died and only one of whom was deformed.
The Associated Press: US health agency to take 'fresh look' at Vieques
A U.S. agency has overturned its 2003 research that said no health hazards were caused by decades of military exercises on Vieques, a bombing range-turned-tourist destination off Puerto Rico's east coast.
The federal Agency for Toxic Substances and Disease Registry said Friday it intends to "modify" some of its earlier research on Vieques, where the U.S. and its allies trained for conflicts from Vietnam to Iraq.
The agency, a part of the Centers for Disease Control and Prevention, used its own studies to conclude in 2003 that there was essentially no health risk from the bombing range — a conclusion widely criticized by academics and residents on the 18-mile-long island of less than 10,000 people.
Huge rise in birth defects in Falluja | World news | guardian.co.uk
Doctors in Iraq's war-ravaged enclave of Falluja are dealing with up to 15 times as many chronic deformities in infants and a spike in early life cancers that may be linked to toxic materials left over from the fighting.
The extraordinary rise in birth defects has crystallised over recent months as specialists working in Falluja's over-stretched health system have started compiling detailed clinical records of all babies born.
BBC NEWS | Litvinenko killing charge dropped
German prosecutors have dropped the case against a suspect in the murder of the Russian dissident, Alexander Litvinenko, in London.
Former KGB agent Mr Litvinenko died in 2006 after he was poisoned with the radioactive substance polonium-210.
Hamburg prosecutors say there is not enough evidence to continue investigating Russian Dmitri Kovtun.
Can radiation treatment hurt others? – The Cornwall Standard Freeholder – Ontario, CA
How careful do patients have to be following nuclear diagnostic tests, or after radiation for the treatment of cancer? How long do these nuclear materials remain in the body? And how long will this radiation remain detectable and transmissible to others?
A report from Johns Hopkins University says that patients, following radiation, must be made aware that they can pass along radiation to others. But unlike cholesterol, this subject is rarely, if ever, discussed at the dinner table. The problem is that nuclear diagnostic tests are not going to go away or decrease. Rather, unless we develop other means of diagnosis, these tests will increase in the years ahead.
During scans to detect thyroid disease, coronary troubles and cancer, radioactive drugs are either injected, taken orally or inhaled. Gamma cameras or positron emission tomography (PET) scanners can then detect this energy and use it to produce images of the body on a computer.
Joplin Independent:Medical scans seen as cause of cancer
… we know that doing 62 million scans every year for a population of 300 million is not just unnecessary and wasteful, but it's dangerous. It's producing tens of thousands of cancers.– Dr. Atul Gawande, Dana-Farber Cancer Institute, on NPR's Morning Edition, Sept. 3, 2009
Medical CT and PET scanners expose at least four million North Americans to high doses of radiation each year, a new study shows. Around 400,000 of them get very high doses, higher than the maximum annual doses allowed for nuclear reactor or nuclear weapon site workers, or anyone working with radioactive materials, according to an article in The New England Journal of Medicine (August 27, 2009), Exposure to Low-Dose Ionizing Radiation from Medical Imaging Procedures.
Radiation board requires safety report on depleted uranium – Salt Lake Tribune
EnergySolutions won't be able to bring more depleted uranium to Utah until the company proves the waste can be safely disposed in Tooele County for the long run.
That's what the Utah Radiation Control Board decided Tuesday by sticking to principles it adopted last month, even after the company threatened legal action.
The limit on DU, as depleted uranium is often called, does not go into effect for several months, and that leaves open a window for EnergySolutions to bring up to 15,000 drums of it from a government cleanup in South Carolina. But board members said their action Tuesday actually gets the safeguard in place sooner than originally expected.
EnergySolutions sent its attorney to the board meeting Tuesday to warn of potential legal consequences if the board did not backtrack on actions taken at its October meeting.
solomonstarnews.com – Compo unlikely for Bikini Islanders, fears lawyer
The lawyer acting for Bikini Islanders says there is little hope their case will go to the US Supreme Court as they seek compensation for the 23 US nuclear weapons tests carried on their atoll. The Bikinians filed suit in the US Federal Court of Claims in 2006 after a Nuclear Claims Tribunal issued a 563 million US dollar damage award in their favour but did not have the money to pay it. The Bikinians contend that the US Congress cannot take away their US Constitution Fifth Amendment protections for just compensation payments for
damage the nuclear tests did to their islands. But the US Justice Department said in earlier court hearings that the US Congress provided a full and final settlement through a 150 million US dollar compensation fund in a Compact of Free Association approved by the US and Marshall Islands governments in 1986.
The Tribunal proved incapable of paying even one percent of the compensation. The atoll is still uninhabited because of radiation contamination.–RNZI
KOMU.com – Radioactive Material Tracked on Campus – Coverage You Can Count On

An MU researcher accidentally tracked phosphorus from a lab to a few areas across campus.
An unidentified lab researcher accidentally spilled phosphorus-32, a radioactive isotope, at a Schlundt Annex laboratory. The researcher then walked outside, unaware that the chemical spilled onto his or her shoes. Without traveling too far, the researcher realized something was wrong.
"(The worker) called the Environmental Health and Safety Department," MU spokesman Christian Basi said. "They responded right a
---
NRC News
Charlotte Business Journal: Report: NRC, Westinghouse meet on AP1000

Westinghouse and the Nuclear Regulatory Commission will meet next week to discuss issues over the design of the safety building for the proposed AP1000 nuclear reactor, Bloomberg reports.
Last month, the NRC rejected the design of the building that houses the reactor. The regulator says it is not clear the building can stand up to natural disasters such as tornadoes and earthquakes.
It asked Westinghouse to make additional changes or demonstrate that the building meets the required standard.
Bloomberg quotes NRC Chairman Gregory Jaczko as saying that plans to build the structure in parts instead of a solid, single piece has raised regulatory concerns.
Westinghouse and its principal parent Toshiba Corp. have growing nuclear operations in Charlotte. The Shaw Power Group, also based in Charlotte, is the preferred contractor for AP1000 projects. Its parent, The Shaw Group, owns a 20 percent stake in Westinghouse.
NRC to Meet With Toshiba on Nuclear-Reactor Design (Correct) – Bloomberg.com
U.S. Nuclear Regulatory Commission staff will meet with Toshiba Corp. next week to discuss the safety of its proposed AP1000 nuclear-reactor design.
Toshiba's Westinghouse unit will address the commission's concern about the structural integrity of the silo-shaped shield building that would contain the reactor and trap radioactivity in an accident, NRC Chairman Gregory Jaczko said today in an interview at Bloomberg's New York bureau.
Containment buildings at existing reactors were poured at the site as a solid piece of steel-reinforced concrete, Jaczko said. Toshiba wants to piece the building together from sections, he said.
Where the staff has some concerns is how those things are tied together, Jaczko said. "When you're dealing with the kinds of accident scenarios that we look at, or hurricanes or tornados or seismic events, will that structure maintain its integrity?
NRC: TVA nuclear plant has fire response problem | BlueRidgeNow.com | Times-News Online | Hendersonville, NC
The Tennessee Valley Authority's Browns Ferry Nuclear Plant in north Alabama has a fire response problem that could lead to a Nuclear Regulatory Commission civil penalty.
In a letter to TVA, the NRC said inspectors this year found that the plant near Athens, Ala., potentially violated four safety standards, the Chattanooga Times Free Press reported Thursday.
TVA spokesman Craig Beasley said the plant is working with regulators to address their concerns. He said TVA will "do the work necessary to implement the National Fire Protection Association standards at Browns Ferry."
NRC cites Entergy for inspection violation: Rutland Herald Online
Entergy Nuclear's problem-plagued cooling towers have again been cited by the Nuclear Regulatory Commission, this time for a low-level safety violation of the towers' inspection program.
A recent federal inspection of the Vermont Yankee nuclear reactor revealed the low-level safety violation, which involves the inspection procedure at the cooling towers, Entergy Nuclear announced late Monday.
The problem earned Entergy Nuclear a "green" finding from the Nuclear Regulatory Commission, the lowest level of safety problems. The highest is red.
Vermont Yankee's cooling towers have been the source of numerous problems at the Vernon reactor during the past two years, including the partial collapse of a portion of one of the towers in August 2007, and repeated problems in the summer of 2008.
NRC's decision on B&W incident could take 4-6 weeks | Lynchburg News Advance
It could take more than a month for federal regulators to decide whether to take action against Babcock & Wilcox for possible violations, officials said Friday.
The Nuclear Regulatory Commission held a conference with B&W officials to discuss four "apparent violations" in the company's performance in ensuring safety and reporting emergencies. The issues relate to an event in July when uranium was found in a location without safety checks at B&W's Mt. Athos site in Campbell County.
NRC officials voiced several concerns and B&W explained what happened in July, and how they have adjusted their procedures since then.
---
Nuclear Fuel Cycle News
Green groups slime Duke on MOX fuel
A rapid-fire exchange of press releases this week Friday, Nov 13 made short order of a claim [press release] by Friends of the Earth (FOE) and the Union of Concerned Scientists (UCS) that the end of testing of MOX fuel in a Duke Power reactor is a "huge setback to the program.
Identical letters sent Nov 10 by Tom Clements representing both two green organizations to Energy Sec. Steven Chu and NRC Chairman Gregory Jaczko claimed that a decision by Duke not to reload test bundles of MOX fuel at the Catawba reactor represents a failure to demonstrate the safety of the fuel in a conventional light water reactor.
The letter called the situation an aborted test and claimed that as a result the MOX fuel is unsafe for use in civilian nuclear reactors. The remainder of the letter is incendiary with claims that the MOX fuel program should not proceed as a result of the decision by Duke Energy.
Problematic 'pluthermal' era | The Japan Times Online
The 1.18 million-kW No. 3 reactor at Kyushu Electric Power Co.'s Genkai nuclear power plant in Saga Prefecture, which is Japan's first reactor using plutonium-uranium mixed oxide (MOX) as fuel, attained nuclear criticality last Thursday and started trial operations Monday (commerical operations are to start on Dec. 2). Thus "pluthermal" power generation has begun, but many problems remain unresolved.
MOX fuel, made of plutonium extracted from spent nuclear fuel and uranium, was primarily intended for use in a fast breeder reactor (FBR), the core of Japan's nuclear fuel-cycle plan. But the prototype FBR Monju in Tsuruga, Fukui Prefecture, has remained shuttered since a major accident in 1995. As a secondary step, the government in 1997 decided to adopt pluthermal power generation, which burns MOX fuel in ordinary light water reactors. But mishaps delayed its start by 10 years.
Electricity for Americans From Russia's Old Nuclear Weapons – NYTimes.com

What's powering your home appliances?
Multiple warhead ballistic missiles like the ones deployed at this site north of Russia's border with Kazakhstan are being dismantled. Some nuclear material goes to the United States.
For about 10 percent of electricity in the United States, it's fuel from dismantled nuclear bombs, including Russian ones.
It's a great, easy source of fuel, said Marina V. Alekseyenkova, an analyst at Renaissance Capital and an expert in the Russian nuclear industry that has profited from the arrangement since the end of the cold war.
But if more diluted weapons-grade uranium isn't secured soon, the pipeline could run dry, with ramifications for consumers, as well as some American utilities and their Russian suppliers.
Already nervous about a supply gap, utilities operating America's 104 nuclear reactors are paying as much attention to President Obama's efforts to conclude a new arms treaty as the Nobel Peace Prize committee did.
Telluride environmental group sues Montrose County over uranium mill « Colorado Independent
Montrose County commissioners met in secret and had already made up their minds before approving a special use permit for a uranium mill in the Paradox Valley, a lawsuit filed in Montrose County District Court alleges.
The suit, filed by the Telluride-based environment organization Sheep Mountain Alliance, also accuses the commissioners of inadequately weighing the air and water quality impacts of an industrial milling operation in a valley zoned for agriculture.
The county attorney had not yet seen the suit and therefore couldn't comment on its merits, according to the Telluride Daily Planet, but a representative of the company proposing the Piñon Ridge Mill, Energy Fuels of Ontario, Canada, said he expected such a delaying tactic.
Britain's nuclear strategy threatens destruction of Kalahari | Environment | The Observer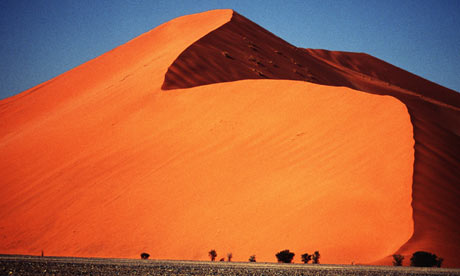 Namibian environmentalists warn expansion of uranium mining could devastate spectacular natural landscape
The hidden cost of Britain's new generation of nuclear power could be the destruction of the Kalahari desert in Namibia and millions of tonnes of extra greenhouse gas emissions a year, the Observer has discovered.
The desert, with its towering sand dunes and spectacular lunar-like landscapes, is at the centre of an international uranium rush led by Rössing Uranium, a subsidiary of the British mining giant Rio Tinto, and the French state-owned company, Areva, which part-manages the nuclear complex at Sellafield and wants to build others in Britain.
Salazar flooded with support for ban on Grand Canyon uranium mining « Colorado Independent

In 2003, there were a mere 100 mining claims in the million or so acres of public land surrounding Grand Canyon National Park. Now there are more than 8,500 – mostly for uranium – with more than 1,100 claims less than five miles from arguably America's most iconic national park.
Late last week, Interior Secretary Ken Salazar received nearly 100,000 public comments supporting a permanent ban on new mining claims on the 1 million acres of national forest and Bureau of Land Management land surrounding the park.
ken salazar
And H.R. 644, floated by House National Parks, Forests and Public Lands Subcommittee chairman Rep. Raul Grijalva (D-Arizona) and cosponsored by 40 House members — including Colorado Rep. Jared Polis (D-Boulder) — would make permanent a temporary moratorium Salazar imposed in July.
Independent: EPA says Churchrock cleanup delayed
After receiving overwhelming opposition to a cleanup plan for the Northeast Churchrock Mine, the U.S. Environmental Protection Agency is going back to the local community to try to work through concerns. The Navajo Nation wants complete removal of an estimated 900,000 cubic yards of radium-contaminated soils.
U.S. EPA and former mine operator United Nuclear Corp., a subsidiary of General Electric, have opted for total removal of the most highly radioactive waste to an approved repository, possibly in Idaho, while low-level waste would be moved to the former UNC Mill, a Superfund site that eventually will be turned over to the U.S. Department of Energy's Legacy Management for lifetime monitoring.
The Navajo Times Online – Uranium miners, widows get warm reception
It was a very belated thank-you, but appreciated nonetheless.
Some 300 former uranium workers and their family members braved an icy wind Oct. 30 to gather at tiny Cove Chapter and celebrate the first ever National Day of Remembrance for the nation's "Cold War patriots."
Cove was one of 13 communities selected from across the country to host the historic celebration in response to a Senate resolution in March setting aside Oct. 30 as a day to honor those who worked in the country's uranium mines and mills.
The House has yet to pass similar legislation, but is being lobbied heavily by the Cold War Patriots, an organization that advocates for uranium workers of the 1940s-70s.
---
Nuclear Waste News
BBC NEWS | UK | England | Cumbria | Nuclear waste plan put to pub
lic
People in west Cumbria have the chance to find out more about government plans to store nuclear waste underground.
The West Cumbria Managing Radioactive Waste Safely (MRWS) Partnership is sending leaflets to all homes in the Allerdale and Copeland council areas.
There will also be a series of public meetings over the next three months.
Waste fees subsidizing general state operations – Salt Lake Tribune
Industry » Legislature should close loophole that pumps waste fees into general fund, group says.
It's been a long-standing principle in Utah to have hazardous waste operators cover the cost of state oversight. But with the economic slump and waste fees lagging, the self-supporting fund for hazardous waste regulation is short some $2.3 million.
An industry group has been looking since spring for a way to stanch the flow, and its focus has landed on the Utah Legislature. Turns out lawmakers have been reaching into the fund, called the Environmental Quality Restricted Account, for millions to cover other programs, some unrelated to the environment.
"The bottom line for us," said Bill Sinclair, deputy director of the Utah Department of Environmental Quality, "is, if we can't meet our revenue needs through fees, there will be consequences."
Nuclear waste moved off the agenda (environmentalresearchweb blog) – environmentalresearchweb
The governments new draft National Policy Statement on nuclear power, indicating which issues the new Infrastructure Planning Commission (IPC) should take on board, and which it can ignore, contains this remarkable statement:
The Government is satisfied that effective arrangements will exist to manage and dispose of the waste that will be produced from new nuclear power stations. As a result the IPC need not consider this question. The draft Statement goes on to say that Geological disposal will be preceded by safe and secure interim storage'.
So it seems, the waste issue is all in hand and we needn't bother too much about it, or any problems with the much more active spent fuel that the new reactors' high fuel ˜burn up' approach will create. Despite the fact that the highly active spent fuel is to be kept on site at the plant for perhaps several decades, that is evidently not something IPC will have to consider in its assessment of whether the proposed plants can go ahead. Instead the IPC will just focus on any conventional local planning and environmental impact issues that may emerge in relation to the 10 new nuclear plants that the government has now backed.
Nuclear disposal put in doubt by recovered Swedish galleon | Environment | guardian.co.uk
The plan to use copper for sealing nuclear waste underground has being thrown into disarray by corrosion in artefacts from the Vasa
Plans for nuclear waste disposal could be thrown into confusion tomorrow at a summit because of new evidence of corrosion in materials traditionally used for burial procedures.
The Nuclear Decommissioning Authority (NDA) says it will keep careful watch on a meeting organised by the Swedish National Council for Nuclear Waste, which will look at potential problems with copper, designated for an important role in sealing radioactive waste underground.
The FINANCIAL – Boeing Seeks Review of California Site Cleanup Law
In its filing, Boeing says the recent state law changes the normal cleanup process applied throughout the state by imposing irrational and arbitrary requirements on Santa Susana.
Depleted uranium – Salt Lake Tribune
DU: Depleted uranium, a unique waste that will become more and more radioactive until, roughly, the year 1002009. The acronym also gives sound guidance for where depleted uranium should be buried: deep underground.
But a lack of deep, underground storage space and a growing need to find permanent storage for 1.4 million tons of DU is "clearly driving" federal regulators to erroneously steer the materials to shallow burial sites like EnergySolutions' low-level radioactive waste disposal facility in Utah.
That's the contention of Kansas State University Geologist Charles G. Oviatt and a pair of Brigham Young University scientists, geologist Steve Nelson and climatologist Summer Rupper. In a letter to the NRC, which is gathering input in the early stages of a three-year review of DU disposal issues, they cite a "programmatic failure" by the agency to properly plan for deep disposal of depleted uranium.
northumberlandnews | Low-level radioactive waste survey in Port Hope gets underway
– The annual telephone survey to gauge public attitudes about the community's low-level radioactive waste (LLRW) clean-up is set to kick-off once again in Port Hope.
The Port Hope Area Initiative's (PHAI) eighth annual public attitude survey will get underway in mid-November, said Sue Stickley, communications officer. Every year, the PHAI surveys local residents to get feedback on issues related to the clean-up and safe long-term management of historic low-level radioactive waste in the community. As in past years, individual survey responses are absolutely confidential, but the overall results will be made public.
"If you receive a phone call and are invited to take part in the survey, please take a few moments to answer the interviewer's questions," said Ms. Stickley.
Life after Yucca Mountain – Las Vegas Sun
Report: Energy Department on verge of abandoning nuke dump application
We have cheered the Obama administration's decision to eventually shutter the ill-conceived Yucca Mountain nuclear waste project by starving it of federal funding. Nonetheless, our optimism has been tempered because the Energy Department still has a pending license application before the Nuclear Regulatory Commission to build a permanent dump for the nation's high-level nuclear waste at Yucca Mountain, 90 miles northwest of Las Vegas.
What we eagerly await is the day when the Energy Department abandons the application so that the idea of forcing a potentially deadly nuke waste dump, on a state that does not want it, is buried for good.
Company to present regulators some options — and a warning – Salt Lake Tribune
EnergySolutions » Lawyer expected to outline "acceptable," unacceptable" paths
EnergySolutions Inc. says state regulators are tinkering too much with the depleted uranium provisions of its operating license, and the nuclear waste company is sending its lawyer Tuesday, along with a politely worded threat to sue, to the Radiation Control Board.
Company spokesman Mark Walker said EnergySolutions has no comment in advance of the discussion. But the company's eight-page outline of the radiation board's legal options range from what it considers "preferred" to "unacceptable."
"To avoid litigation of this issue," EnergySolutions says, the board must not impose a moratorium or follow through with the pending license change, says the prepared presentation of Craig D. Galli, an attorney for the company. The statement is contained in prepared testimony obtained by The Tribune through an open-records request.
Scientists: Nuke panel owes Utahns an apology – Salt Lake Tribune
Three scientists say federal nuclear regulators owe Utahns an apology — and a policy change — for allowing shallow burial of depleted uranium, including the 49,000 tons already at EnergySolutions Inc.'s landfill in Tooele County.
Geologist Stephen T. Nelson and climatologist Summer B. Rupper, both of Brigham Young University, and Kansas State University geologist Charles G. Oviatt, say it is "absurd" for the U.S. Nuclear Regulatory Commission to deem depleted uranium safe for surface disposal.
The uranium enrichment waste gets increasingly hazardous for a million years, and that's too long to reasonably ensure the safety of any shallow landfills, especially one like the Tooele County site that is underwater a few hundred of every several thousand years. Those wet cycles could spread long-lived radioactive material throughout the Great Salt Lake basin, the scientists say.
Short-lived nuclear waste watchdog, Citizens For A Clean Idaho, folds | Local News | Idaho Statesman
A group created to protest American Ecology's plan to bring extremely low-level nuclear waste to its Owyhee County burial facility has closed up shop after the company filed a defamation lawsuit.
Rexburg-based Citizens for a Clean Idaho has taken its Web site down and failed to respond to a Nuclear Regulatory Commission staff report that discounted its claims about Westinghouse Electric's request for a federal exemption to ship 50,000 tons of soil and debris contaminated with extremely low levels of radioactive material to American Ecology's state-regulated facility.
The Idaho company filed a lawsuit in 4th District Court last week claiming the group and its founder Stephen Loosli – with the support of American Ecology's Utah competitor EnergySolutions – made false and misleading statements about American Ecology.
Loosli said the lawsuit was filed to quiet a critic and that the assertions that Citizens for a Clean Idaho is a front group for EnergySolutions are unfounded.
---
Nuclear Policy News
Low French nuclear supply to cost EDF 1 bln euros | Industries | Industrials, Materials & Utilities | Reuters
The drop in French nuclear availability will cost EDF (EDF.PA) one billion euros ($1.49 billion) and availability in 2009 should fall by one percentage point on the previous year to 78 percent, EDF said on Friday.
France, which relies on nuclear power for 80 percent of its electricity, has seen its nuclear availability at record lows in the past few months because of strikes in the spring which delayed maintenance and a high number of unplanned outages.
Government's Farewell to Nuclear Power – Bianet
Following the State Counil's decision, there are 12 days left to amend the government's regulations and have the nuclear power station tender approved by the Council of Ministers. ÃtaÅŸ from the Electrical Engineers Chamber said this was practically impossible. The tender's dead line is 24 November.
Electrical Engineers Chamber (EMO) Energy Group member Cengiz GöltaÅŸ talked to bianet and summarized the State Council's decision concerning the regulations of the tender for a nuclear power plant: The dead line of the tender is 24 November. So there are 12 days in case the government wants to alter its decision or seek approval of the Council of Ministers for new regulations. This practically means a cancellation of the tender.
Antinuclear group gets funding – Peterborough Examiner – Ontario, CA
A local anti-nuclear group, Safe and Green Energy Peterborough, will get $37,000 from a federal agency to review its study for the proposed Darlington nuclear plant expansion, the group announced yesterday.
"SAGE is extremely proud of this recognition and achievement, as it is a true community group that has been challenging the intent of the Ontario government to expand nuclear supply when the alternatives of renewable energy and conservation are safer, more community oriented and less costly," the group states in a release.
John Etches, with Safe and Green Energy, couldn't be reached for comment yesterday.
The Canadian Environmental Assessment Agency participant funding program approved five applications worth a total of $155,927.
There were eight applications for a total of $314,242.
The Free Press – The reactor relapse takes 3 hits to the head
The much-hyped "Renaissance" of atomic power has taken three devastating hits with potentially fatal consequences.
The usually supine Nuclear Regulatory Commission has told Toshiba's Westinghouse Corporation that its "standardized" AP-1000 design might not withstand hurricanes, tornadoes or earthquakes.
Regulators in France, Finland and the UK have raised safety concerns about AREVA's flagship EPR reactor. The front group for France's national nuclear power industry, AREVA's vanguard project in Finland is at least three years behind schedule and at least $3 billion over budget.
And the Obama Administration indicates it will end efforts to license the proposed radioactive waste repository at Yucca Mountain, Nevada. After more than fifty years of trying, the nuclear industry has not a single prospective central dump site.
"If history repeats itself as farce, then the nuclear power industry represents the most incompetent jester of all time," says Michael Mariotte of the Nuclear Information & Resource Service. It "seems intent on repeating every possible mistake of its failed past—from promoting inadequate, ever-changing reactor designs to blowing through even the largest imaginable budgets. If the computer industry followed the practices of the nuclear industry, we'd still be waiting for the first digital device that could fit in a space smaller than a warehouse and cost less than a family's annual income."
U.A.E. Nuclear Program May Send Region Into Arms Race – Bloomberg.com
The United Arab Emirates, which plans to award the Persian Gulf's first nuclear power contracts this year, may start a regional arms race as its neighbors seek similar technology, according to a Chatham House report.
Risks from nuclear proliferation cannot be eliminated entirely from the U.A.E.'s program, Ian Jackson wrote in Nuclear Energy and Proliferation Risks: Myths and Realities in the Persian Gulf, published today. It is possible that the genuine desire of Gulf states to engage in civil peaceful nuclear power could possibly tip the region into a nuclear arms race, especially if state intentions are misunderstood.
The U.A.E., the fourth-biggest OPEC producer, is turning to nuclear power because it doesn't produce enough natural gas to meet demand. The government has an atomic-energy agreement with the U.S., a necessary step to awarding construction contracts, and will prohibit the enrichment of uranium on U.A.E. soil.
A French group including Areva SA and Electricite de France SA is competing for U.A.E. power-plant contracts against groups led by General Electric Co. and Korea Electric Power Corp.
Nuclear power industry may benefit from climate change levy exemption – Times Online
The Government is considering fresh tax breaks for Britain's nuclear power industry that could smooth the way for the construction of a new generation of UK reactors, The Times has learnt.
Whitehall insiders have told The Times that officials at the Department for Energy and Climate Change have been studying the possibility of an exemption for nuclear electricity from the climate change levy, a tax on industrial energy consumption that was created to boost energy efficiency.
The levy, which was introduced in 2001, raises an estimated £1 billion a year for the Treasury. Suppliers pay the levy on electricity provided to businesses to Customs & Excise and then pass on the costs to customers.
Tories call for vote on nuclear power stations – politics.co.uk
Plans to fast-track a new generation of power stations were met with some resistance today, after the Tories called for a vote on the issue.
The Conservatives support the plans but want a debate in parliament to give them democratic legitimacy.
Climate change secretary Ed Miliband unveiled the plans, including a list of sites deemed suitable for nuclear development, in the Commons this afternoon.
"In every area there will be people who wish to oppose planning applications," he said.
Who wants a nuclear power station next door?  Telegraph Blogs
Greg Clark is a thoughtful chap: the sort of chap who contemplates his subject from all angles before pronouncing. If he reckons we need more nuclear power stations, that's good enough for me. Greg is also a sound localist one of the original supporters of Direct Democracy – and he wants local communities to be consulted about the siting of any new facilities.
How can these two things be reconciled? How can we build more nuclear power stations quickly while respecting local autonomy? Here's an idea: why not let the market decide? Some US states have come up with an intriguing way of settling where to build unpopular installations, from incinerators to mobile phone masts. They ask each county what it would take to make them want the facility. Each county then submits a sealed bid, and the one with the lowest price is chosen. How the county authorities use the money is up to them: they can spend it, cut taxes or both.
Ed Miliband to unveil plans to fast-track new nuclear power stations | Environment | guardian.co.uk
Government will identify sites around Britain suitable for building nuclear plants as part of new energy policy
Ed Miliband, the energy and climate change secretary, insisted today that nuclear power had a "relatively good" safety record in this country as he prepared to unveil plans to fast-track a new generation of nuclear power stations.
The government will later identify further sites around Britain that could be suitable for building a nuclear plant amid Tory cries that the plans lack "democratic legitimacy".
Miliband will unveil a series of national policy statements setting out the need for new energy infrastructure including renewables, fossil fuels and gas, as well as an overarching energy statement that will include climate change policy. A separate strategy statement on the nation's ports will also be published.
BBC NEWS | UK | UK Politics | Go-ahead for 10 nuclear stations

Campaigners say the government could be open to legal challenge
The government has approved 10 sites in England and Wales for new nuclear power stations, most of them in locations where there are already plants.
It has rejected only one proposed site – in Dungeness, Kent – as being unsuitable on environmental grounds.
A new planning commission will make decisions on the proposals "within a year" of receiving them, Energy Secretary Ed Miliband told MPs.
Badger Herald: costs of nuclear power too much for state
Wisconsin could be in for higher costs if it lifts it's ban on new nuclear energy plants, a former commissioner for the Nuclear Regulatory Commission said Friday at the State Capitol.
Peter Bradford, who served on the NRC from 1977 to 1982, outlined the apparent and hidden costs associated with using nuclear energy if Wisconsin lifted its moratorium on building new nuclear plants.
Obviously, it's not my place to tell you what to do in terms of Wisconsin law and policy, so what I'll try to do is to give a sense of the backdrop and the effect that new nuclear power is having, Bradford said.
CVC pulls out of GE talks over Areva unit: report | Deals | Reuters
Private equity fund CVC has pulled out of talks with General Electric (GE.N) about a possible joint bid for the power and transmission unit of France's Areva (CEPFi.PA), a French financial news service reported on Sunday.
Spokesmen for the firms involved could not immediately be reached for comment.
State-owned nuclear reactor group Areva is selling its T&D unit and has selected Japan's Toshiba (6502.T), a consortium led by U.S.-based GE, and French partners Alstom (ALSO.PA) and Schneider Electric (SCHN.PA) as possible buyers.
Binding offers are expected for November 9 ahead of an Areva decision set for November 16.
Ed Miliband to deliver nuclear site assessment reports | Environment | The Guardian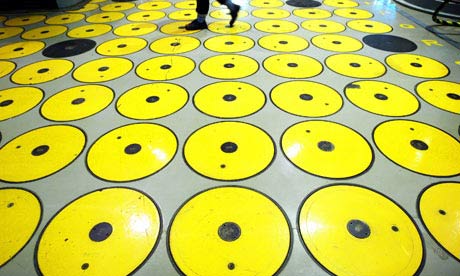 The government will today identify further sites around Britain that could be suitable for building a nuclear plant, as part of a scheme to fast track a new generation of reactors.
Ed Miliband, the energy and climate change secretary, will unveil a series of national policy statements setting out the need for new energy infrastructure including renewables, fossil fuels and gas, as well as an overarching energy statement which will include climate change policy. A separate strategy statement on the nation's ports will also be published.
Miliband will stress what the government believes to be the importance of a diverse energy supply. But the most detail will given in the nuclear policy statement, which will include a forensic assessment of the 11 sites already nominated by energy firms as well as identifying alternatives. "Because nuclear is controversial, we wanted to make it quite clear where the sites we consider suitable are," said one official.
France backs Aussie nuclear power industry | The Australian
FRANCE, the world's most nuclearised country, has backed a nuclear power industry in Australia.
The French government's environment ambassador Laurent Stefanini says nuclear power is a good fit for a country that has the world's largest uranium reserves.
Mr Stefanini said that going nuclear is a reliable and useful way to avoid greenhouse gas emissions, and there have been no major accidents in France.
Nearly 80 per cent of France's electricity comes from nuclear reactors and its emissions are about one-third of Australia's on a per capita basis.
Saudi may go it alone on nuclear energy, Saudi Arabia Nuclear Energy, Energy – Maktoob Business
Saudi Arabia is conducting studies into the use of nuclear energy in meeting soaring power demands, the country's water and electricity minister said on Saturday.
Abdullah al-Hussayen said the kingdom is looking at the use of nuclear power on its own as well as in conjunction with other Gulf Cooperation Council (GCC) member states.
"We are looking into the feasibility of nuclear energy (on our own) … and also with the GCC," Hussayen told reporters on the sidelines of a conference in Dubai.
FT Energy Source | A bad week for French nuclear
As if it wasn't enough that three countries – including France – had raised concerns about safety in the new EPR nuclear reactor design, concerns are building over delays to another big European reactor.
France remains a leader in world nuclear power, with almost 80 per cent of its electricity supply sourced from its reactors. The reactor under development by Electricite de France in Flamanville, northern France, and the Finnish Olkiluoto reactor are meant to be showcases for the new EPR reactor, largely designed by French company Areva.
Delays over Olkiluoto have been well-publicised this year, and it's also been the subject of a public spat between Areva (which is building the plant) and Finnish utility TVO, which will operate it.
Now the French project in Flamanville is coming under fire for delays, too. It is due to be commissioned in 2012, but sources close to the project told the FT the project is already six months behind, and that EDF is wrestling with Bouyges, the engineering company contracted to build the reactor, over budgets and round-the-clock shifts to advance the project.
EDF Energy wants Britain to fix the market if it builds nuclear plants – Times Online
British families could be forced to pay up to £227 extra on their annual energy bills to help to fund a new generation of nuclear power stations under plans proposed by the French company expected to build most of them.
EDF Energy, which wants to build four reactors in Britain at a cost of about £20 billion, was accused of holding the Government to ransom last night, after an executive told The Times that none would be built unless the Government agreed to underwrite part of the cost. Speaking before a government announcement on Britain's energy future on Monday, Humphrey Cadoux-Hudson, managing director of EDF Energy's new nuclear business in Britain, said the nuclear programme would proceed only if the Government ensured that consumers paid more for electricity from fossil fuels, such as coal and gas, which is cheaper but produces more greenhouse gas, making nuclear more competitive.
Social Networking for Nuclear Decommissioning
Faced with the challenges of delivering the right training to the right people, the IAEA´s International Decommissioning Network (IDN) has begun using popular social networking tools to connect with more than 400 nuclear professionals in 60 countries all year round.
Described as a network of networks, the IDN brings together experts in the decommissioning of nuclear facilities so they can share ideas and learn from each other.
It has proven difficult for some young nuclear professionals who are actually involved in day-to-day decommissioning to attend workshops, seminars and global site visits. So the IDN´s coordinators at the IAEA are using non-traditional approaches to engage them.
What's the Allure of Nuclear?
Since 2007, there have been applications to license 26 new nuclear reactors in the US. Nine have been canceled or suspended indefinitely in the last 10 months, and 10 have been delayed 1-5 years.
Why? Because, as almost always happens with nuclear plants, they end up being much more expensive than original plans project. In these cases, costs over-runs were triple that of estimates, while the price for natural gas declined, making them even less attractive.
And, importantly, energy efficiency programs combined with reduced energy demand because of the recession dramatically reduced the need for new power supplies.
Nuclear looks good to lots of people – and Republicans are demanding strong incentives for it in the Senate Climate Bill – but the history of nuclear is frought with significant cost over-runs, multiple delays and cancellations. It's a fact that energy efficiency combined with renewable energy sources such as solar and wind are much faster to ramp up and much cheaper.
Nuclear Plant Promises Called Blank Sheet of Paper – Huntington News Network
A meeting of the Department of Energy's Site Specific Advisory Board for clean up and reuse of the Portsmouth Gaseous Diffusion Plant at Piketon brought forth a tug of war. Much like the Huntington downtown Superblock which lay fallow for nearly 30 years, uses for the contaminated site break down to two camps: Clean up the radioactive waste that still kills former workers versus possibly attracting a so-called new nuclear plant that would allegedly be safe.
The latter would bring jobs to an area starving for employment. But, many nearby residents do not trust the statements that a 'new' nuclear plant would not continue the odyssey of cover ups since the former facility opened during the Cold War in the 1950s.
However, after an elaborate news conference in the summer of 2009, the project dropped off the radar.
Activist and former Piketon employee Vina Colley, referred to past contamination as a reason to avoid nuclear power. All of their drains and laundry [water] where they washed contaminated clothes and [water from] equipment washed off went into the local creeks, which emptied into the Scioto River, then filtered to the Ohio and down to the Mississippi. We're not the only ones affected. The whole world is affected by what these nuclear facilities are producing and releasing into the environment.
FACTBOX: European nuclear plant life extensions | Reuters
Most nuclear power plants have a nominal design lifetime of up to 40 years but many have been approved to operate for longer.
The possibility of component replacement and extending the lifetimes of existing plants are very attractive to utilities, given the high cost of constructing new nuclear plants and lingering public opposition to them, while some governments see them as a good way to limit carbon emissions.
But economic, regulatory and political considerations have led to the premature closure of some power reactors.
Below are details of those plants that have been granted life extensions in Europe:
---
Nuclear Weapons News
Celebration as judge acquits anti-nuclear campaigners | Ekklesia
Four anti-nuclear activists who took part in a mass protest at the Aldermaston nuclear base have been acquitted by a district judge at Reading Magistrates' Court.
The four individuals were accused of obstructing the highway on 27th October 2008, but the judge, Peter Crabtree, ruled that the prosecution had failed to prove that they were even on the highway, let alone obstructing it. The defendants successfully argued that the blockade took place on Ministry of Defence land and did not significantly affect the public traffic flow.
However, the judge did not accept the defendants' argument that the Atomic Weapons Establishment was itself engaged in unlawful activity.
Documentary tells story of Mars Bluff incident | SCNow
Many Pee Dee residents recall the details of the incident that occurred on March 11, 1958, in Mars Bluff.
Now, with the production of a documentary examining the aftermath of the day a 3-ton unarmed nuclear bomb was accidentally dropped on a family's farm a few miles outside of Florence, the story is coming full circle.
Part of the ETV series Carolina Stories, The Incident at Mars Bluff tells the story of the Gregg family from that fateful day when their house and all their belongings were destroyed, through their struggles to receive fair compensation from the U.S. Air Force.
On Sunday, approximately 30 people attended a free screening of the program at the Florence County library and Matt Burrows, the director and producer of the documentary, was on hand to field questions about the project.
Pakistani nuclear scientist's accounts tell of Chinese proliferation – washingtonpost.com
Accounts by controversial scientist assert China gave Pakistan enough enriched uranium in '82 to make 2 bombs
In 1982, a Pakistani military C-130 left the western Chinese city of Urumqi with a highly unusual cargo: enough weapons-grade uranium for two atomic bombs, according to accounts written by the father of Pakistan's nuclear weapons program, Abdul Qadeer Khan, and provided to The Washington Post.
NTI: Global Security Newswire – Marshall Islands Ratifies Nuclear Test Ban
The Marshall Islands has become the 151st state to ratify the Comprehensive Nuclear Test Ban Treaty, according to a press release issued today (see GSN, Oct. 9).
The Preparatory Commission for the Comprehensive Nuclear Test Ban Treaty Organization called the Oct. 28 move "highly symbolic." The United States from 1946 to 1958 conducted 67 nuclear test blasts in the atmosphere above the Marshall Islands' Bikini and Enewetak atolls.
The treaty to date has been signed by 182 nations and ratified by 151 countries. In the Pacific islands region, 12 states have signed and 10 countries have ratified the treaty. Niue, Tonga and Tuvalu have yet to join the list of signatories.
Before it can enter it to force, the treaty must be ratified by the 44 "Annex 2" countries. There are nine holdouts — China, Egypt, India, Indonesia, Iran, Israel, North Korea, Pakistan and the United States.
Nuclear scars: Tainted water runs beneath Nevada desert — latimes.com
Reporting from Yucca Flat, Nev. – A sea of ancient water tainted by the Cold War is creeping deep under the volcanic peaks, dry lake beds and pinyon pine forests covering a vast tract of Nevada.
Over 41 years, the federal government detonated 921 nuclear warheads underground at the Nevada Test Site, 75 miles northeast of Las Vegas. Each explosion deposited a toxic load of radioactivity into the ground and, in some cases, directly into aquifers.
When testing ended in 1992, the Energy Department estimated that more than 300 million curies of radiation had been left behind, making the site one of the most radioactively contaminated places in the nation.
During the era of weapons testing, Nevada embraced its role almost like a patriotic duty. There seemed to be no better use for an empty desert. But today, as Nevada faces a water crisis and
Russian military to get 30 new ICBMs, 3 nuclear subs in 2010 | Top Russian news and analysis online | 'RIA Novosti' newswire

Russia's Armed Forces are to receive 30 new ground and sea-launched ballistic missiles, three nuclear submarines, and an assortment of other weapons, the Russian president said on Thursday.
Dmitry Medvedev said the list would also include "five Iskander [tactical] missile complexes, about 300 modern armored vehicles, 30 helicopters, 28 warplanes, one corvette-class warship, and 11 spacecraft."
In his state-of-the-nation address to parliament, Medvedev stressed provision of advanced weapon systems to the military was a priority.
"There is no room for debate here: These weapons simply must be procured," he said.
He instructed the government to put in place an effective contract system to strike the right balance between arms manufactured for export and for domestic needs.
AFP: US, Japan to call for nuke-free world: reports
US President Barack Obama and Japanese Prime Minister Yukio Hatoyama plan to issue a joint statement calling for a world without nuclear weapons when they hold talks Friday, reports said.
In the statement, tentatively entitled the US-Japan joint initiative for a nuclear-free world, they would welcome rising international momentum toward arms reduction and non-proliferation, the Yomiuri said Thursday.
In their joint effort, the United States would seek to raise the global momentum, while Japan would push the message from its perspective as the only country to have been hit with atomic bombs.
The statement would be based on the UN resolution adopted in September at a Security Council summit hosted by Obama, Jiji Press said.
Can America defend its nuclear arsenal? | Pakistan | News | Newspaper | Daily | English | Online
US intelligence agencies knew months before the November 05 Fort Hood shooting that suspect Army Major Nidal Malik Hasan tried to contact people with Al-Qaeda links, ABC News reported November 09, citing two US officials. However, it was unclear if the US Army had been informed.
Having read the above news, I wonder if Seymour Hersh is thinking to use his acid soaked pen to write another article about the insecurity of American nukes since members of the American military of Muslim faith are allegedly in touch, or were trying to get in touch, with Al-Qaeda. Here's a unique glimpse of what he may write.
OpEdNews – Article: US Defensive Tactic: Lying about Enemy Nukes
Other US Traitors are in Denial of Sibel's Testimony
Edmonds claims that much of the Pentagon information found its way into the hands of both Israeli and Turkish operatives through the State Department, courtesy of Marc Grossman, then assistant secretary of state for political affairs, the third-highest ranking member at State. As she described in her Aug. 8 testimony, "certain people from Pentagon would send a list of individuals with access to sensitive data, whether weapons technology or nuclear technology, and this information would include all their sexual preference, how much they owed on their homes, if they have gambling issues, and [Grossman] would provide it to these foreign operatives, and those foreign operatives would go and hook those Pentagon people."
AFP: Japanese to protest US base before Obama visit
Thousands were expected to rally Sunday against a US military base on Japan's Okinawa island, raising the heat in a simmering row days before President Barack Obama visits Tokyo.
Local opposition has often flared against the large US military presence on the southern island, strategically located within easy reach of China, Taiwan and North Korea and dubbed the United States' "unsinkable aircraft carrier".
Germans press for removal of US nuclear weapons in Europe | World news | The Guardian
Pressure is growing within Nato for the removal of the remaining US nuclear weapons on European soil, and for a new doctrine for the alliance that would depend less on nuclear deterrence.
The initiative is being driven by the new German government coalition, which has called for the removal of American nuclear weapons on its territory as part of a Nato strategic rethink.
The German foreign minister, Guido Westerwelle, the driving force behind the new policy, raised the issue during talks in Washington today with the US secretary of state, Hillary Clinton.
Earlier this week, Westerwelle assured the Nato secretary general, Anders Fogh Rasmussen, that Germany would consult its allies on the removal of the estimated 20 nuclear weapons left on its soil.
---
Department of Energy News
S.C. waste coming to Oak Ridge » Knoxville News Sentinel
The U.S. Department of Energy's Savannah River nuclear facility in South Carolina is using a wealth of Recovery Act funding to accelerate cleanup activities and reduce its Cold War stockpile of radioactive waste.
Some of that waste, containing radioactive tritium and other contaminants, is coming to Oak Ridge for treatment and packaging before being shipped west to Nevada or Utah for disposal. Two local facilities owned by Perma-Fix Environmental Services Inc. – Diversified Scientific Services Inc. near Kingston and Materials & Energy Corp. in Oak Ridge – have been hired to treat the so-called mixed waste, which contains both radioactive elements and hazardous chemicals.
Department of Energy – Statement of U.S. Energy Secretary Steven Chu on Meetings With Indian Leaders
oday I have had the opportunity to meet with Deputy Chairman of the Planning Commission Dr. Montek Singh Ahluwalia and other distinguished Indian leaders. We had productive discussions about the opportunities for partnerships between our two countries on clean energy technologies.
Meeting the climate and clean energy challenge is a top priority for President Obama. In the past ten months, the United States has demonstrated its renewed commitment to these goals both by supporting domestic policies that advance clean energy, climate security, and economic recovery; and by vigorously vigorously re-engaging the international community through bi-lateral relationships, the Major Economies Forum on Energy and Climate, the G20, and the UN negotiations.
The U.S. will continue to work hard toward combating climate change and reaching a strong international agreement that puts the world on a pathway to a clean energy future. Working together, we can meet the clean energy and climate challenge in a way that will drive sustainable, low-carbon economic growth in the 21st century.
Miles to go on Livermore nuclear lab cleanup — latimes.com
Quarrels remain as the Northern California community and the federal government search for an affordable and environmental solution.
Reporting from Livermore, Calif. – The Energy Department is spending $328 million to clean up two separate areas of the Lawrence Livermore National Laboratory — the agency's largest nuclear-weapons cleanup project in California.
The cleanup is relatively minor compared with others in the U.S., but it still has led to conflicts between the local community and the federal government as both search for a solution that is affordable and environmentally acceptable.
Livermore is one of two U.S. labs that designed nuclear weapons. It continues to conduct research into plutonium behavior, high-powered lasers, computer-simulated nuclear reactions and other areas.
Two reports find violations at SRS | Aiken Standard | Aiken, SC
Two reports from investigative teams have made significant recommendations to the Savannah River Site and its contractors after accidents and the verification of employees' citizenship seemed to be lacking.
The Department of Energy and its Office of the Inspector General have released the reports after investigations into activities at SRS.
One report was that of a "Type B" investigation into a serious hand and arm injury suffered by a worker in a powerhouse, the other regarding employment verification at SRS.
The investigation into the injury came about after a worker suffered first-, second- and third-degree burns on his arms and hands while working in a D-area powerhouse. The electrical burns were determined to have been caused when a metal level the worker was using came into contact with a live breaker.
EPA seeks ex-Santa Susana lab workers for cleanup – San Jose Mercury News
he U.S. Environmental Protection Agency wants the help of former workers at the Santa Susana Field Laboratory to identify contamination from nuclear and radiological projects at the site.
The EPA is interested in interviewing former workers for three companies—Atomics International, Rocketdyne and Rockwell—who may know about spills, dumping or other releases of radiological material, the agency said in a news release this week.
The lab was established in 1946 and covers nearly 2,900 acres in eastern Ventura County, just west of the San Fernando Valley section of Los Angeles.
Aiken-area group wants nuclear waste study – Local / Metro – TheState.com
Aiken-area business leaders say the Savannah River Site may become the nation's high-level nuclear waste dumping ground if the federal government drops plans for a disposal site in Nevada.
But the SRS Community Reuse Organization says shelving the Yucca Mountain site is a bad idea, and it says the nation now needs to figure out how to dispose of high-level nuclear waste. The group's mission supports job creation in the five counties around SRS, a 300-square mile nuclear weapons site.
Aiken, Augusta and surrounding communities could suffer a bad image if the waste is left at SRS, making it harder to recruit industry, the reuse organization said in a statement Monday. It is calling for a special blue-ribbon panel to study options for disposing of waste.
LLNL's report finds no adverse impact to public health or environment
Environmental monitoring of operations at LLNL in 2008 indicates no adverse impact to public health or the environment from Lab operations. The findings are presented in the Laboratory's Environmental Report 2008. The annual report demonstrates LLNL's continuing commitment to providing responsible stewardship of the environmental resources in its care.
Environmental monitoring of operations at Lawrence Livermore National Laboratory in 2008 indicates no adverse impact to public health or the environment from Laboratory operations. The findings are presented in the Laboratory's Environmental Report 2008.
The annual report demonstrates LLNL's continuing commitment to providing responsible stewardship of the environmental resources in its care. The report also documents the integration of environmental stewardship into strategic planning and decision-making processes through the Lab's Environmental Management System.
---
Other Energy News
IEA says no emissions deal will double bills – Telegraph
The independent body said the huge price of tackling climate change will eventually be overtaken by the cost of remaining dependent on fossil fuels, which are becoming more difficult and expensive to extract.
It estimates that Europe's annual energy bill will more than double to $500bn (£300bn) by 2030, as the oil price is likely to reach $100 per barrel by 2015 and $190 by 2030.
Publishing its annual World Energy Outlook, the IEA was also forced to defend its reputation as the world's leading provider of statistics on fossil fuels, following claims that it exaggerated oil resources under pressure from the US.
Full text of "Marine bioligist and environmentalist : oral history transcript : pycnogonids, progress, and preserving bays, salmon, and other living things / 1996"
Hedgpeth and McGraw family history; childhood in Oakland and the Sierra foothills; studies in biology at UC Berkeley, University of Texas; comments on Monterey Bay marine biologist Ed Ricketts, Steinbeck character and ecologist; founding the Society for the Prevention of Progress, revising Between Pacific Tides; Scripps Institution of Oceanography, 1950s; director, University of the Pacific's Pacific Marine Station, Dillon Beach, 1957-1965; discusses opposition to Pacific Gas & Electric Company's proposed nuclear power plant at Bodega Bay, CA, 1957-1964; director of Oregon State University's Marine Science Center, 1965-1973; pycnogonid (sea spider) research, lifelong and worldwide; research trips to Antarctica; estuarine studies; research and testifying on San Francisco Bay and Delta environmental issues.
BBC NEWS | All change as gas reserves soar

With coal being too dirty and wind farms and nuclear power plants arriving late, it seems the world is left with a stark choice: keep on polluting or turn out the lights.
Unless, that is, someone comes up with an alternative.
Energy executive Rune Bjornson thinks he has the answer.
"Natural gas, more than any other fuel, is an option we have here and now," he tells the BBC in an interview.
And, he adds, there is plenty of it around – unlike scarcer resources such as oil and coal.
Illegally Dumping 100 Million Pounds of Toxic Coal Ash Waste Onto a Pristine
One of the world's largest power generating companies caused horrendous birth defects, lung injuries, and other acute and chronic medical problems from illegally dumping 100 million pounds of toxic coal ash onto a pristine Caribbean beachfront, according to a groundbreaking mass tort lawsuit filed late November 4th against Arlington, Virginia-based AES Corporation ("AES"). The eight-count lawsuit on behalf of 11 plaintiffs, living and dead, from the small rural village of Arroyo Barril in the Dominican Republic was filed in Delaware Superior Court.
Two of the children died after birth from catastrophic birth defects. Two boys survived: one with no arms; the other, born with his stomach outside his body, had to endure several surgeries. Another child was found — in utero — to have massive cranial defects and had to be aborted, according to Diane Paolicelli, Esq. of Levy Phillips & Konigsberg LLP in New York City. Paolicelli, who leads the firm's medical malpractice and catastrophic injury practice group, represents birth defect victims.
---
Nuclear Editorial and Opinions
Nuclear power not the answer; renewable energy is
Earlier this month, the Nuclear Regulatory Commission held a hearing in Dana Point regarding the San Onofre Nuclear Generating Station, commonly known as SONGS.
At the hearing, Southern California Edison claimed it is doing everything necessary to fix the "culture of cover-up that exists ahem, pardon me – existed at the plant.
But in reality, firing about 70 percent of the staff did not fix it, and nor has anything else.
Not only does that culture of cover-up still exist, but actually, it is a necessary component of the operation in the eyes of everyone who works there. Because they'll get in trouble if the media or the public find out what leaks, what cracks, what drops, what bursts, what spills, who gets contaminated, or by how much. Especially when it's you getting contaminated  they don't want to tell you that. Nor do the so-called "regulators.
The Free Press, Mankato, MN – Your View: Nuclear benefits overstated
Regarding the guest editorial Time to reconsider nuclear power published Monday, there are numerous aspects to nuclear power that the author fails to mention.
Most importantly, when the Pioneer of Bemidji states that nuclear power is a clean energy source, that today's technological advances can produce safe, efficient power plants, they are seriously mistaken. While coal burning is mentioned as a possibility for a continued and extensive source of energy, the level of carbon produced makes it seem like not a viable option. However, it is discovered that nuclear energy is not a very green choice, either.
Letters: The cost of nuclear doesn't add up | Environment | The Guardian
Government plans to fast-track major projects pose a real threat to their action plan on global warming (UK's nuclear future is mapped out as race to tackle climate change hots up, 10 November). Reports on the government's national policy statements have predictably focussed on the controversial issue of new nuclear reactors, but a fundamental flaw in the proposals, which has gone largely unreported, threatens to undermine UK targets for tackling climate change.
Under the Climate Change Act, the UK has been set legally binding "carbon budgets", setting limits on how much carbon the UK can emit, over five-year budget periods, for the next 15 years. Some of the projects covered by the national policy statements, such as new coal and gas-fired power stations, are likely to have a significant impact on UK emissions – but bizarrely the effect that these developments would have on UK carbon budgets is missing from the proposals, and this issue won't be considered by the Infrastructure Planning Commission (IPC).
Green energy plan should be alternative to nuclear
CPS Energy has made two critical errors in their dealings on the South Texas Project (STP) nuclear plant: assuming that nuclear energy will be cheap and that the cost of alternatives is too high.
This month, just two days before the San Antonio City Council was to vote to approve $400 million in bonds to move forward with the STP expansion, CPS announced that the cost estimate for the project had risen as much as $4 billion. That brought the cost of expanding the nuclear power plant to $17 billion — a $12 billion increase from NRG Energy's original estimate just last year of $5.4 billion.
Cheaper and safer ways exist to meet the city's need for power. With the bond vote now pushed back until January, the City Council should take the time to get bids on alternative energy scenarios for San Antonio's new electric generation. This input would present the council with the most cost-effective, least risky, most environmentally sustainable plan possible.
LETTER: What will U.S. do about depleted uranium? – Medford, MA – Medford Transcript
The UN Day for the Prevention of the Exploitation of the Environment in War and Armed Conflict is Nov. 6 and is the International Day of Action in the campaign to ban depleted uranium (DU) weapons which are anti-tank shells.
However, the impact of a fired shell with a tank puts a cloud of radioactive and chemically toxic DU oxide particles in the air that can be inhaled or ingested. As its half-life  DU is radioactive  is over 4 million years  once in the environment, it is here to stay.
DU anti-tank shells have been used by the U.S. and the U.K. since 1991. During the First Gulf War in 1991, 320 tons of DU was dumped on Iraq, Kuwait and a little on Saudi Arabia. They have been used in the Balkans Wars of the 1990s and also in Iraq in 2003 where they were used in urban areas.
Reports from Iraq indicate increased rates of cancer, especially in children, and increased rates of birth defects that may be due to DU exposure. DU has been found to cause mutations in humans and laboratory animals and cancers including leukemia in laboratory rodents.
Guest column: Nuclear power is a false solution to climate change | greenbaypressgazette.com | Green Bay Press-Gazette
he argument that nuclear power can contribute to reducing harmful greenhouse gas emissions that cause global climate change ("Ban on new nuclear power plants should be lifted" Oct. 16, Green Bay Press-Gazette) is flawed for three main reasons.
First, nuclear power is not carbon-free electricity. At each stage of the nuclear fuel cycle, from uranium mining, milling, enrichment to construction, decommissioning and waste storage, nuclear power uses fossil fuels and contributes greenhouse gas emissions that accelerate global climate change. Compared to renewable energy, nuclear power releases four to five times the CO2 per unit of energy produced.
A recent study of solutions to global warming by Dr. Mark Z. Jacobson of Stanford University concluded that over its entire lifecycle, nuclear electricity emits between 68 and 180 grams of CO2-equivalent emissions per kilowatt hour, compared to 3 to 11 grams for wind and concentrated solar.
The Top Nuclear Stories is published twice weekly. It is a produced using a combination of social bookmarking and programming. You can view or join the public group and add your own stories by going here -> http://groups.diigo.com/groups/nukenews