What a difference a week can make in the news! Even as Maryland was busy locking in a devastating new nuclear nazi agenda over letting France drive this country's nuclear agenda, Areva and EDF took one of its worst beatings yet as their new EPR design came under scrutiny by safety agencies setting off an international chain reaction that has the UAE's recent $40 billion order for reactors looking unstable. The French nuclear game is coming unglued from every imaginable angle as European activists have latched onto Areva's link to uranium mining in Namibia, a recent spate of new accidents, and the the nuclear blackmail being played in the UK, a new delay at Areva's Fllamanvalle EPR and a big drop in the companies stock value. The Frappe de Nuke agenda has shown itself in Australia where its in the media pushing the nuclear side in that country's debate.  Probably the biggest news comes from the huge new push for more reactors in the UK, led by new scandals about secret nuclear waste dumps, and a dramatic new escalation of rate costs due the dramatic expansion of the nuclear push there.  And this all hits just as new natural gas discoveries throw a whole new angle into the mess as it appears that the US will not be bringing anything to the table on Climatechange.
Its just too bad that the world media is incapable or unwilling to deliver a coherent message that brings all the news around the world on this issue together to the larger public so that they can see the big picture! You would think the editorial board in Atlanta Georgia is incapable of seeing anything other than the greenbacks of industry lobbyists while a a survey just to the north shows that the Carolinans support energy efficiency as their first priority.  Of course that issue is dead in the water with the industry worldwide, no thanks to spineless politicians.
But wait, this was one of denser news cycles in awhile with a whole lot of major news shaking out.  From new grassroots opposition in India, protests in Japan, even a 60 minute segment on MOX fuel, more on Cheney's Plamegate role just as the Obama administration takes the whole scam with Iran one notch worse than Bush was even doing!  In the US, the biggest story to me is the disclosure that the EPA is secretly attempting to undermine current radiation safety levels!
Next up is the breakdown in the nuclear push by CPS for more South Texas reactors. The couple of honest guys leaked the real numbers and they are now being canned. Legislation to block imports of n-waste into Utah made headway and the EPA has also been forced to halt cleanup at Churchrock on Navajo land due to poor planning.
Don't let let me stop you from going through the real news, which this was one of the more important weeks in quite awhile. One piece that caught my eye is how the IAEA is now using social networking sites to organize thousands of nuclear insiders!  Hey folks, this has been an especially important issue with me as well. Moving from Yahoo styled list servers to the newer services like Ning could dramatically increase the resources and coordination of activists that already include built in person to person video conferencing all for free, not to mention just as secure as Yahoo is ever gonna be if not better, considering their historic scandals of letting foreign and US governments spy on lists.
A last comment on the sick state of Barbara Boxer's agenda.  Barbara has a long history of selling out when the going gets rough.  She's usually quite good when there's a lot of national or local focus on her. In the case of nuclear she has a sterling historic scandal in her closet around the disastrous Farralon island nuclear waste dump just off the coast of her home county of Marin.  She helped forever bury the cleanup of over 45,000 barrels of nuclear waste that were badly leaking by calling for studies that left the issue permanently up to this day in limbo.  She also was caught voting for an industry scam to giver over 400 public dams away to the private electric industry in the early 1980's.  She did change her position on this after being public exposure.  But it goes to show what Kerry and Boxer are all about.  We are at a critical juncture over the entire future of the human race with climate change and these people have cut deals with South Carolina's notorious moderate to sneak this huge infusion of further cash into a clearly dead nuclear agenda. It couldn't be a more vivid moment about how this administration has lost its way with Afghanistan, its failure to prosecute the crimes of the previous administration in hopes that it might actually bring republicans on board.  Instead this socalled compromise strategy means that we are seeing the exactly the same corporate media strategy that won the republicans control of congress in 94 and will likely lead to a huge disaster in 2010.
Anyone who knows just how corrupt Washington has become should have known that it is now to late to pass anything, but more importantly the hidden wheeling and dealing as the public is seeing over healthcare will completely wipe out any chance the public will get the real story from PBS or any other national media outlet. Last week for a moment, it looked like there might be a shift in Obama's push to add more troops in Afghanistan when in a rare moment we started hearing commentary from PBS and the NY Times (thanks Harvey) that more troops is exactly the very worst possible signal to that region at this time.  Just as we have seen how Israel and the US have long been brokering a strategy of blaming the victims and then using the mostly illiterate general public to buy into military options to hide the fact that we have no capacity to solve the problems of the middle east, especially by military means.
---
Top Nuclear Stories Index
---
Nuclear Reactor News
Joint Regulatory Position Statement on the EPR Pressurised Water Reactor
The UK nuclear safety regulator (HSE's ND), the French nuclear regulator (ASN), and the Finnish nuclear regulator (STUK) are currently working to assess the EPR Pressurised Water Reactor.
In carrying out individual assessments, we have all raised issues regarding the EPR Control and Instrumentation (C&I) systems, which the proposed licensees and/or the manufacturer (AREVA) are in the process of addressing.
Although the EPR design being developed for each country varies slightly, the issues we raised with the current C&I system are broadly similar, our aim being to collectively obtain the highest levels of safety from the EPR.
The issue is primarily around ensuring the adequacy of the safety systems (those used to maintain control of the plant if it goes outside normal conditions), and their independence from the control systems (those used to operate the plant under normal conditions).
EDF stops refuelling at Tricastin 2 after incident | Reuters
An incident at EDF's Tricastin plant in southeast France late on Thursday forced the company to stop refuelling operations at the reactor 2, which started on Oct. 31, it said on Friday.
The incident occurred during refuelling of the reactor, when a fuel assembly got stuck in the pressure vessel, EDF said in a statement.
A similar incident took place in Sept. 2008 in the same reactor during refuelling operations and it took around two months for EDF to resolve the problem. "The incident took place at 2215 GMT," a source at the plant told Reuters on Friday. "We are very worried about this especially as this already happened just a year ago," he added.
FT Energy Source | A bad week for French nuclear
As if it wasn't enough that three countries – including France – had raised concerns about safety in the new EPR nuclear reactor design, concerns are building over delays to another big European reactor.
France remains a leader in world nuclear power, with almost 80 per cent of its electricity supply sourced from its reactors. The reactor under development by Electricite de France in Flamanville, northern France, and the Finnish Olkiluoto reactor are meant to be showcases for the new EPR reactor, largely designed by French company Areva.
Delays over Olkiluoto have been well-publicised this year, and it's also been the subject of a public spat between Areva (which is building the plant) and Finnish utility TVO, which will operate it.
Now the French project in Flamanville is coming under fire for delays, too. It is due to be commissioned in 2012, but sources close to the project told the FT the project is already six months behind, and that EDF is wrestling with Bouyges, the engineering company contracted to build the reactor, over budgets and round-the-clock shifts to advance the project.
Constellation Energy, EDF close $4.5B nuclear deal – Baltimore Business Journal:
Constellation Energy Group Inc. and EDF Group have closed their $4.5 billion joint venture, the companies said Friday.
The agreement ends a nearly year-long drama that had been playing out since the nation's financial markets began to freefall in September 2008. The deal survived scrutinizing regulatory review and political fire that spoiled a similar deal for Constellation in 2006.
The companies put out brief statements Friday announcing the deal had closed.
Nuclear Plant Promises Called Blank Sheet of Paper – Huntington News Network
A meeting of the Department of Energy's Site Specific Advisory Board for clean up and reuse of the Portsmouth Gaseous Diffusion Plant at Piketon brought forth a tug of war. Much like the Huntington downtown Superblock which lay fallow for nearly 30 years, uses for the contaminated site break down to two camps: Clean up the radioactive waste that still kills former workers versus possibly attracting a so-called new nuclear plant that would allegedly be safe.
The latter would bring jobs to an area starving for employment. But, many nearby residents do not trust the statements that a 'new' nuclear plant would not continue the odyssey of cover ups since the former facility opened during the Cold War in the 1950s.
However, after an elaborate news conference in the summer of 2009, the project dropped off the radar.
Activist and former Piketon employee Vina Colley, referred to past contamination as a reason to avoid nuclear power. "All of their drains and laundry [water] where they washed contaminated clothes and [water from] equipment washed off went into the local creeks, which emptied into the Scioto River, then filtered to the Ohio and down to the Mississippi. We're not the only ones affected. The whole world is affected by what these nuclear facilities are producing and releasing into the environment."
FACTBOX: European nuclear plant life extensions | Reuters
Most nuclear power plants have a nominal design lifetime of up to 40 years but many have been approved to operate for longer.
The possibility of component replacement and extending the lifetimes of existing plants are very attractive to utilities, given the high cost of constructing new nuclear plants and lingering public opposition to them, while some governments see them as a good way to limit carbon emissions.
But economic, regulatory and political considerations have led to the premature closure of some power reactors.
Below are details of those plants that have been granted life extensions in Europe:
At nuclear plant site, another village says no | Top News
The second round of the land acquisition process for the proposed Jaitapur nuclear power plant has also met with dissent.
On October 31, residents of Karel village in Ratnagiri district, about 450 km from Mumbai, refused to accept acquisition notices for about 70 hectares to set up colonies for the staff employed at the plant site.
The notification summoned around 165 villagers to collect their compensation cheques on November 10.
"I did receive information that some villagers did not accept the acquisition notices. However, we are yet to decide the next course of action," said Makarand Deshmukh, special land acquisition officer.
Of the five villages — Madban, Mithgawane, Karel, Niweli and Ansure — from which land has to be acquired, Karel is the second village where the notice has been sent.
France's Areva agrees to modify reactor design | Reuters
France's Areva (CEPFi.PA) said on Monday it would modify the design of its European Pressurised Reactors (EPR) before the end of the year, following a request by the French, UK and Finnish nuclear safety bodies.
The bodies asked in a joint statement that the control and safety systems within the reactor be independent from each other to avoid both systems failing at the same time.
"The safety of the EPR is not called into question," a spokeswoman at the world's largest nuclear reactor maker told Reuters.
Nuclear Engineering International: Maryland PSC slams "orchestrated parade" promising Calvert Cliffs 3

The Maryland Public Service Commission has approved EDF's 50% purchase of Constellation Energy that could lead to the construction of an EPR at Calvert Cliffs, provided the two utilities meet several conditions.
First, they must hand residential ratepayers a $110 million rebate before March 2010. Second, the utilities must invest $250 million cash in Baltimore Gas & Electricity, a wholly-owned subsidiary of Constellation Energy, before July 2010. There were several other additional financial stipulations.
In September, the US Nuclear Regulatory Commission approved the investment structure and license transfer related to EDF's investment in Constellation Energy Nuclear Group. The New York State Public Service Commission approved the deal in April.
In rural India, resistance to proposed nuclear plants – washingtonpost.com
Standing precariously on the thin edge of a newly dug well, Ajitbhai Narela looked out proudly at his groundnut and mango saplings.
For decades, he said, his family has tilled the soil here, working the land and producing sweet-tasting fruit. But soon, he noted, the fields may disappear. If Indian officials have their way, land in this seaside village will be paved over for a nuclear power plant.
---
Nuclear Health and Safety News
solomonstarnews.com – Compo unlikely for Bikini Islanders, fears lawyer
The lawyer acting for Bikini Islanders says there is little hope their case will go to the US Supreme Court as they seek compensation for the 23 US nuclear weapons tests carried on their atoll.
The Bikinians filed suit in the US Federal Court of Claims in 2006 after a Nuclear Claims Tribunal issued a 563 million US dollar damage award in their favour but did not have the money to pay it.
The Bikinians contend that the US Congress cannot take away their US Constitution Fifth Amendment protections for just compensation payments for
damage the nuclear tests did to their islands.
But the US Justice Department said in earlier court hearings that the US Congress provided a full and final settlement through a 150 million US dollar compensation fund in a Compact of Free Association approved by the US and Marshall Islands governments in 1986.
The Tribunal proved incapable of paying even one percent of the compensation.
The atoll is still uninhabited because of radiation contamination.–RNZI
K
OMU.com – Radioactive Material Tracked on Campus – Coverage You Can Count On
An MU researcher accidentally tracked phosphorus from a lab to a few areas across campus.
An unidentified lab researcher accidentally spilled phosphorus-32, a radioactive isotope, at a Schlundt Annex laboratory. The researcher then walked outside, unaware that the chemical spilled onto his or her shoes. Without traveling too far, the researcher realized something was wrong.
"(The worker) called the Environmental Health and Safety Department," MU spokesman Christian Basi said. "They responded right a
EPA's Secret Plan to Raise Public Radiation Exposure Levels Challenged
Public employees have filed a lawsuit demanding documents related to the U.S. EPA's plans made "in secrecy" to allow public exposure to increased levels of radioactivity following nuclear accidents or attacks.
The lawsuit filed Wednesday by Public Employees for Environmental Responsibility under the Freedom of Information Act claims that the agency "wrongfully withheld" comments submitted by EPA and other federal and state agency officials and by representatives of private corporations or trade associations to the EPA Office of Radiation and Indoor Air as it prepared its updated Protective Action Guides.
The radiation guides are protocols for responding to incidents ranging from nuclear power plant accidents to transportation spills to dirty bombs.
WWW.WPCVA.COM: Uranium dust a problem
Over the last 2 1/2 years I have been talking about the dust problem that would accompany the opening of an open-pit uranium mine in Pittsylvania County.
I have spoken about the low-level radioactive dust that would come with the blasting and the tailing piles.
(Low-level radiation accumulates in the body).
I have spoken to the supervisors probably a dozen times, with absolutely no results.
Phil Lovelace has spoken more often than I have about leakage of radioactive water from the holding ponds.
He also has received dumb looks from the supervisors.
In fact, one of them sometimes looks as if he is asleep.
In my opinion five of the supervisors have paid so little attention that it appears they work with Virginia Uranium.
Radiation victims' vigil at Skinner Plaza – KUAM.com-KUAM News: On Air. Online. On Demand.
The Pacific Association for Radiation Survivors will hold a candlelight vigil ceremony at Skinner Plaza in Hagatna tomorrow. On November 1, 1952, the first hydrogen bomb was detonated in the Marshall Islands and three days later, nuclear fallout contained high levels of radiation.
PARS President Robert Celestial says every year a vigil is held to pray for those who passed on as a result of radiation exposure and also push for the passage of H.R. 1630, which was introduced by Congresswoman Madeleine Bordallo back in March. Celestial said, "It's to amend the law to include Guam in the Radiation Exposure Compensation Act.
"In 2005, the National Research Council identified and reported to Congress that Guam and residents during that time period from 1946 through 1974 are eligible for this restitution."
The vigil begins at 6:30 tomorrow evening at the Skinner Plaza.
NIOSH to reevaluate its work for EEOICPA; seeks new director for compensation office | Frank Munger's Atomic City Underground | knoxnews.com
The National Institute for Occupational Safety and Health announced that it's going to begin a major re-evaluation of its responsibilities, including the scientific and techical support, for the Energy Employees Occupational Illness Compensation Program Act.
NIOSH also said it would conduct a national search for a new director of the Office of Compensation Analysis and Support as the successor to Larry Elliott, who will take a new role at NIOSH as an associate director in charge of "several high-priority projects" with institute-wide activities. Stuart Hinnefeld, technical program manager, will become interim OCAS director while that search is conducted, the institute said in the announcement.
---
NRC News
Feds extends Shippingport nuke licenses 20 years – News National & World, News Watch – Vindy.com, The Vindicator
The Nuclear Regulatory Commission has extended the operating license for two nuclear reactors in western Pennsylvania by 20 years each.
The NRC extended the licenses Thursday after a series of reviews an inspections at FirstEnergy Corp.'s Beaver Valley Unit 1 and Unit 2 reactors in Shippingport, about 30 miles northwest of Pittsburgh.
The original 40-year operating license for Unit 1 expires in January 2016 while Unit 2's license runs until May 2027. Those licenses now run until 2036 and 2047, respectively.
The Unit 1 reactor went online in 1976 and Unit 2 in 1987.
NRC's decision on B&W incident could take 4-6 weeks | Lynchburg News Advance
It could take more than a month for federal regulators to decide whether to take action against Babcock & Wilcox for possible violations, officials said Friday.
The Nuclear Regulatory Commission held a conference with B&W officials to discuss four "apparent violations" in the company's performance in ensuring safety and reporting emergencies. The issues relate to an event in July when uranium was found in a location without safety checks at B&W's Mt. Athos site in Campbell County.
NRC officials voiced several concerns and B&W explained what happened in July, and how they have adjusted their procedures since then.
NRC chairman says Vogtle design needs safety changes  | ajc.com
Thirty years after the nation's worst nuclear power plant accident, the partial meltdown at Pennsylvania's Three Mile Island, nuclear is back in the news.
Polls show increased public support, and advocates tout its relatively clean, homegrown power potential. Georgia is at the forefront of the industry's hopes, with Southern Co.'s Plant Vogtle near Augusta scheduled to put the first of two planned new reactors into service in 2016.
NRC checks unplanned shutdown at Indian Point 2 | LoHud.com | The Journal News
Federal investigators are examining what caused an electrical fault that shut down a nuclear power reactor at Indian Point 2 Monday night.
Nuclear Regulatory Commission spokesman Neil Sheehan said the plant went to "hot shutdown" at 10:42 p.m. Monday, which means the reactor coolant system remains heated and pressurized, allowing the plant to be returned to service quickly.
"There's no danger posed to the public or the workers due to the shutdown," Sheehan said Tuesday. "The operators followed the appropriate procedures and shut it down, but there's still work to be done as far as what caused the shutdown and the complications that occurred."
NRC investigators visited the site late Monday night.
NRC- NRC Cites Wal-Mart for Violations in Handling Tritium Exit Signs
The Nuclear Regulatory Commission has cited Wal-Mart Stores, Inc., with four violations concerning improper disposal and transfer of tritium exit signs at its stores throughout the United States and Puerto Rico.
The violations, issued Oct. 28, concerned the improper transfer or disposal of 2,462 signs from Wal-Mart stores in states under NRC jurisdiction between 2000 and 2008, and the improper transfer of an additional 517 signs between various Wal-Mart facilities. The company also failed to appoint an official responsible for complying with regulatory requirements and failed to report broken or damaged signs as required.
Exit signs containing tritium, a radioactive isotope of hydrogen, pose little threat to public health and safety and do not constitute a security risk. However, the NRC requires proper recordkeeping and disposal of the signs because a damaged or broken sign could cause minor radioactive contamination of the immediate vicinity, requiring environmental clean up.
The improper transfer or disposal of the 2,979 signs and failure to appoint a responsible official were determined to be a Severity Level III problem under NRC's enforcement policy, and the failure to report damaged signs is a Severity Level IV violation, the lowest on the NRC's enforcement scale.
NRC OKs Entergy spin-off: Rutland Herald Online
Federal regulators gave two green lights to Entergy Nuclear Thursday, saying recent changes Entergy made to the proposed spin-off of its five nuclear reactors, including Vermont Yankee, did not warrant additional review.
The Nuclear Regulatory Commission also gave Entergy Nuclear another month next year to complete an important test of its reactor containment system in spring, a test that has already been postponed for five years.
In the case of the spin-off, which would create a company called Enexus, changes Entergy made to the deal recently won the support of the Vermont Department of Public Service, which acts as the ratepayer advocate. However, the Vermont Public Service Board still hasn't approved the spin-off. Additionally, New York State regulators also have yet to sign off on the deal.
---
Nuclear Fuel Cycle News
Britain's nuclear strategy threatens destruction of Kalahari | Environment | The Observer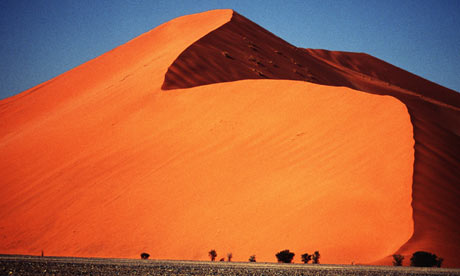 Namibian environmentalists warn expansion of uranium mining could devastate spectacular natural landscape
The hidden cost of Britain's new generation of nuclear power could be the destruction of the Kalahari desert in Namibia and millions of tonnes of extra greenhouse gas emissions a year, the Observer has discovered.
The desert, with its towering sand dunes and spectacular lunar-like landscapes, is at the centre of an international uranium rush led by Rössing Uranium, a subsidiary of the British mining giant Rio Tinto, and the French state-owned company, Areva, which part-manages the nuclear complex at Sellafield and wants to build others in Britain.
Salazar flooded with support for ban on Grand Canyon uranium mining « Colorado Independent

In 2003, there were a mere 100 mining claims in the million or so acres of public land surrounding Grand Canyon National Park. Now there are more than 8,500 – mostly for uranium – with more than 1,100 claims less than five miles from arguably America's most iconic national park.
Late last week, Interior Secretary Ken Salazar received nearly 100,000 public comments supporting a permanent ban on new mining claims on the 1 million acres of national forest and Bureau of Land Management land surrounding the park.
ken salazar
And H.R. 644, floated by House National Parks, Forests and Public Lands Subcommittee chairman Rep. Raul Grijalva (D-Arizona) and cosponsored by 40 House members — including Colorado Rep. Jared Polis (D-Boulder) — would make permanent a temporary moratorium Salazar imposed in July.
Independent: EPA says Churchrock cleanup delayed
After receiving overwhelming opposition to a cleanup plan for the Northeast Churchrock Mine, the U.S. Environmental Protection Agency is going back to the local community to try to work through concerns. The Navajo Nation wants complete removal of an estimated 900,000 cubic yards of radium-contaminated soils.
U.S. EPA and former mine operator United Nuclear Corp., a subsidiary of General Electric, have opted for total removal of the most highly radioactive waste to an approved repository, possibly in Idaho, while low-level waste would be moved to the former UNC Mill, a Superfund site that eventually will be turned over to the U.S. Department of Energy's Legacy Management for lifetime monitoring.
The Navajo Times Online – Uranium miners, widows get warm reception
It was a very belated thank-you, but appreciated nonetheless.
Some 300 former uranium workers and their family members braved an icy wind Oct. 30 to gather at tiny Cove Chapter and celebrate the first ever National Day of Remembrance for the nation's "Cold War patriots."
Cove was one of 13 communities selected from across the country to host the historic celebration in response to a Senate resolution in March setting aside Oct. 30 as a day to honor those who worked in the country's uranium mines and mills.
The House has yet to pass similar legislation, but is being lobbied heavily by the Cold War Patriots, an organization that advocates for uranium workers of the 1940s-70s.
Japan Uses Controverisal Nuke Fuel – CBS News

Critics of Weapons-Grade "MOX" Fuel Say It's Too Volatile and Generates High Amounts of Radioactive Waste
(AP) Japan used weapons-grade plutonium to fuel a nuclear power plant Thursday for the first time as part of efforts to boost its atomic energy program.
Kyushu Electric Power Co. said workers fired up the No. 3 reactor at its Genkai plant in the southern prefecture of Saga using MOX fuel – a mixture of plutonium oxide and uranium oxide.
The reactor is scheduled to start generating electricity Monday for a monthlong test run, and then begin full-fledged operations after a final government inspection and approval in early December, company official Futoshi Kai said.
The Genkai plant marks the beginning of Japan's use of MOX fuel for so-called "pluthermal" power generation, approved by the Cabinet more than a decade ago.
NNSA admin is 'very happy' with MOX | Aiken Standard | Aiken, SC

The National Nuclear Safety Administration is "very happy" with the progress being made at the Mixed Oxide Fuel Fabrication Facility despite the facility again being cited and not having a customer for the multi-billion dollar product.
Thomas P. D'Agostino, NNSA administrator, was in Aiken on Wednesday to tour the facility and the other missions at Savannah River Site one day after a recent inspection report cited four specific faults with the MOX project's construction.
"These are incredibly minor issues … very minor. They do not affect the integrity of construction at all," D'Agostino said. "There is strong support (for the project); in fact, the (Nuclear Regulatory Commission) was strongly supportive."
Funds for nuclear reprocessing sit idle as energy needs grow  | ajc.com
It's been more than half a year since work stopped on the Yucca Mountain nuclear waste repository in Nevada, after it was hit by the capricious winds of politics. President Barack Obama halted the project at the urging of Senate Majority Leader Harry Reid, who is up for re-election in Nevada.
Yet money continues to flow into a government trust fund that Congress created in 1982 to pay for the waste repository.
Cibola Beacon – Uranium miners honored at remembrance event
The first annual National Day of Remembrance in honor of former uranium and nuclear workers was observed Friday at the Cibola Convention Center.
Locally the ceremony was organized by the Cold War Patriots, a non-profit advocacy group for those who worked in the uranium and weapons industries. You may have noticed a couple of PT Cruisers painted with a Cold War Patriots motif around town and wondered, as we did, what this group's mission was.
The Associated Press: Ariz. governor opposes halt on new mining claims
Arizona Gov. Jan Brewer objects to a ban on filing new mining claims on nearly 1 million acres of federal land in northern Arizona for two years while a permanent prohibition is under study.
Most of the Bureau of Land Management and National Forest land covered by a July order is in the Arizona Strip located north of Grand Canyon National Park. The rest is located south of the canyon.
There's been a flurry of new mining claims, including for uranium.
Brewer sent Salazar a letter Friday saying adequate environmental protections are in place and that modern-day mining exploration creates "minimal impact to the land."
She also says economic impacts, energy independence and national security considerations support continued exploration.
---
Nuclear Waste News
Scientists: Nuke panel owes Utahns an apology – Salt Lake Tribune
Three scientists say federal nuclear regulators owe Utahns an apology — and a policy change — for allowing shallow burial of depleted uranium, including the 49,000 tons already at EnergySolutions Inc.'s landfill in Tooele County.
Geologist Stephen T. Nelson and climatologist Summer B. Rupper, both of Brigham Young University, and Kansas State University geologist Charles G. Oviatt, say it is "absurd" for the U.S. Nuclear Regulatory Commission to deem depleted uranium safe for surface disposal.
The uranium enrichment waste gets increasingly hazardous for a million years, and that's too long to reasonably ensure the safety of any shallow landfills, especially one like the Tooele County site that is underwater a few hundred of every several thousand years. Those wet cycles could spread long-lived radioactive material throughout the Great Salt Lake basin, the scientists say.
Short-lived nuclear waste watchdog, Citizens For A Clean Idaho, folds | Local News | Idaho Statesman
A group created to protest American Ecology's plan to bring extremely low-level nuclear waste to its Owyhee County burial facility has closed up shop after the company filed a defamation lawsuit.
Rexburg-based Citizens for a Clean Idaho has taken its Web site down and failed to respond to a Nuclear Regulatory Commission staff report that discounted its claims about Westinghouse Electric's request for a federal exemption to ship 50,000 tons of soil and debris contaminated with extremely low levels of radioactive material to American Ecology's state-regulated facility.
The Idaho company filed a lawsuit in 4th District Court last week claiming the group and its founder Stephen Loosli – with the support of American Ecology's Utah competitor EnergySolutions – made false and misleading statements about American Ecology.
Loosli said the lawsuit was filed to quiet a critic and that the assertions that Citizens for a Clean Idaho is a front group for EnergySolutions are unfounded.
Sellafield decommissioning job worth £1.5bn attracts big hitters | News | Construction News
A host of international firms are lining up to battle for a package of decommissioning works at Sellafield that could be worth as much as £1.5 billion.


Balfour Beatty is understood to be bidding for the three-phase contract in a joint venture with Amec and French nuclear specialist Areva.
Meanwhile, Costain is believed to have teamed up with US engineering giant Fluor to bid for the job, which will eventually see the construction of a highly active liquid effluent facility.
Laing O'Rourke is also thought to be in a consortium with Jacobs, Nuvia and Doosan Babcock to tender for the work – valued at between £250 million and £1.5bn.
Nuclear waste clean upstill needed at Westlake – STLtoday.com
"Nuclear workers honored" (Oct. 31) was a nice article about a celebration of former nuclear plant workers who worked and sacrificed themselves to clean up the nuclear waste sites from the Mallinckrodt chemical plant in the St. Louis area.
There are still nuclear waste sites today in St. Louis that are being cleaned up by the U.S. Army Corps of Engineers. The sites are in the downtown St. Louis area, a north St. Louis County site and several St. Louis County sites.
There is one nuclear waste landfill site that is not being cleaned up: The West Lake Landfill in Bridgeton. It is in the flood plain of the Missouri River and near the drinking water intake plants for St. Louis north of Interstate 70 and the city of St. Louis.
Deseret News | Salt Lake County opposes importing N-waste
A resolution backing a federal effort to block the importation of radioactive waste from foreign countries found unanimous support from the Salt Lake County Council and attracted the attention of two Utah congressmen.
Reps. Jason Chaffetz, a Republican, and Jim Matheson, a Democrat, noted their appreciation of Councilwoman Jani Iwamoto's resolution to support a U.S. House bill, and companion Senate bill, aimed at stopping low-level radioactive waste from outside the U.S. being imported and stored in domestic repositories.
Chaffetz, who phoned into the council meeting, and Matheson, who sent a representative, are supporting the bill scheduled to go before a U.S. House committee Thursday. Iwamoto told the council she was concerned not only with Utah becoming the world's nuclear waste dumping ground, but also about the numerous risks that come with transporting the potentially harmful material.
Trash Loses Luster in Nevada – WSJ.com
Nevadans are growing less interested in importing California's garbage, and a dry lake bed outside this desert town has become a test case.
A landfill outside Reno already imports about 275,000 tons of California waste each year. Two other dumps in central and southern Nevada got permits to do so years ago, with little protest. But new plans to bury as much as 4,000 tons a day of San Francisco Bay Area trash at the proposed Jungo Road dump near Winnemucca have sparked strong opposition.
Deseret News | House panel OKs bill to ban importing foreign N-waste
A House subcommittee endorsed Tuesday a bill to ban importing foreign, low-level radioactive waste which would block an EnergySolutions proposal to import 20,000 tons of it from Italy, process it in Tennessee and dump it in Utah's western desert.
EnergySolutions conceded after the vote that the bill pushed by Rep. Jim Matheson, D-Utah, and Bart Gordon, D-Tenn., likely will soon pass the full House, but said the Senate may block it.
Rep. Edward Markey, D-Mass., chairman of the House Commerce Subcommittee on Energy and Environment, said before his panel passed the bill on a voice vote, "We on the committee will not allow the United States to be the world's dumping ground."
Nuclear waste: Coming to a town near you? – Nov. 4, 2009
Th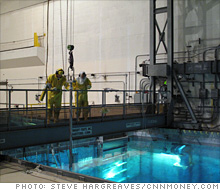 e nuclear industry could be on the verge of a major expansion just as the government cancels a plan to store the waste. Where's it going to go?
BAY CITY, Texas (CNNMoney.com) — At a Texas power plant, two men in head-to-toe yellow jumpsuits are perched above a pool filled with still, crystal-clear water — and nearly 20 years worth of nuclear waste.
The 40-feet deep pool, about the size of an Olympic-sized swimming pool, is the current home to thousands of uranium-filled fuel rods — the radioactive byproducts of a nuclear reactor. The men are using a robotic arm to position the rods sitting at the bottom of the pool.
Pools such as this one are a temporary solution to a very long term problem: the hotly contested debate over what to do with the country's nuclear waste.
Cape Times: Truck with radioactive material crashes
A bakkie carrying radioactive material rolled on the N1 near Bellville, shutting down traffic in both directions for more than two hours yesterday.
Two men in the bakkie were taken to Louis Leipoldt Medi-Clinic for treatment after the accident at about 11.30am between Durban and Old Oak roads.
The bakkie allegedly swerved to avoid another car and rolled on to the centre island, said Tristan Wadeley, a spokesman for ER24. He said the driver told paramedics who were first on the scene that the bakkie was transporting hazardous material.
"It is radioactive, but the container was not broken and it did not spill," said Anzelle Smit, spokeswoman for the Western Cape Health Department EMS.
Ban on importing foreign nuclear waste advances | tennessean.com | The Tennessean
Legislation that would ban the importation of foreign radioactive waste took a small step forward on Tuesday when a House subcommittee signed off on the bill.
The legislation, co-authored by Rep. Bart Gordon, D-Murfreesboro, was proposed in response to an application by EnergySolutions Inc. to bring in 20,000 tons of low-level radioactive waste from Italian nuclear facilities to the U.S. The material would be processed at a company plant in Oak Ridge, Tenn., and then shipped to Utah for storage.
The House Energy and Commerce Committee's Energy and Environment subcommittee passed the bill onto the full committee by a voice vote.
Calls to reveal top-secret nuclear dump – News – Roundup – Articles – Helensburgh Advertiser
A PLEA has been made for the Government to reveal a top-secret nuclear dumping ground situated in Argyll and Bute.
MP Alan Reid has called on the defence secretary, Bob Ainsworth, to come forward and name the site where the waste – radioactive waste from decommissioned nuclear submarines – is being disposed of.
It comes after revelations that at least one site on the confidential list is situated in Argyll and Bute.
It was also revealed that Coulport was previously named as a possible site, but was later rejected.
Mr Reid said: "Every community in Argyll and Bute is now worried that a site near them is on the secret list of sites being considered as a nuclear dump.
"The Government must publish the list of sites. Publishing the list would set some people's minds at rest.
Deseret News | Funds dwindling to oversee Utah's hazardous waste
Businesses that handle some of Utah's most dangerous materials are being inspected less often because of dwindling funds to pay for the work.
State monitoring of hazardous and radioactive waste has for years been funded by fees collected from commercial waste companies. That fund — which reached nearly $6 million in 2006 — has fallen off with the down economy, dwindling to just $30,000 at the end of the last fiscal year.
Utah is still adequately regulating hazardous waste operations but is no longer able to inspect them as often as in the past, said Dennis Downs, director of the state's hazardous and solid waste division. That not only includes monitoring of large hazardous waste disposal sites in Utah but also regular checks on hundreds of smaller operations — from autobody shops and dry cleaners to oil refineries — that generate and store dangerous materials.
Yucca Mountain Licensing Proceeding
In order to participate as a party in the Yucca Mountain high-level nuclear waste repository licensing proceeding, an entity or person must be admitted to the proceeding by following the procedures of the Nuclear Regulatory Commission's rules, at 10 CFR §2.309, which require a request for hearing, a petition to intervene, a demonstration of standing, and at least one admitted contention. At the close of the filing period, on December 22, 2008, a total of 318 contentions had been filed by 12 entities, including 229 from the State of Nevada, 24 from California, and 15 from Clark County.
A contention is an issue of law or fact (in this case, possible scientific fact) that alleges the license application or Yucca Mountain Environmental Impact Statement (as adopted by NRC) does not meet statutory or regulatory requirements, and in the case of the license application "nonconformance would be contrary to providing reasonable assurance of adequate protection of the public health and safety."
The NRC rule prescribes the format of contentions as seen below:
Funds dwindling to oversee Utah's hazardous waste – Salt Lake Tribune
Regulation » Inspections of businesses that handle disposal are becoming less frequent.
Salt Lake City » Businesses that handle some of Utah's most dangerous materials are being inspected less often because of dwindling funds to pay for the work.
State monitoring of hazardous and radioactive waste has for years been funded by fees collected from commercial waste companies. That fund — which reached nearly $6 million in 2006 — has fallen off with the down economy, dwindling to just $30,000 at the end of the last fiscal year.
Utah is still adequately regulating hazardous waste operations but is no longer able to inspect them as often as in the past, said Dennis Downs, director of the state's Division of Solid and Hazardous Waste. That includes not only monitoring of large hazardous-waste disposal sites in Utah but also regular checks on hundreds of smaller operations — from auto body shops and dry cleaners to oil refineries — that generate and store dangerous materials.
Toxic waste trickles toward New Mexico's water sources — latimes.com
More than 60 years after scientists assembled the nuclear bombs dropped on Hiroshima and Nagasaki, lethal waste is seeping from mountain burial sites and moving toward aquifers, springs and streams that provide water to 250,000 residents of northern New Mexico.
Isolated on a high plateau, the Los Alamos National Laboratory seemed an ideal place to store a bomb factory's deadly debris. But the heavily fractured mountains haven't contained the waste, some of which has trickled down hundreds of feet to the edge of the Rio Grande, one of the most important water sources in the Southwest.
So far, the level of contamination in the Rio Grande has not been high enough to raise health concerns. But the monitoring of runoff in canyons that drain into the river has found unsafe concentrations of organic compounds such as perchlorate, an ingredient in rocket propellent, and various radioactive byproducts of nuclear fission.
---
Nuclear Policy News
CVC pulls out of GE talks over Areva unit: report | Deals | Reuters
Private equity fund CVC has pulled out of talks with General Electric (GE.N) about a possible joint bid for the power and transmission unit of France's Areva (CEPFi.PA), a French financial news service reported on Sunday.
Spokesmen for the firms involved could not immediately be reached for comment.
State-owned nuclear reactor group Areva is selling its T&D unit and has selected Japan's Toshiba (6502.T), a consortium led by U.S.-based GE, and French partners Alstom (ALSO.PA) and Schneider Electric (SCHN.PA) as possible buyers.
Binding offers are expected for November 9 ahead of an Areva decision set for November 16.
Ed Miliband to deliver nuclear site assessment reports | Environment | The Guardian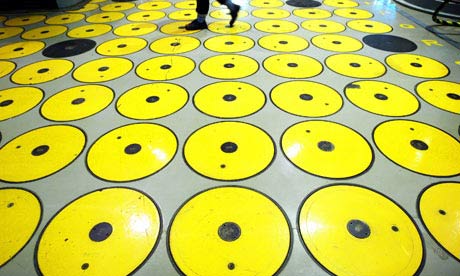 The government will today identify further sites around Britain that could be suitable for building a nuclear plant, as part of a scheme to fast track a new generation of reactors.
Ed Miliband, the energy and climate change secretary, will unveil a series of national policy statements setting out the need for new energy infrastructure including renewables, fossil fuels and gas, as well as an overarching energy statement which will include climate change policy. A separate strategy statement on the nation's ports will also be published.
Miliband will stress what the government believes to be the importance of a diverse energy supply. But the most detail will given in the nuclear policy statement, which will include a forensic assessment of the 11 sites already nominated by energy firms as well as identifying alternatives. "Because nuclear is controversial, we wanted to make it quite clear where the sites we consider suitable are," said one official.
France backs Aussie nuclear power industry | The Australian
FRANCE, the world's most nuclearised country, has backed a nuclear power industry in Australia.
The French government's environment ambassador Laurent Stefanini says nuclear power is a good fit for a country that has the world's largest uranium reserves.
Mr Stefanini said that going nuclear is a reliable and useful way to avoid greenhouse gas emissions, and there have been no major accidents in France.
Nearly 80 per cent of France's electricity comes from nuclear reactors and its emissions are about one-third of Australia's on a per capita basis.
Saudi may go it alone on nuclear energy, Saudi Arabia Nuclear Energy, Energy – Maktoob Business
Saudi Arabia is conducting studies into the use of nuclear energy in meeting soaring power demands, the country's water and electricity minister said on Saturday.
Abdullah al-Hussayen said the kingdom is looking at the use of nuclear power on its own as well as in conjunction with other Gulf Cooperation Council (GCC) member states.
"We are looking into the feasibility of nuclear energy (on our own) … and also with the GCC," Hussayen told reporters on the sidelines of a conference in Dubai.
EDF Energy wants Britain to fix the market if it builds nuclear plants – Times Online
British families could be forced to pay up to £227 extra on their annual energy bills to help to fund a new generation of nuclear power stations under plans proposed by the French company expected to build most of them.
EDF Energy, which wants to build four reactors in Britain at a cost of about £20 billion, was accused of holding the Government to ransom last night, after an executive told The Times that none would be built unless the Government agreed to underwrite part of the cost. Speaking before a government announcement on Britain's energy future on Monday, Humphrey Cadoux-Hudson, managing director of EDF Energy's new nuclear business in Britain, said the nuclear programme would proceed only if the Government ensured that consumers paid more for electricity from fossil fuels, such as coal and gas, which is cheaper but produces more greenhouse gas, making nuclear more competitive.
Social Networking for Nuclear Decommissioning
Faced with the challenges of delivering the right training to the right people, the IAEA´s International Decommissioning Network (IDN) has begun using popular social networking tools to connect with more than 400 nuclear professionals in 60 countries all year round.
Described as a network of networks, the IDN brings together experts in the decommissioning of nuclear facilities so they can share ideas and learn from each other.
It has proven difficult for some young nuclear professionals who are actually involved in day-to-day decommissioning to attend workshops, seminars and global site visits. So the IDN´s coordinators at the IAEA are using non-traditional approaches to engage them.
What's the Allure of Nuclear?
Since 2007, there have been applications to license 26 new nuclear reactors in the US. Nine have been canceled or suspended indefinitely in the last 10 months, and 10 have been delayed 1-5 years.
Why? Because, as almost always happens with nuclear plants, they end up being much more expensive than original plans project. In these cases, costs over-runs were triple that of estimates, while the price for natural gas declined, making them even less attractive.
And, importantly, energy efficiency programs combined with reduced energy demand because of the recession dramatically reduced the need for new power supplies.
Nuclear looks good to lots of people – and Republicans are demanding strong incentives for it in the Senate Climate Bill – but the history of nuclear is frought with significant cost over-runs, multiple delays and cancellations. It's a fact that energy efficiency combined with renewable energy sources such as solar and wind are much faster to ramp up and much cheaper.
Entergy CEO: Possibility of New Entergy Nuclear Builds in Southeast Is Faint :: POWER Magazine
Entergy Corp. reportedly won't pursue new nuclear builds in the U.S. Southeast because of lower demand seen after Hurricanes Katrina and Ike, the recession, and abundant but unused independent power generation in the region, the company's CEO J. Wayne Leonard told reporters at this week's Edison Electric Institute financial conference.
"[Nuclear new builds are] not off the table, but the economics are really not supportive and not likely to be supportive in the near future," Reuters reported Leonard as saying on Tuesday. There's no need to embark on the riskiest piece of the business.
At the end of last year, Entergy Nuclear asked the Nuclear Regulatory Commission (NRC) to suspend reviews for potential projects at its nuclear sites at Grand Gulf, near Port Gibson, Miss., and River Bend, near St. Francisville, La.—even though Louisiana and Mississippi have passed legislation offering cost-recovery incentives to build the new reactors.
The company, the second-largest nuclear power generator in the U.S., had then said it had made the decision after unsuccessful attempts to come to mutually acceptable business terms with GE-Hitachi for its Economic Simplified Boiling Water Reactor.
Utility warning on nuclear cost
The cost escalation of a new nuclear project is the subject of an investigation by Texas utility CPS Energy, which warned that new reactors "must be affordable".
CPS is warning that the price must be
right for South Texas Project 3 and 4
In June the project to build two Advanced Boiling Water Reactors at the South Texas Project was valued at $10 billion – or $13 billion including finance. CPS is responsible for half of the project, but the firm's reaction to a reported $4 billion cost increase has cast its involvement has been cast into doubt.
B
BC NEWS | UK | England | Cumbria | BNP makes Sellafield legal threat
he BNP has said it is considering "legal avenues" after its leader was refused permission to visit the Sellafield nuclear reprocessing plant.
Nick Griffin had wanted a fact-finding tour of the site, which is in his North West European Parliament constituency.
But Sellafield Limited, the facility's operator, said it was concerned about security and possible demonstrations.
Entergy May Try Utility Spinoff If Nuclear Plan Blocked
Entergy Corp. (ETR) remains committed to spinning off five of its nuclear power plants into a stand-alone company, but the company's chief executive suggested a possible alternative Tuesday if it can't win regulatory approval in New York.
Entergy Chairman and Chief Executive J. Wayne Leonard said the company could spin off its utility businesses into a stand-alone company to accomplish the same goal of separating its regulated utility businesses concentrated in the Southeast from its nuclear plants that sell power at market prices.
"We don't expect to go down that route, but it is a path to get you back to where you were. It just takes us longer and (requires) more regulatory approvals," said Leonard, speaking at the Edison Electric Institute's financial conference in Florida.
The New Orleans-based power company has been looking to create the nation's first stand-alone nuclear power company for two years. The deal was first stymied by the global credit freeze as Entergy needs to access billions of dollars in new debt to create the company, to be called Enexus Energy Corp. Now it's awaiting a decision from New York, where the spinoff has faced a push-back from consumer advocates and elected officials.
Independent citizens panel needed for nuclear dilemma
Last week's revelation that the proposed STP nuclear expansion may cost $4 billion (31 percent) more than expected, is a blessing and an opportunity for San Antonio.
Courageous leadership is now needed, especially in light of the apparent attempt by CPS Energy management to hide this information before a council vote.
If this news had not been discovered, ratepayers would have been saddled with $400 million more for nuclear paperwork, setting a path for billions more in uncontrolled spending.
Warning about CPS debt, bond-rater Moody's dropped CPS' outlook from "stable" to "negative," and noted council must be readily willing to raise electric rates.
How high will rates go? The cost overruns imply nuclear costs of 13-15 cents/kWh — much higher than projected.
What to do now? A completely fresh start is needed.
Areva shares fall over nuclear safety concerns | Markets | Markets News | Reuters
* New reactor design criticised by French politicians
* Follows calls for modification by nuclear safety bodies
* Shares close almost 4 percent down
PARIS, Nov 3 (Reuters) – A new generation of French nuclear power reactors came under attack on Tuesday as opposition parties called for an inquiry into their security systems, after three nuclear safety bodies asked for changes to their design.
In a rare joint statement, nuclear safety bodies in France, Britain and Finland on Monday ordered France's Areva (CEPFi.PA) and EDF (EDF.PA) to modify the safety features on its European Pressurised Reactors (EPR) due to insufficient independence between the day-to-day systems and the emergency systems.
Opponents to nuclear power latched on to the news, with France's opposition socialist party calling for a parliamentary inquiry.
BBC NEWS | UK | England | Cumbria | Sellafield turns away BNP leader
BNP leader Nick Griffin has been refused permission to visit the Sellafield nuclear reprocessing plant in Cumbria on security grounds.
Mr Griffin said he wanted to visit the site, which sits within his North West European Parliament constituency, because he is pro-nuclear power.
But Sellafield Limited, which operates the site, said it was concerned about security and possible demonstrations.
Vermont Yankee misses deadline | The Burlington Free Press
A Nov. 1 deadline set by legislative leaders came and went, and still no deal between Vermont Yankee and the state's largest utilities on a post-2012 power contract.
House Speaker Shap Smith said that means it will be very difficult for the Legislature to vote next year on whether Vermont Yankee should be allowed to continue operating after its license expires in 2012. The Vernon nuclear power plant needs the Legislature's approval before the state Public Service Board can decide on a new 20-year operating agreement.
China's nuclear power giant buys from private businesses _English_Xinhua
China Guangdong Nuclear Power Group (CGN) announced Monday that it has signed contracts with 30 private enterprises to purchase 1 billion yuan (146 million U.S. dollars) worth of nuclear power equipments.
This is the first time that CGN, the only nuclear power enterprise in China with 129.8-billion-yuan gross asset, purchased from domestic private sector, said Huang Yicai, manager of CGN Zhejiang Province nuclear power project.
All the 30 companies are based in Zhejiang.
EDF Authorized to Invest in Nuclear in the U.S. | Reuters
EDF welcomes the decision of the Board of Directors of its American partner Constellation Energy to approve moving forward based on the conditions set forth in the order issued by the Maryland Public Service Commission with respect to the creation of a nuclear joint venture between EDF and Constellation Energy. The Maryland PSC has attached conditions designed to preserve the independence and financial strength of Constellation Energy`s regulated subsidiary. Approval from the Maryland PSC completes the regulatory review process, and the companies now have received all necessary approvals at the federal and state levels to proceed with the transaction. EDF and Constellation Energy will complete the transaction without modification to the previously agreed terms of the transaction. EDF will commence the process to enable the close of the transaction, for which it has already received the authorization of its own Board of Directors. The consummation of the transaction is the result of a partnership between EDF and Constellation Energy that began over two years ago.
Approval helps clear way for reactors' construction | Lynchburg News Advance
A Maryland agency has given a key approval to a deal between two companies that hope to build an Areva-designed nuclear reactor.
The approval lets Electricite de France buy about half of Constellation Energy Group's nuclear business, seen as an important step in the two companies' plans to build new nuclear reactors.
The two companies partnered two years ago to form UniStar Nuclear Energy, a joint venture. UniStar has been working to promote the construction of Evolutionary Power Reactors in the U.S.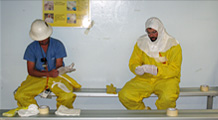 A nuclear renaissance needs government funding to move ahead – Nov. 2, 2009
The industry is poised to get billions in federal help, but some say that's a bad idea.
NEW YORK (CNNMoney.com) — Whatever happened to all those new nuclear power plants the country was supposed to build?
Last year, with energy prices soaring and global warming making headlines, talk of a so-called "nuclear renaissance" was rampant. Energy experts, utility heads, even presidential candidates called for the construction of dozens of new plants. Billions were going to be spent. Investing magazines ran stories on how to get in on the action.
Government's claims on energy 'should be taken with a pinch of salt' – Telegraph
Government claims that there is "no danger of power cuts in the next decade" should be taken "with a pinch of salt", according to campaigners.
The warning was issued by the expert group, Supporters of Nuclear Energy (SONE) which accused politicians of formulating policy in a vacuum of ignorance.
Ed Miliband, the Energy Secretary, was quoted in SONE's monthly bulletin as saying: "There is no danger of power cuts in the next decade. Power stations are closing but we already have ten gigawatts (10,000MW) of new power stations being built and another ten gigawatts that have planning consent."
Md. tentatively backs Constellation deal with French firm – washingtonpost.com
Nuclear sale contingent on energy firm, French giant offering rebate, aid
The move is designed to lead to a third reactor at Calvert Cliffs.
Regulators appointed by Maryland Gov. Martin O'Malley announced Friday that they have offered conditional approval to let Constellation Energy Group sell nearly half its nuclear assets, including those in Calvert County, to French energy giant EDF in a move designed to lead to construction of the first new commercial nuclear reactor project in the United States in more than three decades.
North West Evening Mail | Campaign against Sellafield

CAMPAIGNERS from Norway descended on Westminster to demand Sellafield be closed down amid fears an accident at the site would cause devastation across the globe.
CAMPAIGN: Campaigners from Norway protest against Sellafield at Westminster The group claimed the quality of the radioactive waste is poor and they fear there will be an accident at the site.
Frank Storelv, from Oslo, said 90 per cent of wind blows from the south west and if there was an explosion or accident at Sellafield, one or two days later the radioactive waste would be carried to the west coast of Norway.
HSE issues nuclear alert – Building
Watchdog warns £20bn programme faces delay unless reactor designers improve performance
The UK's £20bn nuclear programme is facing delays because of a failure to tackle design problems with their reactors, the Health and Safety Executive has warned.
A report by the HSE, seen by Building, said the two firms in the running to build the reactors had to put more resources into dealing with the safety assessment process if it was to be completed on time.
One of them, Japanese-owned Westinghouse, came in for particular criticism for failing to provide a report on external hazards such as flooding.
CBC News – Ottawa – Nuclear group presses for AECL decision
Canada's minister of natural resources got an earful Friday from members of the country's nuclear industry who say they want the federal government to make a firm decision on the future of Atomic Energy of Canada Ltd.
While Natural Resources Minister Lisa Raitt received polite applause when she attended a panel discussion at the annual meeting of the Organization of Candu Industries in Oakville, Ont., those in the industry said indecision is hurting everyone in the sector.
Last spring, the government announced its plan to break up AECL and possibly sell parts of the Crown corporation, but thus far no details have been announced.
AFP: US state OKs tie-up of Constellation Energy, France's EDF
The US state of Maryland on Friday approved a plan for France' EDF Group to take a stake in Constellation Energy Group, clearing the final hurdle for a new nuclear power plant in the state.
US regulators earlier this month had green-lighted the joint venture plan for the French state-controlled company to acquire nearly half of Constellation's nuclear assets.
The companies say the nuclear joint venture is critical to the proposed construction of a new nuclear generation plant at Constellation's Calvert Cliffs Nuclear Power Plant, which they say would represent one of the largest industrial development projects in the East Coast state.
The Maryland government announced Friday conditional approval of the joint venture, depending on a one-time rate credit of 110.5 million dollars to residential ratepayers of Constellation's Baltimore Gas and Electric Company (BGE) subsidiary.
Associated Press: Green groups appeal Ga. nuclear plant expansion
Environmental groups are asking the federal courts to block to plans to build two nuclear reactors at an east Georgia power plant.
The Southern Alliance for Clean Energy said Thursday it is asking a federal judge to review an early-site permit granted by the Nuclear Regulatory Commission to allow some construction at Georgia Power Co.'s Plant Vogtle facility.
The groups hinge a part of the appeal on contentious legislation that passed this year allowing the utility to charge ratepayers ahead of time for the costs of building the two new reactors.
The east Georgia project is scheduled to be completed in 2017. It could be the first new nuclear project to break ground in the country in three decades.
Georgia Power is a subsidiary of Southern Co.
---
Nuclear Weapons News
AFP: Japanese to protest US base before Obama visit
Thousands were expected to rally Sunday against a US military base on Japan's Okinawa island, raising the heat in a simmering row days before President Barack Obama visits Tokyo.
Local opposition has often flared against the large US military presence on the southern island, strategically located within easy reach of China, Taiwan and North Korea and dubbed the United States' "unsinkable aircraft carrier".
Germans press for removal of US nuclear weapons in Europe | World news | The Guardian
Pressure is growing within Nato for the removal of the remaining US nuclear weapons on European soil, and for a new doctrine for the alliance that would depend less on nuclear deterrence.
The initiative is being driven by the new German government coalition, which has called for the removal of American nuclear weapons on its territory as part of a Nato strategic rethink.
The German foreign minister, Guido Westerwelle, the driving force behind the new policy, raised the issue during talks in Washington today with the US secretary of state, Hillary Clinton.
Earlier this week, Westerwelle assured the Nato secretary general, Anders Fogh Rasmussen, that Germany would consult its allies on the removal of the estimated 20 nuclear weapons left on its soil.
Moscow says too soon to scrap nuclear weapons  | 'RIA Novosti' newswire
Russia has no plans to completely abandon nuclear weapons, the Russian Foreign Minister Sergei Lavrov said on Monday.
"If there were only five nuclear powers in the world and they abandoned their nuclear weapons, after which only conventional weapons – muskets, cannons, and pistols – would remain, we would have disarmed ourselves a long time ago," Sergei Lavrov told a news conference after a meeting with his British counterpart David Miliband in Moscow.
He added that there were unofficial nuclear powers, and that it was not ruled out that nuclear technology, which "is virtually available via the Internet," would spread.
He stressed the importance of nonproliferation efforts and said that nuclear disarmament "means many things, including practical agreements that will prevent the acquisition of nuclear weapons technology anywhere in the world."
The Associated Press: Cheney FBI interview: 72 instances of can't recall
Federal prosecutor Patrick Fitzgerald famously declared in the Valerie Plame affair that "there is a cloud over the vice president." Last week's release of an FBI interview summary of Dick Cheney's answers in the criminal investigation underscores why Fitzgerald felt that way.
On 72 occasions, according to the 28-page FBI summary, Cheney equivocated to the FBI during his lengthy May 2004 interview, saying he could not be certain in his answers to questions about matters large and small in the Plame controversy.
JapanFocus: The Atomic Bombing, The Tokyo War Crimes Tribunal and the Shimoda Case: Lessons for Anti-Nuclear Legal Movements
Yuki Tanaka and Richard Falk
Yuki Tanaka's article is followed by a companion article by Richard Falk
The War Crimes Trials and the Issue of Indiscriminate Bombing
On May 14, 1946, ten days after the opening of the International Military Tribunal for the Far East (popularly known as the Tokyo War Crimes Tribunal), Captain George Furness, a member of the defense counsel, cast serious doubt on the fairness of the Tribunal conducted by the victorious nations in World War II:
'We say that regardless of the known integrity of the individual Members of this Tribunal they cannot, under the circumstances of their appointment, be impartial; that under such circumstances this trial, both in the present day and history, will never be free from substantial doubt as to its legality, fairness, and impartiality.'1
On the Eve of WWIII? by Gordon Prather — Antiwar.com
Can you believe it? We may be on the eve of World War III because a research reactor near Tehran – that mostly produces radioactive isotopes for use in medicine, and is subject to a Safeguards Agreement with the International Atomic Energy Agency – will need refueling in a year or so.
How could that need result in WWIII?
Well, thereby hangs a tale.
300 at Plymouth anti-nuclear protest
CAMPAIGNERS protesting against possible plans to scrap nuclear submarines at Devonport Dockyard descended on the city for an organised protest at the weekend.
Around 300 people turned out in support of the Campaign for Nuclear Disarmament who believe that Plymouth will be turned into a dumping ground for nuclear submarines.
The rally began with a march through the city centre before speeches outside the Guildhall. The group then travelled to Devonport Park before a protest march along the dockyard wall, finishing at the site's Camels Head entrance.
AFP: Russia to boost Obama with nuclear treaty: report
Moscow and Washington want to reach a deal on a key nuclear disarmament treaty before US President Barack Obama receives his Nobel Peace Prize on December 10, a Kremlin source was quoted as saying Friday.
The source, quoted in the Kommersant daily, said the Obama administration wanted to sign an agreement on replacing the Strategic Arms Reduction Treaty (START) before the Nobel ceremony and that Moscow was willing to oblige.
"On December 10 the ceremony for awarding Nobel laureates will take place… Our partners want the document to be signed before the Nobel Peace Prize is given to Barack Obama," the Kremlin source was quoted as saying.
Cheney remarks in leak probe released – Washington Post Investigations
Former Vice President Dick Cheney told a special prosecutor in 2004 that he could not remember playing any role in leaking the identity of Valerie Plame as a clandestine CIA officer, according to FBI records released under court order (PDF) today.
After years of legal maneuvering to keep the documents secret, they were made public late today under a lawsuit brought by Citizens for Responsibility and Ethics in Washington. That organization provided the FBI notes to The Washington Post. Portions of the three documents, totaling 67 pages, were redacted on grounds of national security, privacy or privileged presidential communications.
Outline and Notes from the Cheney Interview (PDF)
Second document from Cheney interview (PDF)
Third document from Cheney interview (PDF)
Associated Press: Cheney told FBI he had no idea who leaked Plame ID
Vice President Dick Cheney told the FBI he had no idea who leaked to the news media that Valerie Plame, wife of a Bush administration critic, worked for the CIA.
An FBI summary of Cheney's interview from 2004 reflects that the vice president had deep concern about Plame's husband, Joseph Wilson, a former U.S. ambassador in Africa who said the administration had twisted prewar intelligence on Iraq.
Cheney's chief of staff, I. Lewis "Scooter" Libby, was convicted of perjury, obstruction and lying to the FBI in the probe of who leaked Plame's identity to the news media. At the end of Libby's trial, prosecutor Patrick Fitzgerald said that "there is a cloud over the vice president" in the leaking of Plame's identity.
---
Department of Energy News
MOX inspection finds some minor violations, report says 110309 – The Augusta Chronicle
The Nuclear Regulatory Commission's most recent round of inspections at the U.S. Energy Department's mixed oxide fuel facility yielded four notices of violation for mostly minor infractions, according to a copy of the report made public today.
Inspectors who conducted extensive reviews at the construction site from July 1 to Sept. 30 also noted that many programs—including the placement of concrete and steel—were adequate and in complete compliance.
The $4.8 million MOX facility, scheduled to open at Savannah River Site in 2016, is designed to dispose of 34 metric tons of surplus, weapons-grade plutonium by using small amounts to make fuel for commercial reactors.
The inspections involved evaluation of construction of principle structures and included quality assurance activities related to design verification and documentation control; problem identification, resolution, and corrective actions; structural steel and support activities; structural concrete activities; and geotechnical foundation activities, the report said.
Day honors Cold War Hanford workers | Tri-City Herald
Harold Copeland took an engineering job at the Hanford nuclear reservation in 1947, swayed by a recruiter's pitch that he would be paid a good wage and could live in a house with his wife in the government-owned town of Richland.
He took the job and the house rented for $38 a month, which also included power, water, grass seed and handymen to change the light bulbs.
Hanford waste import moratorium questioned – Mid-Columbia News | Tri-City Herald : Mid-Columbia news
Concerns were raised about whether the state can make the federal government stick to its moratorium on importing certain radioactive wastes to the Hanford nuclear reservation at a public hearing Thursday night in Richland.
About 40 people attended the hearing on a proposed settlement agreement reached by the state of Washington and the Department of Energy to resolve a lawsuit brought by the state against DOE almost a year ago. The state sued after it became clear DOE could not meet legal deadlines in the Tri-Party Agreement to empty leak-prone underground tanks of radioactive waste and treat the waste.
The proposed settlement agreement would extend deadlines to dates DOE and the state say are realistic. And in one concession for doing that, the state won a commitment from DOE not to import several types of waste to Hanford until the vitrification plant is fully operational to treat the waste. That's scheduled for 2022.
---
Other Energy News
BBC NEWS | All change as gas reserves soar

With coal being too dirty and wind farms and nuclear power plants arriving late, it seems the world is left with a stark choice: keep on polluting or turn out the lights.
Unless, that is, someone comes up with an alternative.
Energy executive Rune Bjornson thinks he has the answer.
"Natural gas, more than any other fuel, is an option we have here and now," he tells the BBC in an interview.
And, he adds, there is plenty of it around – unlike scarcer resources such as oil and coal.
Illegally Dumping 100 Million Pounds of Toxic Coal Ash Waste Onto a Pristine
One of the world's largest power generating companies caused horrendous birth defects, lung injuries, and other acute and chronic medical problems from illegally dumping 100 million pounds of toxic coal ash onto a pristine Caribbean beachfront, according to a groundbreaking mass tort lawsuit filed late November 4th against Arlington, Virginia-based AES Corporation ("AES"). The eight-count lawsuit on behalf of 11 plaintiffs, living and dead, from the small rural village of Arroyo Barril in the Dominican Republic was filed in Delaware Superior Court.
Two of the children died after birth from catastrophic birth defects. Two boys survived: one with no arms; the other, born with his stomach outside his body, had to endure several surgeries. Another child was found — in utero — to have massive cranial defects and had to be aborted, according to Diane Paolicelli, Esq. of Levy Phillips & Konigsberg LLP in New York City. Paolicelli, who leads the firm's medical malpractice and catastrophic injury practice group, represents birth defect victims.
AFP: Key US Senate panel clears climate bill
US Senate Democrats on Thursday pushed a sweeping climate change bill through a key committee, shrugging off a boycott by Republicans who oppose the measure and mostly shunned the debate.
The Senate Environment and Public Works Committee approved the legislation by an all-Democratic 11-1 vote that forecasts a long, hard, road before the bill can clear the US Congress and President Barack Obama can sign it into law.
"Today?s step in the process sends a clear message to the world that the United States is serious about tackling climate change and securing our clean energy future," said Democratic Senator John Kerry, the measure's lead author.
AFP: US Senate Republicans skip open of climate change talks
Republicans on a key US Senate committee were absent Tuesday as debate opened on a Democratic proposal for sweeping climate change legislation.
The Senate Environment and Public Works Committee opened its critical debate on the plan at 9:00 am (1400 GMT) without its Republican members, despite last-ditch efforts to avert an opposition boycott from Democratic Senator Barbara Boxer, who chairs the committee.
Republican Senator George Voinovich did show up soon after the meeting opened, but only to deliver a statement opposing the measure.
Supporters of the climate change legislation are pushing hard to pass it ahead of December's make-or-break global summit in Denmark.
In a statement, the Republicans said they would oppose the bill until they had a "comprehensive analysis" of the economic impact of the legislation from the federal watchdog agency, the US Environmental Protection Agency (EPA).
Poll: Carolinians favor conservation over power plants – Charlotte Business Journal:
A growing number of Carolinians say rising demand for electricity can be met through conservation rather than by building more power plants.
That's a key finding of a new poll commissioned by Duke Energy Carolinas. And it reflects a distinct shift in public opinion from two years ago.
In the latest poll, 43% of the 1,100 N.C. and S.C. residents surveyed say "people and companies will learn to conserve energy and use significantly less electricity." Only 30% say "government will give permission for more power plants to be built."
Senate climate bill faces challenges – washingtonpost.com
DEMOCRATS DEEPLY SPLIT
Deal on nuclear plants offered to court Republicans
The climate-change bill that has been moving slowly through the Senate will face a stark political reality when it emerges for committee debate on Tuesday: With Democrats deeply divided on the issue, unless some Republican lawmakers risk the backlash for signing on to the legislation, there is almost no hope for passage.
Senate panel tries bypassing climate bill boycott | Politics | Reuters

Democrats who control a key U.S. Senate panel said they would begin debating a climate change bill on Tuesday, despite a planned boycott by minority Republicans who are demanding more study of the issue.
Senator Barbara Boxer, the California Democrat who chairs the Environment and Public Works Committee, wants to have a bill approved by her panel before an international summit on global warming convenes in Copenhagen in December.
The wrangling over when debate can start illustrated how difficult it will be to get any bill to the Senate floor and passed into law before year end, complicating President Barack Obama's hopes that the United States will take a leading role in Copenhagen.
Republicans move to delay climate bill progress | U.S. | Reuters
All seven Republicans on the U.S. Senate Environment and Public Works Committee plan to boycott next week's work session on a climate-change bill, an aide said on Saturday, in a move aimed at thwarting Democratic efforts to advance the controversial legislation quickly.
"Republicans will be forced not to show up" at Tuesday's work session, said Matt Dempsey, a spokesman for Republican senators on the environment panel.
---
Nuclear Editorial and Opinions
LETTER: What will U.S. do about depleted uranium? – Medford, MA – Medford Transcript
The UN Day for the Prevention of the Exploitation of the Environment in War and Armed Conflict is Nov. 6 and is the International Day of Action in the campaign to ban depleted uranium (DU) weapons which are anti-tank shells.
However, the impact of a fired shell with a tank puts a cloud of radioactive and chemically toxic DU oxide particles in the air that can be inhaled or ingested. As its half-life — DU is radioactive — is over 4 million years — once in the environment, it is here to stay.
DU anti-tank shells have been used by the U.S. and the U.K. since 1991. During the First Gulf War in 1991, 320 tons of DU was dumped on Iraq, Kuwait and a little on Saudi Arabia. They have been used in the Balkans Wars of the 1990s and also in Iraq in 2003 where they were used in urban areas.
Reports from Iraq indicate increased rates of cancer, especially in children, and increased rates of birth defects that may be due to DU exposure. DU has been found to cause mutations in humans and laboratory animals and cancers including leukemia in laboratory rodents.
Guest column: Nuclear power is a false solution to climate change | greenbaypressgazette.com | Green Bay Press-Gazette
he argument that nuclear power can contribute to reducing harmful greenhouse gas emissions that cause global climate change ("Ban on new nuclear power plants should be lifted" Oct. 16, Green Bay Press-Gazette) is flawed for three main reasons.
First, nuclear power is not carbon-free electricity. At each stage of the nuclear fuel cycle, from uranium mining, milling, enrichment to construction, decommissioning and waste storage, nuclear power uses fossil fuels and contributes greenhouse gas emissions that accelerate global climate change. Compared to renewable energy, nuclear power releases four to five times the CO2 per unit of energy produced.
A recent study of solutions to global warming by Dr. Mark Z. Jacobson of Stanford University concluded that over its entire lifecycle, nuclear electricity emits between 68 and 180 grams of CO2-equivalent emissions per kilowatt hour, compared to 3 to 11 grams for wind and concentrated solar.
Boxer-Kerry Cap-and-Trade Bill's Nuclear Provision Won't Fuel a Nuclear Revival
Abstract: America needs a clean, safe, and sustainable energy source. Nuclear power could be part of the solution — with the right set of free-market reforms. Congress, the nuclear industry, and many Americans agree that reform of U.S. nuclear policies is necessary, but cannot agree on what those reforms should look like. The nuclear provision in the Senate's new Clean Energy Jobs and American Power Act is a nice nod to nuclear power, but leaves the waters muddied. Heritage Foundation energy experts Jack Spencer and Nicolas Loris provide some clarity.
Postbulletin.com: It's about more than money from nuclear power plant
Yes, Red Wing is very concerned about funding for public safety; however there are other issues that weigh on city leaders.
Most important is the permanence of high-level nuclear waste at the Prairie Island Nuclear Power Plant. The city should be involved in this process. For anyone to suggest that the city is throwing money away, simply does not understand the ramifications.
The city continues to be informed and create opportunities to share concerns on behalf of area residents. Everyone should read the state administrative law judge's conclusions in his submission to the PUC. The judge found that the majority of Red Wing's requests were reasonable.
SentinelSource.com | READER OPINION: It's time to close up Vermont Yankee, by Bill Pearson
We all know that Entergy Vermont Yankee prides itself on its safe, clean, reliable, and 24/7 production of power.
But there's no fine print on those full-page color newspaper ads advising us that some 200 toxic radionuclides are also produced, not all of them safely, cleanly or reliably prevented from contaminating the Vermont, New Hampshire or Massachusetts countryside.
Vermont Yankee also produces Plutonium 239, a carcinogen, teratogen, and mutagen; more than enough every month (2.13 pounds) to provide a lethal dose for every human being on the planet.
In 37 years of operation, Vermont Yankee has produced enough Plutonium 239 to kill everyone on Earth hundreds of times.
Also, as competent proliferators certainly know, civilian reactor-grade plutonium can be used to make nuclear weapons.
Letters: Dangers of exporting nuclear technology | From the Guardian | The Guardian
Dangers of exporting nuclear technology
Your revelations about Iraq's modern-day atomic aspirations (Iraq seeks permission for new nuclear programme, 28 October) raise the question whether the UK nuclear industry – with encouragement of the government, now all reborn atomic aficionados – will seek to gain a foothold in the re-emerging Iraqi nuclear industry.
The UK has form on this: on 31 March 1957 the Baghdad Pact Nuclear Centre opened, with full British support. This pact was created in 1955 by Britain, Turkey, Pakistan, Iran and Iraq with the primary aim of strengthening regional security. A year later, on 29 March 1958, the centre was honoured by a lecture from Sir John Cockcroft, director of the UK's Atomic Energy Research Establishment.
The Top Nuclear Stories is published twice weekly. It is a produced using a combination of social bookmarking and programming. You can view or join the public group and add your own stories by going here -> http://groups.diigo.com/groups/nukenews