Is it really over?  The NY Times said it's so. Damn it took a while for them to play out the public out for all they could.  Well, don't drop your guard yet.
Internationally, The biggest news was France's EDF telling the people that it would not build any new reactors in the UK unless the government helped fund them.  Bang! a Complete reversal over what the public was promised!  The story has left the usual dead space in the UK press after the story hit. Then we have Canada now pushing to sell the AECL.  But then, just to keep the cold water flowing Russia announced that it has hundred's of billions of dollars in new construction projects! Ouch! or just PR? One thing that's a major shock is Russia getting direct access to our uranium market.
The news here?  Let's just say the NY Times story made headlines around the world.  And the first of a new three part series just out from New Mexico about how Dineh people were uprooted from their homes in the 1960's and moved onto uranium contaminated lands!  A crime in my mind.
Dig in… I'm a bit late getting this done.
---
Top Nuclear Stories Index
---
Nuclear Reactor News
Maintenance delays at 10 French nuclear sites-union | Reuters
French nuclear workers, who have been protesting over pay since the start of the year, are delaying maintenance operations in 10 out of the country's 19 plants, the Sud Energie union said on Friday. Workers are slowing down maintenance work at the Paluel Belleville, Blayais, Dampierre, Chinon, Cruas, Tricastin and Fessenheim plants, costing EDF millions of euros.
Industrial action was also taking place at the Chooz and Cattenom nuclear power plants, the union said.
"After weeks of strike, EDF's management is still refusing to seriously negotiate workers' demands," the union said in a statement.
Sale of Pilgrim power plant faces another likely delay – Quincy, MA – The Patriot Ledger
The operator of the Pilgrim nuclear power plant has asked federal regulators for a six-month extension for an approval to spin off the Plymouth plant and four other power plants into a new company.
Michael Kansler, the president of plant owner Entergy Corp.'s nuclear division, wrote a letter to the Nuclear Regulatory Commission this month, asking the agency for a six-month extension of the spinoff's approval from July 28 to next January.
The agency approved Entergy's spinoff last July, but that approval is only effective for one year.
Kansler, in his May 15 letter, said the company is still trying to get the approvals it needs for the spinoff from state regulators in New York and Vermont. Kansler said the company is actively engaged in settlement negotiations with the New York Public Service Commission, and company officials are optimistic that the Vermont Public Service Board will grant an approval as well.
The cost of new nuclear
Nuclear power is considered by some energy experts to be the most effective answer
to global warming due to the lack of C02 emissions.
The only problem is the cost of building them, as well as the unresolved issue of what to do with radioactive waste. Technology has improved, and there is broad consensus that the new plants are safer and have reduced waste due to advanced reprocessing.
But a new plant being built in Finland shows how big the problems are (see this New York Times article). The price for this plant went up to $4 billion and still isn't ready after four years construction. The article says a new plant would cost as much as $8 billion.
(see our previous stories on the cost of nuclear projects in Florida here, and here).
Rosatom says 'hundreds of billions of dollars in foreign orders' | Top Russian news and analysis online | 'RIA Novosti' newswire
Rosatom has hundreds of billions of dollars worth of foreign orders for the construction of nuclear power plants (NPP) and reactors over the next 10 years, the head of Russia's state-run nuclear power corporation said on Wednesday.
"The average cost of the construction of a reactor at a nuclear power plant is about $4-5 billion. Our foreign orders portfolio in the next decade is estimated at hundreds of billions of dollars," Sergei Kiriyenko said on Vesti 24 television.
A ghost of nuclear's future in Finland? | STLtoday
It's been a month since AmerenUE declared that it was suspending plans to build a second nuclear plant in Missouri after efforts to repeal the state's ban on construction work in progress (CWIP) failed.
Backers of the legislation said Missourians missed a golden opportunity to secure its low-carbon future, and wean the state off its coal addiction (one that could be significantly more expensive if Congress follows through on climate change legislation).
AmerenUE had decided whether to go through with plans to build another nuclear plant. In case it did, the plant design it chose was Areva NP's Evolutinary Power Reactor, EPR for short. (Areva was an owner of UniStar Nuclear, which had contracted with AmerenUE to help prepare the construction and operating license that was submitted to federal regulators last summer.)
Stock Manipulation to Stop a Nuclear Plant – Boise, Idaho – KTRV Fox 12 –
Growing concerns are coming from the company hoping to build a nuclear power plant in Elmore County that someone has been manipulating their stock prices.
They believe someone is stooping to new and illegal lows to derail the proposed plant from moving forward.
Since the idea was created to build a nuclear power plant on some farmland in Elmore County, employees at the Snake River Alliance have been on the offensive, hoping to stop Alternate Energy Holdings from being successful.
Deseret News | Critics say N-plant would harm ecosystem
Critics of a proposal to divert nearly 30,000 acre feet of water from the Green River for use at Utah's first nuclear-power plant say it would threaten already endangered fish and rare plants.
The protest by the Center for Biological Diversity, filed with the Utah State Engineer's Office, raises concerns over the Kane County Water Conservancy District's application to change the nature of the water's use and its diversion point.
Specifically, the center questions "how the water diversion will be consistent with the need to protect river flows and habitat conditions critical for the survival of imperiled plants and animals in the vicinity of the power plant's footprint, including endangered fish," according to a news release from the group.
Helsingin Sanomat – Chernobyl was supposed to be a dream job
Oleksi Ananenko hops out of the bus at the Boulevard of Peace and Friendship, and hurries to what used to be his home in Pripjat, near the Chernobyl nuclear power plant.
The visit is his first since the spring of 1986, when there was an explosion and fire at Ananenko's workplace, the fourth reactor of the plant. Even brief visits to the abandoned city require a number of permits.
Cracks detected again in Swedish reactor control rods : Energy Environment
Small cracks have again been detected in control rods used to control the fission process at two nuclear reactors in Sweden, media reports said Wednesday. Cracks were detected last year at one reactor at Forsmark, north of Stockholm, and one reactor at the
Oskarshamn plant, in south- eastern Sweden.
Several control rods were replaced at the end of the year, but some of the new rods appear to have faults.
Chief executive Lars Turing of the Oskarshamn plant told Swedish radio news that the new rods may have been damaged at production, but a probe was underway.
Reactor 3, one of three at Oskarshamn, is to remain offline due to maintenance work and the new finds were likely to delay the scheduled start-up in June.
The Swedish Radiation Safety Authority said it would review the report from the operators, but did not rule out allowing the reactors to be restarted for a limited time.
Sweden operated 12 nuclear reactors at the peak of its nuclear activity. Two at the Barseback plant in southern Sweden have been decommissioned, the most recent in May 2005.
Nuclear energy relies on taxpayer subsidies – The Mercury Opinion: Pottstown, PA and The Tri County areas of Montgomery, Berks and Chester Counties (pottsmerc.com)
It's not just AIG and Wall Street jeopardizing your financial future. Taxpayers and ratepayers have long been victimized by the nuclear industry, their lobbyists, and some elected officials who take their contributions. Nuclear power couldn't exist without massive taxpayer giveaways.
The nuclear industry is reaping enormous profits at your expense. Nuclear power's costs to taxpayers are astronomical. Wall Street rejects the nuclear gamble, so costs for new nuclear power plants and their deadly wastes will continue to come from the wallets of ordinary Americans.
Nuclear industry lobbyists and oblivious supporters are perpetrating an unconscionable scam on taxpayers.
LancasterOnline.com:News:Firm won't disclose route of Three Mile Island generators
The company orchestrating one of the largest moving projects in Lancaster County history wants to talk to the public.
Representatives from the France-based AREVA Inc. are scheduling meetings for the week of June 8 at the Conoy Township building, Columbia High School and Solanco High School to present information and answer questions about the company's plans to move two 510-ton steam generators through Lancaster County. The journey will begin in Port Deposit, Md., and end when the generators are delivered to the nuclear power plant at Three Mile Island in Dauphin County.
The 70-mile move is expected to take about 20 days as 26-axle truck-and-trailer rigs hauling the generators creep along at about 3 mph.
Overhead utility wires will have to be moved, temporary bridge bypasses will have to be built and traffic will have to be stopped.
AREVA officials recognize the impact of the move on Lancaster County's roads and communities will be massive and so they want to "come talk about what impacts there might be and how we can minimize those impacts," said Denise Woernle, AREVA's manager of corporate communications.
Greenpeace lodges complaint with EC over new Slovak nuclear plant – The Slovak Spectator
Environmental organisation Greenpeace told the TASR newswire on May 25 that it has lodged a complaint with the European Commission against Slovakia over the way that the government selected a strategic partner to build a new reactor at the nuclear power station in Jaslovsk Bohunice.
According to Greenpeace, the Slovak government did not comply with the European Parliament and the European Council's Guideline 2004/17/ES from March 31, 2004 on procurements in the areas of water-management, energy, transport and postal services when the Slovak state-owned JAVYS company selected Czech energy company ÄŒEZ to jointly build the reactor without inviting tenders for the contract.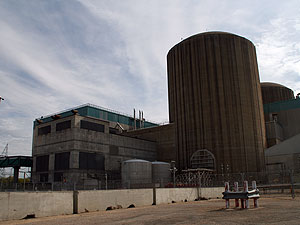 MPR:
Plans for Prairie Island nuclear plant face opposition
For nearly 40 years, Minnesota has been getting much of its electricity from two nuclear power plants: one in Monticello and twin reactors at Prairie Island, 50 miles southeast of the Twin Cities.
Power plants like these were initially licensed for forty years. The Monticello plant has been granted a license extension through 2030. And now, Xcel Energy is asking the government for permission to extend the life of its Prairie Island plant, increase the amount of power it generates, and store more nuclear waste on site.
FT.com / UK – EDF calls for support for nuclear industry
New nuclear power stations will not be built in Britain unless the government provides financial support for the industry, the head of the country's biggest nuclear generator has warned.
Vincent de Rivaz, chief executive of the UK subsidiary of EDF, told the Financial Times that a "level playing field" had to be created that would allow the nuclear industry to compete with other low-emission electricity sources such as wind power.
His comments call into question the government's plans for a new generation of nuclear power stations, which ministers have insisted can be delivered without any additional subsidy.
Bataan nuke plant bill losing steam – INQUIRER.net, Philippine News for Filipinos
The controversial bill that will revive the Bataan Nuclear Power Plant (BNPP) has been losing steam in the House of Representatives with the withdrawal of support of some of its endorsers, a staunch opponent of the bill claimed on Monday.
Etta Rosales, acting president of the Freedom from Debt Coalition (FDC), said that House Bill 6300, the consolidated version of the bill sponsored by Pampanga Representative Juan Miguel Arroyo and principally authored by Pangasinan Representative Mark Cojuangco lists only 125 co-authors.
The original bill of Cojuangco, House Bill 4631, had 185 co-authors.
France, Germany: A tale of two nuclear nations
With nuclear power on many Albertans' minds these days, those seeking insight before picking sides may find it instructive to look to Europe, where France and Germany have adopted opposing philosophies on the issue.
Germany has legislation in place that calls for the shutdown of all of the country's nuclear reactors by 2022. France, which is slightly smaller than Alberta, is building its 59th reactor.
How did the two countries arrive at such divergent views?
Matthias Eickhoff remembers April 26, 1986, as the day he became one of Germany's many anti-nuclear activists.
---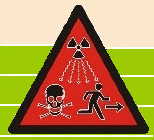 Nuclear Health and Safety News
Joseph J. Mangano MPH MBA
We hear it all the time. Nuclear reactors produce 80% of the electricity in France. Their reactors are "safe" and that means the U.S. should build new reactors.
This is the sound byte. But are reactors truly "safe" as advertised? After studying the facts, the answer is an emphatic "no."
The Health Risks of Nuclear Radiation: Toxic link: the WHO and the IAEA
A 50-year-old agreement with the IAEA has effectively gagged the WHO from telling the truth about the health risks of radiation Fifty years ago, on 28 May 1959, the World Health Organisation's assembly voted into force an obscure but important agreement with the International Atomic Energy Agency the United Nations "Atoms for Peace" organisation, founded just two years before in 1957. The effect of this agreement has been to give the IAEA an effective veto on any actions by the WHO that relate in any way to nuclear power and so prevent the WHO from playing its proper role in investigating and warning of the dangers of nuclear radiation on human health.
El Khabar: Algeria requires cleaning up regions damaged by radioactive
Algeria has minimized the value of French bill related to the compensation of victims of nuclear tests in the Algerian Sahara, and Polynesia.
In fact, APS has quoted Foreign Minister, Mourad Medelci, saying the abovementioned financial compensations "are not the lone required demand capable of settling such issue, but rather removing the nuclear pollution caused by such tests."
At the margin of Africa Day celebrations, attended by accredited diplomatic corps, Medelci indicated that Algeria is following with great interest the French bill on nuclear damages compensation. He further mentioned that "such a bill would only settle a part of the issue."
CBC.ca News – Costing a nuclear incident
The House of Commons is considering a new law that could increase the liability of companies that operate nuclear facilities if there is an accident.
Bill C-20 increases the ultimate cost to a nuclear company from $75 million to $650 million.
But the NDP, Bloc and the Liberals are already saying the amount is way too little and want it raised.
They point to the limits in other countries, like the U.S., for example, where the ceiling is now $10 billion. All companies there contribute to a fund to help pay for their insurance and potential costs in case of an accident.
In Europe and Japan, there is no limit to how much a company would have to pay in the case of a nuclear incident.
Under this proposed new bill, any liabilities here over $650 million would be borne by the taxpayer.
Risk & Insurance Online – Legislation introduced to improve benefit program for nuclear workers
Lawmakers aim to improve a federal program designed to provide workers' compensation benefits for nuclear facility employees who become ill as a result of their jobs.
Sponsors of the Charlie Wolf Nuclear Workers' Compensation Act, named for an employee who developed brain cancer as a result of working at the Rocky Flats Plant nuclear weapons site near Denver, said the bill would make important changes to reduce the bureaucracy in the program and expand the list of cancers for which individuals are eligible to receive compensation.
Sen. Mark Udall, D-Colo., one of the sponsors of the bill, said that while the compensation program was set up to help workers who develop illnesses from exposure to radiation or other toxins on the job, employees have instead found their cases delayed for years by bureaucratic red tape.
Shots From Range Hit Near Md. Nuclear Plant – washingtonpost

A statewide SWAT team exercise at a firing range on the secured grounds of a nuclear power plant in Southern Maryland was halted this month after stray bullets shattered glass and struck a command center near the plant's reactors, officials said yesterday.
Reactor safety at the Calvert Cliffs plant in Lusby was never compromised, according to the U.S. Nuclear Regulatory Commission and Constellation Energy Group, which operates the facility.
Paducah passes $500M in sick worker comp | knoxnews.com
On the same day that the Labor Dept. announced that Tennessee had passed the $1 billion milestone in compensation and medical benefits from the Energy Employees Occupational Illness Compensation Program, the federal agency announced that more than $500 milion had been paid to current and former employees (or their surviving relatives) at the Paducah Gaseous Diffusion Plant in Kentucky.
In the release distributed to the media, it was noted that the Paducah plant over its history enriched more than 1 million tons of uranium.
"We hope this aid has assisted in easing the hardships experienced by this community," Rachel Leiton of DOE said in a prepared statement.
$1B In Payments To Sick Weapons Workers – CBS News
The government has paid out more than $1 billion in claims to 9,134 Tennesseans made ill from working in the nuclear weapons facilities at Oak Ridge during the Cold War.
The Labor Department announced the latest tally on Tuesday, saying others may still be eligible who haven't filed claims. The Tennesseans worked at the Y-12 nuclear weapons plant, the former K-25 uranium enrichment plant or the Oak Ridge National Laboratory.
Since the program began in 2001, about one in five payouts have gone to Tennesseans.
The program provides compensation and medical benefits to workers diagnosed with cancer or other illnesses caused by workplace exposure to radiation, beryllium or silica.
Another $500 million has been paid to nearly 4,800 workers at the Paducah Gaseous Diffusion Plant in Kentucky.
---
NRC News
NRC to hold hearing on power plant safety – The Mercury News: Pottstown, PA and The Tri County areas of Montgomery, Berks and Chester Counties (pottsmerc.com)
A nationwide effort to keep nuclear power plants safe from terrorist attack, among other things, will be the subject of a public hearing Tuesday.
The Nuclear Regulatory Commission and the Federal Emergency Management Agency are holding a total of six hearings around the country to allow the public to ask questions about proposed changes to emergency preparedness requirements for both new and existing power plants.
Both are considering new regulations.
Greeneville Sun – NRC, NFS Hear From Testy Crowd In Erwin
U.S. Nuclear Regulatory Commission staffers from Atlanta listened to public complaints about operations at the Nuclear Fuel Services, Inc., plant here for about three
hours Thursday night.
Located near the Nolichucky River in Erwin, the Nuclear Fuel Services plant for decades has produced fuel for U.S. Navy nuclear-powered submarines and surface ships.
It also "down-blends" highly-enriched uranium to a low-enriched state suitable for conversion into fuel for Tennessee Valley Authority nuclear-power plants.
A number of NFS employees, including at least one vice president, were in the audience during the meeting, but made no comments and took no direct role in the meeting.
Efforts to reach NFS spokesman Lauri Turpin for comment on Friday via telephone and e-mail were unsuccessful.
NRC – ASLB to Hear Oral Arguments on License Renewal Application of Wyoming Uranium Recovery Facility
An Atomic Safety and Licensing Board (ASLB) will hear oral arguments June 9 on two challenges to a license renewal application by Cogema Mining Inc. for the Irigaray and Christensen Ranch in-situ uranium recovery facilities in Wyoming's Powder River Basin.
Oral arguments by lawyers for the parties will be heard in the Presentation Hall (Room 136) of the Whitney Building on the campus of Sheridan College in Sheridan, Wyo. The proceedings will continue on June 10 if necessary.
Cogema submitted an application for a 10-year renewal of the Irigaray and Christensen Ranch recovery facilities on May 31, 2008. The facilities, which are under a single license, have not been operational since 2002; however, on Sept. 30, 2008, the NRC approved Cogema's request to return the facilities to operational status.
The agency received petitions from the Oglala Delegation of the Great Sioux Nation Treaty Council and the Powder River Basin Resource Council, raising various contentions challenging Cogema's application. The oral arguments will discuss the standing of the petitioners and the admissibility of their contentions under NRC regulations. Lawyers from the NRC staff and Cogema will also participate.
NRC – NRC Schedules Meeting to Discuss Improvements to Fuel Cycle Oversight Process
The U.S. Nuclear Regulatory Commission staff has scheduled meetings for Thursday and Friday, June 4 and 5, to discuss plans to revise the process used for oversight and inspection of nuclear fuel enrichment, processing and manufacturing facilities licensed by the NRC.
The meeting, which is open to the public, is scheduled to run from 8:30 a.m. to 5 p.m. on June 4 and from 8:30 a.m. to noon on June 5, and will be held in the NRC's Region II office's main conference room, which is located in the Sam Nunn Atlanta Federal Center, 61 Forsyth Street SW in Atlanta.
The purpose of the meeting is to discuss NRC plans to produce a fuel cycle oversight process that is more risk informed and performance based, and to get industry and public feedback on those plans. It is expected that NRC staff, industry representatives and others will make presentations on improvements with discussion following. There will also be opportunities for members of the public to participate at designated points during the meeting.
NRC, FEMA eye disaster plan changes – Brattleboro Reformer
Concerns over emergency response plans at nuclear power plants around the country have led the Nuclear Regulatory Commission and the Federal Emergency Management Agency to propose changes to some federal regulations.
One of the changes, if approved, would require that emergency planners incorporate "hostile actions" into biennial drills. The NRC is also suggesting a clarification of the responsibilities of security officers at nuclear power plants.
"Some licensees were utilizing security personnel to implement the emergency plan when many of these responders would likely not be available due to a hostile action," according to the Federal Register notice posted on May 18.
NRC – NRC Considering Request by New Jersey to Become an Agreement State
The Nuclear Regulatory Commission is considering a request from New Jersey Gov. Jon S. Corzine to assume part of the NRC's regulatory authority over certain nuclear materials in the state. If the request is accepted, New Jersey will become the 37th state to sign such an agreement with the NRC.
Under the proposed agreement, the NRC would transfer to New Jersey the responsibility for licensing, rulemaking, inspection and enforcement activities for: (1) radioactive materials produced as byproducts from the production or utilization of special nuclear material (SNM– enriched uranium or plutonium); (2) naturally occurring or accelerator-produced byproduct material (NARM); (3) source material (uranium and thorium); (4) SNM in quantities not sufficient to support a nuclear chain reaction; and (5) the regulation of the land disposal of source, byproduct, and SNM received from other persons.
If the proposed agreement is approved, the NRC would transfer an estimated 500 licenses for radioactive material to New Jersey's jurisdiction. New Jersey would retain regulatory authority over approximately 500 NARM licensees, including 300 who also hold NRC licenses. These licensees would have their NRC and New Jersey licenses combined into a single state license. In total, New Jersey would then have jurisdiction over approximately 700 licenses.
FR: NRC: Areva special nuclear material application
By letter dated October 24, 2006, AREVA NP, Inc. (AREVA) requested the renewal of Special Nuclear Material License No. SNM-1227. Pursuant to Title 10 of the Code of Federal Regulations (10 CFR), Section 2.106, the U.S. Nuclear Regulatory Commission (NRC) is providing notice that Special Nuclear Material License No. SNM-1227, which authorizes AREVA to possess and process enriched uranium up to a maximum of five weight percent uranium-235, for the manufacture of fuel assemblies for commercial nuclear power plants (both pressurized water reactors and boiling water reactors) at its fuel fabrication facility in Richland, Washington, has been renewed for a period of 40 years. AREVA's request for the proposed renewed license was previously noticed, and an opportunity to request a hearing provided, in the Federal Register on March 15, 2007 (72 FR 12202). A Notice of Availability of Environmental Assessment and Finding of No Significant Impact has been noticed in the Federal Register on April 3, 2009 (74 FR 15312).
---
Nuclear Fuel Cycle News
Barnett tips uranium royalties to hit $30m : thewest.com.au
The State Government expected to reap a windfall of more than $30 million a year from uranium export royalties from as early as 2015, Premier Colin Barnett said yesterday.
Mr Barnett also reiterated the Government's commitment not to allow uranium exports through ports in residential areas, but said it was possible yellowcake would be shipped out of Pilbara ports in the longer term.
Telluride Daily Planet > Uranium mill project makes headway
Advisory commission, county planning director recommend approval
The approximately 250 people who filled the Nucla High School gym last week were there to witness a different kind of rivalry than the basketball games that usually inhabit the venue. Instead, they came to debate the proposed uranium mill in Paradox Valley, a project that has electrified the fence between area residents who want jobs and those who are wary of the environmental impacts of such a facility.
The Montrose County Planning Commission held the public hearing to gather input about the proposed mill before making a recommendation to the county commissioners about a permit. The 880-acre project site is on private land zoned for agricultural use, not for industrial operations like processing ore, so it will require a special use permit for the proposed mill. The planning commission deferred its decision on the permit to a June 10 meeting, but both County Planning Director Steve White and the West End Planning Advisory Committee (made up of residents who live closer to the proposed project) recommended approval of the permit.
Gallup Independent: Deadly water: Elders recall forced removal to contaminated land
Katherine Peshlakai, Faye Willie and Elsie Tohannie have a lot in common, besides their years. Following the Long Walk in the 1860s and the imprisonment of Navajos at
Bosque Redondo, their families settled in an area later known as Wupatki National Monument. Recognition of Navajo occupancy was not included in enabling legislation that created the park, and in the early 1960s, the families were kicked out.
Driven from their winter sheep camps at Wupatki and across the Little Colorado River to make way for the national monument near Flagstaff, they settled in Black Falls, an area contaminated in the 1950s by radioactive fallout from above-ground atomic testing at Nevada Test Site.
San Miguel County Environmental Policy Examiner: Wind-blown dust causes concern over uranium development in Paradox
Recent dust storms from strong winds have had the communities of Norwood, Telluride and Mountain Village concerned about future contamination with radionuclides should
uranium development in the Paradox valley ramp up.
Winds measuring consistently above 40 mph have mobilized large quantities of dust from the west end of San Miguel County, bringing sands all the way from Utah. Paradox valley, the proposed site for a new uranium mill, is due west of the resort communities of Telluride and Mountain Village, and the ranching town of Norwood.
The dust storms, which occurred over two days at the end of March and early May, brought thick quantities of red dust up into the mountains, obscuring the sky and reducing visibility.
"It was like being in a red fog," said one Norwood resident. "I
couldn't even see Lone Cone [mountain]."
The dust filled the sky, covered cars and homes, and settled visibly on the slopes around Telluride. It was an eerie portent, a bloody sunset and doom-like sky.
Each spring strong winds race up Wright's mesa, heading in from the desert. A strong differential is formed by the heat in the low-lying desert areas around Moab and the four corners, and the cool mountain air at elevation. Each year, winds roll in from the west. But this amount of dust was unusual.
Durango Herald News, State could tighten uranium-mining rules
Uranium companies in Southwest Colorado could face stricter oversight if they restart the region's idled mines.
The state's Mined Land Reclamation Board kicked off a rulemaking this week on the topic. Most of the controversy centers on a mine near Fort Collins that plans to dissolve the uranium in the ground and pump it to the surface – a process known as in-situ leach mining.
But uranium laws passed by the Legislature in 2008 also apply to the conventional mines near the Dolores River, the historic home of uranium mining in Colorado.

Navajo leaders seek help with uranium issues – Farmington Daily Times
Members of the Navajo Nation plan to take to Washington, D.C., their grassroots campaign to compensate uranium mine workers' children affected by diseases and birth defects.
The Navajo Nation Dependents of Uranium Workers Committee met Friday at the Shiprock Chapter House to update community members on the upcoming trip and hear feedback from residents who suffer from cancer, kidney disease, birth defects and other illnesses resulting from prolonged radon exposure from uranium mines.
Organizers plan to take their fight to the nation's capital July 7 to 9 and again July 28 to 31.
"The government is pretty aware of the damage to the family members," said Phil Harrison, Council Delegate for Red Valley/Cove Chapter of the Navajo Nation.
The intent of the trips is to further educate congressional leaders in the issues at hand, request a congressional field hearing in Window Rock or Shiprock, and discuss amending current legislation to extend compensation to family members.
Tribes press government to clean up nuclear waste | Indian Country Today | Southwest
Two American Indian tribes say their pleas to have the federal government remove medical, uranium and other radioactive waste from their land near Tuba City have been ignored, and they want it cleaned up.
Navajo and Hopi officials say the waste is contaminating the land and threatening water supplies.
The Hopi Tribe has put the federal government on notice that it plans to sue over the cleanup. On May 26, the Navajo Nation filed a motion to intervene in a 2007 lawsuit that was brought against the federal government by the operator of a uranium mining mill where some of the waste originated.
"I think everybody is starting to come together to accept the conclusion that there are contaminants affecting the shallow groundwater," said Stephen Etsitty, director of the Navajo Environmental Protection Agency. "But we still have differences in what the tribes believe and what the U.S. government is willing to accept, how grave the situation is and what the remedy should be in the end."
El Paso Natural Gas Co. claims that the federal government is responsible for the cleanup of the mill, the Tuba City open dump and another landfill north of U.S. Route 160. The mill and the U.S. 160 landfill are on Navajo land. The 30-acre Tuba City dump is on Navajo and Hopi land.
Nuking Utah, a cautionary tale -Examiner Blogs
A couple members of the Utah Legislature have been working for several years to get a nuclear plant built down near Kanab.
It's an insanely dangerous undertaking, and one that will suck up thousands of acre feet of Utah water that Utah doesn't have to spare, although the people pushing the plant don't seem concerned about that. They see development dollar signs, and those blind all to everything.
Perhaps, though, dollar signs are a good way to fight the idea.
I was reading this story (click here) about one of the new, supposedly cheap and very safe and secure, nuclear plants being built up in Finland. If this is the model that the Utah promoters are pushing, they have some explaining to do.
MRW news (materials recycling week) -The UK's Ëœfirst' nuclear scrap metal recycling plant has opened in Lilyhall, West Cumbria.
The UK's Ëœfirst' nuclear scrap metal recycling plant has opened in Lilyhall, West Cumbria.
Opened by Swedish decommissioning service provider Studsvik, the plant was opened on 6 May and should be actively commissioning from mid-July.
Furthermore, it is the first site to be granted a nuclear license in 20 years.
Studsvik UK president Mark Lyons said: "We were given the license because there was an obvious need for this plant. Before, the metal would just be disposed of at the Low Level Repository in Drigg but now it can be cleaned up to be used as normal scrap metal."
The plant deals with low-level radioactive metal ranging from structural material to pipe work, which comes from any site in the nuclear industry. At the plant the metal is cut down to a specific size in order to be treated effectively. A grip-blasting technique removes the surface of the metal to decommission the metal.
FACTBOX-Key uranium joint ventures in Kazakhstan | Reuters
Kazakhstan's security service said on Wednesday some of the country's uranium fields had been sold illegally to foreign firms by Kazakh state uranium company Kazatomprom, in a move certain to alarm investors. [ID:nLR384428]
Below is the list of key Kazakh uranium joint ventures in which foreign companies have stakes.
KYZYLKUM
Kyzylkum operates Khorasan-1, Kazakhstan's largest uranium mine with reserves of more than 80,000 tonnes. Canada's Uranium One) owns 30 percent in its operating company Kyzylkum.
A consortium of Japanese firms including Toshiba Corporation, TEPCO, Chubu Electric, Tohoku Electric, Kyushu Electric and Marubeni Corporation owns a 40 percent stake.
The rest belongs to Kazatomprom.
Mineweb – JUNIOR MINING – First Utah uranium mine in 30 years permitted
Australian junior, White Canyon Uranium, has succeeded in gaining a permit to mine uranium from its Daneros project in Utah and is commencing site construction immediately.
Junior emerging uranium miner White Canyon Uranium (ASX: WCU) has now received a permit to mine uranium from its 100 per cent owned Daneros Mine in the State of Utah, USA.
Believed to be the first permit bestowed by the state in 30 years, WCU was granted approval from the Bureau of Land Management in Utah – just 15 months from the company's listing on the Australian Stock Exchange in March 2008.
WCU will start site preparation immediately with construction of surface facilities and placement of the mine's decline portals. Its US operations Manager Mike Shumway is well known in uranium circles, particularly in Utah and provides experienced operational ballast for this Aussie based company.
Chadron News: NRC says Crow Butte's foreign ownership not an issue
The four members of the Nuclear Regulatory Commission have overruled a panel of the agency's administrative judges on several key issues raised by opponents of the Crow Butte uranium mine, including a challenge to the legality of licensing a foreign owned company to extract radioactive material in the U.S.\n\nIn its May 18 ruling on issues raised regarding renewal of the license for the Crow Butte In Situ Leach (ISL) mining operation near Crawford, the NRC also dismissed an argument that the mine releases low levels of arsenic into drinking water supplies, thereby contributing to increased diabetes and pancreatic cancer on the Pine Ridge Indian Reservation, some 30 miles away.\n\nThe NRC called that argument "speculative' and based on a study that doesn't show the mine causes any arsenic contamination. "There is nothing in the Arsenic Study that tends to show that Crow Butte's operation i
Russia breaks wall into U.S. nuclear market | Reuters
* $1 bln in deals signed with PG&E, Ameren Corp, Luminant
* Will give Russia 20 percent of U.S. uranium market 2014-2020
* Russia sees nuclear fuel storage in U.S. as next step
MOSCOW, May 26 (Reuters) – Russia signed a landmark deal to supply nuclear fuel directly to U.S. companies on Tuesday, setting itself up to control 20 percent of the U.S. uranium market and extending its global reach in the nuclear sector.
At a ceremony in the Russian capital, U.S. electricity firms PG&E, Ameren Corp and Luminant signed deals to get more than $1 billion in uranium supplies from Russia's state nuclear fuel exporter Tenex between 2014 and 2020.
FACTBOX-Uranium mining in Niger | Reuters
Niger's President Mamadou Tandja dissolved parliament on Tuesday after the constitutional court ruled his plan to hold a referendum on a law allowing him to stand for a third term in office was illegal.
Niger, a desert country of 15 million people in northwest Africa, is attracting increasing investor interest in its uranium deposits. It produces around 7.5 percent of the world's uranium, according to the World Nuclear Association.
Below are details of companies with uranium mining and exploration projects in Niger.
Tribes press government to clean up nuclear waste – El Paso/Las Cruces News, – KDBC 4
Two American Indian tribes are pressing the federal government to clean up an area where they say medical, uranium and other radioactive waste was dumped and has been contaminating the land and groundwater.
The Navajo and Hopi tribes say their pleas to have the waste materials from two sites near Tuba City, Ariz., taken off tribal land have been ignored.
The Hopi Tribe filed a notice of intent to sue the federal government last week over the cleanup.
On Tuesday, the Navajo Nation filed a motion to intervene in a 2007 lawsuit the owner of the mill brought against the federal government.
El Paso Natural Gas claims that the federal government is responsible for the cleanup of the mill and nearby properties.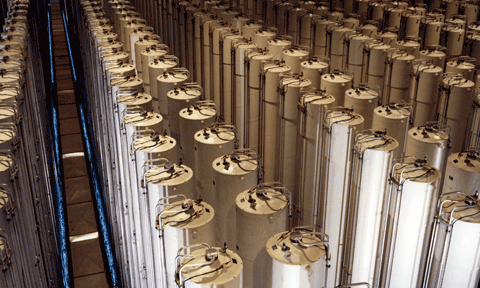 The Birth of an International Nuclear Fuel Bank? – Scitizen
In a speech on 5 April 2009 in Prague, Czech Republic, US President Barack Obama said that his Administration will: negotiate a new strategic arms reduction treaty with Russia this year; immediately and aggressively pursue U.S. ratification of the Comprehensive Test Ban Treaty; seek a new treaty that verifiably ends the production of fissile materials intended for use in nuclear weapons; and seek to build "a new framework for civil nuclear cooperation, including an international fuel bank, so that countries can access peaceful power without increasing the risks of proliferation" (1).
---
Nuclear Waste News
de.indymedia.org | Gorleben illegal nuclear waste dump raided
Demonstrators cut through fences and drove farm tractors into a compound they claim is an illegally built nuclear waste dump at the village of Gorleben in northern Germany. The local resistance group, BÃrgerinitiative Umweltschutz LÃchow-Dannenberg (BI), reported more than 1,000 demonstrators and 30 tractors, a posting on IMC Germany had 1,000, a user of the site quoted local radio with 350, national radio 500, adding that pictures certainly didn't suggest 1,000. But adding, too: "The number's not important, it's super that a demo involving direct action followed so fast on the new revelations about the salt deposit. That generates hope! We don't need to boast about numbers – we have the better arguments, many years of resistance and have always been good for surprises like today's. Thanks to all!"
The IMC post says at around noon fences were cut and people went into the waste storage compound with shovels, hammers and wheelbarrows to flatten the installations.
Push is on for full cleanup of NY nuclear site — Newsday.com
With a little more than a week left to be heard in the decades-old debate over how to clean up a western New York nuclear site, supporters of complete decontamination say anything less would jeopardize the health of the Great Lakes and its vital freshwater.
State and federal energy officials in November recommended a two-phase plan that would have them spend $1 billion to remove contaminated buildings and soil from the West Valley site over the next several years, while deferring for up to 30 years the larger question of whether to leave some radioactive waste forever buried.
The public comment period on the governments' Draft Environmental Impact Statement ends June 8.
The 3,300-acre site 30 miles south of Buffalo housed the nation's first commercial nuclear reprocessing facility from 1966 to 1972.
Revisiting America's Nuclear Waste Policy
The U.S. Chamber of Commerce's Institute for 21st Century Energy Releases a Policy Paper On Near- and Long-Term Options to Manage the Nation's Nuclear Waste
"Yucca Mountain has been demonstrated to be the best solution under current law, but is by no means the only solution for managing America's nuclear waste. If the Obama administration and Congress plan to change course after 30 years of independent scientific review and billions in investment, they have a legal responsibility to the American people and utilities that have paid more than $28 billion in fees and interest to immediately craft a workable long-term solution."
Lack of Yucca option, causing nuclear waste woes, groups says  – Augusta Chronicle
Savannah River Site's Community Reuse Organization will join other groups that oppose the Obama administration's decision to scrap plans for a permanent nuclear waste repository in Nevada's Yucca Mountain.
Rick Toole, chairman of the regional economic development group, told members today that Yucca Mountain will be the subject of a strategy paper to be discussed at a June meeting—and eventually made public.
New Times SLO |On safeguarding Diablo Canyon radioactive waste
It would be logical to assume that when the second highest court in the nation rules
that a federal agency must comply with specific federal laws, that would decide the matter once and for all. Case closed. But in San Luis Obispo Mothers for Peace v. the Nuclear Regulatory Commission, the reality is much different.
Since 2002, the San Luis Obispo Mothers for Peace (MFP) has pursued the legal avenues available to force the Nuclear Regulatory Commission (NRC) to protect the public from potential terrorist attacks on the new dry-cask storage facility at Diablo Canyon. But ironically, even though the NRC and the Department of Homeland Security specify that all nuclear facilities are targets of terrorists, the NRC has repeatedly refused to produce studies of the environmental impacts of an attack on the dry casks.
The FINANCIAL – Energy Institute Calls for Permanent Solution for America's Nuclear Waste
In a new report issued on May 27, the U.S. Chamber of Commerce's Institute for 21st Century Energy called on the Obama administration to commit to a permanent solution for the nation's used nuclear fuel and nuclear waste.
The report, titled Revisiting America's Nuclear Waste Policy, examines the nation's nuclear waste policies which to this point have failed to remove used fuel stored in 39 states.
Laray Polk: RadWaste and Texas' Future
"It took us six years to get legislation on this passed in Austin, but now we've got it all passed. We first had to change the law to where a private company can own a license (to handle radioactive waste), and we did that. Then we got another law passed that said they can only issue one license. Of course, we were the only ones that applied." –Harold Simmons, Valhi Inc.
How do you get people to vote for radioactive waste to be dumped in Texas in close proximity to the Ogallala and Dockum aquifers? And how do you also get the same community to agree to bankroll the project's $75 million buildout costs? You sell it as a prosperity issue.
The promise of future prosperity is more hopeful than discussing point-blank realities. Namely, that the source of prosperity is a dumpsite in west Texas, near the border of New Mexico, that has the potential for receiving varying grades of radioactive waste from 36 states. And the geographical area in question has three inherent properties that have scientists, engineers and activists worried: red clay, aquifers and high winds.
Deseret News | Report calls for permanent N-waste storage solution
A new report calls for a permanent solution for the nation's safe storage of nuclear waste because the push for clean energy has placed renewed emphasis on nuclear power and the waste that goes with it.
"Revisiting America's Nuclear Waste Policy" notes that 2,000 metric tons of nuclear fuel are generated by U.S. reactors each year, to add to the more than 70,000 tons of spent fuel and other high-level waste already being stored at 121 sites in 39 states.
Moreover, 20 companies have submitted applications to the Nuclear Regulatory Commission to build 26 new nuclear reactors in the next decade.
"With the needed expansion of nuclear power, the amount of used fuel produced will also increase," the report said. "The time is ripe for a permanent solution."
The report, by the U.S. Chamber of Commerce's Institute for 21st Century Energy, notes that Yucca Mountain in Nevada is not the "only" solution, but asks if not there, where.
Daily Green : Could Nuclear Waste Be a Future Energy Resource?
Last week MIT hosted a panel of nuclear power industry experts to address nuclear waste recycling and disposal options. Considered by many analysts to be the chief barrier to building a new generation of nuclear power plants, the debate around what to do with high-level radioactive waste from nuclear power plants continues to be
the industry's hot button issue.
Experts suggest that the current system of storing waste in dry casks on nuclear power sites is still a viable option for several decades to come, but others point to the fact that the 104 US nuclear reactors will generate over 105,000 tons of waste in their life cycle, which would require more than 1,700 acres to store the highly radioactive material. With the Obama administration's recent decision to stop plans for the Yucca Mountain, Nevada nuclear storage facility, the question of where to store nuclear waste continues to loom large.
Foreign waste unlikely in S.C. – The State
Ships carrying nuclear waste from Italy are unlikely to unload their cargo in Charleston if federal regulators allow the European refuse to be buried in the United States, officials with a nuclear services company say.
Energy Solutions Inc. believes other ports will work better than Charleston, said Jill Sigal, the company's vice president for government relations.
The company has previously said in federal documents that it intends to bring the material through either Charleston or New Orleans, but never said which port it preferred. Sigal declined to say whether that means New Orleans is the preferred site.
"It's extremely, extremely unlikely that Charleston would be the port of entry," Sigal said. "We have some other ports for a variety of reasons that might (be) better."
Earlier this month, a federal judge upheld the nuclear services company's bid to import 20,000 tons of Italian low-level waste. The next step is a Nuclear Regulatory Commission decision on whether to approve the permit.
Chicago Page One Examiner: Nuclear waste reprocessing plan melting down? CHICAGO; MORRIS; NAPERVILLE; AURORA
The Obama administration may be melting down a program that would have shipped deadly radioactive wastes from around the world to a reprocessing facility eyed for Chicago's Southwest suburbs.
"The program has been terminated," Department of Energy spokesman Brian Quirke told Chicago Page One Examiner last week about the Global Nuclear Energy Partnership.
That happened in late March, when GNEP was chopped from the new budget, he said.
The controversial Global Nuclear Energy Partnership [GNEP] was a pet project of the DOE during the Bush years. It called for transporting radioactive waste from the nation's 104 nuclear reactors and from 25 foreign countries signed on as "GNEP Partners."
The DOE for two years was mulling a contract with Argonne National Labs that had tentative plans to site a nuclear reprocessing plant near Morris. Highly radioactive weapons-useable plutonium from nuclear reactors across the nation and around the world would have been shipped by truck, rail, and barge for research, development, reprocessing, and long-term storage.
---
Nuclear Policy News
Phil Radford on becoming the new executive director of Greenpeace US | guardian.co.uk
Phil Radford talks to Bibi van der Zee about becoming the new executive director of Greenpeace USA, nuclear power and a clean energy future
AECL's meltdown
Just as corrosion is eating away at the 1957-vintage Chalk River reactor, so too is there is a general erosion of confidence in Atomic Energy of Canada Ltd.
The shutdown of AECL's ancient reactor at Chalk River is drawing international attention, because without the reactor Canada is unable to continue supplying a large percentage of the world's medical isotopes, which are critical for medical scans. AECL's ongoing reactor follies are a national headache, and it's no wonder the federal government is now looking to sell its stake in the ailing energy giant.
A year ago, the Harper government put a stop on the Maple reactor project — which was to replace the Chalk River jalopy — after the project was 600 per cent over budget and six years late, not to mention the nagging suspicion that the reactors don't work.
Talks on with US, France, Russia to set up more N-reactors
Coimbatore, May 29 (PTI) Talks are being held with United States, France and Russia to set up six to eight large nuclear reactors to increase the power generation capacity in the country, Chairman of Atomic Energy Commission said here today.
Dr Anil Kakodkar told media that modalities are being worked out to set up the reactors. Besides Koodankulam in Tamil Nadu and Jethapur in Maharashtra, more locations are being identified, he said.
Techno-economic details and safety related problems would come up for discussions before finalising the agreements, he said, adding the investment would roughly work out to be Rs six crore to Rs eight crore per MW.
Generally, it would take six to seven years for a reactor to become operational. The Government has in principle cleared one each of 700 MW capacity reactor in Kakrapar and Rajasthan thermal power station, Kakodkar said.
Besides 500 MW fast breeder reactor at Kalpakkam, three heavy water reactors and two light water reactors at different locations were under different stages of construction, he said
AFP: Govt to sell stake in nuclear firm
The government said on Thursday it hoped to sell a stake in its nuclear agency to try to grow Atomic Energy of Canada Limited and boost its reactor sales, amid growing interest around the world in nuclear power.
Natural Resources Minister Lisa Raitt told a news conference AECL could not thrive in its current form as it is too small, with a mere 10 percent of installed reactor capacity in the world currently.
As well, it would have to be restructured to make it more attractive to potential investors, she said.
An 18-month review of AECL's operations called for a separation of its research division and its reactor business.
The reactor sales arm could then seek an alliance or partnership, or be divested, it concluded.
Is the Nuclear Renaissance Fizzling? – Green Inc. Blog – NYTimes
Nuclear power may be making a comeback, but long-standing problems with the technology still could lead to canceled orders and renewed public opposition.
One problem is what to do with the highly dangerous waste produced by reactors. Currently waste is stored above ground in pools of water or in vast dry casks, but neither of those methods is regarded as adequate over the long term.
Finland may be the first country to use a different method: burying the waste deep underground in clay and stable rock. You can see some images from the proposed Finnish site, Onkalo, in a slide show that I have narrated as part of a broader look at the challenges facing the industry in Friday's New York Times.
Free Press – The NYTimes finally reports the economic disaster of new nukes
In a devastating pair of financial reports that might be called "The Emperor Has No Pressure Vessel," the New York Times has blazed new light on the catastrophic economics of atomic power.
The two Business Section specials cover the fiasco of new French construction at Okiluoto, Finland, and the virtual collapse of Atomic Energy of Canada. In a sane world they could comprise an epitaph for the "Peaceful Atom". But they come simultaneous with Republican demands for up to $700 billion or more in new reactor construction.
The Times's "In Finland, Nuclear Renaissance Runs Into Trouble" by James Kanter is a "cautionary tale" about the "most powerful reactor ever built" whose modular design "was supposed to make it faster and cheaper to build" as well as safer to operate.
But four years into a construction process that was scheduled to end about now, the plant's $4.2 billion price tag has soared by 50% or more. Areva, the French government's front group, won't predict when the reactor will open. Finnish utilities have stopped trying to guess.
Finnish inspectors say Areva allowed "inexperienced subcontractors to drill holes in the wrong places on a vast steel container that seals the reactor." The Finns have also cited Areva for "the attitude or lack of professional knowledge of some persons."
SCE&G seeks rate hike related to new reactors
South Carolina Electric & Gas, or SCE&G, is seeking a 1.1% increase to its electric rates under a state law that allows annual rate adjustments during construction of power reactors. SCE&G and state-owned utility Santee Cooper are planning to build two Westinghouse AP1000s at the Summer site. The state's Base Load Review Act, passed in 2007, allows for annual adjustments to rates during reactor construction as a way to recover project financing costs.
AFP: Canada to sell stake in nuclear firm
Canada said Thursday it hoped to sell a stake in its nuclear agency to try to grow Atomic Energy of Canada Limited and boost its reactor sales, amid growing interest around the world in nuclear power.
Natural Resources Minister Lisa Raitt told a news conference AECL could not thrive in its current form as it is too small, with a mere 10 percent of installed reactor capacity in the world currently.
As well, it would have to be restructured to make it more attractive to potential investors, she said.
An 18-month review of AECL's operations called for a separation of its research division and its reactor business.
The reactor sales arm could then seek an alliance or partnership, or be divested, it concluded.
Ex-Kazatomprom Head Accused of Uranium Asset Theft – Bloomberg
The former head of Kazatomprom, Kazakhstan's state-run nuclear energy company, was accused of embezzling state shares in uranium deposits, including one co- owned by Canada's Uranium One Inc.
Uranium One fell the most in almost nine years on the Toronto Stock Exchange.
Mukhtar Dzhakishev, who was arrested earlier this week, abused his position as Kazatomprom chief and embezzled state shares in "large uranium deposits" by "transferring" them to offshore companies, Kazakhstan's National Security Committee said today on its Web site.
On Dzhakishev's orders, Kazatomprom in 2005 sold a 30 percent stake in TOO Kyzylkum, a joint venture with Uranium One's UrAsia London Limited unit, for 15.6 million tenge (about $103,000), the committee said. "Proof of illegal transfers of mining rights for other deposits was also uncovered," it said.
Dzhakishev's mobile phone was not in service when called by Bloomberg News. Kazatomprom spokesman Sergei Nasyrov declined to comment on the report.
Arjun Makhijani believes nuclear power too costly, risky » Radio Podcasts | EarthSky
Arjun Makhijani:
The technical case for nuclear power, just like the technical case for wind energy, and solar energy, is partly built on the idea that it's a low CO2 technology.
But it's a high cost, high-risk technology, and that's why I think we shouldn't be doing it.
That's electrical and nuclear engineer Arjun Makhijani, president of the Institute for Energy and Environmental Research.
Arjun Makhijani: Nuclear power is very expensive. Today, wind energy, for instance, is cheaper than nuclear power. If you use a combination of efficiency, wind, and solar energy, it would cost less.
Makhijani said that there's still no long-term plan for storing radioactive nuclear waste, which some fear could be used to make nuclear weapons.
Arjun Makhijani: Plutonium is generated in every nuclear power plant in its operation about 40 bombs worth every year.
Crapo and Risch's $2 billion wish list for Idaho | Idaho Statesman
Idaho's fiscally conservative senators have joined together to ask for more federal money than the state is likely to receive in the stimulus bill both men voted against.
The two Republicans, Mike Crapo and Jim Risch, asked for earmarks as small as a $62,500 emergency management grant for North Idaho College and as large as a $475 million outlay for the cleanup of radioactive waste at the Idaho National Laboratory.
SA Current: The nuclear-power lobby
U.S. Congressman Charlie Gonzalez wanted two things out of the Waxman-Markey climate bill: assistance for the nuclear industry, and free pollution credits for utilities like our City-owned CPS Energy.
He nailed free pollution days before the legislation was voted out of the House Committee on Energy and Commerce last week by requiring most carbon credits to be given away to industry rather than auctioned off. This industry-friendly change, among others, outraged the environmental community, most of whom still felt pressured to support the American Clean Energy and Security Act of 2009 in order to make some progress towards reducing greenhouse gas emissions. Remarkably, however, amid the bill's 170,000 words, "nuclear" gets hardly a mention.
The Great Debate (UK)»  Justification of new nuclear power in the UK 
Paul Dorfman is with the Nuclear Consultation Group and a senior research fellow at the University of Warwick. The opinions expressed are his own.
"Justification" of new-build nuclear power is a high-level assessment of whether the benefits of building new nuclear plants outweigh the detriments. Once the justification decision has been taken it will be difficult if not impossible to re-open this major issue.
And there are real problems – for example, information on how radiation-waste and radiation spent fuel from any new nuclear build could possibly be managed, or the health impact of radiation-discharges will not be fully assessed until after the "Justification" decision is taken. "Justification" of new-build nuclear power will be decided even before the new reactor design is assessed.
'Not in my back yard' -Bartolucci – The North Bay Nugget – Ontario, CA
Cabinet minister Rick Bartolucci is 100% for his government's plans to build new nuclear reactors and 100% against storing their waste in his constituency.
I don't see a conflict in regard to my government's direction at all," Bartolucci, the minister for community safety and corrections, said Monday.
I see this as simply articulating the views of my constituency."
The Liberal government under Premier Dalton McGuinty is poised to announce the company that will build two nuclear reactors at the Darlington generating plant — worth an estimated $26 billion.
Bartolucci says he supports that plan enthusiastically — just not storing any of the radioactive waste in his riding of Sudbury.
Associated Press: Candidates to head nuclear agency make their case
Five candidates bidding for the leadership of the International Atomic Energy Agency laid out their visions of what the U.N. organization's role should be Tuesday at a meeting overshadowed by the North Korea's announcement that it had exploded its second nuclear bomb.
North Korea's bomb test the second in less than three yearswas an indirect reminder of the agency's limits in trying to enforce its nonproliferation mandate. Pyongyang kicked out IAEA inspectors more than six years ago and went on to develop its nuclear weapons program, which it now wields as a huge bargaining chip with the rest of the world as it seeks political and economic concessions.
Subsidy demands sink Labour's nuclear plans | SNP – Scottish National Party
Labour government plans for a new generation of unsubsidised nuclear plants have been left in tatters after the head of the UK's biggest nuclear generator warned that new nuclear stations will not be built unless the UK government steps in with financial subsidies.
SNP Westminster Energy spokesperson, Mike Weir MP, seized on the admission by Vincent de Rivaz, UK boss of EDF Energy, as further evidence that nuclear power was unaffordable, unwise and unnecessary and that the SNP Government's drive for renewables was the only sensible way forward to not only create a green energy future but also provide jobs in these troubled economic times.
Russia breaks wall into U.S. nuclear market | Reuters
Russia signed a landmark deal to supply nuclear fuel directly to U.S. companies on Tuesday, setting itself up to control 20 percent of the U.S. uranium market and extending its global reach in the nuclear sector.
At a ceremony in the Russian capital, U.S. electricity firms PG&E, Ameren Corp and Luminant signed deals to get more than $1 billion in uranium supplies from Russia's state nuclear fuel exporter Tenex between 2014 and 2020.
---
Nuclear Weapons News
In US, another Israeli spy walks free
A US court has fined an American who earlier pleaded guilty to giving classified nuclear weapons documents to Israel in the 1980's.
The 85-year-old former civilian employee of the US Army Ben-Ami Kadish was spared prison time because of his age and infirmity, but ordered to pay $50,000 in a case the sentencing judge said was "shrouded in mystery."
During the sentencing hearing in Manhattan federal court on Friday, District Judge William Pauley questioned the delay in Kadish's prosecution, Reuters reported.
Gingrich Goes Ballistic by Gordon Prather — Antiwar.com
As you may recall, about a month ago, when North Korea launched a ballistic missile which they claimed was intended to peacefully put a satellite in orbit, former House speaker Newt Gingrich now a Fox News contributor, senior fellow at the American
Enterprise Institute, and apparent front-runner among the self-anointed seeking to replace Obama as president went ballistic himself:
"Those who claim that there is little to fear from Iran or North Korea because at best' they will have only one or two nuclear weapons ignore the catastrophic level of threat we now face from just a couple' of nuclear weapons.
Associated Press: Arms body breaks 12 years of deadlock on nukes
The 65-nation Conference on Disarmament broke a dozen years of deadlock Friday and opened the way to negotiate a new nuclear arms control treaty.
Diplomats welcomed the adoption of a "program of work" as a breakthrough for the conference, which has been stalemated since it wrote the nuclear test ban treaty in 1996.
The program refers to nuclear disarmament in general, but it indicates a top candidate for a new treaty is one to ban production of so-called "fissile materials" highly enriched uranium and plutonium needed to create atomic weapons.
WPR Article | A Growing Divide on Nuclear Nonproliferation
New York and Washington may be separated by only a few hundred miles, but in the last few weeks, they have appeared to be light years apart on arms control and nonproliferation issues.
In New York, representatives of more than 100 countries worked from May 4-15 to prepare for next year's nuclear Nonproliferation Treaty review conference. Buoyed by U.S. President Barack Obama's April pledge to seek a world free from nuclear weapons, their work was marked by a spirit of cooperation and compromise that had been noticeably absent during the eight years of the Bush administration. They approved an agenda for next year's event in record time and contemplated forwarding an ambitious set of recommendations to the conference. They welcomed the reinvigoration of U.S-Russian strategic arms talks and Obama's commitment to again seek ratification of the Comprehensive Test Ban Treaty (CTBT) prohibiting nuclear weapon tests.
Associated Press: From 1945 to 2009, more than 2,000 nuclear blasts
Numbers of nuclear explosions carried out by individual nations:
UNITED STATES – 1,032
RUSSIA (SOVIET UNION) – 715
FRANCE – 210
CHINA – 45
BRITAIN – 45
INDIA – 3
PAKISTAN – 2
NORTH KOREA – 2
U.N. Security Council condemns North Korea nuclear test | Reuters
The U.N. Security Council on Monday unanimously condemned North Korea's latest nuclear test, saying it was a "clear violation" of a resolution passed in 2006 after Pyongyang's first atomic test.
The nonbinding statement was agreed to after a Security Council meeting that lasted less than an hour.
"The members of the Security Council voiced their strong opposition to and condemnation of the nuclear test conducted by the Democratic People's Republic of Korea on 25 May 2009, which constitutes a clear violation of resolution 1718," it said.
AFP: World fury at North Korea nuclear test
North Korea on Monday tested a nuclear bomb many times more powerful than its first in 2006, angering enemies and allies alike and prompting UN Security Council members to call an emergency session.
The hardline communist state, which stunned the world with its first atomic bomb test in October 2006, made good on its threat to stage another test after the Security Council censured it for an April rocket launch.
The North "successfully conducted one more underground nuclear test on May 25 as part of the measures to bolster up its nuclear deterrent for self-defence in every way," the official Korean Central News Agency (KCNA) said.
"The current nuclear test was safely conducted on a new higher level in terms of its explosive power and technology," it said.
---
Department of Energy News
Texas contractor found guilty of defrauding Pantex  – Houston Chronicle
An Amarillo man has been found guilty on 29 charges of defrauding the federal government's Pantex Nuclear Facility by billing for hours he and his employees didn't work.
Federal prosecutors said Thursday that 57-year-old Roy David Williams was convicted of wire fraud, theft of public money, 16 counts of fraudulent claims and 11 other counts. Williams is alleged to have defrauded Pantex of more than $169,000 in public money.
Authorities say Williams owned WAATTS Inc. in Amarillo and used bogus addresses in Tennessee as part of his scheme.
Hanford News : Increase in vit plant accidents worries DOE
The Department of Energy is concerned about an increase in accidents requiring medical attention and other safety-related incidents at the Hanford vitrification plant this year.
"The (vitrification plant) project has recently experienced several reportable and nonreportable events that indicate the construction site safety performance may be in jeopardy," wrote John Eschenberg, DOE manager of the vitrification plant project, in a letter to Bechtel National.
The problems "may have resulted from a fundamental breakdown in work planning, hazards identification and control, and/or a generally poor level of diligence and awareness," Eschenberg wrote.
Bechtel is redoubling its safety efforts to reverse the trend, said Ted Feigenbaum, the new Bechtel project director for the Waste Treatment Plant, or vitrification plant.
Department of Energy – President Obama Announces Over $467 Million in Recovery Act Funding for Geothermal and Solar Energy Projects
President Obama today announced over $467 million from the American Reinvestment and Recovery Act to expand and accelerate the development, deployment, and use of geothermal and solar energy throughout the United States. The funding announced today represents a substantial down payment that will help the solar and geothermal industries overcome technical barriers, demonstrate new technologies, and provide support for clean energy jobs for years to come. Today's announcement supports the Obama Administration's strategy to increase American economic competiveness, while supporting jobs and moving toward a clean energy economy.
"We have a choice. We can remain the world's leading importer of oil, or we can become the world's leading exporter of clean energy," said President Obama. "We can hand over the jobs of the future to our competitors, or we can confront what they have already recognized as the great opportunity of our time: the nation that leads the world in creating new sources of clean energy will be the nation that leads the 21st century global economy. That's the nation I want America to be."
Will $2 billion speed up Hanford cleanup? – OregonLive.com
The Hanford Nuclear Reservation is getting nearly $2 billion in stimulus money for job-generating projects, but the top watchdog over the former nuclear weapons production site questions whether the extra money will reduce cleanup delays.
The U.S. Department of Energy is using the money, about equal to Hanford's annual budget, for scores of construction and cleanup projects at one of the world's largest hazardous-waste sites. The projects include cleaning contaminated groundwater and buried waste along the Columbia River, a high priority for Oregon and Washington regulators.
But the department isn't accelerating long-delayed cleanup of 177 leak-prone underground tanks filled with 53 million gallons of radioactive sludge, notes Gerry Pollet, executive director of Heart of America Northwest, a Hanford watchdog group.
---
Other Energy News
The Cost of Energy » Graph of the Week: Cars vs. Trucks
This week's Graphs of the Week come from the US Dept. of Energy's energy Efficiency and Renewable Energy program, and they address a pretty basic fact of American transportation: The mix of cars vs. light trucks in new vehicle sales,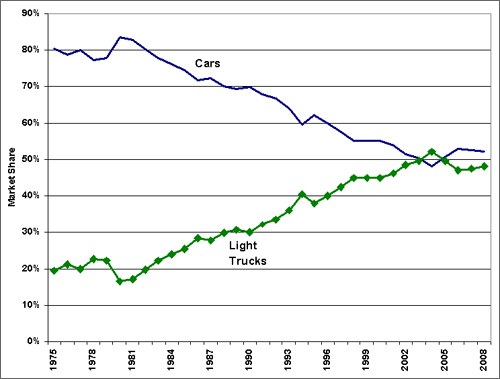 and who's driving them. ("Light trucks" is a term of art meaning pickup trucks, minivans, and SUVs. Add your own rude comment here about how "light" some SUVs are.)
Hey Red States, Get With the Freaking Program! : Red, Green, and Blue
Republicans are not just talking about slowing progress on clean energy, energy efficiency, and climate change, they're doing it…by doing nothing about it.
I'm over it. There's a lot of phooey balooey about compromising, reaching across the aisle, Republicans and Democrats working together, a spirit of bipartisanship, a new kind of politics'
Report: Climate Change Already Killing 300,000 People Annually : Red, Green, and Blue
The first-ever report exclusively focused on the global human impact of climate change indicates that more than 300 million people are seriously affected by climate change at a total economic cost of $125 billion per year.
Earlier today, former UN Secretary-General, Kofi Annan, President of the Global Humanitarian Forum, announced the results of a report on the human impact of climate change. The study, Human Impact Report: Climate Change – The Anatomy of a Silent Crisis, emphasizes the present impacts of a changing climate, pulling the debate away from a focus on "future generations."
Peak Energy: Latest to Sound the Climate Alarm: Doctors, Lawyers, Generals, Bankers and Diplomats
Alex at WorldChanging has a look at some recent events in global warming politics – Latest to Sound the Climate Alarm: Doctors, Lawyers, Generals, Bankers and Diplomats.
How to shut down 93% of coal without building new plants or reducing power supply | Grist
Two interesting observations:
1. 50% of U.S. power generation (in MWh) comes from coal, while only 20% comes from natural gas.
2. 32% of total U.S. power generation capacity (in MW) is coal-fired, while 42% is gas-fired.
When it runs, the natural gas fleet emits just 50% of the CO2 of the coal fleet, which raises a rather interesting question: what would we have to do to make it run harder? And how big a difference would that make in our national CO2 footprint?
MW vs. MWh
So why, if we have more natural gas generation capacity, do we get more of our power from coal?
Almost Everyone Has a Solar Water Heater In Dezhou, China (Video) : TreeHugger
If China's addicted to solar hot water heating, the city of Dezhou is it's dealer (and one of it's biggest customers). A new video from Greenpeace, above, highlights the build-up of solar among residents and as an industry.
Some facts from this shining example: Of the city's 5.5 million residents, almost all living in the new town use solar heating, and about 90 percent of homes in the old town have solar heating. In 2007, 800,000 people had jobs in the solar panel industry, or about one in three people of working age in the city. That figure is expected to grow to 150,000 by 2020. No wonder: Dezhou is home to the world's biggest solar water heater manufacturer.
And compared with an electric heater, a solar heater in Dezhou, which starts at about US$190, pays for itself in five and a half years. The numbers in Western countries, by comparison, make us want to shield our eyes.
Dysprosium: Achilles Heel Of Hybrid, EV, & Wind Turbine Designs :
TreeHugger
China produces 95% of the worlds supply of the rare earth metal, dysprosium, a key metal in magnets used in the drive motors for hybrid electric vehicles – up to 100 grams of dysprosium per hybrid car produced, according to a Wikipedia reference. Dysprosium's magnetic properties also make it an important metal for wind turbines and electric vehicles. Could be vital for MagLev trains, too.
Scarcity of the metal is a sustainability and a political issue, according to a recent article in the TimesOnline, Crunch looms for green technology as China tightens grip on rare-earth metals. This does not look good.
Maker Faire 09: GoBe Solar Charger : TreeHugger
Wandering through the Maker Fair expo, I came across this solar charger I hadn't heard of before. It's called GoBe, and looks like a great portable way to charge up some hefty devices, possibly even your laptop.
It comes in two parts – a brief case-sized fold-out solar panel that can be propped up at different angles, and a lantern-sized battery pack. The solar panel has a max of 13 watts, which means you'll get back-up power to a laptop after a day's worth of charging, but can't really run a laptop off of it. However, it's great for charging up the GoBe hub so you have spare power for a wide range of other devices.
How Much Will Cap and Trade' Cost? – Economix Blog – NYTimes.com
As part of a public strategy to offset global warming, the president and Congress are considering possible "cap and trade" laws to limit the United States' carbon dioxide emissions. One question raised in this debate is the amount that such limits would cost United States taxpayers and consumers.
Many scientists argue that carbon dioxide emissions are a significant contributor to global warming, and that humanity would benefit if the government did something to stop, or partly offset, global warming.
AFP: China plans 440-bln dlr stimulus for green energy
China is planning a stimulus package worth 440 billion dollars to expand its renewable energy use, state media said, as the country aims to rely more on cleaner ways to power its growth.
The three trillion yuan (439.7 billion dollars) investment will see part of the focus on wind power, the Beijing Morning Post said, citing Liang Zhipeng, a State Energy Administration official.
The government has collected opinions from local economic planning agencies and relevant companies about a draft plan, Liang said, according to the report.
Under the plan, China's wind power capacity will reach over 100 gigawatts by 2020, the report said, more than triple a goal of 30 gigawatts announced in 2007 in a renewable energy development plan.
America's new green guru sparks anger over climate change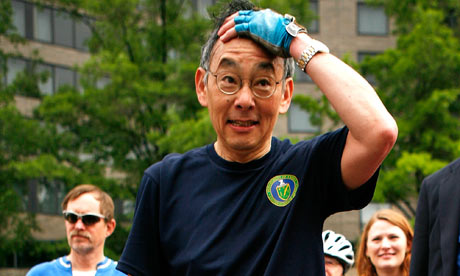 U-turns  | The Observer
President Obama's energy secretary, Nobel prize-winner Steven Chu, arrives in Europe this
week to discuss global warming. But his recent policy decisions on coal-fired power stations and hydrogen cars have angered many environmentalists
US energy secretary Steven Chu will fly to Europe this week to begin talks that will be crucial in the global battle against climate change. The 61-year-old physicist will hold key discussions with energy ministers from the G8 nations in Rome before travelling to London to take part in a debate with Nobel prize winners on global warming.
---
Nuclear Editorial and Opinions
Daily Kos: The Relative Safety of the New Generation of Nuclear Reactors
The Chernobyl nuclear disaster occurred on April 26th, 1986 when reactor number four at the Chernobyl electric power facility in the Ukraine had a chemical explosion. Human error combined with the poor construction and design of the facility caused the chemical explosions and fires that released a plume of highly radioactive fallout into the atmosphere. Thirty-five people who attempted to put out the fires at Chernobyl died shortly after the accident of radiation poisoning. However, the immediate evacuation of about 116,000 people from areas surrounding the reactor reduce the general population from exposure to high levels of radiation. A United Nations report determined that a total of 57 people died as a direct result of the radiation from the disaster. Additionally, the UN study predicted that over several years up to 4000 additional deaths could result from radiation exposure from Chernobyl. However, the latest UN report suggest that these numbers may have been overestimated. Additionally, the IAEA reports that there has been no solid evidence of any additional deaths related to the Chernobyl disaster.
Time is right to get out of the nuclear business
This might not seem like the best moment to put Canada's nuclear-reactor business up for sale. Headlines around the world are highlighting the fact that our research reactor, responsible for supplying as much as 40 per cent of the world's isotopes, is on the fritz.
But there is no point worrying about the context. Selling some or all of Atomic Energy of Canada Ltd. is the right decision. A major restructuring is what it needs.
The Conservative plan would see AECL divided in two: The Candu reactor business would be sold as a commercial enterprise and the Chalk River facility would remain a research facility, possibly under private-sector management.
Maybe not: There's much to recommend against nuclear power |Â  Great Falls Tribune
Policy analysts typically evaluate proposed new policies against the status quo.
From this perspective, the question of whether Congress should encourage the development of nuclear power is moot, because support for nuclear power is a central element of the status quo.
Over the last 20 years the federal government has taken numerous steps to encourage nuclear power.
The Nuclear Regulatory Commission streamlined the process for developing nuclear power plants approving standardized reactor designs, allowing utilities to obtain pre-approval for reactor locations that may be banked for future use, and creating
combined construction and operating licenses.
Pro-Con | Should the U.S. increase its nuclear power capacity to combat the threat of global warming? – Kansas City Star
The nuclear industry provides just 19.7 percent of America's electrical power, a remarkably small share for a country with our industrial capacity and energy needs. There were 112 reactors operating in the United States in 1990. Today, there are just over 100.
There are signs that America's nuclear Dark Age is ending. Some former critics of nuclear power embrace it as an alternative to fossil fuels. Plus, the political winds may be shifting. The Bush administration promoted nuclear power, opening the way to 22 nuclear plant applications for the period 2007-2010. President Barack Obama acknowledges that nuclear power should be Å"part of the energy mix."
The Top Nuclear Stories is published twice weekly. It is a produced
using a combination of social bookmarking and programming.
You can view or join the public group and add your own stories
by going here -> http://groups.diigo.com/groups/nukenews