After the last couple of weeks, this last one was very slow news wise.  News yes, and a more than a bit of foul stuff.  Expect a lot of we did it kind of PR stuff, onward to victory news.  Let's see, we've seen that how many times now in the last 4 years of promo-campaigns?  I'm late in getting this out.  But its done…
There is news, continued battles go on in many places.  Attempts to slow down Italy's push took a nasty turn, reactors in Egypt and several other countries was announced.  Vermont and Utah continue to lead the U.S. battles.  Enjoy.
---
Top Nuclear Stories Index
---
Nuclear Reactor News
Report: World Nuclear Power Renaissance Unlikely Before 2030 :: POWER Magazine
"Despite some powerful drivers, nuclear power faces too many barriers compared to other means of generating electricity, and that means that a significant expansion of nuclear power is unlikely to occur before 2030, the Centre for International Governance Innovation (CIGI), a Canadian think tank, said in a report on Thursday.
The report from the Ontario-based group titled Nuclear Energy and Global Governance to 2030 (PDF) finds that new reactor construction could be held back by a series of economic, security, and waste disposal issues. The report stems from a 3 ½-year combined study of nuclear safety, security, and nonproliferation around the world, and it seeks to provide a five-point action plan for policymakers around the world.
The report finds that while the amount of nuclear-generated electricity globally may rise, the percentage of total electricity it contributes is likely to fall. Although the number of nuclear reactors will probably rise from the current number, this will likely be offset by the retirement of older plants, despite life extensions to some of them. "For the vast majority of states, nuclear power will be as elusive as ever, it says."
Underwater screens better at protecting fish than cooling towers, engineering report says
"An independent engineering firm and its biological experts have told the state Department of Environmental Conservation that Wedgewire and underwater screens technology would be superior to cooling towers for protecting the Hudson River aquatic life near the Indian Point nuclear power plants at Buchanan.
Indian Point parent Entergy was required by the DEC to make a filing on the feasibility of cooling towers as well as present alternative technologies of comparable effectiveness to protect aquatic life in the river.
In its filing, Entergy asked the DEC to issue a revised draft permit that includes the Wedgewire technology in April.
The Enercon study, commissioned by Entergy, concluded that Wedgewire screens would better protect fish eggs and larvae over the 20 year period of a renewed Indian Point license in large part because they can be installed and operational 12 to 15 years sooner than cooling towers.
"
AP: Southern Co. to get federal loan guarantees for nuclear reactors  | ajc.com
"President Barack Obama is expected to announce next week that Atlanta-based Southern Co. will get federal loan guarantees — the first in nearly 30 years — to build two nuclear reactors in Burke, an administration official has told the Associated Press.
Southern Co's Georgia utility, Georgia Power, is planning two new reactors at its Plant Vogtle facility in Waynesboro, near Augusta.
They would be completed in 2016 and 2017, respectively, at a cost estimated at $14 billion. Georgia Power's share of the tab: $4.5 billion for the construction, plus $1.6 billion in financing charges, Georgia Power has said.
Citing a Wall Street Journal story, the Atlanta Journal-Constitution said last June that Southern was one of four companies in line to split $18.5 billion in federal government loan guarantees that would be used to build new nuclear power facilities."
Expert details Yankee leak: Rutland Herald Online
"
The plume of tritium leaking from the Vermont Yankee nuclear power plant is suspected of being 35 feet deep, 200 feet wide and 400 feet long, according to the Legislature's nuclear expert.
Arnie Gundersen, a member of the Vermont Legislature's Public Oversight Panel for Vermont Yankee, told lawmakers Wednesday morning the quickest way to stop the tritium leak before finding its origin would be for the reactor to shut down.
Gundersen said that move would likely cost Entergy, the company that owns Vermont Yankee, about $1 million a day in electricity sales.
"If the plant shuts down, the tritium leak stops," Gunderson told members of the Senate Natural Resources Committee at the Statehouse Wednesday. "It would take years for the tritium to move off-site, but you would not be adding anything to it if the plant shut down.""
Patrick: Pilgrim power plant could have leaks – Falmouth, MA – Falmouth Bulletin
"The Pilgrim nuclear power plant in Plymouth could be leaking radioactive substances and should be required to perform more extensive testing to monitor the situation, Gov. Deval Patrick said.
In a letter to the Nuclear Regulatory Commission, Patrick also calls for a stay on further consideration of relicensing the plant or approving a proposed spin-off of the plant by its owner, Entergy Corp.
Patrick is the most recent New England governor to ask the federal commission to take action against a local plant.
Buried piping at the Vermont Yankee nuclear plant also owned by Entergy Corp. has been leaking radioactive tritium that state health officials said Wednesday has reached the Connecticut River. Governors in Vermont and New Hampshire have called for an investigation by the NRC.
But the difference between the Yankee and Pilgrim plants is that officials at the Vermont facility agree there's a leak. Their monitoring wells detected tritium levels that exceed federal standards for drinking water."
Up and atom: The comeback of nuclear power | MNN – Mother Nature Network
"It's climate-friendly and creates jobs, but as the U.S. reconsiders atom smashing, old worries about nuclear waste, meltdowns and price tags persist.
The United States is on the brink of a nuclear revival, fueled by fear of climate change, demand for electricity and distrust of renewable power. Combined with a festering recession, these modern woes are suddenly drowning out many of the older worries such as meltdowns and radioactive waste — that plagued nuclear power's past.
After a nearly 30-year lull in building new nuclear reactors, due largely to the 1979 Three Mile Island accident, U.S. energy companies have applied to build more than two dozen in the last three years, and some advocates are calling for much more. President Obama touted the benefits of nuclear power during last month's State of the Union address, and in his 2011 federal budget, he proposed tripling government loan guarantees for new nuclear projects, raising the total to more than $54 billion."
Associated Press: Vt. health chief: Tritium may in Connecticut River
"The state's top health official said Tuesday it's reasonable to assume a radioactive substance leaking from the Vermont Yankee nuclear plant is reaching the Connecticut River.
Dr. Wendy Davis, commissioner of the state Department of Health, told The Associated Press that the volume and direction of flow of tritium-tainted groundwater leads to the conclusion that it's reaching the river.
Previous statements from the Health Department had indicated the water containing tritium, a radioactive isotope of hydrogen that has been linked to cancer when ingested in large amounts, was believed to be flowing toward or to the river. But they also said it was diluted by uncontaminated river water, so that lab instruments were not detecting it in samples of river water."
Environmental group cites potential radiation risks in opposing Bellefonte nuclear project | Breaking News from The Huntsville Times – al.com
"A North Carolina environmental group is seeking to sway local officials from
Bellefonte Nuclear Plant near Scottsboro supporting completion of Bellefonte Nuclear Plant near Scottsboro or the construction of a new nuclear plant next to it.
"We don't want to see mistakes repeated here," Lou Zeller, science director for the Blue Ridge Environmental Defense League, told the Scottsboro City Council Monday, referring to the 1979 accident at Three Mile Island nuclear plant near Harrisburg, Pa.
But Jack Bailey, vice president of Nuclear Generation Development at TVA, said in an interview Tuesday the public will have "nothing to fear" if a nuclear plant becomes operational at Bellefonte."
Piketon facility impacted by nuclear plant call | Chillicothe Gazette
"President Barack Obama's call for a new generation of nuclear power plants could weigh on decisions about a possible new nuclear power facility at the former uranium processing reservation in Piketon.
But nobody expects any significant activity soon.
It's been more than six months since Ohio Gov. Ted Strickland, U.S. Sen. George Voinovich, top officials from Duke Energy and other utility companies announced formation of the Southern Ohio Clean Energy Park Alliance.
The informal alliance was formed to explore development of a 1,600-megawatt nuclear generating plant at a "clean energy park" that could cost more than $10 billion, take more than a decade to build and create thousands of jobs."
Public airs concerns over Diablo Canyon license renewal  – SanLuisObispo.com
"Comments at commission's meetings about power plant center on earthquake danger, fuel storage and timing of application for new license
Earthquake danger, spent fuel storage and the perceived early timing of the renewal application are poised to be major public concerns as federal regulators process an application to extend Diablo Canyon nuclear power plant's two operating licenses by 20 years.
The federal Nuclear Regulatory Commission kicked off the license renewal process with two public information meetings attended by about 50 people Tuesday in San Luis Obispo. The process is expected to take more than two years to complete.
During an extended question and answer session in the afternoon, NRC officials addressed many familiar safety issues regarding operation of the nuclear plant. If the agency grants Pacific Gas and Electric Co.'s request, the lives of the two reactors will be extended from 2024 and 2025 to 2044 and 2045.
Public concern centered on three main issues:"
Haripur nuclear power plant becomes bone of contention
"The people of Haripur, West Bengal, are angry. A nuclear power plant they don't want is being thrust on them and their land is being taken away to locate it. The ruling Left Front has for long sought a nuclear power plant for the state. The locals sought the help of the Trinamool Congress to stymie the state government. But now the Congress is also in the picture. It is being asked hard questions and it doesn't know what to do.
Though not much is known about the proposed power plant, Haripur is expected to have six nuclear reactors each of 1650 MW- a total installed capacity of 10,000 MW of electricity. It is located in the coastal area of Contai, East Midnapur district, roughly 170 km away from Kolkata. Its 80,000 strong population is engaged mostly in farming and fishing.
A minimum of 1000 acres of land will have to be acquired for the proposed plant in the first phase alone The Junput fishing harbor will fall in this zone. Naba Dutta, an activist and general secretary of Nagarik Mancha, claims that according to S K Jain, chairman, Site Selection Committee and chairman of National Power Corporation, an area of two square kilometers will be required to locate the plant and a buffer zone with a radius of 1.6 km would have to be created around it."
VPR News: Groundwater Contamination At Vt. Yankee As Big As Football Field

"The zone of groundwater now contaminated at the Vermont Yankee nuclear plant is about the size of a football field.
And the state Health Department has increased the testing of private wells in the area around the plant.
VPR's John Dillon has more.
(Dillon) The Department of Health stepped up its monitoring work in early January after Yankee discovered radioactive tritium in a well about 30 feet from the Connecticut River.
The department now says a half-dozen wells are showing tritium. Some have registered high levels – close to what's found in water that's used in the nuclear reactor.
The Health Department says that a corridor of contaminated water is flowing from the turbine building toward the Connecticut River. "
Groups: Oyster Creek must safeguard fish | Asbury Park Press
"Screening and diverting devices that save fish from the Oyster Creek nuclear plant's cooling water intake are "about as good as it can get" in modern techniques, and the reactor's major impact on Barnegat Bay is with the tiny organisms that get sucked in and destroyed, a top state environmental official told a state Senate committee Monday.
Fishermen and environmental groups have insisted for years the power plant is reducing numbers of clams and fish in the bay.
"Technically, the issue is more entrainment than impingement," said Nancy Wittenberg, an assistant commissioner in the state Department of Environmental Protection, referring to the intake of fish eggs and larvae.
A system of fish ladders and chutes what "I like to call an amusement ride for fish"  screen out and bypass the larger animals, releasing them back into the plant's canal that flows to Oyster Creek, Wittenberg said."
Egypt to build its first nuclear power plant | 'RIA Novosti' newswire

"Egypt will build its first nuclear power plant in the Mediterranean coastal town of El-Dabaa, reviving the country's civilian nuclear power program after more than two decades, the El-Ahram newspaper said on Monday.
Egyptian authorities announced in 2007 plans to build nuclear power facilities in the country to meet the increasing demand for electricity.
The north African state's nuclear program was originally suspended after the Chernobyl disaster in the former Soviet Union in 1986.
The paper quoted Egyptian energy minister Hassan Younes as saying the construction of the country's first nuclear power plant would take about 9 years. He said the decision to build the plant in El-Dabaa was based on a report by a team of international experts.
The minister was quoted as saying the construction would cost from $1.5 to $2 billion.
Russia, the U.S., China and the European Union support Egypt's peaceful nuclear program and have offered their assistance to the country's government."
Tritium contamination is near strength of reactor water: Rutland Herald Online
"The highest level of radioactive tritium yet 2.45 million picocuries per liter  was discovered Saturday in a new groundwater monitoring well at the Vermont Yankee nuclear reactor.
The Department of Health announced the discovery, which was in a well near the building holding the advanced off-gas system.
The department said such high concentrations were an indication that one or more pipes are leaking highly contaminated water into the ground.
Nancy Erickson, communications director for the Department of Health, said the new level is very close to the tritium concentration in reactor water, which is usually measured at 2.9 million picocuries for tritium.
Erickson said the contaminated well is near an excavation that was made to inspect a concrete duct that encases a 2-inch drain pipe."
SentinelSource.com | VERMONT YANKEE: Leak found?
"Officials at a Vermont nuclear plant said Friday they are investigating the possibility that a leak in an underground pipe connected to a sump pit may be responsible for a radioactive substance turning up in groundwater monitoring wells, while new groundwater tests found levels more than 40 times higher than a federal safe drinking water limit.
Vermont Yankee plant officials said they found levels of tritium in a sump pit at the plant that far exceeded those recently found in groundwater monitoring wells. The discovery suggested that an underground pipe connected to the pit might be the source of the leak, and officials said they planned to investigate that possibility over the weekend.
They said the 2.7 million picocuries per liter found in the sump sample was near the maximum that could be reached at the plant; water that passes through the reactor has readings close to 3 million picocuries per liter."
Public gets a shot at CPS rate proposal
"CPS Energy has a potentially difficult week ahead of it as it prepares to tackle rate hikes and the future of its controversial nuclear project.
The utility has proposed a 7.5 percent rate increase for electricity and 8.5 percent for gas. The hikes, which would raise consumers' total power bills a little more than 4 percent, would bring in $99 million for the remainder of fiscal 2010 and $110 million next year. The money would help pay for the new Spruce 2 coal plant, two natural gas units and other programs.
Residents will have a chance to weigh in at a public forum Monday evening. The utility's board is expected to vote on the rate increases Wednesday, and the City Council will vote Feb. 18. The increases would take effect March 1."
Tritium levels skyrocket again at Vermont Yankee – BostonHerald.com
"The Vermont Department of Health says levels of radioactive tritium in groundwater samples taken at Vermont Yankee nuclear plant have skyrocketed again — to 2.7 million picocuries per liter.
The nuclear plant, located in Vermont's southeastern corner, is now monitoring drinking water wells on site and the Connecticut River on a daily basis, although the radioactive isotope hasn't been found in either.
Tritium has been linked to cancer when ingested in large amounts. The federal safety standard for consumption is 20,000 picocuries per liter.
State health officials say underground piping could be leaking the substances, which was first discovered at Vermont Yankee on Jan. 7."
Kola Nuclear Power Plant first hides, then downplays incident – Bellona
"An energy transformer exploded into bits and pieces at the Kola Nuclear Power Plant located on the Kola Peninsula, in Northwest Russia. The incident led to a 50% reduction of power output from two reactor units leaving onsite spent nuclear fuel storage without energy supply. The authorities at the plant neglected to report about the incident. Igor Kudrik, 04/02-2010
On January 15, 2010 at 16:48 while the plant was operating at 1433 MW capacity, due to a failure in the energy transformer, two 330 kilowatt electric mains, which supply consumers in the Murmansk region, were switched off. The 3rd and 4th reactor units reduced their capacity to 50% of nominal output in accordance with the guidelines, reported the press service of the Kola Nuclear Power Plant on February 3rd, 18 days after the incident took place.
But the dry language of the press release disguised the severity of the event"
---
Nuclear Health and Safety News
VDH: Investigation into Tritium Contamination at Vermont Yankee Nuclear Power Station
Summary
On January 7, the Vermont Department of Health was notified by Vermont Yankee Nuclear Power Station that samples taken from a ground water monitoring well on site (identified as GZ-3) contained tritium.
Tritium is a radioactive form of hydrogen. It is a by-product of the nuclear fission process in a nuclear reactor, and also occurs naturally in the environment in very low concentrations. Most tritium in the environment is in the form of tritiated water, which easily moves about in the atmosphere, bodies of water, soil and rock.
The finding of tritium in ground water signals that there has been an unintended underground release of radioactive material, and that other radioisotopes may have contaminated the environment.
Vermont Yankee officials are conducting an investigation to identify the source of the tritium, and the magnitude of contamination, with the Nuclear Regulatory Commission (NRC) in an oversight role."
Radiation tests on the rise – The Sudbury Star – Ontario, CA
"The number of workers at Bruce Power being tested for exposure to alpha radiation has risen to 190 from 19 and some workers have balked at working in the affected area.
However, no one yet has fallen ill or shown levels above recommended guidelines.
"We always knew it was going to expand," Bruce spokesman Steve Cannon said Thursday.
"People are naturally concerned. It's totally understandable and we appreciate that. We're going to do everything we possibly can to let people understand that all precautions are being taken."
Crews working to restart the Bruce A Unit 1 reactor in November first discovered the problem through routine air monitoring.
Alpha radiation, typically associated with old or degraded fuel bundles, can cause radiation sickness if it's breathed in but can't penetrate the skin.
Work was stopped while the area was ventilated with HEPA filters but has since recommenced, Cannon said. "
A Quarter of U.S. Nuclear Plants Are Leaking a Radioactive Material Linked to Cancer | Environment | AlterNet

"At least 27 of America's 104 aging atomic reactors are known to be leaking radioactive tritium, which is linked to cancer if inhaled or ingested through the throat or skin.
Like a decayed flotilla of rickety steamers, at least 27 of America's 104 aging atomic reactors are known to be leaking radioactive tritium, which is linked to cancer if inhaled or ingested through the throat or skin.
The fallout has been fiercest at Vermont Yankee, where a flood of cover-ups has infuriated and terrified near neighbors who say the reactor was never meant to operate more than 30 years, and must now shut.
In 2007 one of Yankee's 22 cooling towers simply collapsed due to rot. "
Former Test Site workers closer to cancer compensation from government . – Las Vegas Sun
"Former Nevada Test Site workers who are seeking compensation from the federal government for cancer they contracted while working on underground nuclear tests are one big step closer to achieving that goal.
The Advisory Board on Radiation and Worker Health has granted "special exposure cohort status" to individuals who worked at the Test Site from 1963 through 1992, Senate Majority Leader Harry Reid, D-Nev., announced today.
Reid hailed the unanimous vote as great news for workers who served the nation during the Cold War."
Hidden Health Crisis: Vieques Seeks Its Day in Court | The Citizen
"Vieques is a small island with a big problem. And the Obama administration is fighting to keep it that way.
A municipality of Puerto Rico just a few miles east of the main island, Vieques has the lamentable distinction of being the venue of six decades of training exercises and weapons testing by the U.S. Navy. Starting around the outbreak of World War II, our military has tested all manner of munitions there, from napalm to depleted uranium to Agent Orange. It has also released immense quantities of jet fuel, flame retardants, and other toxic substances. The place is contaminated.
Not surprisingly, Vieques's 9000 residents American citizens by birth are a sickly bunch. Cancer rates are 30 percent higher than they are on Puerto Rico's main island. In the case of diabetes, the figure is 41 percent; for hypertension, nearly 400 percent. And roughly 80 percent of residents test positive for heavy metals like lead, mercury, and arsenic in their hair."
CBC News – Nuclear prospects worry farmers
"Organizers of a meeting about the effects of nuclear power on food production say the prospect of a reactor in Alberta is a serious worry for farmers.
"I can't in good conscience sell beef that are eating … grass that is being exposed to tritium, which means it will be higher level of radiation than other parts of the country," said Mandy Melnuk, a beef producer who volunteers with the National Farmers Union.
"So this is why we are fighting so hard, it's our livelihoods we're fighting for."
The full-day symposium in Edmonton Monday was organized by the Alberta Organic Producers Association and the NFU."
Sellafield is like BP's Texas City before the fire, says NDA's new boss | Environment | The Observer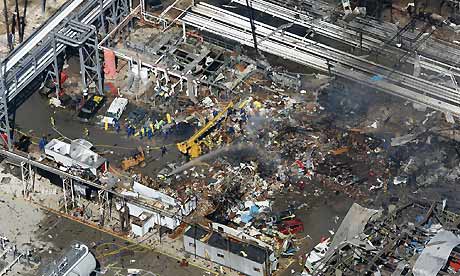 "Tony Fountain, a former BP executive, describes working practices at Britain's largest nuclear site as similar to those at the US refinery that resulted in a catastrophic fire
There are similarities between the poor operating practices at the Texas City oil refinery that blew up in America and the troubled nuclear complex at Sellafield in Cumbria, the former BP executive brought in to shake up the government's nuclear clean-up operation has warned.
In his first interview as chief executive of the Nuclear Decommissioning Authority, Tony Fountain admitted there was still a long way to go before Europe's biggest atomic site was brought up to the highest possible standards, although he said progress had been made by a new private sector management team."
Hanford Advisory Board Says Too Many Sickened From Beryllium
"Beryllium is making too many people sick at the Hanford Nuclear Reservation. That's according to a group of stakeholders that advises the Department of Energy (DOE) on how to manage the site. Last Friday, the group asked the federal government for an independent review to find out what's going on with the toxic metal at Hanford.
The Department of Energy says it actually has stricter standards than OSHA on exposure to beryllium. But many representatives on the Hanford Advisory Board say they are distressed that workers are still getting sick.
Beryllium was used to seal nuclear fuel rods during WWII and the Cold War in many buildings throughout the Hanford site. People get sick when they get tiny particles of the metal in their lungs or absorb it through wounds. More than 30 workers have become sick so far. "
U.S. Department of Labor – Office of Workers' Compensation Programs (OWCP) Press Releases
"Division of Energy Employees Occupational Illness Compensation (DEEOIC)"
Press Releases for new cohort groups
EnergySolutions employee hurt in accident; Bear Creek operations shut down | knoxnews.com

"An employee at the EnergySolutions' Bear Creek Facility in Oak Ridge was airlifted to a Knoxville hospital today after he was injured in an accident. Operations at the radioactive-waste processing plant were shut down immediately afterwards, and the accident is under investigation, the company said.
According to information released by EnergySolutions, the worker was injured when a crane moving a 10-ton metal block failed, with the block falling and hitting the worker's leg. The worker's name was not immediately released, but EnergySolutions spokesman Mark Walker said the worker — a 20-year employee at the site — was in stable condition at the University of Tennessee Medical Center. Walker said the injuries were not life-threatening."
Jesse Lava: Hidden Health Crisis: Vieques Seeks Its Day in Court
"Vieques is a small island with a big problem. And the Obama administration is fighting to keep it that way.
A municipality of Puerto Rico just a few miles east of the main island, Vieques has the lamentable distinction of being the venue of six decades of training exercises and weapons testing by the U.S. Navy. Starting around the outbreak of World War II, our military has tested all manner of munitions there, from napalm to depleted uranium to Agent Orange. It has also released immense quantities of jet fuel, flame retardant, and other toxic substances. The place is contaminated.
Not surprisingly, Vieques's 9000 residents — American citizens by birth — are a sickly bunch. Cancer rates are 30% higher than they are on Puerto Rico's main island. In the case of diabetes, that figure is 41%; for hypertension, nearly 400%. And roughly 80% of residents test positive for heavy metals like lead, mercury, and arsenic in their hair."
Team 4: Neighbors With Cancer Sue Former Nuclear Plant Owner – Armstrong County News Story – WTAE Pittsburgh
"Some residents of the Apollo area say in a new lawsuit that they developed cancer from exposure to radiation and toxic chemicals at the former Babcock & Wilcox plant, Team 4's Paul Van Osdol reported Wednesday.
It's closed now, but the property in Parks Township, Armstrong County, was once the site of the largest private nuclear processing facility in the country. Neighbors and former workers there say all the radiation left them poisoned.
A new lawsuit says that "repeated releases of hazardous and radioactive substances into the area" around the plant caused three area residents to develop cancer.
One of those people — Eva Myers — lived 400 feet from the plant. She died of lung cancer two years ago."
---
NRC News
NRC delays review of Entergy NY Indian Pt renewal | Reuters
NRC delays review of Entergy NY Indian Pt renewal
* NRC delays environment report by three months
* Delay due to new information from Entergy
* Entergy filed for renewal in 2007
NEW YORK, Feb 12 (Reuters) – The U.S. Nuclear Regulatory Commission delayed the schedule for the review of the renewal of Entergy Corp's (ETR.N) Indian Point nuclear power reactors in New York, the NRC said in an email Friday.
In a letter dated Feb. 2, the NRC told Entergy, of New Orleans, it delayed the issuance of the final supplemental environmental impact statement until May 31. Earlier, the NRC had expected to issue that report on Feb. 12.
The statement is the last report needed before the commission can make a decision on Entergy's request to renew the reactors' operating licenses for an additional 20 years.
The NRC said it delayed the report due to new information from Entergy including replacement aquatic data and revised severe accident mitigation analyses.
In April 2007, Entergy filed with the NRC for the 20-year extensions of the units' original 40-year operating licenses."
POGO Opposes Nomination Of William Magwood For NRC
"The Project On Government Oversight (POGO) is opposing President Obama's nomination of William Magwood for the Nuclear Regulatory Commission (NRC). Along with two other of the President's nominees to the NRC, Mr. Magwood will come before the Senate Environment and Public Works Committee for a confirmation hearing tomorrow, Tuesday, February 9, 2010. In his State of the Union address, President Obama outlined a plan to build a new generation of nuclear power reactors. POGO does not take a stance on nuclear power, but does strongly believe that the regulatory body that licenses and inspects nuclear power reactors should be independent, active, and unconflicted. Mr. Magwood does not satisfy those key criteria.
"As a result of our investigation and given his more than a dozen years promoting nuclear power, we do not believe Mr.Magwood has the independence from the nuclear power industry, nor the security oversight background, to regulate it," said Danielle Brian, Executive Director, POGO. "We don't care if he is pro-nuclear. The current NRC Chairman Gregory Jaczko and the Republican nominee Bill Ostendorff, are pro-nuclear, but we believe they have a demonstrated record of being independent and serious about oversight.""
Platts: US Senate committee to move 'quickly' on US NRC nominees: Boxer
"Three nominees for the US Nuclear Regulatory Commission received bipartisan support from members of the Senate Committee on Environment and Public Works at their confirmation hearing Tuesday. No senators expressed opposition at the hearing to the confirmation of George Apostolakis, William Magwood or William Ostendorff to serve as commissioners. Senator Barbara Boxer, a California Democrat who chairs the committee which oversees the NRC, told the nominees she plans to "move your appointments very quickly" after their answers to written questions are received by February 23. President Barack Obama in October nominated Apostolakis and Magwood to fill vacant seats on the five-member commission. Ostendorff was nominated in December by Obama to finish the term of Commissioner Dale Klein, who said he wants to resign as soon as his successor is in place. The full Senate must confirm the nominees. "
FR: NRC: ISL EIS Draft comment time extension
"Extension of Public Comment Period on the Draft Environmental Impact Statement for the Moore Ranch In-Situ Recovery Project in Campbell County, WY; Supplement to the Generic Environmental Impact Statement for In-Situ Leach Uranium Milling Facilities AGENCY: Nuclear Regulatory Commission (NRC). ACTION: Extension of Public Comment Period.
SUMMARY: This notice revises a notice published on Friday, December 11, 2009, in the Federal Register (74 FR 65806), which announced, in part, that the public comment period for the NRC's Draft Supplemental Environmental Impact Statement (Draft SEIS) for the Moore Ranch In-Situ Recovery (ISR) Project closes on February 1, 2010. The purpose of this notice is to extend the public comment period on the Draft SEIS for the Moore Ranch ISR Project to March 3, 2010. DATES: Members of the public have been submitting written comments on the Draft SEIS for the Moore Ranch ISR Project since the initial notice of availability was published on December 11, 2009 (74 FR 65806). In response to multiple requests received in writing, the comment period on the Draft SEIS is being extended to March 3, 2010. The NRC will consider comments received or postmarked after that date to the extent practical. Written comments should be submitted as described in the ADDRESSES section of this notice. "
NRC – NRC Launches New Open Government Web Page with Citizen Engagement Tool
"The Nuclear Regulatory Commission today launched an Open Government Web page to serve as the gateway for agency activities related to the White House's Open Government initiative. The NRC is actively supporting the open government initiative and encouraging public participation through a new user-friendly citizen engagement tool accessible through this page. The Web page is at: http://www.nrc.gov/open.html.
The public, including NRC employees, can use the tool to easily share ideas and comments on how the agency can work better with others inside and outside government, improve the availability and quality of information, and be more innovative and efficient. "
IEA Awarded Contract by the U.S. Nuclear Regulatory Commission (NRC) — NATIONAL HARBOR, Md., PRNewswire/ —
"Ian, Evan & Alexander Corporation (IEA) has been awarded a contract by the U.S. Nuclear Regulatory Commission (NRC). Under this contract, IEA will provide assistance for license renewal to the NRC for Supplemental Environmental Impact Statement (SEIS) and Safety Evaluation Report (SER) documentation.
Since its inception, the NRC has approved 104 applications for commercial nuclear power reactors. In compliance with the Atomic Energy Act, these licenses authorize operation for up to 40 years and are renewable for an additional 20 years. For each license application renewal (LRA), the NRC staff publishes one draft SEIS, one final SEIS, one SER with open items, and one final SER. These documents can be as long as 1,000 pages each. IEA will provide project management, technical editing, and desktop publishing services to support this renewal application process.
"IEA is extremely pleased to have been selected by the NRC for this project. With energy independence as a core national security strategy, the focus on clean and safe nuclear energy has been revitalized, and we are pleased to be a part of the license renewal process," said John E. Cochran, President and CEO of IEA."
---
Nuclear Fuel Cycle News
Pueblo Chieftain Online: COTTER MILL
" For many years the residents of the Lincoln Park area, most recently Colorado Citizens Against Toxic Waste and its supporters, have been monitoring the futile efforts of Cotter Corp. to clean up their mess at the Canon City mill. The mill site and parts of the surrounding neighborhoods have been a Superfund site since 1984 with soil, air and groundwater showing uranium and molybdenum contamination.
Cotter has been doing "interim" clean-up on their site, but not a complete clean-up to the levels that will be required when they close. That's not good enough!
Several months ago, Cotter announced plans to refurbish and start processing again in 2014. The question on everyone's lips is: "How can they build a new plant without cleaning up the old one?" The answer has been: "There is nothing in the law to prevent it.""
Uranium mine's future depends on water supply
"The project manager for uranium exploration at the Angela Pamela deposit, 25 kilometres south of Alice Springs, says mining will only go ahead if the company can prove that it won't harm the town's water supply.
The Angela Pamela exploration site lies close to the aquifer that supplies the town with water.
Stephan Stander says it won't be known until the end of this year whether or not Cameco Paladin will apply for a mining licence."
Cibola Beacon – Grants, New Mexico: Uranium legacy continues, screenings offered
"Currently 12 states are designated as high-level risk for radiation exposure. New Mexico, Arizona, Colorado, Nevada and Utah have established Radiation Exposure Services and Educational clinics. In New Mexico, residents are served by RESEP health centers in Shiprock, Laguna and Albuquerque. A majority of patients are uranium mining industry workers.
Between 1953 and 1993, New Mexico was the leader in the United States uranium production. In the 1950s Grants called itself the Uranium Capital of the World. Over the decades the industry reached peak production. During the 1970s and 1980s market demand for the ore decreased substantially."
Aquifer mysteries hold key to effects of uranium mining | coloradoan.com | The Coloradoan
"The U.S. Environmental Protection Agency said Thursday a decision about whether Powertech USA will be permitted to conduct an aquifer pump test for its proposed Centennial Project uranium mine northeast of Fort Collins will be announced by mid-April.
If approved, Powertech will be allowed to test the feasibility of in situ leach mining for uranium at the Centennial Project site. The test could help regulators find answers to questions about how the underlying aquifer works and how any contamination from the mine could move through it and affect groundwater elsewhere.
Powertech's in situ leach mining method would pump a baking-soda-like fluid into the ground, which would loosen uranium from the underground rock formation, then pump the fluid back out of the ground, taking the uranium with it. The proposed pump test would allow Powertech to pump water out of the uranium-containing aquifer, store it and reinject it.
The mining could have the greatest impact on the Laramie-Fox Hills aquifer, which many surrounding landowners have tapped for their well water. "
EDF, Areva reach deal on used nuclear fuel | Reuters
"Two groups plan to sign contract by end of Q1 2010
* Deal covers transportation, treatment and recycling
French energy giant EDF and nuclear specialist Areva (CEPFi.PA) said on Friday they had reached an agreement on used nuclear fuel management after the state stepped in to mediate fraught talks.
The two state-controlled firms — whose chief executives are locked in a public spat — were on Jan. 20 given a two-week deadline by the French government to resolve their differences over how to apply a 2008 framework agreement on nuclear waste."
Conservation groups file challenges to uranium mill in western Colorado – KDVR
"Two Utah conservation groups are fighting a proposed uranium mill in western Colorado.
Moab-based groups Red Rock Forests and Living Rivers are challenging the company's application to pump groundwater from the Delores River basin.
The Delores is a 250-mile tributary of the Colorado River that drains into Utah.
Energy Fuels Resources LLC needs the water to process uranium ore. It wants to build the mill a dozen miles west of Naturita, Colo.
The project is under evaluation by the Colorado Department of Health and Environment. It could take the agency 18 months to make a decision.
Red Rock Forests and Living Rivers filed their challenges Tuesday."
Chamber snubs uranium inquiry call – ABC North West WA – Australian Broadcasting Corporation
"The Chamber of Minerals and Energy has rejected the call for a public inquiry into proposed uranium projects in Western Australia.
The Government yesterday upheld a decision by the Environmental Protection Authority to use an environmental and management review program to assess Toro Energy's uranium project near Wiluna.
The Conservation Council of Western Australia wants a public inquiry, the highest level of assessment, and says it should be applied to all proposed uranium projects.
But the chamber's Paul Frewer says he is confident the level of assessment determined by the Minister is suitable."
Chattanooga Times Free Press | Sequoyah to produce bomb-grade material
"The Tennessee Valley Authority is preparing to make a key component for America's hydrogen bombs at its Sequoyah Nuclear Plant near Soddy-Daisy.
In the White House budget released this week, the U.S. Department of Energy said it wants TVA to make bomb-grade tritium at Sequoyah, similar to what TVA has done at its Watts Bar plant near Spring City, Tenn., for the past decade.
TVA officials said Tuesday that adding military production to Sequoyah's energy generation will have only a minimal impact on plant operations and fulfills the agency's federal mission.
"We've tested and done this type of production at Watts Bar since 1999 with limited impact on our operations," TVA Vice President Jack Bailey said.
PDF: DOE tritium facility
But critics said such plans could heighten the risk of a terrorist attack near Chattanooga and weaken U.S. efforts to limit nuclear proliferation abroad."
---
Nuclear Waste News
Express.co.uk – London 2012: Radioactive waste? No problem, we've got a plastic sheet…
"he Sunday Express has obtained documents which reveal London 2012 chiefs have covered up land that is possibly contaminated with asbestos and radioactive materials with a huge, bright orange sheet.
Spanning more than 600 acres equivalent to some 400 football pitches–it is buried at a depth of 31ins to protect the health and safety of future builders and homeowners."
Hunters Point Shipyard EIR ignores doubled ocean rise predictions with potential 'Big One' | San Francisco Bay View
"In December 2009, leading climatologist Dr. James Hansen cited new satellite data doubling or tripling previous sea level rise predictions. Climate change, he said, "is really a moral issue analogous to that faced by Lincoln with slavery, an apt comparison considering the dangers for peoples of color in the Bayview Hunters Point neighborhood of San Francisco.
Dr. Ray Tompkins, toxic cleanup expert, and Marie Harrison, Greenaction activist, expose some of the dangers in their comments on the Candlestick Point-Hunters Point Shipyard Draft Environmental Impact Report, a prerequisite to Lennar's plans to build over 10,000 condominiums. Planners don't anticipate increased flood hazards from the currently projected sea level rise combined with a Big One a major earthquake on the Shipyard, an EPA Superfund site."
Radioactive waste in city – The Transcontinental
"The Department of Defence this week confirmed 87 drums of radioactive waste travelled through Port Augusta on January 17.
According to a spokesperson, the waste was being transported from the Edinburgh RAAF to Woomera and was sealed in plastic-lined, 200 litre drums.
"The waste material was transported in daylight hours, using two trucks escorted by safety vehicles to the front and rear … The route selected under the Transport Plan did pass through Port Augusta as it was the most direct path to Woomera, the spokesperson said.
Port Augusta Mayor Joy Baluch last week said she was upset the Port Augusta City Council was not told about the drums being transported through the city and has written for the Minister of Defence, John Faulkner, asking for an explanation."
Radiological waste war dominates board meeting – Salt Lake Tribune
"Competition from inside and outside the state as EnergySolutions and other companies scrap for turf.
The ferocious competition in the nation's radioactive waste business burst into full display Tuesday at a Utah Radiation Control Board meeting.
First, panel members heard about a plans for a new disposal site in Tooele County, not far from where Salt Lake City-based EnergySolutions Inc. operates a landfill that accepts about 98 percent of the nation's low-level radioactive waste.
The board then heard two EnergySolutions' competitors tell why the state should bar "downblending," a limited industry practice that allows hotter Class B & C waste to be mixed with the Class A waste permitted in Utah so that the waste does not have to be stored. "
Energy Department pulls water applications for Yucca rail line – ReviewJournal.com
"Agency wanted wells to build rail line to Yucca Mountain
In what is the strongest sign to date that it will abandon the Yucca Mountain Project, the Department of Energy on Tuesday withdrew 116 water applications it had filed with the State Engineer for building a rail line to haul nuclear waste to the mountain from Caliente.
"This is the first card in hopefully a domino of cards that is ready to fall," said Nevada's Senior Deputy Attorney General Marta Adams.
She leads the state's legal effort to block DOE from obtaining water for the project, both for the proposed rail line and for constructing and operating a repository to bury 77,000 tons of highly radioactive waste in the mountain, 100 miles northwest of Las Vegas.
"I'm really happy about it, but we need to make sure it's really in the grave. The next telling thing will be the motion to withdraw the license application," Adams said late Tuesday.
She expects the appeals the federal government has pending in federal court over constitutional issues with Nevada's denial of water for constructing and operating a repository will be dismissed."
Government report indicates Norway wants to ship radioactive waste to Russia in 'unacceptable' move – Bellona

"Radioactive waste from Norway's Halden and Kjeller research reactors could be sent to Russia, according to a report ordered by the Norwegian government's Ministry of Trade and Industry in what Bellona is calling an unacceptable move.
Waste from the two research reactors are in need of new temporary storage and the and the Trade and Industry Ministry has appointed a technical committee to examine the possibilities. The Committee, in its report, has suggested, among other things, sending the waste to Russia's Mayak Chemical Combine, the country's long ailing central reprocessing facility in the southern Urals.
It would be totally irresponsible to send the Norwegian nuclear waste to Mayak in Russia, Nils BÃhmer, Bellona's nuclear physicist and director said bluntly. "
Depleted uranium: Both sides sound off – Salt Lake Tribune
"The state's plans for stricter depleted uranium controls has sparked a war of words, with EnergySolutions Inc. calling the proposal a violation of state law and the company's critics saying Utah should close the gates to the stuff forever.
"Please keep a rein on EnergySolutions and other pollutant companies who want to take advantage of Utah," wrote Carolyn Potter of Sandy. "This is our state not the world's dumping ground."
Potter's was one of more than three dozen letters that arrived by the Feb. 2 deadline at the Utah Division of Radiation Control on its pending DU regulation. The regulation, when finalized, would block more DU until EnergySolutions develops a technical report telling why its low-level radioactive waste site in Tooele County is suitable for large quantities and the state signs off on it. "
Plans call for second Utah radioactive waste site in Tooele County | Deseret News
"A would-be competitor to EnergySolutions wants to open a second radioactive waste facility in Tooele County, asserting EnergySolutions' Clive facility is running out of room and that another facility will store the material more efficiently, safely and with more financial benefit to the state.
Charles Judd, president of Cedar Mountain Environmental, is slated to make a presentation on his proposal Tuesday before members of the state's Radiation Control Board.
His company has been working with officials from the Utah State Institutional Trust Lands to develop a site north of I-80 in Tooele County. Judd in his letter to the board says such a partnership would generate millions of dollars for the fund which could then be funneled to Utah schools."
Energy Solutions laughs all the way to the bank | Standard-Examiner  Utah News
"Ever since the feel-good television ads that touted Energy Solutions (the reborn Envirocare) as a safe nuclear steward and public spirited entity, it has been pretty obvious that the company intends to use its land in the west desert to stockpile as much nuclear waste as possible and eventually to become the de facto national nuclear waste dump.
This is being borne out by Energy Solutions' recent pushes to import foreign waste, to store waste that becomes hotter over the years, and now to expand its footprint. With the demise of Yucca Mountain as the planned national nuclear waste repository, Utah is looking more and more like the final solution. Energy Solutions is laughing all the way to the bank.
And the citizens, who are now able to enjoy the benefits of nuclear waste stored nearby, will, as usual, be the ones around to pay the cost for the eventual disasters or long-term cleanup. After the years of study and funding that went into Yucca Mountain we see virtually no studies or funding to determine the long term viability and possible health/environmental effects of Utah becoming the nation's repository of choice. One would think we might have learned something from being downwinders."
UC Davis may have solved mystery of chemical contamination – Modbee.com
"A dangerous chemical on the site of a former animal-testing laboratory at UC Davis may not have come from experiments there, but rather from a chemical reaction underground in the years since.
For 30 years starting in 1958, the Laboratory for Energy-Related Health Research was, for some, a place of discovery. For others it was a source of nightmares.
The lab conducted Cold War-inspired research for the U.S. Department of Energy, including exposing beagles to lethal radiation to judge how humans might survive."
BBC News – Sweden wants explanation on Baltic nuclear 'dumping'

"The Russian military allegedly dumped nuclear waste into the Baltic Sea in the early 1990s, according to a report on Swedish television.
Radioactive material from a military base in Latvia is thought to have been thrown into Swedish waters.
For many the biggest shock is that the Swedish government may have known at the time and done nothing about it.
The partly enclosed Baltic Sea is known as one of the most polluted seas in the world.
But now it seems it was also used as a dumping ground for Russian nuclear waste and chemical weapons. "
EnergySolutions 'rising' jeopardizes Salt Lake City's future – Salt Lake Tribune
"Two projects of unprecedented size and scope are under way near the shores of the Great Salt Lake. One is the highly publicized, multibillion-dollar revamp of downtown Salt Lake City (dubbed Downtown Rising), which aims to transform the Beehive State's stodgy capital into a world-class cosmopolitan center. It is currently one of the largest private construction projects in the United States.
The other, just 80 miles west of Downtown Rising, is EnergySolutions' Clive facility, currently the largest low-level radioactive waste disposal site in the country. Equally as ambitious, yet steering its recent activities clear of the public eye at all costs, Clive aspires to be the world-class center of the nuclear waste disposal realm. "
Talking with Yucca author John D'Agata – Las Vegas Sun
"While John D'Agata's About a Mountain is, in large part, about a mountain (Yucca, specifically), it attempts to gather in much, much more. The story of a young suicide victim named Levi; the politics of nuclear waste; the nature of Las Vegas; and, at a deeper level, language, uncertainty, time and the unknowability of things. Also, his mother."
Publish nuclear dump list – MP – The Campbeltown Courier
"THE Ministry of Defence should come clean once and for all about whether or not it plans to use the base at Machrihanish to store radioactive waste from old submarines.
Alan Reid MP for Argyll and Bute has vowed to campaign to stop the waste ending up at Machrihanish or any of three other sites in Argyll and Bute and he has called on the MoD to go public.
Defence Minister Quentin Davies MP has refused to reveal the sites on the secret list but has said Argyll and Bute is one of four regions being considered, along with Devon, Fife and Berkshire.
˜This would appear to narrow the shortlist of sites in Argyll and Bute down to Coulport, Faslane, Glen Douglas and Machrihanish,' said Mr Reid, and I am disappointed that the Government is still refusing to publish its shortlist. The secrecy will only lead to speculation.'
He added that all four in Argyll were unsuitable for the job."
Sveriges Radio International – Russian Nuclear Waste – Reinfeldt "We Know Nothing"
"Sweden's prime minister Fredrik Reinfeldt has asked for explanations from a previous government on Russia's alleged release of toxic waste into Swedish waters in the Baltic sea over 15 years ago, a secret unearthed by Swedish public service televsion SVT.
SVT reported on Wednesday that Russia dumped chemical weapons and radioactive waste off the shores of Gotland between 1991 and 1994.
Reinfeldt's spokeswoman told the press that he "didn't know about the issue.""
Sveriges Radio International – Radioactive Waste Dumped in the Baltic

Foreign Minister Carl Bildt denies that he had any knowledge of the radioactive waste and chemical weapons, that Swedish Television reports say could have been dumped in the Baltic Sea by the Russian military as late as the 1990s.
According to Swedish Television's programme Uppdrag Granskning, the Swedish government at the time was aware of the dumping, but the Ministry of Defence decided it would be too difficult to investigate the matter.
Swedish secret service agent Donald Forsberg holds that the Russians unloaded the chemicals near the island of Gotland between the years 1989 and 1992. "They just sailed out at night and dumped in two areas," he told the television programme."
EnergySolutions flips on deal not to expand waste site – Salt Lake Tribune
"EnergySolutions » Huntsman waste cap "unnecessary," possible expansion could accommodate waste from world, nation for 120 years
EnergySolutions Inc. put the brakes on expansion plans for its Tooele radioactive waste site two years ago in an agreement with then-Gov. Jon Huntsman Jr., who hailed the deal as a "monumental win" for Utah residents.
But, now that the U.S. District Court for Utah has ruled the waste site is not under the thumb of regional waste authorities, the company says the deal is obsolete.
"When the district court ruled that the Northwest Compact lacked jurisdiction over the Clive [Tooele County] facility," company president Val Christensen said in an e-mail to The Tribune this week, "the standstill agreement with Gov. Huntsman became unnecessary." "
The world's radioactive rubbish is piling up | Japan Times Online
"The Pacific Sandpiper, a specially built cargo ship with safety features far in excess of those found on conventional vessels, left Britain's Barrow port bound for Japan the other day.
The security surrounding its departure on Jan. 21 indicates that something out of the ordinary is aboard. The Pacific Sandpiper and several sister ships make no port calls on their voyages between Europe and Japan because they carry potentially lethal nuclear material.
In the Pacific Sandpiper's hold on this journey to Japan via the Panama Canal is only one item of cargo a giant cylinder weighing more than 100 tons."
---
Nuclear Policy News
Report Urges Consistency at Nuclear Sites | Georgia Public Broadcasting

"The U.S. Government Accountability Office says the federal government should soon standardize security procedures at its nuclear facilities, including one near Augusta.
Private contractors provide security at the Savannah River Site and five other federal sites that handle nuclear materials. But the GAO says their protocols vary on how to respond to attack or theft. "
Increased pressure on Russian Enviro Groups – BarentsObserver

"Political attacks and pressure from governmental structures against Russian environmental organizations has significantly increased during the last months, according to a report issued by Friends of the Earth Norway.
– We are seriously worried over the latest development. The environment in the north is facing increased pressure with climate changes and more resource exploitation. Therefore it is essential to have a strong Russian environmental movement able to influence the politics and development in Russia's northern regions, says Yngvild Lorentzen, head of International project department in Norges Naturvernforbund, the Norwegian branch of Friends of the Earth.
The Norwegian organization has actively cooperated with several Russian environmental NGOs since the establishment of the Barents cooperation in the early 90ties.
– We don't need an environmental movement that are kept silent in important issues, says Lorentzen to BarentsObserver."
Italy approves decree on nuclear sites selection | Reuters
"* Decree to settle criteria for nuclear plant sites
* Italy abandoned nuclear power 20 years ago
* Companies building plants will pay local regions
ROME, Feb 10 (Reuters) – Italy moved a step closer to reinstating nuclear energy, abandoned more than 20 years ago, after the government on Wednesday gave a final approval to a decree setting criteria to select sites for new atomic plants.
The decree will pave the way for starting work on new plants in 2013 and production of the first nuclear power in 2020, Economic Development Minister Claudio Scajola, a leading supporter of Italy's nuclear renaissance, said in a statement. Italy is the only member of the Group of Eight industrialised nations without nuclear power after it was banned by a public vote in 1987 following the Chernobyl disaster in Ukraine. Silvio Berlusconi's government aims to rebuild the sector and produce 25 percent of power from nuclear plants.
"The decree is characterised by transparency and absolute respect to security of people and environment," Scajola said."
IAEA: Nuclear for Newcomers

"More than 60 countries are examining how to include nuclear power into their energy plans. During a meeting of approximately 100 representatives from 47 countries opening today in Vienna, Austria, some of the 60 countries will explain just how they plan to accomplish this.
The workshop includes representatives from almost 35 Member States which are considering or already launching a nuclear power programme. Six of the major vendor countries – Canada, France, Japan, Russia, South Korea and the USA – are also in attendance.
Participants are also set to discuss ways to integrate security and safeguards considerations into the design and planning for nuclear power."
Loan guarantees recharge nuclear debate – Politics- msnbc.com

"President Barack Obama's proposal to triple federal loan guarantees for the construction of new nuclear power plants has galvanized critics of the existing program, which they say is on the verge of throwing taxpayer support behind four projects facing untold costs and dependent on unproven technology.
In his $3.8 trillion budget plan for 2011, released last week, Obama called for boosting loan guarantees to $55 billion to help jump-start construction of U.S. nuclear plants. In his Jan. 26 State of the Union address, the president urged "building a new generation of safe, clean nuclear power plants in this country." "
Germany's Nuclear Power Extension Splits Merkel's Government – Bloomberg.com
"German plans to extend the running time of nuclear-power plants split Chancellor Angela Merkel's government after her environment minister suggested a 40-year limit on their operating life.
"What the environment minister said isn't the view of the government, Guido Westerwelle, vice chancellor and head of Merkel's Free Democratic Party coalition partner, said on ZDF television.
Environment Minister Norbert Roettgen's comments in a Feb. 6 newspaper interview come as Merkel seeks to negotiate the extension with utilities as part of a plan for Germany's future energy mix she wants to present by October. Merkel won Sept. 27 elections pledging to reverse a 2002 law mandating the closure of Germany's 17 nuclear plants by about 2021. She holds to the coalition agreement to extend nuclear plants as a bridge to renewable power, her spokesman Ulrich Wilhelm said today. "
Obama budget proposes federal funding infusion into US nuclear power – Bellona
"The US nuclear industry got a big boost and big oil took a hit when US president Barack Obama submitted his federal budget proposal to Congress last week, making good on a promise to the nuclear industry in his State of the Union speech last month to include it in America's efforts to cut greenhouse gas emissions. Charles Digges, 08/02-2010
The increase in cash and loan guarantees for the nuclear industry were seen largely by analysts as a tactic to get more opponents of the languishing climate bill on board so real legislation can finally be passed by Congress. But the new policy represents a major shift in President Obama's attitude to nuclear power. His stimulus package, which passed Congress shortly after Obama had taken office, provided lush support for renewable energy and prodived scant resources and loan subsidies for new nuclear power. "
Former regulator at Capitol argues against repeal of nuclear ban | Minnesota Public Radio NewsQ
"A former member of the Nuclear Regulatory Commission is at the Capitol Monday telling lawmakers now is not the time to repeal the state's ban on new nuclear power plants.
Peter Bradford said the much-anticipated nuclear renaissance is still some years away. He said plants under construction are hobbled by delays and cost overruns; the federal government has failed to find a spot for permanent disposal of waste; and the so-called next-generation of plant designs are not yet ready.
"It's gone completely off the tracks," Bradford said. "What you're losing is a chance to buy a ticket on a slow-moving train wreck."
Minnesota has had a ban on new nuclear plants for 15 years. Last year, a measure to repeal it failed but some lawmakers will push for repeal again this year. "
German minister urges party to drop nuclear power | Markets | Reuters
"German Environment Minister Norbert Roettgen has urged his conservative party allies to consider dropping plans to extend the use of nuclear power because of a public lack of acceptance.
Roettgen told the Sueddeutsche Zeitung newspaper his party "should carefully consider whether we want to make nuclear energy our unique feature" and that "even after 40 years there is no sufficient acceptance in the public for nuclear energy"."
Energy Tribune- Italy's Nuclear Plans At Risk

"The nuclear energy policy that was proposed in late January by Prime Minister Silvio Berlusconi and foresaw the re-introduction of nuclear power was rejected by Italy's inter-regional body.
The Conferenza Stato-Regioni is the consultation body that exists for the discussion of issues where competence is shared between central and regional government. Although the opinion of this consultative body is not binding, it sends a political message to the central government, especially given that center-right governors voted against their own party line. Prime minister Berlusconi and his economic development minister Claudio Scajola were given by the Italian parliament the mandate to frame a set of rules for the new nuclear energy policy after the nuclear development law was adopted in July."
Interest in reactor cools as construction costs soar | Nuclear power | European Voice
"The European Union is heading for a clash with other major economies over the timetable for building an experimental fusion reactor.
European governments want to slow down construction of the International Thermonuclear Experimental Reactor (ITER) because they are paying for the bulk of the construction costs and are concerned that the budget is spiralling out of control. Other countries involved in the ITER project are, however, strongly opposed to any kind of delay.
The countries participating in the ITER project will hold a special high-level meeting on 23-24 February to try to resolve the dispute. "
Nuclear renaissance could stall, Canada group says | Reuters
"Expectations of a sharp rise in nuclear generating capacity over the next two decades are likely overblown, a Canadian think tank said on Thursday, disputing conventional wisdom that a nuclear renaissance is in full swing.
In a report based on a 3-1/2 year study of the nuclear industry, the Waterloo, Ontario-based Center for International Governance Innovation said new reactor construction will be held back by a series of economic, security, and waste disposal issues.
"Despite some powerful drivers, a revival of nuclear energy faces too many barriers compared to other means of generating electricity," Trevor Findlay, the report's author, said in a statement."
AURILIO: New nuclear subsidies are a terrible idea – Washington Times
Giant loan guarantees could stick taxpayers with the bill
At a time of deep partisan and ideological divi -sion in Washington, there aren't many issues that bring together forces from across traditional divides. So when scholars at conservative think tanks like the Heritage Foundation and taxpayer groups such as the National Taxpayers Union agree with environmentalists on something, it's time to sit up and take notice.
That's exactly what's happening on the issue of federal subsidies for new nuclear power plants. Fiscal conservatives know that nuclear subsidies are a potential multibillion dollar boondoggle, while environmentalists know that – even beyond the environmental and public safety threats posed by the reactors themselves – there are far better and much cheaper solutions to our energy and global warming challenges."
---
Nuclear Weapons News
CND plans N-weapons site blockade – UK & Ireland, Breaking News – Belfasttelegraph.co.uk
"Hundreds of peace activists from across the UK will try to blockade a nuclear weapons site where warheads for the Trident submarines are made.
Organisations including the Campaign for Nuclear Disarmament are staging the protest at the Atomic Weapons Establishment in Aldermaston, Berkshire on Monday."
Daily Monitor: Uganda  – The nuclear age has been bad news for Muslim world
"Two territorial partitions of the Twentieth Century have profoundly affected the Muslim world. One was the partition of India that gave the Muslim world the miracle of a major new member.
The other was the partition of Palestine, which gave the Muslim world the challenge of a new adversary. Those two momentous events occurred within two consecutive years of each other – 1947 saw the birth of the Muslim state of Pakistan. In 1948 we witnessed the birth of the Jewish state of Israel. Islam in the twentieth and twenty-first centuries was never to be the same.
But where does the nuclear factor fit into this complex equation? The Muslims of South Asia lived to witness the nuclearisation of their much larger and powerful neighbour, India. The Muslims of the Middle East lived to witness the nuclearisation of their small but powerful neighbour, Israel. Over time, the question even arose whether India and Israel would conspire to prevent the nuclearisation of Pakistan."
Terrace Standard – Lost atomic bomb story retold here 60 years later
"Renowned Canadian author and historian Norman Leach will be visiting Terrace this week to speak about his book Broken Arrow-America's First Lost Nuclear Weapon' to mark the
60th anniversary of the historic aviation accident.
Leach will be lecturing across the Northwest to schools, museums, libraries and community centers from Houston to Terrace to inspire, students and adults alike to develop a healthy interest in their community's local history.
On the eve of Valentine's Day, 1950, an American Strategic Air Command B-36 bomber loaded with an atomic bomb, was flying a simulated bombing run from Alaska to San Francisco. "
Nuclear Experts, Arms Control organizations Urge Obama to Transform U.S. Nuclear Weapons Policy | Union of Concerned Scientists
"In anticipation of a major nuclear weapons policy review expected to be completed March 1, former government officials, nuclear weapons experts, and leaders of arms control organizations representing more than 1 million Americans have sent a letter to President Obama, urging him to fulfill his April 2009 pledge to "put an end to Cold War thinking" and "reduce the role of nuclear weapons in our national security strategy."
In the letter, sent to the White House and key cabinet members on February 1, the group called on the president to ensure that the Nuclear Posture Review (NPR) "advances the highest security priorities: preventing terrorists or additional states from obtaining of using nuclear weapons; reducing global stockpiles, and moving toward a world without nuclear weapons.""
Russian military calls US missile defense a threat – Yahoo! News
"U.S. missile defense plans are a threat to Russian national security and have slowed down progress on a new arms control treaty with Washington, Russia's top military officer said Tuesday.
Gen. Nikolai Makarov said that a revised U.S. plan to place missiles in Europe undermines Russia's national defense, rejecting Obama administration promises that the plan is not directed at his country.
"We view it very negatively, because it could weaken our missile forces," Makarov, the chief of the Russian military's General Staff, said in televised remarks.
Makarov's comments are the strongest yet on the revamped U.S. missile effort and signal potential new obstacles to an agreement on a new nuclear arms reduction treaty to replace the 1991 Strategic Arms Reduction Treaty that expired Dec. 5."
Bomb Power and the Roots of Government Secrecy | Secrecy News
"In his provocative new book Bomb Power (Penguin Press, 2010) historian Garry Wills argues that the rise of the National Security State and the ongoing expansion of presidential authority, including the spread of government secrecy, are rooted in the development of the atomic bomb in World War II.
At the bottom of it all has been the Bomb, writes Prof. Wills. All this grew out of the Manhattan Project, out of its product, and even more out of its process. The project's secret work, secretly funded at the behest of the President, was a model for the covert activities and overt authority of the government we now experience."
ITAR-TASS: Russia says US tactical nukes must be withdrawn from Europe – FM
"US tactical nuclear arms should be withdrawn from Europe, Russian Foreign Ministry spokesman Andrei Nesterenko said on Thursday.
Issues of further nuclear disarmament, including tactical nuclear arms, should not be addressed as such, but only in close relation with other types of weapons, including conventional armed forces in Europe and the ballistic missile defence systems, he said.
Russia is adamant that nuclear arms should be deployed only in the territory of the states possessing such weapons.
In this context, withdrawal of American tactical weapons from Europe back to the United States would be welcome. It should be accompanied by complete and irreversible demolition of the entire infrastructures supporting the deployment of such weapons in Europe, he noted. "
---
Department of Energy News
Los Alamos ramps up WIPP shipments – KWES NewsWest 9 / Midland, Odessa, Big Spring, TX: newswest9.com |
"Los Alamos National Laboratory is nearly doubling its number of weekly shipments to the federal government's underground nuclear waste dump in southeastern New Mexico.
Lab officials say the campaign announced Thursday will eliminate a backlog of about 1,500 drums of transuranic waste that are awaiting shipment to the Waste Isolation Pilot Plant near Carlsbad.
A crew from Tennessee's Oak Ridge National Laboratory will move temporarily to Los Alamos to double the lab's loading capacity. The loading facility also will move to a 7-day operation.
Los Alamos lab usually completes four shipments per week to WIPP. That will increase to seven during the campaign.
The transuranic waste consists of tools, rags, protective clothing, sludge, soil and other materials contaminated with radioactive elements."
DOE alters bid policies for national labs – Tri-City Herald
"The Department of Energy no longer will automatically seek bids for management of national laboratories, including Pacific Northwest National Laboratory, and may instead renew agreements with current contractors.
In a new policy statement, Energy Secretary Steven Chu said that the practice common under the previous presidential administration of routinely opening the lab contracts to competition often did not have the expected benefits of saving money and improving efficiency.
Under Chu's leadership, the decision on whether to open management contracts for competition will be decided case by case.
Pacific Northwest National Laboratory in Richland has been operated by Battelle since 1964, but DOE decided to open the management of the lab to competition in 2007."
Analysis shows Hanford cleanup will take decades | Seattle Times Newspaper
"Oregon officials are raising concerns about contamination at the Hanford nuclear site reaching the Columbia River.
Oregon officials are raising concerns about contamination at the Hanford nuclear site reaching the Columbia River.
The U.S. Department of Energy, which manages cleanup at the south-central Washington site, is taking public comments on its proposal for cleaning up storage tanks and managing waste. The proposal projects that some radioactive contaminants could threaten the Columbia River for thousands of years.
Ken Niles, assistant director of the Oregon Department of Energy, says that should force the government to review its long-term cleanup plans at Hanford.
The report also discusses the government's plan to import some radioactive waste from other sites to Hanford after 2022, which Niles says poses unacceptable risks."
Vapor concerns stop Hanford tank work | Tri-City Herald
"Concerns over chemical vapors from an underground tank have stopped work to retrieve radioactive waste from Tank C-104, the only leak-prone tank currently being emptied at Hanford.
A Hanford worker has been diagnosed with a medical issue after several workers smelled fumes, and a determination has not been made about whether the medical problem could be linked to the vapors.
Late at night Jan. 25, workers who were in a control trailer for the work outside the C Tank Farm fence at Hanford came outside and smelled a strong odor linked to vapors vented from the tanks, said Fred Beranek, director of environment, safety, health and quality at Washington River Protection Solutions. "
Hanford News: Hanford Advisory Board: Lung disease risk too high at Hanford
"The Hanford Advisory Board is questioning whether the Department of Energy is doing enough to protect Hanford workers from an incurable lung disease caused by exposure to beryllium.
DOE officials in Washington, D.C., are about to launch a review of the Hanford beryllium protection program because of the concerns of some workers.
But by the time that review is finished, three more cases of chronic beryllium disease could be diagnosed if current trends continue, said board member Mike Korenko at a meeting Thursday of the advisory board in Kennewick.
"How can you not look at that data and have adrenaline flowing?" he asked Doug Shoop, deputy manager of the DOE Hanford Richland Operations Office.
Ten months have passed since the advisory board last recommended that DOE improve its beryllium protection program, and since then three more Hanford cases of chronic beryllium disease have been verified. That brings the total with the disease to 32 and the number of workers determined to be sensitized to beryllium to 95, up from 88."
U.S. Energy Dept cancels surplus uranium transfers | Reuters
"Uranium transfers canceled for 2011, continue for 2010
* Department doesn't want too much uranium in the market
* Uranium transfers help pay cleanup of enrichment plant (Adds uranium transfers continuing for 2010)
WASHINGTON, Feb 4 (Reuters) – The U.S. Energy Department has canceled plans to put into the market during 2011 extra government-owned surplus uranium supplies, Energy Secretary Steven Chu told Congress on Thursday, but the uranium transfers will continue for this year.
The department had planned to transfer next year up to 1,125 tonnes, or about 2.48 million lbs, of its surplus uranium a year to raise money to pay for the cleanup of the Portsmouth uranium enrichment plant in Ohio."
Bond calls for new study on toxins at KC defense plant – KansasCity.com
"U.S. Sen. Kit Bond on Wednesday called for a new federal investigation of health concerns at a sensitive Kansas City defense plant.
In a letter to a federal investigator, Bond noted that he was responding to reports on KSHB-TV that more than 100 former co-workers at the federal complex on Bannister Road fear their illnesses may be linked to toxins at the facility.
Bond asked the inspector general for the General Services Administration, which acts as the federal government's landlord, to advise him on the full extent of the problem and what steps GSA is taking to protect employees deemed at risk."
Will DOE be fined $3.375 million? | knoxnews.com
"Such a hefty fine certainly seems doubtful, but that figure is contained in a Jan. 26 letter to DOE from the Tennessee Department of Environment and Conservation. The letter notifies DOE of failure to meet multiple milestones for "excess material removal" at the K-27 Building in Oak Ridge.
DOE's Oak Ridge manager, Gerald Boyd, said today there may have been a misunderstanding or miscommunciation and that his staff is researching it. "There's a difference of opinion about whether or not the milestone was missed, and that's what we're trying to sort out.""
---
Other Energy News
Wind farms banned as MoD listening post demands hush to detect nuclear blasts – The Scotsman
"
THE Ministry of Defence has put a blanket ban on turbines being built within 31 miles of a nuclear test monitoring station, The Scotsman has learned.
The decision by the MoD could scupper plans for major wind farms in the Borders, as well as making it impossible for individuals to put turbines up at their homes and farms.
The Eskdalemuir seismological recording station, between Moffat and Hawick in the Borders, is used to monitor underground nuclear testing across the world.
"
Wind energy sailing through European Union – UPI.com
"The European Union looked to wind energy to provide 39 percent of its new power capacity in 2009, trouncing natural gas and solar power, statistics reveal.
The European Wind Energy Association in statistics published Wednesday show the EU looked to wind energy in 2009 more than other sources.
New wind power in the EU made up 39 percent of the new energy projects in 2009, with natural gas making up 26 percent followed by 16 percent for solar energy, the EWEA said.
Meanwhile, the EU decommissioned more coal and nuclear facilities than were installed in 2009, suggesting renewable energy made up 61 percent of the new capacity in 2009."
Proposal to Link the Nation's Grid Sparks a Debate – NYTimes.com
"The Tres Amigas transmission project in New Mexico, which seeks to link the nation's three power grids to share wind power across the United States, has attracted both eager allies and some determined foes.
Scandia Wind Southwest LLC, a venture led by Norwegian wind power developers, has proposed to build an initial 2,250 megawatts of wind power in the Texas Panhandle, with a potential capacity of 10,000 MW. That amount of power, the equivalent of 10 large nuclear power plants, could move into the Eastern and Western grid interconnections, and to Texas' independent grid, over the Tres Amigas transmission linkage."
---
Nuclear Editorial and Opinions
Guest column: Take nuclear provisions out of Clean Energy Jobs Act | greenbaypressgazette.com | Green Bay Press-Gazette
"Would a truly "clean energy" source produce "one of the nation's most hazardous substances"? Of course not.
So why include provisions on nuclear reactors in the state's Clean Energy Jobs Act, recently introduced in the state Legislature? Nuclear reactors generate high-level radioactive waste, which is "one of the nation's most hazardous substances," according to the U.S. Government Accountability Office.
In a November 2009 report, the respected nonpartisan agency found there were no good options for dealing with the radioactive waste. As the federal government continues its decades-long struggle to find a solution to this public safety, environmental and political problem, the costs to taxpayers and ratepayers will skyrocket.
In the meantime, radioactive waste is piling up at 80 sites in 35 states, including three sites in Wisconsin."
POINT/COUNTERPOINT: Myths about nuclear power pollute the argument | The State Press – An independent daily serving Arizona State University
"Question: Should America turn to nuclear energy?
What do you picture when you think of nuclear energy? Biohazard signs? Giant power plants billowing smoke into the atmosphere? Rusty barrels spilling glowing green goo into waterways filled with three-eyed fish and bestowing the occasional super power upon a mild-mannered onlooker?
Too many of the perceptions of the dangers of nuclear power are based on myths circulated by television shows and comic books. So here are the facts. Get ready to have your mind blown."
Sunday Perspective: An atomic awakening is at hand – ContraCostaTimes.com
"OVER THE last century, burning coal has been a sensible way to produce electrical power. Coal is cheap, plentiful, and we do not have to import it from abroad. There is still enough coal right here in the United States to make electricity for centuries to come. There is, however, a nagging problem with continued use of coal. We seem to have finally reached a point of crisis, in which the combustion of hydrocarbon fuels, such as coal and oil, may be altering the atmospheric chemistry in disadvantageous, irreversible ways.
But a durable, fully developed alternative to coal already exists. Prototype plants to replace coal have already been built and have been subjected to more than 60 years of testing and refinement. The fuel for these plants is cheap and available domestically or on the highly competitive world market. France, a country that lacks our berth of economic resources, has already implemented this plan, which is nuclear power. "
SentinelSource.com | READER OPINION: Radiation must be taken seriously, by Kevin Kamps
"The U.S. National Academy of Sciences (NAS) has repeatedly affirmed that any exposure to radioactivity, no matter how small, carries a health risk.
In its 2006 BEIR VII report (Biological Effects of Ionizing Radiation, 7th iteration), NAS even reported mounting evidence that low dose radiation carries a supra-linear health hazard. That is, low doses are disproportionately more harmful, per unit dose, than high dose radiation.
The bottom line is, exposure to low dose radiation, such as intentional routine discharges or accidental leaks of tritium into the Connecticut River and downstream drinking water supplies and food chains, risks human and wildlife health impacts.
The U.S. Environmental Protection Agency's 20,000 picocuries per liter limit on tritium in drinking water is not a conservative health standard. The state of California has a goal to limit tritium in drinking water to 400 picocuries per liter, a fifty-fold strengthening. The state of Colorado's goal is 500 picocuries per liter, a forty-fold strengthening. EPA's and the U.S. Nuclear Regulatory Commission's (NRC) radiological health standards are inappropriately based on Reference Man faulty assumptions, which leaves more vulnerable women, children and fetuses at increased risk."
News & Star | Opinion | Sellafield nuclear build plan full of flaws
"The Lake District National Park Authority and Cumbria County Council are in agreement that Sellafield is now the preferred option' for proposed new nuclear build.
On Wednesday, January 27, Radiation Free Lakeland gave evidence in Westminster before the Energy and Climate Change Parliamentary Select Committee.
Our message to the committee: No site in Cumbria is suitable' for new build especially not Sellafield. Any money available needs to be focussed on minimising the dangers that currently exist."
John LaForge: Think nuke power is safe? Think again
"Your recent report No nukes for now, by Lavilla Capener and Mike Ivey, states without qualification that Wisconsin's two nuclear facilities have operated quietly and safely since the 1970s.
It is easy to prove this statement false.
Every U.S. government agency that regulates radiation exposure agrees that there is no safe level of exposure.
The Environmental Protection Agency says, There is no level below which we can say an exposure poses no risk. … Radiation is a carcinogen. It may also cause other adverse health effects, including genetic defects in the children of exposed parents or mental retardation in the children of mothers exposed during pregnancy."
The Top Nuclear Stories is published twice weekly. It is a produced using a combination of social bookmarking and programming. You can view or join the public group and add your own stories by going here -> http://groups.diigo.com/groups/nukenews