The nuclear industry gets slammed again. The state of Florida blocked funding for new reactors.
Nuclear waste issues raised its head worldwide this last week with stories on 3 continents.  The biggest story was out of Tennessee where a Norwegian company (Studvik) agreed to pay a major fine for contaminating black workers.
The UAE deal to buy South Korean reactors continues to set off waves worldwide Areva is now considering the idea of coming up with cheaper reactors or run into Korea's aggressive agenda to become the vendor du jour.
An example of how Obama's stimulus package is getting used, Boeing, the contractor charged with cleaning up their mess at Santa Susanna Ca. was given $19 million to get the stalled cleanup going.  The same goes for the billion dollar cleanup at Moab Utah that is threatening the Colorado river. In the Boeing story, a state dump is refusing to take the Boeing wastes. At least $6 billion was given to huge DOE mercenary contractors for the cleanup of facilities across the country.  How much of it is getting into the hands of private companies to clean up their own messes?
In Europe a collapsing dump in Germany is making the news while the reconfiguration of Sellafield is calling for new dumps across Scotland.  Meanwhile reprocessing issues continue to make the news with more Sellafield waste headed for Japan and Russia. NASA has run out of nuclear fuel for its deep space missions and the U.S. Supreme Court has agreed to hear a case about North Carolina pulling out of its duties as a compact dump site.  The Utah Italian waste issue as well as DOE's push to dump 15,000 barrels of waste is now daily news across Utah.  The number of articles yelling about Obama's Yucca stance continues to hit, from lawsuits against the DOE to an internal fight between the white house over funding.  Six Northeast states are demanding that all its spent fuel be removed.  California's battle over onsite storage was just recently settled (Ugh), and we can assume that that cleanup
Leaky pipes has hit 3 reactors (VT, NJ, Ca) which has spurred Ed Markey to call for a GAO study.
Last but not least the new legislative cycles for most state governments has begun. Legislative battles in Kentucky, Minnesota and Wisconsin are of early concern where moratoriums are under attack. That's a touch of what's happening.  Dig in!
---
Top Nuclear Stories Index
---
Nuclear Reactor News
Areva considering producing cheaper reactors -report | Markets | Reuters
"State-controlled nuclear reactor maker Areva is considering producing cheaper nuclear reactors after its flagship EPR reactor lost out to a lower-cost South-Korean rival in a $20 billion tender in Abu Dhabi last month, the Financial Times reported on Friday.
Top Areva management last week launched a review of its product range "to determine whether Areva should reintroduce the simpler second-generation CPR 1,000 reactors, which it stoppped building 20 years ago, for client countries that are new to nuclear power", the paper said."
Vt. regulators rap Entergy for bad info – Brattleboro Reformer
"State utility regulators chastised the Vermont Yankee nuclear plant on Thursday for providing inaccurate information about the extent of underground piping at the reactor, saying they may seek financial penalties against the plant's owner.
The Department of Public Service, which had supported Vermont Yankee's bid for a 20-year extension on a license set to expire in 2012, is putting that support on hold until it can get satisfactory answers, department deputy commissioner Stephen Wark said in an interview Thursday evening.
"For us, this is a very disturbing development," Wark said. "It requires us to re-evaluate our case that we brought before the (Public Service) Board." The department represents ratepayers in utility cases before the quasi-judicial board.
Also Thursday, the department's commissioner, David O'Brien, wrote to Entergy Nuclear, the parent company of the reactor's owner, to ask for a new sworn affidavit about the extent of underground piping at the plant. O'Brien also wrote that the department was likely to ask the board to financially penalize Vermont Yankee for its earlier misstatements. "
Charlotte Business Journal: Shaw studies upgrade for Mich. nuke plant
"The Shaw Power Group has won a contract to study the feasibility of upgrading a 2,155-megwatt nuclear plant in Michigan to a capacity of more than 2,450 megawatts.
Such nuclear upgrades are called uprates in the industry. Last week, executives of the power group's parent, The Shaw Group, told analysts that they were aggressively pursuing uprate business.
CEO Jim Bernhard Jr. said about 37 of the 104 commercial nuclear reactors in the United States have been uprated. Shaw performd about half of those, and he said the remaining 67 units represented a potential market of $25 billion in contracts."
State hits Entergy on bad info – WCAX.COM
"The state is taking aim on Vermont Yankee over bad information provided to lawmakers last year about the extent of underground piping at the Vernon nuclear power plant.
The state Department of Public Service filed a letter Thursday with the state Public Service Board asking for an investigation into statements Vermont Yankee made about whether it had underground piping that might contain water contaminated with radioactive tritium.
Entergy told state officials the only underground pipes at the plant contained gases and not water, so there was no threat to groundwater."
Anti-nuclear protesters reach capitol: Rutland Herald Online
"Anti-nuclear activists totaled around 70 when they left Brattleboro earlier this month for a march through freezing winter temperatures to the Statehouse.
When they arrived in the city early Wednesday afternoon 126 miles later their number totaled in the hundreds, flooding the Statehouse with a message that hasn't been that loud since same-sex marriage supporters lobbied lawmakers in 2009.
Betsy Williams of Westminster West, one of the organizers of the "Step It Up To Shut It Down" walk, said about 175 people took part in the march, some joining for a day and some for longer stretches. Participants included toddlers and Vermonters who are in their 80s, she said."
San Antonio: Ex-CPS gm gets $390,000 settlement | Business news | Chron.com – Houston Chronicle
"Documents show a former general manager of San Antonio-owned CPS Energy is getting about $390,000 in his settlement with the utility.
Steve Bartley resigned Nov. 25 during the investigation into why higher-than-expected nuclear cost estimates to expand the South Texas Project were kept from the CPS board.
The San Antonio Express News reported details Thursday based on documents obtained under a public records request.
The newspaper reports Bartley will receive 15 months of base salary. He also will get credit for about 21 extra months of service to quality for an early pension and health coverage."
Emergency reactor shutdown at Russia's Volgodonsk NPP: Concerns rise over plant's safety – Bellona

"Equipment failure in the steam generating system prompted over the weekend an emergency shutdown and unplanned repairs on Reactor 1 of Volgodonsk (Rostov) Nuclear Power Plant in southern Russia. This was a second incident at the plant in just one fortnight: The reactor was already taken down once due to an operational failure on December 26, 2009. Andrei Ozharovsky, 14/01-2010 – Translated by Maria Kaminskaya
At 09:20 AM on January 10th, 2010, Reactor Unit 1 of the Volgodonsk [Nuclear Power Plant] was shut down for ongoing maintenance. The preliminary cause has been determined as leakiness in the piping of the steam generator. The repairs are estimated to take four days, said an official statement by Concern Rosenergoatom, the operator company that runs Russia's ten nuclear power plants. The statement has been posted in Russian on the company's site."
South Korea Targets $400 Billion Nuclear Plant Orders  – Bloomberg.com
"South Korea, which won its first overseas order to build a nuclear power plant in December, aims to secure $400 billion of contracts by 2030 as demand for atomic energy increases.
The nation plans to get orders to build 80 nuclear plants by then and control 20 percent of the global market share, the Ministry of Knowledge Economy said in an e-mailed statement today. South Korea will become the world's third-largest nuclear plant exporter, according to the ministry.
State-run Korea Electric Power Corp. led a group that beat Areva SA, the world's biggest nuclear power plant builder, and General Electric Co. in winning an order from the United Arab Emirates, the first awarded by a Gulf Arab nation. France, the U.S., Canada, Japan and Russia are currently the biggest exporters of atomic generators. "
Vt. Yankee Says Didn't Mean To Mislead Lawmakers – wbztv.com
"Vermont Yankee officials were put on the defensive again Wednesday, saying no one meant to mislead lawmakers about underground piping at the plant last year but "should have been more thorough" in answering a legislative panel's questions.
The reactor on the Connecticut River in Vermont's southeast corner has been in the spotlight as Entergy Nuclear tries to win legislative approval for a 20-year extension on a license set to expire in 2012. Vermont is the only state that gives its Legislature a say on the license; other states leave it up to state utility regulators and the federal Nuclear Regulatory Commission.
"
FPL head walks out of hearing on rate increase | news-press.com | The News-Press
"The head of Florida Power & Light Co. left the Public Service Commission hearing on the company's rate increase, complaining that 20,000 jobs in plant construction and growth will be lost because "politics trumped economics."
The PSC hearing is still going on, but the regulatory panel has been whacking away at its already reduced staff recommendations all day. FP&L had sought a $1.3 billion rate hike but the staff recommended only $357 million — and the commission lowered that.
"Today, politics trumped economics because there is no economic case for the decisions that this commission made," said Armando Olivera, the company CEO."
What Caused $20 Bil. Discrepancy in Reports on UAE Nuclear Deal?
"A barrage of domestic news reports have highlighted the Dec. 27 Korea-United Arab Emirates (UAE) contract, pointing out that a Korean consortium is scheduled to design, build and operate nuclear power plants for the Middle East country's energy program for the next 60 years.
As the first case of Korea's export of nuclear technology, there is no doubt that the multibillion-dollar contract is a major economic, technological and diplomatic achievement for the country, which built its first commercial nuclear plant in 1978.
However, a closer look at foreign media reports, including those from the UAE, indicates that the deal is not as lucrative as projected by the domestic reports.
One of the most glaring discrepancies between domestic and foreign reports is the exact size of the contract procured by the Korean consortium – led by the Korea Electric Power Corp. (KEPCO) – to provide four APR1400, a Korean-made nuclear power unit that has yet to make a domestic debut.
Following a decision that selected Korea over France as the winner of the largest-ever energy deal awarded in the Middle East, the Emirates News Agency reported that "the value of the contract for the construction, commissioning and fuel loads for four units equaled approximately $20 billion, with a high percentage of the contract being offered under a fixed-price arrangement.""
Russia joint venture releases possibly crackpot plan to build small lead cooled fast reactors for remote areas – Bellona

"A new joint venture between Russia's state nuclear corporation Rosatom and En+, another Russian energy giant and the majority shareholder of RUSAL, the world's largest aluminium and alumina producer is aiming to commercialise small lead cooled reactors, an industry publication reported. Charles Digges, 05/01-2010
The 50/50 deal that was inked on December 25th will be named AKME Engineering. En+ is a part of the Basic Element Group.
The SVBR-100 favoured by the joint venture and like so many other types of Russian fast reactors that have yet to pass from the drawing board to experimental stages has been on slow percolation for many years, meaning, according to some analysts, that the design is already fatally out of step with contemporary reactor requirements.
NRG, San Antonio in nuclear stand-off | Reuters
"A meeting between feuding officials of NRG Energy (NRG.N: Quote, Profile, Research) and the San Antonio municipal electric utility ended abruptly on Monday with no resolution on the future of a $10 billion proposed expansion of Texas' largest nuclear facility.
An NRG spokesman said later that the parties will meet again on Tuesday.
San Antonio Mayor Julian Castro last week invited the partners to negotiate a settlement to avoid a lengthy court battle scheduled later in January between NRG, its nuclear development arm and CPS Energy which is backing off a plan to invest in two new 1,350-megawatt reactors due to rising cost projections."
Cooling towers required by DEP | APP.com | Asbury Park Press
In a surprise announcement, the state Department of Environmental Protection said it is moving to require cooling towers at the Oyster Creek nuclear power plant to protect the Barnegat Bay ecosytem.
The DEP said Thursday that the proposed water-discharge permit for the plant would require the Exelon Generation Co. to convert its once-through cooling water flow into a closed-cycle system, using the towers, with less daily demand for bay water.
"We had a commitment to get this draft permit issued, so we wanted to make sure it gets a proper review," acting DEP Commissioner Mark N. Mauriello said of the cooling tower requirement.
---
Nuclear Health and Safety News
EEOC: Black workers got more radiation – UPI.com
"A Tennessee company that processes nuclear waste has agreed to settle federal claims black employees were subjected to higher levels of radiation than others.
The Studsvik Memphis Processing Facility, formerly known as Radiological Assistance Consulting and Engineering, or RACE, has signed a consent agreement with the Equal Employment Opportunity Commission, the Memphis Commercial Appeal reported. Under the agreement, 23 black employees are to receive a total of $650,000.
The EEOC alleged the company assigned black employees to work with radioactive waste and manipulated dosimeters to show lower levels of radiation than the actual ones. Black employees were also paid less and subjected to other kinds of discrimination."
'Downwinders' Make One Last Push For Money : NPR
"Old-timers in a remote desert of northwest Arizona still talk about the mushroom clouds. A half century ago they could ride on horseback up the nearest hill to watch the nuclear weapons tests being held next door in Nevada. Today, they also talk about the cancers that came after those tests. Eventually Congress agreed to pay compensation to most of these downwinders, except they left out one area in Arizona – one closest to the test site.
Now after decades of activism that may finally change, sparked in part by the recent death of the woman who led the fight for the downwinders there. Daniel Kraker of member station KNAU reports. "
Vets: Burn pits are killing us – Salt Lake Tribune
"War » But sickened warriors searching for help will have to wait for science and government bureaucracy to link their conditions to their service.
Emily Rainwater, a Defense Contract Management Agency employee, served two tours of duty in Iraq….
* Sickened by Service
* Officials just now recognizing Agent Orange exposures
* Government waits for proof – sometimes for decades – before caring for sick veterans
* Vets say toxic tests sickened them; government says prove it
Editor's note: Second in a three-part series
Combat had changed him.
Yet Andrew Rounds was still the adoring son his mother had sent off to war. He was still the hard worker who had helped her deliver newspapers after school. He was still the amiable soul who knew the names of everyone in the tiny village of Waterloo, Ore., from the mayor to the man who lived under the narrow bridge that crosses the river on the east side of town. "
Congressman seeks inspection of buried piping system at Oyster Creek | APP.com | Asbury Park Press
"Rep. John Adler, D-NJ, and two other members of Congress have asked the General Accounting Office to investigate the condition of buried piping systems at nuclear plants, after a leak of water carrying traces of radioactive tritium were detected at the Oyster Creek Nuclear Generating Station in Lacey and a similar problem turned up at the Indian Point reactor in New York.
The federal Nuclear Regulatory Commission inspection guidelines are not sufficient to ensure the integrity of that underground plumbing, which can carry cooling water for use during unexpected reactor shutdowns or diesel fuel for backup generators, the lawmakers say.
"Under current regulations, miles and miles of buried pipes within nuclear reactors have never been inspected and will likely never be inspected," Rep. Edward Markey, D-Mass., said in the letter he signed with Adler and Rep. John Hall, D-NY. "As it stands, the NRC requires – at most – a single, spot inspection of the buried piping systems no more than once every 10 years. This cannot possibly be sufficient to ensure the safety of both the public and the plant.""
Cancer Spreading In Iraq due to Depleted Uranium Weapons
"Cancer is spreading like wildfire in Iraq. Thousands of infants are being born with deformities. Doctors say they are struggling to cope with the rise of cancer and birth defects, especially in cities subjected to heavy American and British bombardment.
Dr Ahmad Hardan, who served as a special scientific adviser to the World Health Organization, the United Nations and the Iraqi Ministry of Health, says that there is scientific evidence linking depleted uranium to cancer and birth defects. He told Al Jazeera English [3], Children with congenital anomalies are subjected to karyotyping and chromosomal studies with complete genetic back-grounding and clinical assessment. Family and obstetrical histories are taken too. These international studies have produced ample evidence to show that depleted uranium has disastrous consequences.
Iraqi doctors say cancer cases increased after both the 1991 war and the 2003 invasion. Abdulhaq Al-Ani, author of Uranium in Iraq told Al Jazeera English [4] that the incubation period for depleted uranium is five to six years, which is consistent with the spike in cancer rates in 1996-1997 and 2008-2009."
Leaks Keep San Onofre Plant Idle | NBC San Diego
"Officials say poor welding work and pin-hole leaks are keeping one of the San Onofre's nuclear reactors from returning to service. That's not the only safety issue the plant has recently faced.
Plant officials told our media partner The North County Times that the reactor's leak problems have now been repaired.
Unfortunately, they have delayed the reactor from returning to service by about three weeks.
And in an unrelated incident, a report surfaced this week that plant officials waited more than two weeks before reporting a minor safety issue to federal regulators. "
Hawaii Tribune-Herald: DU at Pohakuloa faces a challenge
"Four Hawaii residents, including three from the Big Island, are challenging the U.S. Army's application to possess depleted uranium.
A videoconference hearing Wednesday in Hilo will determine whether the petitioners — peace activist Jim Albertini, the Sierra Club's Cory Harden, plus Isaac Harp of Waimea and Luwella Leonardi of Waianae, Oahu — have standing to challenge the Army.
The hearing will also determine whether the petitioners' arguments have merit.
They will be arguing by videoconference to the three-member Atomic Safety and Licensing Board, which was formed by the Nuclear Regulatory Commission."
Chernobyl area doctors and researchers contradict predicted UN mortality figures as being far too low years after disaster – Bellona

"Doctors at the Children's Cancer Hospital in Minsk, Belarus and at the Vilne Hospital for Radiological Protection in Eastern Ukraine are telling international media that they are seeing what they have no doubt is a spike in cancer rates, mutations and blood diseases among their patients linked to the world's largest nuclear disaster at Chernobyl 24 years. Charles Digges, 11/01-2010
If the reports of the local doctors and researchers, many of who spoke to Bellona Web Monday and in interviews last week, prove to be true, they could stand over two decades' worth of research by the United Nations and affiliated organisations on its head, and cast a shadow over the research techniques that have thus far been employed. "
Chernobyl nuclear accident: figures for deaths and cancers still in dispute | Environment | The Guardian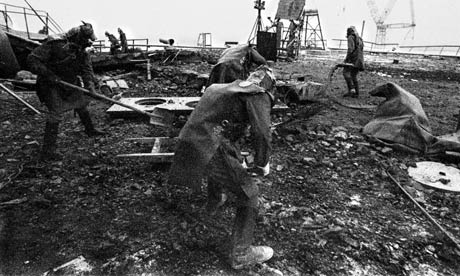 "At the children's cancer hospital in Minsk, Belarus, and at the Vilne hospital for radiological protection in the east of Ukraine, specialist doctors are in no doubt they are seeing highly unusual rates of cancers, mutations and blood diseases linked to the Chernobyl nuclear accident 24 years ago.
But proving that infant mortality hundreds of miles from the stricken nuclear plant has increased 20-30% in 20 years, or that the many young people suffering from genetic disorders, internal organ deformities and thyroid cancers are the victims of the world's greatest release of radioactivity, is impossible."
Costs of managing nuclear risk slows construction of new power stations | Damian Carrington | Environment | guardian.co.uk
"Nuclear power is a big ticket technology, with costs for the construction, running and decomissioning of plants and storage of waste running into many billions of pounds in the UK. But would a reassessment of the risks posed by radiation, even if accepted, actually cut the costs and boost the nuclear production of low-carbon electricity which the government says is essential to tackle global warming?
The short answer is doubtful, though more because of the intensity of public opposition than because costs could not actually be reduced. The Nuclear Decomissioning Authority declined to comment, saying it only implemented existing regulations, and companies seeking to build new nuclear power stations were unable to respond. Possibly all were sensitive to being seen even to consider less stringent rules on radiation."
foodconsumer.org – Cancer News: Early radiation exposure raises breast cancer risk
"Exposure to radiotherapy or radiation-based diagnostics like computed tomography (CT scans) in early childhood increases breast cancer risk in adulthood, a new study in the Jan 2010 issue of Cancer Epidemiology, Biomarkers & Prevention.
The study involved women exposed to thymic irradiation during infancy from 1926 to 1957. Breast cancer was identified in 96 treated in an average dose of 0.71 Gy and 57 untreated women during 159,459 person-year follow-up.
Adams MJ and colleagues from University of Rochester School of Medicine and Dentistry found women who were treated by radiation were 200 percent more likely to develop breast cancer than those who did not receive radiation.
Higher doses of radiation were linked to high risk of breast cancer."
Judge Allows Suit Against Brookhaven Lab | Long Island Press
A judge has given a green light to a class action suit filed by a group of Long Island homeowners worried about toxic leaks seeping into their property from the nearby Brookhaven Laboratory in Upton.
Suffolk County homeowners say past leaks of chemicals from the renowned lab have reduced their property values and endangered their health.
Questions raised about depleted uranium safety – Salt Lake Tribune
A Utah environmental group has scheduled a meeting with Gov. Gary Herbert to press its case that more testing is needed to make sure depleted uranium coming to Utah is not too hot.
HEAL says it reviewed shipping papers for some Savannah River, S.C., cleanup waste already in Utah and discovered that the DU, as depleted uranium is often called, contains reactor waste in concentrations that might top the radiological hazard limit set in state law.
But, according to the group, it's hard to say for sure because the U.S. Energy Department has sampled too few of the DU drums from its Savannah River cleanup in South Carolina — just 33 of 33,000.
"We hope you will work to ensure that any drums exceeding [state] limits are promptly rejected and returned to the Department of Energy," said HEAL Director Vanessa Pierce in a Jan. 5 letter to the governor.
---
NRC News
NRC – NRC Seeks Input on Open Government Initiative
"The Nuclear Regulatory Commission is asking the public for input on what information or data would be useful for the agency to publish online and what transparency, public participation and collaboration improvements NRC should consider in developing its Open Government Plan. Although the agency has a longstanding commitment to openness and transparency in conducting its business, it is taking this opportunity to expand and strengthen that commitment in serving the public and to support the Office of Management and Budget's Open Government Directive. "
NRC – NRC Announces Opportunity for Hearing on Application to Renew Operating Licenses for Diablo Canyon Nuclear Power Plant
"The Nuclear Regulatory Commission has announced the opportunity to request a hearing on an application to renew the operating licenses for Diablo Canyon Nuclear Power Plant, Units 1 and 2. The Diablo Canyon units are pressurized-water reactors, located in Avila Beach, 12 miles from San Luis Obispo, Calif.
Pacific Gas & Electric Co., submitted the renewal application on Nov. 23, 2009. The current operating licenses for Units 1 and 2 expire on Nov. 2, 2024, and Aug. 26, 2025, respectively.
The NRC staff has determined that the application contains sufficient information for the agency to formally "docket," or file, the application and begin its technical review. Docketing the application does not preclude requesting additional information as the review proceeds; nor does it indicate whether the Commission will grant the application."
---
Nuclear Fuel Cycle News
French Nuclear Power Fed by Uranium from Niger – Anarkismo
"Niger exports enough uranium to France to generate 80 per cent of the latter's electricity supply, writes Khadija Sharife. But ordinary Nigeriens reap little benefit from France's control of their country's uranium resources, with over three-fifths of the population living below the poverty line and reports of radioactive contamination of water, air and soil by multinational mining operations."
US set to discontinue depleted uranium in medium calibre ammunition
"It has emerged that the United States is seeking alternatives to depleted uranium for the future development and production of medium calibre bullets for its armed forces, although US government sources have declined to confirm the reasons behind the decision.
15 January 2010 – Dave Cullen
The dramatic change in policy will affect the future development of 25 mm and 30 mm rounds, which at present are used in the Bradley Fighting Vehicle and the A-10 Thunderbolt Aircraft. The A10 Thunderbolt was responsible for the majority of depleted uranium contamination in Iraq, and almost all the contamination in the Balkans. "
Uranium trains continue to criss-cross Utah as Moab project hits milestone « Colorado Independent
"One of the rationales frequently trotted out in support of a proposed uranium mill in western Montrose County is that it won't impact outdoor recreation in the area, contrary to the contention of opponents who say an industry resurgence would have a chilling effect on tourism.
After all, proponents argued at county hearing last summer and fall, look at nearby Telluride and Moab, Utah both places with extensive mining histories that recovered to become meccas of alpine skiing and mountain biking.
True, bikers flock to the slick rock around Moab and happily pedal past tailings piles heaped along the Colorado River without giving their content much thought. Still, the Department of Energy and the Environmental Protection Agency were concerned enough to launch the massive and very expensive Moab Uranium Mill Tailings Remedial Action Project."
Whitehaven News | Uranium shipped to Russian shores
"SELLAFIELD Ltd has just exported a shipment of recovered uranium to Russia for processing to allow its manufacture into new fuel.
The uranium was recovered from spent nuclear power station fuel owned by European reprocessing customers in Germany and the Netherlands and sent to Sellafield for reprocessing at the Thorp plant.
It was the eighth such shipment of material from Thorp."
Chosun Ilbo: U.S. 'Unlikely to Let S.Korea Reprocess Nuclear Fuel'
"The U.S. is unlikely to allow South Korea to reprocess spent nuclear fuel that is piling up in secure storage facilities until a satisfactory solution to the North Korean nuclear problem is found, a report said this week. The matter is a key issue in negotiations between Seoul and Washington on the revision of the Korea-U.S. Atomic Energy Agreement, which expires in 2014.
Fred McGoldrick, a former chief U.S. representative to the International Atomic Energy Agency, published the report on prospects for Seoul-Washington negotiations about nuclear energy at the request of the Center for U.S.-Korea Policy of the Asia Foundation in the U.S. "It is difficult to imagine that the United States would agree to South Korean pyroprocessing until the North Korean nuclear issue reaches a satisfactory resolution," he wrote. "
'Plutonium pinch' nips NASA The Register
"Shortage of fuel squeezes exploration programme
NASA's future solar system exploration programme could be threatened by a shortage of plutonium-238, New Scientist reports.
Many of the agency's spacecraft rely on the nuclear fuel, but the US no longer produces the stuff, and despite previous estimates that the lack of plutonium-238 wouldn't bite until 2020, NASA is "already tightening its belt"."
Northern Arizona hosting uranium mining – UPI.com
"Denison Mines President Ron Hochstein said uranium mining has returned to northern Arizona for the first time in nearly 20 years.
Hochstein said while environmental groups attempted to stop the uranium mining in Mohave County, Ariz., with a lawsuit last September, his company obtained permission from state and Bureau of Land Management officials to mine for high-grade ore, The (Flagstaff) Arizona Daily Sun said Wednesday.
"They're challenging the permits, but the BLM and state have given us all the permits we need to operate," Hochstein insists."
CBC News – North – Uranium company ordered to clean up camp site
"Plans for uranium exploration have ground to a halt at a Nunavut property held by Uravan Minerals Inc.
Federal officials ordered Uravan to clean up a cache of materials from a mining camp site for which it did not have the proper land use permits.
The site in question is at Sand Lake, on Uravan's sprawling Garry Lake uranium exploration property, located 245 kilometres northwest of Baker Lake in Nunavut's Kivalliq region.
Not only did the company not have a permit to work on the Sand Lake site specifically, but the entire Garry Lake uranium property lies within the calving grounds of the Beverly caribou herd."
Multilateral Nuclear Fuel Supply Guarantees and Spent Fuel Management: What Are the Priorities? – Carnegie Endowment for International Peace
"In a special issue of Daedalus on the "Global Nuclear Future," published by the American Academy of Arts & Sciences, Pierre Goldschmidt posits that further improving the reliability of fuel supply is best achieved by giving priority to fuel leasing contracts coupled with long-term generic export licenses, and last resort multilateral fuel supply arrangements. Regarding the back-end of the fuel cycle, Goldschmidt argues that developing multinational fuel-storage and geological disposal facilities will be relegated to the distant horizon due to the prevailing "Not-In-My-Backyard" syndrome."
BBC News – International nuclear bank – helping world peace?
In 1953, eight years after the American nuclear bombing of Japan, President Dwight D Eisenhower laid out a vision that he called Atoms for Peace.
The United States and the Soviet Union, he suggested, should make joint contributions from their stockpiles of uranium that would be allocated to serve the peaceful pursuits of mankind.
It was too idealistic for its time. The Cold War was intensifying. At its heart was the competing strength of nuclear arsenals with the apocalyptic scenario of Mutually Assured Destructions – that nuclear conflict would obliterate both sides.
Tennessee nuclear fuel plant suspends some work | theleafchronicle.com | The Leaf Chronicle
ome work at Nuclear Fuel Services in northeast Tennessee has been suspended as the company implements a safety initiative.
All the employees returned to work last week though work was curtailed in the production operations area, commercial development line and down-blending facility.
The company, which employs about 800, also initiated pay cuts for salaried workers and is reviewing such cuts for others.
NFS processes nuclear fuel for the country's nuclear-powered submarines and aircraft carriers and also converts government stockpiles of highly enriched uranium into material suitable for further processing into commercial nuclear reactor fuel.
---
Nuclear Waste News
AllGov – Utah Fights to Keep Out Foreign Radioactive Waste
"The state of Utah wants nothing to do with 1,600 tons of low-level nuclear waste from Italy that a local U.S. corporation is trying to bury in a landfill. EnergySolutions Inc. has been trying for two years to import the radioactive waste, but Utah officials are fighting the planned disposal in Tooele County.
The state government is barred under the U.S. Constitution from blocking the importation, leaving permission in the hands of the Northwest Interstate Compact on Low-level Radioactive Waste (NWIC), to which Utah and seven other states belong. The NWIC gave permission to EnergySolutions' predecessor, Envirocare of Utah, almost 20 years ago to dispose of low-level waste, but Utah officials now have told the NWIC that they no longer want such materials buried in their state.
"
Nuclear waste proposals revealed – Press & Journal
"Dounreay looks set to become a nuclear waste dump under plans revealed by the Scottish Government.
A consultation to find ways to manage the country's radioactive waste was launched yesterday.
It aims to ensure the treatment, storage and disposal of the waste is carried out in a way that offers maximum protection to the people and the environment.
While the UK Government favours one deep burial site for all high-level and intermediate-level radioactive waste, with Sellafield the most likely location, Scottish ministers favour surface storage or shallow burial."
Nuclear plant pipe failures can threaten safety | threaten, failures, nuclear – News – The Orange County Register
"A rash of recent failures in the buried piping systems of nuclear reactors – including one at San Onofre Nuclear Generating Station – has prompted three congressmen to ask the Government Accountability Office to investigate "the integrity, safety, inspection, maintenance, regulations and enforcement issues surrounding buried piping at our nation's nuclear power plants," according to a public statement Thursday.
"Under current regulations, miles and miles of buried pipes within nuclear reactors have never been inspected and will likely never be inspected," said Rep. Edward Markey, D-Mass. (who chairs the Energy and Environment Subcommittee) in the statement. "This is simply unacceptable. As it stands, the NRC requires – at most – a single, spot inspection of the buried piping systems no more than once every 10 years. This cannot possibly be sufficient to ensure the safety of both the public and the plant.""
Free Internet Press :: The Curse Of Gorleben – Germany's Endless Search For A Nuclear Waste Dump
"Germany has been looking for a permanent storage site for its nuclear waste for over 30 years. The history of the Gorleben salt dome, a potential nuclear repository, is one full of deception and political maneuvering. And if opponents to the plans have their way, the search might even have to start again from scratch.
The ride down into the Gorleben salt dome takes less than two minutes. When the elevator stops at 840 meters (2,755 feet) below ground, the folding gates open onto a scene that looks like it could be in a modern art museum.
A sculpture made of old soft drink cans and other scrap metal welcomes visitors as they step out of the elevator. The artwork is meant to symbolize society's unresolved waste disposal problem."
Crumbling Atomic-Waste Dump Must Be Shut, German Regulator Says – Bloomberg.com
"Germany's government was advised to move 126,000 barrels of nuclear waste from a crumbling underground storage site in central Germany to a nearby location in a bid to stop any leaks of radioactivity into groundwater.
Wolfram Koenig, president of the Federal Office for Radiation Protection, manager the Asse facility, made the recommendation today in Hannover, Germany.
With 12,000 liters (3,170 gallons) of underground water leaking daily into the abandoned salt mine and eroding walls, the regulator is seeking to relocate waste from Asse before it may get mixed with water and seep back out into aquifers. "
Highly radioactive shipment threatens coastal communities
"THE first return shipment of foreign nuclear waste from Britain is due to occur in the next few days with the shipment of highly radioactive waste from the Sellafield Plant to customers in Japan.
These nuclear shipments raise critical security, safety and environmental concerns and subject coastal communities to unnecessary risks.
The NDA's commercial transport subsidiary, International Nuclear Services (INS), will be responsible for the shipment, which will leave from Barrow, northwest England. The vessels will be carrying 28 stainless steel containers of vitrified radioactive waste and are expected to arrive in Japan by the end of March. This is the first in a series of nuclear waste transports to Japan, which are expected to involve between 850 and 1000 containers and take up to 10 years to complete."
BBC News – Nuclear waste storage options examined
Nuclear waste could be stored permanently at up to four locations across Scotland, it has emerged.
The Scottish government has launched a consultation exercise on the issue.
It believes waste should be stored close to existing nuclear facilities, reducing the need for waste to be transported long distances.
Scotland's civil nuclear sites are located at Dounreay, Hunterston, Chapelcross, Rosyth and Torness, near Dunbar. "
Senators and 'Radioactive Rob' won't protect Utah | Standard-Examiner
""While Utah Slept" may very well be the title of a best-seller when an accident with radioactive waste occurs in our west desert.
Several weeks agao, a bill to ban the importation of foreign radioactive waste was introduced in the U.S. House. Rep. Jim Matheson was there to vote for the ban, as was Rep. Jason Chaffetz. But "Radioactive Rob" Bishop, a former lobbyist for Energy Solutions? He was away on a field trip with high school students and didn't vote.
The bill passed in the House, but died in the Senate for lack of a sponsor. Our two senators, Hatch and Bennett, sat on their hands."
N.E.governors seek spent fuel removal – Brattleboro Reformer
"The six governors of the New England states recently forwarded a letter to the Department of Energy requesting it remove spent fuel and high level waste from nuclear reactor sites in the region "at the earliest possible date."
Steven Chu, the secretary of DOE, announced earlier this year that he was establishing a "blue ribbon" commission to look for ways DOE can deal with the nuclear waste accumulating at the 104 operating reactors and the 31 decommissioned reactors in the United States.
Originally, DOE had planned to move the waste to a national repository at Yucca Mountain in Nevada. Due to environmental concerns and opposition from Nevada's congressional delegation, the repository has been delayed by more than two decades. "
Nuclear agency sweeps up radioactive equipment from Rahway company | Local New Jersey News – – NJ.com
"he National Nuclear Security Administration swept into a Rahway warehouse last week to secure Cesium-137, a radioactive substance, from unused medical equipment.
Securing radioactive material is something the administration, part of the Department of Energy, has done about 24,000 times since the late 1990s, but the organization is mounting a new push to encourage hospitals and research facilities to register to have outdated equipment picked up by the government in a timely fashion.
The goal is to keep Cesium and other radioactive material under tight security.
The agency didn't release any information about the operation until a week later, once the equipment, medical irradiator machines, was treated and safely housed thousands of miles away, west of the Mississippi River. It also did not give the name or address of the Rahway company in order to protect it from those trying to illegally acquire radioactive substances. "
High-rad cesium recovered from Jersey warehouse | knoxnews.com
"The National Nuclear Security Administration today announced that it had recovered two "high-activity" sources of cesium-137 from a warehouse 25 miles from New York City. The NNSA removed these "disused and unwanted irradiators" as part of the federal agency's Global Threat Reduction Initiative.
Once upon a time, these nuclear sources — which contained more than 3,000 curies of radioactivity — were used for medical research. Because of their high radioactivity and "portability," these sealed sources could have been converted into a radiological dispersal device (so-called "dirty bomb"), the NNSA said."
Toxic Waste Facility Rejects Radioactive Waste – ABC News
"The largest toxic waste facility in the West rejected a proposal by Boeing Co. and NASA to accept tainted soil from the site of a partial nuclear meltdown.
Chemical Waste Management, which operates the San Joaquin dump, sent a letter Tuesday to Linda Adams, head of the state Environmental Protection Agency, saying the facility would not accept the hazardous waste "because of the uncertainty and community concerns about levels of radioactive constituents in these materials."
The dump just outside the tiny farming town of Kettleman City, halfway between Los Angeles and San Francisco, is not licensed to accept radioactive waste. The dirt was dug up as part of a cleanup effort at the Santa Susana Field Laboratory near Los Angeles where thousands of rockets were tested and a partial meltdown of a nuclear reactor took place in 1959."
Utah argues case to ban foreign nuke waste – Salt Lake Tribune
"In a dispute being watched around the world, a federal appeals court hosted a debate Thursday on who has final say over what goes into a Utah radioactive waste site.
At issue is whether EnergySolutions Inc., which operates a radioactive waste landfill in Tooele County, can dispose of waste from foreign nations over the objections of the state and a regional oversight panel.
EnergySolutions Inc. attorney Mike Lee argued that Congress only granted the Northwest Interstate Compact on Low-level Radioactive Waste authority over the privately owned and operated Utah site for a couple of years. "
EnergySolutions: State OK not needed for blending radioactive waste – Salt Lake Tribune
"If the Nuclear Regulatory Commission allows EnergySolutions to blend more potent radioactive waste with the type of materials it already takes, the company won't need additional state approval to dispose of it in Utah, a company official said Thursday.
Tom Magette, a senior vice president at EnergySolutions, said at a public meeting with NRC staff in Rockville, Md., that the blended waste would still fall under the Class A category allowed by the license for its Tooele County landfill.
"I don't know what would trigger" the company to have to notify the state or seek its approval, Magette said. "
Utah appeals decision on radioactive waste from Italy | Deseret News
"Utah should have a say over whether a company can ship low-level radioactive waste from another country into the state, attorneys argued Thursday before a federal appeals court.
Attorneys for Utah and an interstate compact that regulates the waste argued before the 10th U.S. Circuit Court of Appeals that the law creating the compact gives the state and other members broad authority. They asked the judges to reverse a Utah federal court decision saying the Northwest Interstate Compact can't block EnergySolutions Inc. from shipping in low-level radioactive waste from Italy.
EnergySolutions wants to import up to 20,000 tons of low-level radioactive waste from Italy. The waste would be processed in Tennessee, and about 1,600 tons would be disposed of in Utah."
White House, Energy Department clash over Yucca Mountain cuts – Las Vegas Sun
"The Department of Energy and the White House are at odds over how steep to cut the Yucca Mountain budget for fiscal 2011, according to reports.
Energy Secretary Stephen Chu is balking over the White House plan to slash the budget for the nearly-doomed nuclear waste dump north of Las Vegas, according to reports in Energy Daily and the Wall Street Journal.
Apparently, the White House wants to zero out the $46 million in the Energy Department's request in the president's new budget due next month.
Chu sent a letter to White House budget director Peter Orszag last month arguing that at least $25 million was needed to close out the Yucca Mountain office, including for the retention of critical knowledge and data.
U.K. nuke shipments slammed | Japan Times
"Environmentalists are opposing the shipment of highly radioactive waste from Britain to Japan, arguing it is "potentially dangerous" and "wholly unnecessary."
Activists are concerned that an accident could cause significant environmental damage or that terrorists could hijack the toxic cargo.
But officials say transporting the material is safe and they are following all the necessary guidelines set down by national and international regulators."
Video: Larry Burgan Claims Radioactive Waste Caused Health Problems in Venice, Illinois – St. Louis News – Daily RFT
"This week's RFT feature story, "Meltdown in Venice" features Larry Burgan of Granite City, Illinois, and his fight to prove that his former employer is responsible for radiation poisoning that he believes damaged his health and the health of those who live nearby the factory.
Here's a video interview we did with Burgan near Spectrulite Consortium's plant in Venice, Illinois."
San Joaquin Valley landfill won't accept Field Lab waste» Ventura County Star
"A landfill in the San Joaquin Valley will not accept waste from the Santa Susana Field Laboratory following an outcry over Boeing Co. and NASA's application to send radioactively contaminated dirt there.
Waste Management, the company that owns the Kettleman Hills landfill, notified California's Secretary for Environmental Protection on Tuesday of the company's decision.
"Waste Management's Kettleman Hills Facility has voluntarily decided not to accept solid or hazardous wastes from any portion of the Santa Susana Field Lab because of the uncertainty and community concerns about the levels of radioactive constituents in these materials, Senior District Manager Robert G. Henry wrote in a letter Tuesday to the state EPA's Linda Adams."
ksl.com – Radiation expert blasts EnergySolutions for misleading public
"EnergySolutions wants to dispose of three trainloads of depleted uranium, shipped from South Carolina, in its Tooele County landfill. But critics want to stop it because the waste will get more radioactive over tens of thousands of years.
On Tuesday, the governor ordered state experts to sample the first trainload to make sure the waste is what it's supposed to be. The other two trainloads are on hold in South Carolina to give the Radiation Control Board more time to finish up new regulations
"I just don't think that squares with good science or with common sense." – Stephen Nelson, former Radiation Control Board chairman.
Meanwhile, the former chairman of the Radiation Control Board says EnergySolutions is misleading the public. Geochemist Stephen Nelson says the company falsely portrays its critics as anti-nuclear activists who don't know science. "
Radiation Control Board Considers Banning Downblended Waste | KCPW
"The closure of a South Carolina nuclear waste facility has spurred a debate in Utah and nationwide about whether to allow downblending, a process that mixes hotter nuclear waste with less radioactive material so it can be stored at facilities like EnergySolutions'. Healthy Environment Alliance of Utah policy director Christopher Thomas says downblending just creates pockets of more hazardous Class B and C waste, which is currently not allowed in the state.
"That does not protect the state of Utah, Thomas says, "that doesn't respect our state rules and in fact it doesn't respect federal guidance, which has held for many years that these kinds of nuclear waste should not be mixed just for the purpose of lowering the waste classification.
The Utah Radiation Control Board meets today to consider banning downblending. The board will also hear a presentation from EnergySolutions, which is only allowed to store the lowest-level waste, Class A, at its facility in the west desert."
Herbert wants N-waste test | Deseret News
"Gov. Gary Herbert has asked for independent sampling of the first shipment of depleted uranium that has arrived at EnergySolutions' Clive facility in Tooele County.
Amanda Smith, executive director of the state Department of Environmental Quality, briefed members of the Radiation Control Board on the issue Tuesday, adding that the department will contract with a third party for the independent testing.
Some sampling of the material already has been conducted, but the results are not yet in, and staff members have been on site to observe the off-loading of the radioactive material, which is classified as low-level Class A waste."
Waste fight heading to court | Deseret News
"The legal stage is set for Utah's big showdown with EnergySolutions over the company's efforts to dispose of low-level radioactive waste from Italy at its Clive facility in Tooele County.
Attorneys from multiple dimensions in the battle are set to argue the case Thursday before the 10th Circuit Court of Appeals, where the authority of multistate compacts governing the storage of the material will be picked apart.
At issue is the May 2009 ruling by federal Judge Ted Stewart and the state's subsequent appeal that EnergySolutions' facility is not a "regional" disposal facility and thus falls outside the purview of a compact's ability to restrict the type of nonregional waste that is received."
Platts: US Supreme Court looks at case involving states' nuke waste group
"The US Supreme Court on Monday considered whether a non-state entity can sue a state and impose monetary sanctions as attorneys argued a case involving North Carolina's departure from a group of states trying to find a disposal site for low-level nuclear waste. North Carolina, part of the eight-member Southeast Interstate Low-Level Radioactive Waste Compact, had been designated the host state for a low-level waste disposal facility. From 1988 to 1997, the Southeast Interstate Low-Level Radioactive Waste Management Commission, which administers the compact, provided North Carolina with close to $88 million. During that time, North Carolina spent about $34 million of its own funds but did not obtain a license for a new LLW disposal facility. The waste includes low-level radioactive waste generated by nuclear power plants and that generated by non-utility operations, such as hospitals. "
Yucca Haunts Admin's Lagging Efforts on Nuclear Waste Study Panel | CommonDreams.org
"While President Obama's fiscal 2011 budget proposal is expected to sound a death knell for the planned Yucca Mountain nuclear waste repository, the administration has so far failed to launch the blue-ribbon commission it promised almost a year ago to decide on a waste-disposal alternative.
Hanging in the balance is 60,000 metric tons of commercial and defense nuclear waste."
Courthouse News Service: High Court Hears State Conflict on Nuclear Waste

"In a rare 90-minute session, the Supreme Court heard arguments Monday on whether North Carolina violated a radioactive waste storing agreement when it abandoned the deal but kept the investment amount of $80 million. "That's the deal. They can run away. But in addition, take $80 million?" asked a skeptical Justice Stephen Breyer.
Justice Sonia Sotomayor also appeared concerned about the financial losses suffered from the other states. "The compact expressly says that none of the contracting states have any liabilities"
North Carolina in 1999 pulled out of a deal with other southern states to cooperate in the storing of radioactive material. South Carolina had the only previously existing facility of the group, but North Carolina was next in line to develop and host a site, receiving almost $80 million in assistance over the course of 9 years."
Report: Feds gave Boeing millions to clean up its mess
"The government gave Boeing a $15.9 million stimulus contract for environmental monitoring at the same site near Simi Valley, Calif., where the company was fined for polluting a creek with chromium, dioxin, lead and mercury, the investigative journalism group California Watch reported Sunday.
The Santa Susana Field Laboratory was operated by divisions of North American Aviation, which eventually became Rockwell International, then Boeing. It was the site of rocket engine testing and nuclear power development that led to toxins leaching into the dirt and groundwater."
Public Hearing to Focus on Massive Nuclear Water-rights Permit Request That Would Kill Endangered Fish | CommonDreams.org
"On Tuesday the Utah Division of Water Rights will hold public hearings on applications by both the Kane County and the San Juan County water conservancy districts to change the diversion points of 53,600 acre-feet of water from the Colorado and San Juan rivers upstream to the Green River. The applications also seek to change the designated use of the water to facilitate operation of a nuclear reactor along the Green River proposed by Blue Castle Holdings, Inc.
The nuclear facility and its water consumption would deplete and alter Green River flows already threatened by climate disruption—flows that the survival and recovery of four endangered fish species depend (Colorado pikeminnow, razorback sucker, bonytail and humpback chub). The reactor further threatens to kill endangered fish caught in water intake structures and to exacerbate regional water contamination by associated uranium mining that is already contributing to the fish's decline in the upper Colorado River basin. Other imperiled species will also potentially be harmed, including the roundtail chub, bluehead sucker and flannelmouth sucker, all of which are subject to conservation agreements between the state and federal governments in order to preclude the need to list them under the Endangered Species Act.
Imposing this massive water withdrawal atop climate change and regional drying would force unacceptable risks on to endangered fish and the Colorado River system, said Taylor McKinnon of the Center for Biological Diversity, It's time for the era of pollution- and water-intensive energy development to end. Those old technologies need to be replaced with clean renewables and energy conservation.
---
Nuclear Policy News
Coalition opposes nuclear power – Camrose Canadian – Alberta, CA
"Mel Knight's announcement that nuclear power will be considered as an energy option in Alberta does not sit well with the Coalition for a Nuclear Free Alberta, the province-wide alliance of grassroots organizations opposed to nuclear development.
Adele Boucher Rymhs, coalition president, feels the government has turned a deaf ear to the people to save its image on climate change.
"They are saying that we should consider nuclear power because of low carbon emissions, and are totally ignoring the fact that radioactive emissions will be just as big a problem in our atmosphere."
Though results of the online survey indicated that 55 per cent of respondents were opposed to nuclear, the government has chosen to allow unproven new generation technology to be developed in this province.
The report also showed 75 per cent of Albertans are concerned about the health impacts of nuclear and 77 per cent do not want to leave a nuclear waste problem for future generations "
US govt says loans for nuclear plants complicated | Reuters
"Loan guarantees may be enough for only 2 new reactors
* Chu says reactors can store spent fuel on site 50 years
* Utilities should not complain about waste storage costs
WASHINGTON, Jan 15 (Reuters) – U.S. Energy Secretary Steven Chu said on Friday that the process for approving federal loan guarantees for new nuclear power plants has become "complicated," but the department still expects to issue its first loan deals very soon.
"It was more complicated than I thought…these are multibillion dollar loans," Chu told reporters at a lunch briefing at Energy Department headquarters, when he was asked why it was taking so long for the department to make a decision on the loan guarantees."
Public Citizen | Public Citizen Welcomes Opportunity for Senate to Hold Rogue Utility CPS Energy Accountable
"The latest task of the state Senate Business and Commerce Committee provides a welcome opportunity for Texas to rein in rogue utilities like CPS Energy of San Antonio. Now charged with studying the costs of municipally owned utilities' generation plans and their impacts on residential and commercial customers, the Senate committee has the opportunity to protect Texans, especially low-income families, from the machinations of a utility bent on pleasing its industrial consumers at the cost of its most vulnerable customers.
CPS Energy is pursuing a risky investment in a nuclear expansion project that, depending on the final cost of the project, would raise rates between 36 percent and 60 percent over the next 10 years. The municipally owned utility has failed to adequately involve the citizenry and city government in its generation planning process. CPS Energy's nuclear energy plan lacks any mechanism to protect consumers or low-income families, despite the fact that those customers would have to pick up the tab if the deal gets more expensive."
FPL to halt $10 bln of capital spending in Florida | Reuters
"* To suspend $10 bln in investment over next 5 years
* Cites deteriorating regulatory environment in Florida
* Progress Energy sees similar regulatory action
* FPL shares off 3 pct, Progress shares edge up
– FPL Group Inc, owner of the largest utility in Florida, said it would halt spending on projects in the state representing about $10 billion of investment over the next five years because of a deteriorating regulatory environment.
The Florida Public Service Commission on Wednesday unanimously rejected FPL's request to raise its base rates by 30 percent, or $1.3 billion, and instead allowed an increase of $75.4 million."
Senate panel advances bill to end ban on nuclear power in Ky.  | The Courier-Journal
"State Sen. Bob Leeper, I-Paducah, envisions the potential for a nuclear power plant in his Western Kentucky district, and on Wednesday that possibility moved a small step forward.
The Senate's Natural Resources and Energy Committee approved a bill that would effectively end the quarter-century ban on nuclear power in Kentucky.
We must recognize the value of nuclear power, he told fellow committee members. And after one committee member  Sen. Ray Jones, D-Pikeville  said he saw the bill as a direct threat to Kentucky coal, Leeper said nuclear energy could be used to turn coal into liquid fuels."
Federal Nuclear Judges Affirm Citizen Intervention Against New Nuclear Power Reactors on Florida Nature Coast | CommonDreams.org
"Three Nuclear Regulatory Commissioners have upheld the July 2009 ruling by a panel of the Atomic Safety and Licensing Board (ASLB) that is hearing a challenge to two new Progress Energy Florida (PEF) nuclear reactors in Levy County, Florida. Three organizations, the Ecology Party of Florida, Nuclear Information and Resource Service (NIRS) and the Green Party of Florida are representing the interests of members living within a 50 mile radius of the proposed new nuclear site, located in the Florida Nature Coast less than 10 miles from the existing PEF Crystal River Nuclear Power Station. The Levy County reactors are projected to cost $17 billion.
The landmark ruling, handed down on Thursday, January 7 in response to an appeal by PEF, affirms that the ASLB will hear very broad concerns raised by the Intervening groups, including impacts of a new nuclear plant on ground and surface waters, endangered species, and environmental and safety issues of generating so-called "low-level" radioactive waste that currently has no off-site disposal option. "
Diane Farsetta: Remove nuclear provisions from Clean Energy Jobs Act
"Would a truly "clean energy" source produce "one of the nation's most hazardous substances"?
Of course not.
So why include provisions on nuclear reactors in the state's Clean Energy Jobs Act, recently introduced in the state legislature? Nuclear reactors generate high-level radioactive waste, which is "one of the nation's most hazardous substances," according to the U.S. Govern-ment Accountability Office.
In a November 2009 report, the respected nonpartisan agency found there were no good options for dealing with the radioactive waste. And, as the federal government continues its decades-long struggle to find a solution to this grave public safety, environmental and political problem, the costs to taxpayers and ratepayers will skyrocket."
TheSpec.com – Businesses feel nuclear uncertainty
Hold on reactor development worries companies, researchers
A half-million-dollar investment and a whole lot of hope are keeping All Tool Manufacturing afloat as the nuclear power industry weathers a stormy period in Ontario.
Why is the U.A.E. nuclear plant deal so important? – INSIDE JoongAng Daily

It's the first step toward widespread Korean export of today's most promising clean energy source.
Korea now has some of the world's most efficient, cutting-edge plant designs.
It might seem strange for a bunch of nuclear power plants in the United Arab Emirates that aren't even built yet to be all over the evening news in Korea, but that's exactly what happened last month.
Groups gain ground in nuclear plant fight – Business – TheState.com
Two environmental groups claimed a partial victory Friday in efforts to derail plans for two new reactor units at the V.C. Summer Nuclear Station near Jenkinsville.
On Thursday, the Nuclear Regulatory Commission overturned a decision by its review board that had rejected issues raised by the Sierra Club of South Carolina and had denied standing to Friends of the Earth.
The commission said the Atomic Safety Licensing Board had "wrongly erred" in denying Friends of the Earth, which opposes the $9.8 billion project to add two, 1,117-megawatt reactor units at the Fairfield County power station, an opportunity to participate in the process.
Whole Earth Discipline by Stewart Brand | Book review | Books | The Guardian
If we are serious about curbing climate change, what would actually help? More people in cities, lots of nuclear power stations and lashings of GM crops, urges Stewart Brand. Unless green activists embrace the benefits of all three, they are not part of the solution, but part of the problem.
This prescription, from the founder of that quintessential 1960s publication the Whole Earth Catalog, comes as a surprise. And his eclectically informative new book makes the most of it. I care about the Earth, and especially about the fate of humanity, says Brand. I have changed my mind about how to exercise that care, and so should you.
The proliferation of nuclear panic is politics at its most ghoulish | Simon Jenkins | Comment is free | The Guardian
Some books are written to be read, others to be put in a cannon and blasted at the seat of power. Two such blasts have just crossed my desk, from academics on either side of the Atlantic. Both are on the same subject, the consequence of the irrational fear of radiation.
BBC News – Corruption up among China government officials
China's anti-corruption watchdog has said that 106,000 officials were found guilty of corruption in 2009, an increase of 2.5% on the year before.
The number of government officials caught embezzling more than one million yuan ($146,000; £91,000) jumped by 19% over the year.
The government says the increase is due to better supervision of the problem.
---
Nuclear Weapons News
44 years since atomic bombs fell on Palomares, Almería – Features at Typically Spanish
"A propaganda documentary made at the time on the United States operation which led to the accident has now been released
Photos went round the world in 1966 of the then Spanish Minister for Tourism, Manuel Fraga, and the United States ambassador to Spain, Angier Biddle Duke, taking a dip off the coast of Palomares in Almería.
It was a publicity shot taken with the intention of proving that the waters were safe after four atomic bombs fell in the area, two on land and two at sea, following a mid-air collision involving a B52 bomber and a tanker plane based at Morón de la Frontera in Cádiz during a mid-air refuelling operation. "
wbur.org » 'Hell To Pay' Sheds New Light On A-Bomb Decision
"The atomic bombs that ended World War II killed — by some estimates — more than 200,000 people. In the decades since 1945, there has been a revisionist debate over the decision to drop the bombs.
Did the U.S. decide to bomb in order to avoid a land invasion that might have killed millions of Americans and Japanese? Or did it drop the bomb to avoid the Soviet army coming in and sharing the spoils of conquering Japan? Were the prospects of a land invasion even more destructive than the opening of the nuclear age? "
Russian Nuclear First Use: a Case of Self-Defeating Exaggeration? – The Jamestown Foundation
"In mid-October 2009, Nikolai Patrushev, the Secretary of the Security Council, used an interview to discuss Russia's draft military doctrine and highlighted one aspect: the first-use of nuclear weapons in a "preventive nuclear strike against the aggressor(Izvestiya, October 14). This was not the first such declaration regarding first use by the Russia, but it came in the aftermath of the conflict with Georgia in 2008. In early December, the Russian mass media published several leaks and commentaries concerning the draft military doctrine, which, reportedly President Dmitry Medvedev would soon sign. This addressed the rationale underlying a declaratory policy of nuclear first-use in the current international environment."
Australia's aborigines: Atomic amends | The Economist

"A blighted site is handed back to the people displaced by British bombs
FROM the air, Maralinga looks much like the rest of Australia's outback: vast, red and empty. Up close, there are differences. Its long, quiet airstrip recalls a time when this was an unlikely epicentre of the cold war. Parrots and wedge-tailed eagles cruise above a desert still littered with radioactive plutonium and other fragments of atomic weapons that Britain exploded more than 50 years ago.
Staking claim on a humble plot of Hiroshima
Once teeming with nuclear scientists and British and Australian servicemen, Maralinga fell into eerie silence when the tests ended, in the early 1960s. Then just before Christmas 2009, it returned to life."
Scientists push Doomsday Clock back a minute | Reuters

"Scientists pushed back the hands on the symbolic Doomsday Clock by one minute citing hopeful developments in nuclear weapons and climate change.
The symbolic clock that shows how close mankind is to self-annihilation was moved back to six minutes before midnight from five minutes on Thursday.
The Bulletin of Atomic Scientists, which maintains the clock and puts an illustration of it on its cover, attributed the move to efforts by world leaders to reduce their countries' nuclear arsenals and collaborate on climate stabilization."
Japan tipped S. Korea on secret U.S. nuke pact – The China Post
"Japan indicated to South Korea the existence of a secret 1969 Japan-U.S. agreement on allowing U.S. nuclear weapons into Okinawa in times of emergency after its reversion to Japan, shortly after the pact was struck, according to a Japanese researcher.
According to a paper by Somei Kobayashi, a researcher at Osaka City University, Japan told South Korea of Tokyo's understanding that U.S. nuclear weapons would be allowed to be brought into post-reversion Okinawa during emergencies.
In December, the family of the late Prime Minister Eisaku Sato announced the existence of a document concerning the secret agreement, which was reached in 1969 between Sato and then U.S. President Richard Nixon as part of negotiations for the return of Okinawa to Japan. The document shows the United States intended to remove all nuclear weapons from Okinawa by the time of its reversion, but also would require the reentry of nuclear weapons into Okinawa during emergencies. "
Norwegian links for Israeli nuclear whistleblower | IceNews – Daily News

The man, who in 1986 lifted the lid on Israel's nuclear secrets, has been placed under house arrest ahead of an expected indictment following his meeting with a Norwegian woman.
Mordechai Vanunu was detained by authorities in Jerusalem for breaching a ban imposed on contact with all foreigners. His defence has argued that the meeting was no more than a romantic liaison and did not relate to any nuclear issues, says a report by the Irish Times.
"This Jewish state has 200 atomic . . . hydrogen bombs, atomic weapons, neutron bomb. They are not able to say they have the bomb, they are not able to destroy anyone . . . instead they arrest Vanunu Mordechai," said the defendant in court, where he spoke only in English as part of a continued campaign against Israeli authorities, including a boycott of the Hebrew language. Vanunu has been fighting for permission to leave Israel for over two decades.
---
Department of Energy News
US Energy Secretary Chu: Loan-Guarantee Program To Be Sped Up
"U.S. Energy Secretary Steven Chu said Friday that the Obama administration hopes to issue nuclear loan guarantees "soon" as part of a broader plan to speed up loan guarantees, but that the government is running into problems finalizing the subsidies.
"We're going to be accelerating our loan-guarantee process even more," Chu told reporters in a briefing to discuss the administration's priorities for 2010. Chu said that nuclear loan guarantees would come "soon," but that getting them finalized was "more complicated than I thought."
Constellation Energy Group Inc. (CEG), NRG Energy Inc. (NRG), Scana Corp. ( SCG) and Southern Co. (SO) are expected to receive the first guarantees for nuclear projects. Government support is viewed as essential because of high costs, lengthy timetables and a history of cost overruns in the construction of nuclear reactors."
2 hunters prompt Texas weapons plant to shutdown – Yahoo! News
"Two goose hunters inadvertently caused a security lock down in Texas at the nation's only nuclear weapons assembly and disassembly plant.
Carson County Sheriff Tam Terry said plant employees on their way to work Friday saw two people in green camouflage carrying rifles about two miles south of the Pantex plant near Amarillo.
The employees notified plant officials, who called Terry's office and asked for an investigation. Pantex officials then closed the plant for a couple hours."
KCUR: Disputed Nuke Plant Gets Tip of Hat
"Plans for a half billion dollar nuclear weapons parts plant are moving toward a vote of the Kansas City Council. The Transportation and Infrastructure Committee of the council today recommended full council approval of a development agreement.
The committee heard from anti nuclear weapon activists, from contractors and school districts, from health advocates and others representing individual viewpoints and groups.
The new site for the National Nuclear Security Agency would be Missouri Highway 150 and Botts Road in South Kansas City. The NNSA is a branch of the United States Department of Energy.
DOE looking for risky remains at Hanford | Tri-City Herald
"Work has begun with federal economic stimulus money to solve the mystery of what's buried in one the most hazardous burial grounds of the Hanford nuclear reservation.
The 618-10 Burial Ground "received some nasty stuff from the labs in the 300 Area where they did everything done at Hanford but at a small scale," said Larry Gadbois, scientist at the Environmental Protection Agency, a regulator on the project.
The six-acre burial ground includes 94 pipes buried vertically that allowed trucks to drive up and quickly drop radioactive and chemical waste underground. Most were made by removing the tops and bottoms of 55-gallon drums and then welding five of them together to form pipes. The 618-10 Burial Ground also includes 23 trenches.
Many records of what they contain were destroyed in the early 1990s."
Hanford News: DOE to take public comment on draft Hanford study
"The Department of Energy will hear public comments at a Jan. 26 meeting in Richland on a wide-ranging draft study that lays the groundwork for cleanup of the Hanford nuclear reservation for decades to come.
It's one of eight meetings planned in the Northwest. The Richland meeting at the Red Lion Hanford House will start with an open house at 6 p.m. followed by presentations by DOE and the Washington State Department of Ecology at 7 p.m. Public comment then will be heard until 10 p.m.
Other meetings will be Feb. 2 in Boise; Feb. 9 in Hood River, Ore., and Feb. 10 in Portland. A Seattle meeting is being rescheduled and three more meetings will be added to the list."
Guest commentary: Playing with plutonium at Rocky Flats – Boulder Daily Camera
Playing with plutonium is not a good idea. But this is exactly what will happen if the US Fish and Wildlife Service (FWS) implements its plan to open the Rocky Flats National Wildlife Refuge for public recreation.
For almost four decades the Rocky Flats Plant located about nine miles south of Boulder produced the explosive plutonium "pit" at the core of every warhead in the U.S. nuclear arsenal. Major accidents and routine operations released very fine plutonium particles to the environment on and off the site. Because this highly toxic material remains radioactive for a quarter-million years, its presence in the environment poses a permanent danger.
Inhaling or otherwise taking such particles into the body can induce cancer, disrupt the immune system or damage genetic material. Children, who would be encouraged to visit the refuge, are especially vulnerable, because they stir up dust, breath in gasps, eat dirt, or may scrape a knee or elbow.
New rules take effect for ill Hanford workers – Mid-Columbia News | Tri-City Herald : Mid-Columbia news
Hundreds more ill Hanford workers or their survivors now should be eligible for $150,000 compensation from the federal government.
A special exposure cohort, a ruling that eases compensation rules for more Hanford workers, took effect this weekend after clearing a congressional waiting period.
Under the new rule, workers in any part of Hanford who may have been exposed to radiation should automatically qualify for compensation if they worked for 250 days from Oct. 1, 1943, through June 30, 1972, and developed certain cancers. The list of cancers includes more than 20 that have been linked to radiation exposure by medical research.
---
Other Energy News
UK power prepares for a cold wind of change | Business | The Observer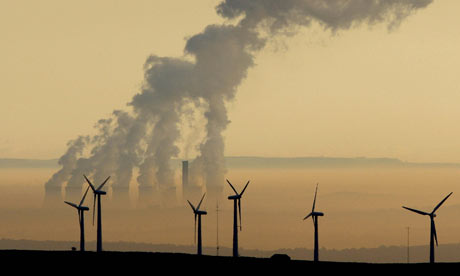 It was supposed to be a great leap forward in Britain's green energy revolution. Three of Labour's biggest beasts the prime minister, Lord Mandelson and Ed Miliband lined up in London on Friday to launch a new wave of offshore wind turbines the government hopes will create up to 70,000 "green collar" jobs over the next decade. But as snow brought Britain to a halt, the green dream had little hope of dominating the headlines.
BBC News – The power, glory and controversy
First Minister Alex Salmond believes Scotland has hit the energy jackpot for the second time.
First came North Sea oil. Now, it's Scotland's abundance of wind and water which could prove to be our economic saviour.
The big question is: How can Scotland cash in on its good fortune?
Wind farms have become a common feature of the Scottish landscape. Indeed, many would argue they are all too common. The power companies themselves admit they are finding it harder and harder to identify suitable sites for new onshore wind farms.
£100bn wind farm plan heralds green energy era – Green Living, Environment – The Independent
26,400 turbines to wean Britain off its carbon habit
Revolutionary plans for a massive expansion of offshore wind farms have been unveiled in a £100bn project designed to usher in a new era of green energy for Britain.
A quarter of the country's electricity needs would be met through wind power by 2020 under the strategy, with the construction of 6,400 turbines within nine sites dotted around the coast. The programme amounts to the biggest energy supply shake-up since the discovery of the North Sea oil and gas fields more than 40 years ago.
---
Nuclear Editorial and Opinions
Editorial: Reasons to question Vt. Yankee's future | burlingtonfreepress.com | The Burlington Free Press
"Revelations about underground pipes carrying radioactive fluids at Vermont Yankee raise serious concerns about how much stock Vermonters can place in Entergy's repeated reassurances about the safety of the plant or anything else.
The sequence of events is especially bad for plant owner Entergy, which is trying to convince state lawmakers and regulators that allowing the plant to operate beyond 2012 is in Vermont's best interest.
Entergy revealed last week that underground pipes could be the source of elevated levels of radioactive tritium detected in a groundwater monitoring well. Yankee officials said the tritium level detected posed no health threat, but they would continue to monitor the leak to see if it was spreading."
FT.com / Comment / Letters – Subsidies disguise the real cost of nuclear power
"Sir, It is not correct to say that nuclear power is the cheapest large-scale low-carbon electricity source (A nuclear Britain can lead the way on emissions, FT.com, January 8). The report "Nuclear Subsidies from the Energy Fair group shows how the real cost of nuclear power is disguised by several subsidies. Without those subsidies, the price of nuclear electricity would rise to a level that would make it deeply unattractive to investors.
There are more than enough alternatives that are cheaper than nuclear power, quicker to build, and with none of the other headaches of nuclear power."
The Top Nuclear Stories is published twice weekly. It is a produced using a combination of social bookmarking and programming. You can view or join the public group and add your own stories by going here -> http://groups.diigo.com/groups/nukenews