The top story is from Platts, where the industry is claiming that they have found two potential communities willing to take spent nuclear fuel. Here we go with PFS part two!  The quake in L.A. has the NRC over to San Onofre, still more accidents in Europe, along with big pushes both way in the UK.  The India and Iranian issues are right on the boiling over point, a big push for nukes in Russia and Brazil.
But then lets look at the new MIT news on solar as well as the new scandal with the republicans killing renewable energy funding, resulting in a top DOE official resigning and McCain snapping his fingers with instant oil.  We are looking at a bunch of MSM hookwinked people as over 50% of Californian's are now in support of offshore oil drilling!  What are those people doing watching the TV news!
---
Top Nuclear Stories Index
Nuclear Reactor News
Whitehaven News: Chapelcross closure moves a step closer
The Nuclear Installations Inspectorate (NII) has given formal consent for a three-and-a-half year programme to remove all fuel from the Scottish plant to commence. Chapelcross ceased generation in 2004 and preparations for de-fuelling the reactors including design, manufacturing, installation and the commissioning of a £30m upgrade to the de-fuelling route have now been completed.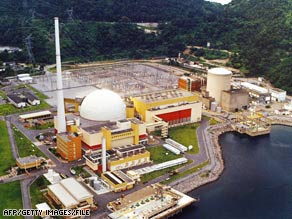 Brazil revives nuclear power plant – CNN.com
The Brazilian government has authorized the company, Electronuclear, to go back to work on the nation's third nuclear power plant. Work on the Angra 3 reactor, near Rio de Janeiro, has been stalled for 22 years by a lack of money and political issues.
NRC:NRC Conducting Special Inspection at San Onofre Nuclear Plant
The U.S. Nuclear Regulatory Commission is conducting a special inspection at the San Onofre nuclear plant in response to problems discovered with several electrical connections affecting plant safety systems. The plant, located near San Clemente, Ca., is operated by Southern California Edison Co. Following an incident in which maintenance personnel discovered a loose electrical connection on an emergency battery that rendered it inoperable, NRC inspectors identified similar problems that had occurred since 2005. These problems with electrical connections had affected the operability of an emergency diesel generator and batteries that are used to supply power during some accident conditions.
WIS News – Columbia SC | Proposed nuclear reactors would bring energy, cost and controversy
South Carolina needs safe, reliable and environmentally friendly energy. The state's biggest public and private utilities say nuclear is the way to go. But it will cost us, and sooner than we might think.
Environmental Group says 2nd Bellefonte nuke plant site shaky ground – The Huntsville Times
An environmental group urged a federal licensing board today to reject the Tennessee Valley Authority's plans for a second nuclear plant at its Bellefonte site near here beause it said the site is unstable. Louis Zeller, a representative of the Blue Ridge Environmental Defense League, said there are sinkholes a mile or two from the proposed site. He also said TVA has failed to conduct any geological study of the site since doing one in 1970s for building Bellefonte's Unit 1 and 2.
What's up with Indian Point? | The Journal News
The U.S. Nuclear Regulatory Commission has given its thumbs-up for Entergy Corp. to spin off its nuclear power plants, including the two at Indian Point in Buchanan, into a new and separate company. The federal Energy Regulatory Commission had already given its green light, so the NRC approval was anticipated. Fortunately, vetting of the major restructuring continues. Unanswered questions remain about the implications of the arrangement on state coffers, taxpayers and the future obligations of the plants. New York officials, including Assembly member Richard Brodsky, D-Greenburgh, are pressing for answers to those questions; required state approvals should be held in abeyance until clear answers are had.
Chattanooga Times Free Press | Atomic licensing board reviews Bellefonte request
Anti-nuclear activists said today that the Tennessee Valley Authority is overlooking potential problems from building new reactors at the Bellefonte plant site in Alabama. During a hearing before a federal regulatory panel, critics of the proposed new Bellefonte reactors claim that TVA is ignoring potential earthquake and sinkhole problems at the Hollywood, Ala., site. The environmental groups also question whether another two reactors on the Tennessee River might hurt aquatic life by heating up and draining part of the Tennessee River and harm the environment by creating more radioactive wastes.
RIA Novosti – Russia's Rosatom to bid to build nuclear reactor in Belarus
Russian state nuclear power corporation Rosatom has agreed to take part in a tender for the construction of a nuclear power plant in Belarus, the ex-Soviet republic's energy ministry said Tuesday. Belarus plans to build a nuclear power plant with a capacity of 2,000 MW, with the first unit to come online in 2016 and the second in 2018. The plant is expected to have Generation III water-moderated reactors.
Westinghouse breaks ground on Chinese reactors – Pittsburgh Tribune-Review
Westinghouse Electric Co. and its Chinese client broke ground today on the first of four nuclear power plants the company will build in the energy-hungry nation. Monroeville-based Westinghouse announced that, along with engineering partner The Shaw Group, of Louisiana, and the Shandong Nuclear Power Co., it began excavation one month earlier than planned at the plant site in Haiyang, Shandong province in northeastern China.
Hundreds oppose rail line for Levy nuclear plant | Star-Banner | Ocala, FL
There was standing room only at the Rainbow Springs Country Club Tuesday morning to listen to what Progress Energy Florida had to say about a rail line the company is proposing to build through Dunnellon to a planned nuclear plant in Levy County.
Deal puts Wylfa power station hopes in doubt – Daily Post North Wales
ONE of the front runners in the race to build a new nuclear power station at Wylfa looks poised to complete an £12bn deal for British Energy which could cool its interest on Anglesey. UK nuclear firm British Energy is expected to be snapped up by French power giants EDF (Electricité de France), which recently revealed it was buying up farmland around Wylfa, owned by the National Decommissioning Authority.
FACTBOX-Nuclear projects in central and southeast Europe | Reuters
A number of countries in central, eastern and southeastern Europe plan to build new nuclear power reactors or extend the life of existing ones to meet growing domestic demand and replace ageing power capacity. The plans mirror a worldwide nuclear boom as part of the solution to climate change.
---
Nuclear Health and Safety News
FR Doc:NRC: New Performance-Based Emergency Core Cooling System Requirements
Notice of Availability and Solicitation of Public Comments on Documents Under Consideration To Establish the Technical Basis for New Performance-Based Emergency Core Cooling System Requirements AGENCY: Nuclear Regulatory Commission. ACTION: Notice of availability and request for public comment.
SUMMARY: The Nuclear Regulatory Commission (NRC) is announcing the availability of Research Information Letter (RIL) 0801, "Technical Basis for Revision of Embrittlement Criteria in 10 CFR 50.46" and NUREG/CR-6967, "Cladding Embrittlement During Postulated Loss-of- Coolant Accidents," and is seeking public comment on these documents. The NRC is soliciting comment on the subject documents to confirm that a sufficient technical basis exists to proceed with new performance- based regulations on emergency core cooling system (ECCS) acceptance criteria, and to identify issues that may arise with respect to experimental data development or regulatory costs or impacts of new requirements.
Group cites cancer risks in fight to halt nuke plant- al.com
But TVA lawyers say no evidence to support claim SCOTTSBORO – An environmental group cited cancer risks, an unstable terrain, Guntersville Lake's diminishing aquatic life and several other reasons in its opposition Wednesday to building a second nuclear plant near here. Louis Zeller, director of the Blue Ridge Environmental Defense League, presented information at a public hearing that he says shows exposure to low levels of radiation in a nuclear plant over its typical 40-year lifetime will lead to about 100 people getting cancer and about half of them dying from it.
Perlmutter, Udall want official probe into nuke workers claim process : Deadly Denial : The Rocky Mountain News
Two Colorado congressmen want the investigative arm of Congress to scrutinize the way the U.S. Department of Labor is handling claims of sick nuclear weapons workers. Democrats Mark Udall and Ed Perlmutter say they will call today for an investigation by the Government Accountability Office, an independent, nonpartisan agency that investigates how the federal government spends taxpayer dollars.
Crane accident triggers German atomic reactor shutdown – Irna
A remote-controlled crane struck an electric power cable outside a nuclear power plant in the southern city of Biblis, leading to the shutdown of one of two reactors, the press reported Wednesday. The operator of the Biblis nuclear power plant said the turbine linked to reactor B was automatically turned off after the crane clipped a high-voltage cable during construction work at a water treatment plant.
Are 'tamper-proof' nukes a safe energy solution? – energy-fuels – 30 July 2008 – New Scientist Environment
UNDER cover of night, a fleet of nondescript freighters sets sail protected by a naval escort. The only cargo aboard each vessel is a mysterious cylindrical capsule some 3 metres across and 12 metres long. Ordinarily, there would be nothing unusual about shipping goods from the US around the world, but these 500-tonne containers are no ordinary freight. The ships are carrying a new generation of self-contained nuclear power plants destined for countries such as Libya, Namibia and Indonesia – nations that the US government would not normally trust with the custody of nuclear material.
Cleanup Company Settles with NRC
A company that manages environmental remediation activities at nearly 6,000 sites in the United States settled with the Nuclear Regulatory Commission over the "apparent" termination of a contract radiation safety employee who raised safety concerns during the decommissioning of a facility in Washington, Pennsylvania. According to NRC's Office of Investigations, the individual was fired after raising nuclear safety concerns regarding the transportation of potentially contaminated soil samples over public roads and the monitoring of potentially radioactive airborne dust caused by work at the site.
Report slams NIST over Boulder plutonium spill – The Denver Post
An effort to enhance the United States' ability to detect "dirty bombs" went terribly awry at the Boulder campus of the National Institute of Standards and Technology where dangerous plutonium sources were obtained without management approval and handled by inexperienced and untrained researchers, a scathing report released today said.
Earthquakes and Nuclear Powr Plants :: LAVoice.org
Thousands of articles appeared within hours of the July 28th Chino Hills quake. Hundreds of those articles cited the quake's proximity to the San Onofre Nuclear Plant. Hundreds also cited the loss of cell phone availability. Had the quake resulted in damage to the nuclear facility emergency planning would have been seriously hampered.
indymedia | French Government's Deception on Deadly Tricastin Spill
The French Government today admitted a series of dangerous radioactive spills near French nuclear giant AREVA plants at Tricastin, in a wine growing region of southeastern France. Paolo Scampa, a physicist and President of the International Association for Protection Against Ionizing Radiation, condemned the deceptive French response in the strongest possible terms. AIPRI was established in 1964. Workers at the Tricastin plant were evacuated after contamination July 27. The chain reaction of events is a public relations and radiological disaster for AREVA, owner of the plant. AREVA is partially owned by the French government.
Wild Clearing -The Exposed: Interview with sick uranium worker Vina Colley
Above is a 14-minute video of an interview with sick worker Vina Colley, who was an employee at the Portsmouth/Piketon Ohio uranium enrichment and gaseous diffusion plant, now operated by United States Enrichment Corporation (USEC). Colley details her illnesses, workplace problems, her employment and her efforts to obtain medical help and monetary compensation. She is co-founder of PRESS, the Portsmouth/Piketon Residents for Environmental Safety and Security, and part of National Nuclear Workers for Justice. If you have trouble viewing the video, a lower-connection-speed version is viewable on this web page …
Workers evacuated at troubled French nuclear site | Reuters
More than 120 workers evacuated a nuclear power plant in southern France on Tuesday after an alarm was set off, the nuclear safety authority said. Plant owner EDF (EDF.PA: Quote, Profile, Research) said the alarm was triggered accidentally but the safety authority ASN said it would await an independent examination before making any conclusions.
VPR Regional News: Pollina calls on Douglas to reverse Health Department on Yankee radiation measures
Independent gubernatorial candidate Anthony Pollina is criticizing the Douglas administration for allowing more radioactivity to escape from the Vermont Yankee nuclear plant. A state report issued last week said radiation from the plant had increased by about 30 percent since it was allowed to increase its power output 20 percent two years ago.
Department of Labor responds to 'Deadly Denial' series – if you can call it a response : John Temple : Rocky Mountain News
Forty-five days after the Rocky's Laura Frank sent the Department of Labor the findings of our 'Deadly Denial' series for comment, she finally received a response – an e-mail apparently sent at 9:41 p.m. Friday night that can only be described as a personal attack.
EPA to run radiological study at LA nuclear site – San Jose Mercury News
The U.S. Environmental Protection Agency will study radiological levels at a contaminated nuclear testing facility in the hills north of the San Fernando Valley, officials announced Monday. The $1.5 million study comes ahead of a planned cleanup of the 2,850-acre Santa Susana field lab. The Department of Energy conducted nuclear research at the site 25 miles northwest of downtown Los Angeles from the 1950s through 1998.
Bloomberg.com: Bruce Plant Missing Radioactive Part for Two Months, Globe Says
A radioactive part at the Bruce nuclear power station on Lake Huron was missing for about two months until an employee came across it in June, the Globe and Mail of Toronto reported.\n\nStaff working for Atomic Energy of Canada Ltd. lost the metal part while refurbishing the plant, which is about 250 kilometers (155 miles) northwest of Toronto. The contractor isn't required to immediately disclose when it loses track of highly radioactive materials, the newspaper said.
France's Nuclear Worries: Chain of Accidents Prompts Soul Searching  -SPIEGEL ONLINE
France's confidence in atomic energy has been shaken by a recent series of mishaps at nuclear facilities. Although none of the incidents appears to be on a major scale, politicians and the population are starting to question industry practices.
TEPCO:Don't expect quake-hit plant to restart '08/09: Reuters
Tokyo Electric Power Co (TEPCO), Asia's biggest utility, said on Monday its earnings forecasts for the year to March 2009 were based on the premise that it would not be restarting its quake-hit Kashiwazaki-Kariwa nuclear power plant.
---
Nuclear Security News
BBC NEWS | Japan raid over 'nuclear exports'
Police in Japan have raided the premises of a company suspected of illegally exporting machinery that could be used to make nuclear weapons. Officers targeted the headquarters of Horkos Corp and several related sites in the southern city of Fukuyama.
Press TV – Egypt seizes Israeli radioactive cargo
Egypt has refused to allow entry to an Israeli truck carrying 3.5 ton of ceramics after high radiation levels were detected in the shipment. Egyptian officials seized the goods at the Al-Oja border crossing after radiation detection equipment showed a high presence of radioactive material in the cargo, a security official told AFP.
---
Nuclear Fuel Cycle News
guardian.co.uk: Nuclear renaissance may revive Czech uranium mines
Renewed interest in nuclear power and high uranium prices may extend the life of Czech uranium mines or even reopen closed deposits, said the head of the country's sole, state-owned miner Diamo. The centre-right cabinet of Prime Minister Mirek Topolanek gave the ailing industry a boost last year, allowing Diamo to explore uranium reserves at its only remaining mine in Dolni Rozinka, 180 km (113 miles) east of Prague.
Uranium industry lobbies for trade with India – 30/07/2008
The Australian uranium industry wants the government to overturn a ban on the sale of uranium to India. Prime Minister Kevin Rudd pulled out of an agreement to supply uranium to India, citing nuclear proliferation concerns. Two thirds of India's energy comes from coal-fired power stations, which produce extremely high greenhouse gas emissions.
Idaho Mountain Express: Is Idaho prepared to monitor uranium enrichment plant?
Threaded through every U.S. decision in recent years to either relax environmental protection standards or not enforce more stringent safeguards is one theme: Spare industry of expensive environmental programs and worry about profits while ignoring the environment. Americans know where that national policy has gotten us—greenhouse gases, global warming, accelerated meltdowns of glaciers and threats to human health.
NRC: Generic EIS for In-Situ Leach Uranium Milling Facilities – Draft Report for Comment (NUREG-1910, Vols. 1-2)
This NUREG publication has been issued for public comment. Comments will be accepted until October 7, 2008. Please see the comment form. On this page: * Publication Information * Abstract Download complete document The following links on this page are to documents in Adobe Portable Document Format (PDF). See our Plugins, Viewers, and Other Tools page for more information. For successful viewing of PDF documents on our site please be sure to use the latest version of Adobe.
US NRC seeks comments on impact statement for ISR uranium mining
The US Nuclear Regulatory Commission will receive comments until October 7 on a generic draft environmental impact statement for in-situ leach uranium recovery operations. NRC said it developed the draft EIS jointly with the Wyoming Department of Environmental Quality. The draft EIS would apply to at least four western states — Wyoming, South Dakota, Nebraska and New Mexico — where NRC said uranium milling companies have indicated an interest in seeking NRC licenses.
FR Doc: NRC: Notice of availability of Draft Generic Environmental Impact Statement for Uranium milling facilities.
SUMMARY: Notice is hereby given that the U.S. Nuclear Regulatory Commission (NRC), with the cooperation of the Wyoming Department of Environmental Quality, Land Quality Division, is issuing for public comment a Draft Generic Environmental Impact Statement (Draft GEIS) that identifies and evaluates on a programmatic basis, the potential environmental impacts from the construction, operation, aquifer restoration, and decommissioning at in-situ leach (ISL) uranium milling facilities located in particular regions of the western United States. The Draft GEIS addresses environmental issues common to ISL milling facilities to aid in making more efficient environmental reviews of individual site-specific ISL license applications.
NRC: NRC Seeks Public Comment on Draft Generic Environmental Study of In-Situ Leach Uranium Recovery Operations
The Nuclear Regulatory Commission is seeking public comment on a draft Generic Environmental Impact Statement (GEIS) for in-situ leach uranium recovery operations in the western United States. The draft GEIS, developed with the cooperation of the Wyoming Department of Environmental Quality, identifies and evaluates potential environmental impacts common to the construction, operation, aquifer restoration and decommissioning of in-situ leach facilities in Western states. In-situ leach is a process in which local non-potable groundwater with added oxygen and sodium carbonate or bicarbonate is injected into an underground ore deposit to leach out (or dissolve) uranium, which is then pumped to the surface for additional processing.
---
Nuclear Waste News
Search finds two potential sites for spent nuclear fuel storage
Two US communities are exploring the possibility of becoming the site of a commercial interim storage facility for utility spent nuclear fuel, according to the official leading the industry's site search. Officials from each of the small, rural communities wanted to continue looking at a commercial storage facility after touring dry storage installations at two nuclear plants in June, Marshall Cohen, the Nuclear Energy Institute's senior director of legislative programs, said in an interview Wednesday.
Channel 4 KRNV Reno-Tahoe: Reid: Yucca Mountain dump site has history of seismic activity
Nevada Senator Harry Reid spoke today about the potential for grave consequences at Yucca Mountain if an earthquake ever struck in the area of the proposed nuclear dump site. In light of yesterday's California earthquake felt in southern Nevada, Reid highlighted the fact that the Yucca Mountain site has a history of major seismic activity, increasing the already serious risk of a deadly radioactive release from containers not proven to be safe.
FR Doc:NRC: Brunswick Steam Electric Plant; Independent Spent Fuel Storage Installation Order Modifying License
In the Matter of: Carolina Power and Light Company, Brunswick Steam Electric Plant; Independent Spent Fuel Storage Installation Order Modifying License (Effective Immediately) AGENCY: U.S. Nuclear Regulatory Commission. ACTION: Issuance of Order for Implementation of Additional Security Measures and Fingerprinting for Unescorted Access to Brunswick Steam Electric Plant Independent Spent Fuel Storage Installation.
Discover Lessons From Canada on Storing Spent Nuclear Fuel & High-Level Radioactive Waste in a Comprehensive Comparative Report
Research and Markets (http://www.researchandmarkets.com/research/c2c492/nuclear_waste_on_i) has announced the addition of the "Nuclear Waste on Ice: Lessons From Canada on Storing Spent Nuclear Fuel & High-Level Radioactive Waste" report to their offering. U.S. Nuclear Power is Stymied: The United States has spent more than $6 billion on the Yucca Mountain repository, and debate still rages over when — or whether — it will open. In contrast, Canada is close to settling on a course for burying its nuclear waste that promises none of the divisiveness that the Yucca Mountain project has spawned.
Highway, Rail and Barge Routes to Yucca Mountain
This is a national map of the primary routes where spent nuclear fuel would travel if the Yucca Mountain High Level Waste Respository was opened. The Map is clickable to get closer views of routes.
Postbulletin: Derailment is IC&E's third since May; Highway 26 partially reopened – Wed, Jul 30, 2008
The derailment of an Iowa, Chicago & Eastern railroad train near the small town of Reno early Tuesday is the railroad's third along the Mississippi River in far southeastern Minnesota or northeastern Iowa since May.
Locals to oppose £110m nuclear waste dump construction – Contract Journal
Local residents are set to oppose the construction of a proposed £110m nuclear waste treatment next to the Dounreay power plant in Scotland. The opposition comes despite the scheme winning the conditional backing of the Scottish Environmental Proection Agency (Sepa), according to the Scotsman.
---
Nuclear Policy News
Bloomberg: EDF May Sell U.K. Nuclear Sites to Win British Energy
Electricite de France SA, the world's largest owner of nuclear power stations, may sell U.K. atomic sites to gain approval for the purchase of British Energy Group Plc, two people with knowledge of the talks said.
FR Doc:NRC: Eric Epstein; Denial of Petition for Rulemaking
AGENCY: Nuclear Regulatory Commission. ACTION: Petition for rulemaking: Denial. SUMMARY: The U.S. Nuclear Regulatory Commission (NRC) is denying a petition for rulemaking submitted by Eric Epstein (PRM-54-5). The petition requests that the NRC amend its regulations that govern renewal of operating licenses for nuclear power plants. Specifically, the petitioner requests that the NRC conduct a comprehensive review of U.S. nuclear power plant licensees' emergency planning during the license renewal proceedings. The NRC is denying the petition because the petition presents issues that the Commission carefully considered when it first adopted the license renewal rule and denied petitions for rulemaking submitted by Andrew J. Spano, County Executive, Westchester County, New York (PRM-54-02), and Mayor Joseph Scarpelli of Brick Township, New Jersey (PRM-54-03). The Commission's position is that the NRC's emergency planning system is part of a comprehensive regulatory process that is intended to provide continuing assurance that emergency planning for every nuclear plant is adequate. Thus, the Commission has already extensively considered and addressed the types of issues raised in the petition. Also, the petition fails to present any significant new information or arguments that would warrant the requested amendment.
The Times Herald – Peco predicts double-digit rate hike
Contrary to earlier projections, Peco customers can expect rate hikes of 19 to 20 percent when artificial price caps on utilities expire over the next few years, a company official revealed Wednesday. Until now, Peco held the somewhat envious position among Pennsylvania utilities as the only provider expected to raise electricity rates by single digits come January 2011. Those figures were according to estimates released by the state's utility consumer advocate in May. Other companies such as Allegheny Power and PPL are expected to hike rates by 63 percent and 37 percent – respectively – when the Pennsylvania price caps expire.
Environmentalists hope to stop TVA's Bellefonte expansion : Knoxville News Sentinel
TVA should not be allowed to expand its fleet of nuclear reactors at the Alabama site where two partly completed reactors now stand, according to environmental groups who made their case Wednesday before an oversight board of the nation's nuclear regulatory agency.
RussiaToday: $40 Billion boost for nuclear power in Russia
Russia will invest $40 Billion into the country's nuclear power sector over the next 7 years, Prime Minister Putin says. After that he expects the industry will become self-financing. Every 6th nuclear reactor in the world runs on Russian nuclear fuel – uranium stored in rods. Prime minister Vladimir Putin says Russia's budget, boosted by high oil revenues, has enough cash to finance expansion of the country's nuclear power sector.
Desoto Times: Entergy eyes nuclear, may ask you to help foot bill
Entergy, Mississippi's largest utility provider, is asking federal officials to allow it to build a new nuclear power plant, and ratepayers could be asked to help pay for it. Six weeks into his job as Entergy's new president and chief executive officer, Haley Fisackerly says with rising energy prices 'especially the high cost of natural gas ' Entergy is proposing the construction of the first nuclear power plant in the Louisiana-Mississippi region in more than 30 years.
NRC nixes activist's petition | Wilkes-Barre News | The Times Leader
The U.S. Nuclear Regulatory Commission recently denied a petition requesting it comprehensively review nuclear plants' emergency plans when plants apply for license extensions. Eric Epstein, who filed the petition and leads the nuclear-watchdog group Three Mile Island Alert, said the denial effectively clears the way for PPL Corp.'s Susquehanna Steam Electric Station in Salem Township to have its license extended 20 years. The station's two units face a renewal hearing Sept. 30 at the NRC's headquarters in Maryland.
FR Doc: NRC: Possible Improvements to the Level of Openness and Transparency of Information Associated With NRC
Possible Improvements to the Level of Openness and Transparency of Information Associated With NRC Security Inspection and Security Performance Assessment of NRC Licensees AGENCY: Nuclear Regulatory Commission. ACTION: Request for comments. SUMMARY: The Nuclear Regulatory Commission (NRC) is seeking comment from all interested persons on options for improving the level of openness and transparency associated with security-related information obtained from the conduct of NRC inspection and licensee performance assessments.
FR Doc: NRC: Petition for Rulemaking Filed by Scott Portzline, Three Mile Island Alert
Petition for Rulemaking Filed by Scott Portzline, Three Mile Island Alert; Consider Petition in the Rulemaking Process AGENCY: Nuclear Regulatory Commission. ACTION: Resolution and closure of petition docket. SUMMARY: The Nuclear Regulatory Commission (NRC) is considering the issues raised in a petition for rulemaking submitted by Scott Portzline, on behalf of the Three Mile Island Alert, in the ongoing "Power Reactor Security Requirements" rulemaking. The petitioner requested that the NRC regulations governing physical protection of plants and materials be amended to require NRC licensees to post at least one armed guard at each entrance to the "owner controlled areas" (OCAs) surrounding all U.S. nuclear power plants. The petitioner stated that this should be accomplished by adding armed site protection officers (SPOs) to the security forces–not by simply moving SPOs from their protected area (PA) posts to the OCA entrances. The petitioner believes that its proposed amendment would provide an additional layer of security that would complement existing measures against radiological sabotage and would be consistent with the long- standing principle of defense-in-depth.
FR Doc: NRC: David Lochbaum, Union of Concerned Scientists; Consideration of Petition in the Rulemaking
David Lochbaum, Union of Concerned Scientists; Consideration of Petition in the Rulemaking Process AGENCY: Nuclear Regulatory Commission. ACTION: Resolution and closure of petition docket. SUMMARY: The Nuclear Regulatory Commission (NRC) is considering the issues raised in a petition for rulemaking submitted by David Lochbaum, on behalf of the Union of Concerned Scientists, in the ongoing "Power Reactor Security Requirements" rulemaking. The petitioner requested that the NRC amend its regulations to require that licensees implement procedures to ensure that when information becomes known to a licensee about an individual that would prevent that individual from gaining unescorted access to the protected area of a nuclear power plant, the licensee will implement measures to ensure the individual does not enter the protected area, whether escorted, or not; and, when sufficient information is not available to a licensee about an individual to determine whether the criteria for unescorted access are satisfied, the licensee will implement measures to allow that individual to enter the protected area only when escorted at all times by an armed member of the security force who remains in periodic communication with security supervision.
FR Doc: EPA: ELAB Teleconference meeting Aug 20th
Environmental Laboratory Advisory Board (ELAB) Meeting Dates, and Agenda AGENCY: Environmental Protection Agency (EPA). ACTION: Notice of Teleconference Meetings.
SUMMARY: The Environmental Protection Agency's Environmental Laboratory Advisory Board (ELAB), as previously announced, will have teleconference meetings on August 20, 2008 at 1 p.m. ET; September 17, 2008 at 1 p.m. ET;
Entergy gets OK to spin off Pilgrim nuclear plant MA – The Patriot Ledger
Entergy Corp. has received approval from the Nuclear Regulatory Commission to spin off its Pilgrim nuclear power plant and four other plants. The agency's approval of the license transfer for the power plants took effect on Monday. The plants would be owned by a new public company, Enexus Energy Corp., and operated by a new joint venture known as EquaGen Nuclear LLC and owned by Enexus and Entergy.
Public Citizen | Texas Must Not Let Nuclear, Coal Power Take Priority on State's Renewable Energy Transmission Lines
Texas Must Not Let Nuclear, Coal Power Take Priority on State's Renewable Energy Transmission Lines Cost and Safety of Nuclear and Clean Coal Plants Is Questionable, Could Take Resources Away from Wind, Solar Initiatives, Coalition Says AUSTIN, TEXAS  The Texas Public Utility Commission (PUCT) should not give nuclear plants or clean coal plants priority on the "new renewable energy superhighways' as part of its decision on the state's competitive renewable energy zones (CREZ), according to a coalition of consumer and environmental groups in a petition filed today with the commission.
AFP: Huge losses for Japan's TEPCO as energy costs soar
Tokyo Electric Power Co., Japan's biggest electric utility company, said Monday it lost more than 700 million dollars in the three months to June due to soaring fuel costs at its power plants. The operator of the world's largest nuclear plant, which was shut down by an earthquake last year, warned it expects to end the year deep in the red. The company, known as TEPCO, reported a net loss of 76.24 billion yen (707 million dollars) for the fiscal first quarter, compared with a net profit of 31.07 billion yen in the same period of the previous year.
NRC: Speech – 030 – Global Nuclear Renaissance Summit
When I spoke at the first Summit about a year and half ago the NRC was just preparing to issue its new procedures for reviewing Combined Operating License, or COL, applications for new nuclear power plants. And we were just beginning to anticipate how many such applications we might be receiving from industry.
NRC:NRC Staff Approves Transfer of Entergy Operating Licenses to New Corporate Structure
The Nuclear Regulatory Commission staff has approved the transfer of operating licenses for the FitzPatrick, Indian Point Units 2 and 3, Palisades, Pilgrim and Vermont Yankee nuclear power plants from owner Entergy Corp. to new owner Enexus Energy Corporation. The transfer also covers the licenses for the permanently shut down Indian Point Unit 1 and the independent spent fuel storage installation at Big Rock Point. The staff's approval of the transfer is effective July 28.
---
Nuclear Weapons News
George Monbiot: We lie and bluster about our nukes – and then wag our fingers at Iran | The Guardian
What is the Iranian government up to? For once the imperial coalition, overstretched in Iraq and unpopular at home, is proposing jaw, not war. The UN security council's offer was a good one: if Iran suspended its uranium enrichment programme, it would be entitled to legally guaranteed supplies of fuel for nuclear power, assistance in building a light water reactor, foreign aid, technology transfer and the beginning of the end of economic sanctions.
---
 Department of Energy News
DOE reaches deal on fines after missing 2 deadlines for waste shipment | Tri-City Herald
The Department of Energy will pay a $25,000 fine and pay for a natural resource expert for Hanford after missing two deadlines for preparing radioactive waste to be shipped to New Mexico for disposal. The resolution was reached in an agreement between DOE and the Washington State Department of Ecology, which regulates Hanford.
Piketon plant seeks loan guarantees
Officials say they are running out of money to build world's most efficient centrifuges at a cost of $3.5 billion. The company building the multi-billion-dollar American Centrifuge uranium enrichment plant in the south central Ohio community of Piketon has applied to the Energy Department for federal loan guarantees amidst spiraling costs. A spokeswoman for USEC Inc. declined to specify the size of the loan guarantee the Bethesda, Md., company is seeking, but the department has been authorized by Congress to issue up to $2 billion in loan guarantees for advanced facilities on the "front end" of the nuclear fuel cycle, including uranium enrichment plants.
HANFORD: Interior secretary's support sought for B Reactor – | Tri-City Herald
Rep. Doc Hastings, R-Wash., Tuesday urged Interior Secretary Dirk Kempthorne to designate Hanford's B Reactor as a National Historic Landmark. Not only is it an engineering landmark, but it helps tell the story of Hanford's role in ending World War II and providing nuclear deterrence during the Cold War, Hastings wrote in a letter to Kempthorne.
DOE – U.S. and New Zealand Take Steps to Launch International Partnership to Further the Development of Clean Energy on Island Nations
The U.S. Department of Energy's (DOE) Assistant Secretary for Energy Efficiency and Renewable Energy Alexander Andy Karsner and New Zealand's Ambassador to the U.S. Roy Ferguson today signed terms of reference for the International Partnership for Energy Development in Island Nations
---
Other Energy News
Wind overtakes water in Britain's green energy mix  | Reuters
Wind supplied more of Britain's electricity that water for the first time last year, while power generators preferred gas to coal and nuclear output continued to decline, according to new government data. Five percent of Britain's electricity came from renewable sources in 2007, up from 4.6 percent in 2006, as more wind farms started feeding clean electricity into the network, helping cut the country's carbon emissions.
Culture Change – Oil and peak misunderstood as we guzzle petroleum
Some of us wonder why some people we know worry little about the trend of sharply rising prices for food and petroleum. They may even acknowledge we have a huge population size and that the environment has been ravaged, but still the situation seems to them normal and stable. Theirs is a laid-back mindset common to those content to pay their bills, or perhaps they have given up on seeing fundamental societal change. They may be well-educated, liberal people. They are not usually the ones striving to change our culture toward respect for nature, although they are inclined to save the planet a bit and support social justice.
Newsvine – So you think you know Oil? Think again…
oftwominds.com Readers Journal-Why the Trend in Oil Is Up
Although I'd be lying if I said I am certain of which direction the oil price is going, my gut feeling is telling me that it's going up as a general trend, despite brief respites. A few points have not been sufficiently made, and I think Rainer H.'s piece exhibits some of the problems those points would address.
Supply and Demand, Prius Style | Autopia from Wired.com
The value consumers place on goods and services often is a matter of simple economics. When demand is high and supply low, relative worth heads north. This fundamental truth from our friend Adam Smith couldn't be more relevant to the car business these days. Visit any dealership and ask how many thousands of dollars in incentives are available on trucks and SUVs collecting dust on the lot. On the flip side, the Prius hybrid's massive worldwide appeal is not only a sign of our energy-afflicted times but proof of what happens when there are more shoppers than cars.
Utah's Solar Fired Furnace to Power California for Less Than the Cost of Coal or Gas | celsias
In an arid region of the western U.S. known as the Great Basin, the desert floor has recently been reaching temperatures in excess of 1,300 degrees Farenheit. No, this isn't due to global warming, but perhaps part of the solution to it. A Utah based company called IAUS (International Automated Systems Inc.) has developed a solar lens technology that transmits solar energy with an efficiency of 92%.
'Major discovery' from MIT primed to unleash solar revolution – MIT News Office
Scientists mimic essence of plants' energy storage system In a revolutionary leap that could transform solar power from a marginal, boutique alternative into a mainstream energy source, MIT researchers have overcome a major barrier to large-scale solar power: storing energy for use when the sun doesn't shine.
Asstistant Secretary of Energy Andy Karsner Announces Resignation : Red, Green, and Blue
In what comes as a surprising move, Assistant Secretary for Energy Efficiency and Renewable Energy Andy Karsner announced his resignation from the Department of Energy on Wednesday. Karsner's resignation came on the same day as news that Senate Republicans blocked an attempt to extend funding for renewable energy tax credits for the fourth time this summer. It is still unclear if there is any relationship between the two events.
Annie the Nanny: Peak Oil Parenting
What are the real implications of peak oil in a culture where common sense has been suppressed by consumerism? A lot of parenting is about common sense. Deep down as parents, we realize that if a child gets showered with gifts, they become unappreciative. If they receive things because they stamp their feet and scream, that behavior will continue because it has been rewarded. In the last few decades however, common sense seems to be on the decline and its commonality is certainly fading. Let me give you an example. When I was growing up, my parents would have a birthday party for me with perhaps five or six friends at maximum. There would be sandwiches, cake, balloons and big back yard in which to play. There might be a treasure hunt or a simple game, if my mother was feeling energetic. For the large part though, I was instructed to entertain my friends on my own, hardly an onerous task. The end result was an enjoyable afternoon and a few small gifts for me to play with, once everyone else had gone home.
Whiskey and Gunpowder Geothermal Energy Report
Geothermal Energy We have found the company that is ready to lead the way on this exciting new energy technology. The company is one of the world's leading vertically integrated companies in the field of geothermal energy. Geothermal energy is one of the cleanest, most abundant sources of energy on the planet and now is the time to know as much as possible about this great new investment. This companies technologies and its subsidiaries engage in the geothermal and recovered energy power business. Before we get into the details of this business, lets take a closer look at what geothermal energy really is.
Solar powered Invisible Streetlight – A superb alternative to power wasting street lights! | Eco News
Designed by Johgoh Lee, the Invisible Streetlight is a solar powered street light that imitates leaves and can be hidden among natural plants on the sides of streets. Comprising of a double injection of silicon, aluminum materials and a photo capacitor, these keep glowing all night long. The photo capacitor is an electricity storage device proofing more efficiency than silicon based solar cell in low light.
4 Reasons Why Germany Is A Renewable Energy Success Story : CleanTechnica
A few weeks ago, I visited Intersolar North America, an exhibition for photovoltaics, solar thermal technology, and solar thermal architecture. The exhibition, which was previously only held in Germany, had an understandably large German presence (including a large beer garden). During my time there, I stopped by the German Energy Agency booth, and was quite impressed with what I found. So, without further ado, here are 4 reasons why we should be paying a whole lot of attention to the Germany renewable energy market.
PETROLEUM CHRONOLOGY OF EVENTS 1970 – 2006
Energy dominates Senate debate  : The Rocky Mountain News
Democrat Mark Udall defended his alternative-energy plan in a U.S. Senate debate Monday, despite recent polls showing that Republicans are scoring points with calls to increase domestic drilling.
Pickens on his energy plan – Los Angeles Times
Last week, Pickens stopped by The Times to discuss his push to wean the U.S. off foreign oil by dramatically ramping up development of its infrastructure for wind and natural gas. Below is a partial transcript. T. Boone Pickens: We are now importing oil that costs us $700 billion a year. That's four and a half times what the Iraq war costs. Nobody running for president even speaks about this. Yet they talk a lot about the Iraq war. When you look at it, the world oil supply is about 85 million barrels of oil a day. And demand is about 86-plus million barrels a day.
The World's Foremost Terrorist – The US Government
This article will explain to you why the Totally Screwed-Up US Strategic Plan for the Caspian Basin has backfired and created a "megatrend" against America that may well be the doom of our nation.
t r u t h o u t | Perle Linked to Kurdish Oil Plan
Influential former Pentagon official Richard Perle has been exploring going into the oil business in Iraq and Kazakhstan, according to people with knowledge of the matter and documents outlining possible deals.
Members of Congress Charged With a Crime, 1798 – 2008 – The Washington Independent – U.S. news and politics – washingtonindependent.com
After the indictment of Sen. Ted Stevens, R-Alaska, on July 29, 2008, TWI got to wondering how many members of Congress came before him. The answer: at least 100. Stevens shares the list with characters like Sen. John Smith, D-Ohio, who, around 1807, was indicted for treason as a co-conspirator with Aaron Burr against the United States. He was eventually acquitted. Then there's Rep. Mel Reynolds, D-Ill., who was accused in 1995 of having sex with an underage campaign worker. He was later convicted and sentenced to five years in prison. Enjoy the whole list for yourself below.
Oil sands pose investment and climate risk, says WWF
Canada's oil sands pose a significant investment risk as their development may be hampered by a government attempt to curtail the industry's rising carbon dioxide emissions, a report published Tuesday said.
globeandmail.com: Huge chunk snaps off storied Arctic ice shelf
A four-square-kilometre chunk has broken off Ward Hunt Ice Shelf – the largest remaining ice shelf in the Arctic – threatening the future of the giant frozen mass that northern explorers have used for years as the starting point for their treks. Scientists say the break, the largest on record since 2005, is the latest indication that climate change is forcing the drastic reshaping of the Arctic coastline, where 9,000 square kilometres of ice have been whittled down to less than 1,000 over the past century, and are only showing signs of decreasing further.
Newsvine – Toyota Patents Quantum Motor
OSAKA, JAPAN- From the 22nd floor of the Nakanoshima Central Tower, the offices of Hisao Fukami, comes news of Toyota's newest patent as filed with the WIPO (World Intellectual Property Organization) International Bureau, and released for international publication July 17, 2008. The Fukami Patent Office is listed as the agent for Toyota, who applied for the patent and worldwide rights January 11, 2007. The motor is interesting in its use of an "externally applied light" to a light sensitive rotor kept in a "permanent magnetic state" to generate torque.
Solar Thermal Power Coming to a Boil | celsias
After emerging in 2006 from 15 years of hibernation, the solar thermal power industry experienced a surge in 2007, with 100 megawatts of new capacity coming online worldwide. During the 1990s, cheap fossil fuels, combined with a loss of state and federal incentives, put a damper on solar thermal power development. However, recent increases in energy prices, escalating concerns about global climate change, and fresh economic incentives are renewing interest in this technology.
CNN Political Ticker:Â  McCain: Offshore drilling could provide relief in months
John McCain again pushed for offshore drilling Monday, and suggested it could provide relief to American consumers "within a matter of months." "There are some instances within a matter of months, they could be getting additional oil. In some cases, it would be a matter of a year," McCain said at a press conference in Bakersfield, California. "In some cases, it could take longer than that depending on the location and whether or not you use existing rigs or you have to install new rigs. But there is abundant resources in the view of the people who are in the business that could be exploited in a matter of months."
Oil sands get nod from U.S. anti-poverty group
Support for Canada's oil sands is coming from an unexpected American group–an anti-poverty coalition led by African-American civil rights and faith leaders.
BBC NEWS | Africa | 'Blood oil' dripping from Nigeria
Under cover of night dozens of barges queue up to dock at a jetty in a creek somewhere in Nigeria's oil-rich Niger Delta. Their holds are filled with stolen oil running from valves illegally installed into a pipeline.
Fans of L.E.D.'s Say This Bulb's Time Has Come – NYTimes.com
When the Sentry Equipment Corporation in Oconomowoc, Wis., was considering how to light its new factory last year, the company's president, Michael Farrell, decided to try something new: light emitting diodes, or L.E.D.'s.
OPEC, peak oil, and the end of cheap gas | Bulletin of the Atomic Scientists
Since the beginning of the modern oil age in 1859, pessimists have warned that the oil wells would soon dry up or that oil production would peak and not be able to keep up with ever-increasing demand. Again and again, the pessimists have been proven wrong, often embarrassingly so, as science and technology have allowed more oil to be extracted from existing fields and from deposits in more challenging locations such as the Arctic and the deepest waters of the continental shelf. Indeed, oil production rates have increased, on average, by about 1.1 million barrels per day per year over the past 10 years.
Auto Costs Versus Bike Costs — Including Hidden and Indirect Automobile Costs
The cost of operating an automobile has intrigued me since I started riding a bike as an adult. From asking owners, I estimated in 1965 that a car cost about 25¢ a mile to operate, which caused a fellow student to scream at me. In the late 70's, when I was an owner, I figured the operating cost at 14¢ a mile, which was unrealistically low. We tend to believe what we want to believe.
---
Nuclear Editorial and Opinions
Yankee's future: Rutland Herald Online
So maybe Vermont Yankee is not so important to Vermont after all. Actually, Green Mountain Power, the state's second-largest utility, plans to draw about 17 percent of its power from the Vermont Yankee nuclear power plant, according to the utility's latest plans. But that is down from about 40 percent. By cutting back on the share of power it gets from Vermont Yankee, GMP opens the door to a range of renewable sources, including wind and biomass. Significantly, GMP expects hydropower will grow as a share of the utility's mix from 48 percent to 63 percent. That means that Hydro-Quebec would play an increased role as provider of power for the state.
Don't Be Fooled Again by the Anti-Nuclear Crowd» The Foundry
A few alleged design hiccups and supposed cost increases in Westinghouse's new AP1000 nuclear reactor have so-called public interest groups calling for the reactor to be taken off the table. Claiming that escalating costs and half-baked design ideas will result in a failure to build the reactors, environmental group Friends of the Earth are calling for state regulatory agencies to reverse an earlier decision that approved the project.
Amarillo | Opinion: Look up 'Chernobyl' and then argue over nukes
A devastating blow to the revival of atomic power has been delivered by the Nuclear Regulatory Commission. The NRC says the "standardized" designs – on which the entire premise of returning nuclear power to center stage is based – have massive holes in them and may not be ready for approval for years to come. The NRC's warning says: All cost estimates for new nuclear reactors and all licensing and construction schedules have no reliable basis in fact. Thus, any comparisons between future atomic reactors and renewable technologies have no practical significance. And any "hard number" basis for independent financing for future nukes may not be available for years to come, if ever.
My Turn: Nuclear not the best solution | The Burlington Free Press
Construction costs for new nuclear plants have risen far faster than they have for the other competitive green options. The nuclear industry's shiniest new plant, built in Finland by France's most expert builder, Areva, has come in $2 billion over budget and more than two years behind schedule. The newest U.S. plant on the drawing boards is projected to cost between $12 billion and $24 billion dollars. The enormous costs, protracted timelines for build-out, and inevitable delays discourage private investors who want to see a rapid bang for their buck. Furthermore, it is becoming increasingly clear that the key to solving the global warming crisis is speed. Nuclear power is now so expensive and so slow to build that a dollar spent on end-user conservation or on any of the other green alternatives saves between three and 10 times the carbon from entering the atmosphere as the same dollar spent on nuclear, and saves it now.
Has the time come for nuclear power? No: Price is high in so many ways | ajc.com
Georgia Power and its utility partners Municipal Electric Authority of Georgia, Oglethorpe Power and Dalton Utilities are headed toward a nuclear relapse, betting billions of ratepayer and taxpayer dollars on nuclear power when the dollar is down, when filling up the gas tank is painful, when droughts have become the norm, and when the threat of climate change cannot be ignored.
Nuclear reaction: Emery County should think twice about nuke plant – Salt Lake Tribune
Emery County and Green River officials need to look long and hard before they leap into the nuclear age. Transition Power Development has identified a proposed industrial park outside Green River, a city that bills itself as "Utah's Desert Treasure" and panders to tourists, as its preferred site for a nuclear power plant. And local officials, along with many residents, are reportedly excited about the prospect of the high-paying jobs and economic benefits a nuke plant would bring.
The Top Nuclear Stories is published twice weekly. It is a produced using a combination of social bookmarking and programming. You can view or join the public group and add your own stories by going here -> http://groups.diigo.com/groups/nukenews